Recap of Today's Super Smash Bros. Presentation!
Everything new to Super Smash Bros. for Nintendo 3DS / Wii U, as of E3 2015!
In case you missed it, here's everything Masahiro Sakurai announced during today's special Super Smash Bros. presentation. All of this information pertains to Super Smash Bros. for Nintendo 3DS and Wii U.
A major software update has been released!
This is extremely important in order to access any content beyond this point!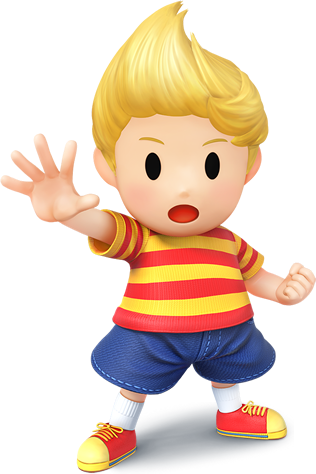 3 New Fighters!
Lucas (Mother 3) - returning veteran from Super Smash Bros. Brawl

Roy (Fire Emblem) - returning veteran from Super Smash Bros. Melee
Ryu (Street Fighter) - brand new challenger and 3rd party character
Lucas was already officially revealed by Nintendo prior to this presentation, but this is the first time Nintendo has officially revealed Roy and Ryu. The two were leaked last month by Reddit user shinyquagsire23, but now we've got solid proof of their existence and release date – which happens to be today! Both characters will be released alongside Lucas for purchase in the Nintendo eShop today, so expect some server traffic!
Ryu has two final smashes?!
Lots of work went into Ryu's design, such as him being able to perform light, medium, and heavy attacks based on the duration of the player's inputs. He can also perform some of his special moves with either the usual B button combinations, or the moves' original Street Fighter inputs. Did I mention that he's also the first character in Smash history to have two final smashes?
New Mii Fighter costumes!
Akira Yuki (Virtua Fighter)
Jacky Bryant (Virtua Fighter)
Heihachi Mishima (Tekken)

Isabelle (Animal Crossing)

Megaman.EXE (Mega Man Battle Network)
ZERO (Mega Man X)

Inkling Girl, Inkling Boy & Squid Hat (Splatoon)


New Stages! (Omega forms included!)
Suzaku Castle is a new Street Fighter stage to accompany Ryu, complete with classic and remixed themes from the Street Fighter series.
Dreamland (64) from the original Super Smash Bros. is returning alongside all of today's DLC content. The stage retains its original look, though it was cleaned up a bit to better match the quality expected of the new games.
The new Miiverse stage is exclusive to the Wii U version of the game, and will feature player posts about the characters within each match. This stage is completely free of charge.
Two other stages from the original Super Smash Bros. game, Hyrule Castle and Peach's Castle, are confirmed to be in the works. Expect them to be released at some point in the future.
All things Amiibo!
September releases: R.O.B., Duck Hunt, and Mr. Game & Watch
Holiday release: Falco
Undated releases: Mii Brawler, Mii Swordfighter, and Mii Gunner
Mewtwo, Lucas, Roy, and Ryu are all confirmed to receive amiibos in the future, as the entire Smash roster will eventually have amiibo figures.
New Trophies!
The update comes with unlockable trophies for all of the new characters. All they require to be unlocked is to beat All-Star mode with the respective character. There is also a new Splatoon trophy, as well as one for Street Fighter's Ken Masters.

Tourney Mode & YouTube Replays!
Tourney Mode is set for release as a free update in August.

YouTube replays will eventually be released as a free feature exclusive to the Wii U version of the game, allowing any user with a Google account to upload their replays directly to YouTube.
And there you have it! Everything that has been confirmed for the Smash series is listed here. The prices of all content can be found through the source link.
Published Jun. 14th 2015