New guns and boss in Ratchet & Clank's leaked E3 demo
Get a glimpse at what's to come for Ratchet & Clank's latest adventure.
It's only been a few hours since the Ratchet & Clank trailer officially unveiled in advance of E3 2015. So, as if to make up for lost time, a leak on the upcoming "game, based on a movie, based on a game" has come out of the woodwork. YouTuber SuperNormalMode posted a full playthrough of both portions of the demo that will be reportedly be playable at E3.
We see two different sections. The first level is set early in the game, in Aleero City, with Ratchet using both some familiar and new weapons. Most notable amongst the new weapons is the Pixelizer, which fires like a shotgun, but depending on the range, will cause enemies to turn into pixelated cubes of varying sizes. The more shots fired, the bigger the pixels become.
The Groovitron and Warmonger both also make a return from, Ratchet & Clank: Full Frontal Assault.
There's some regular exploration and combat like all fans are familiar with, but then the game throws in a train sequence heavily inspired by Uncharted 2: Among Thieves. Ratchet grapples along and fights a variety of enemies in order to stop a bomb from exploding. After stopping the bomb, Ratchet calls out to an ally named Brax, and informs him that they are on the way to the hall of heroes. Then the first section ends.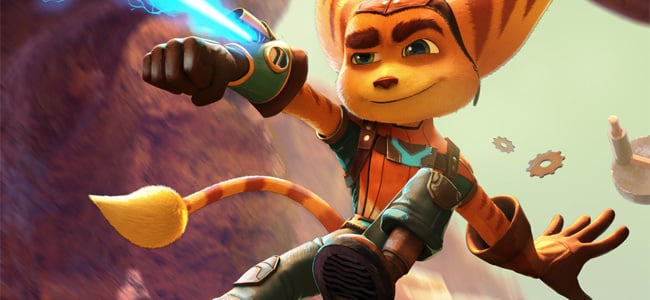 Next is a sequence set underground on Nebula G34, where Ratchet & Clank are dropped into a boss fight against a giant, lava-loving Blargian Snagglebeast. The demo actually messes up for a moment mid-cutscene, having the Snagglebeast's foot hang in view at the top of the screen before dropping back into view. However, it bounces back from this by giving us our first scene with the series' charmingly stupid Captain Quark, who communicates with Ratchet via headset.
Here we are introduced to another new weapon, the Predator Missle Launcher.
It requires you paint several targets by aiming, then once you have a lock, it fires a barrage of smart missiles that will hunt out their targets, making it great for crowd control. We also see the return of fan favorite Mr. Zurkon, the little assistant drone that follows you by your side as fire support. There's also a return of the Fusion Bomb launcher, another notable gun from Full Frontal Assault.
On top of the expanded arsenal, we get to see a much more minimized and sleaker heads up display. Unlike past entries, which had big health bars and large targeting reticules, there seems to be an emphasis on keeping information as integrated into the experience as possible.
Despite this being a remake of the original PlayStation 2 classic, the inclusion of newer gameplay mechanics and ideas in the demo makes this feel almost like a brand new game entirely. While some story beats will remain from the first game, fans of more recent entries will be right at home. Here's hoping Insomniac turns this into the definitive version of the original story for gamers new and old to enjoy.
So, how do you feel about the demo? Do you feel it's absurd we've had so many E3 leaks this year? Let us know in the comments below!
[Image Source: PushSquare]
[Video Source: SuperNormalMode]
Published Jun. 10th 2015