Everquest II Housing: Living it up in a MMORPG
Everquest II housing allows players to enhance their gameplay experience with personalized spaces used for storing items, brokering goods and roleplaying.
Citizens of Norrath have more than just epic battlefields to look forward to in Everquest II, they also have dynamic housing choices awaiting them. The extensive in-game housing options offered in Everquest II allow players to personalize their own piece of the world, but it does not stop there. In addition to personalizing a home's style with thousands of available housing items, players can utilize their spaces to expand and enhance their gaming experience.
What are the Benefits of Owning a Home?
There are more reasons to own a home in EQII than just having a place to rest your head.
Store quest rewards and display trophies
Sell marketplace goods directly from a home to avoid broker commission fees
Create a transportation hub with furnishings that open portals to different locations
Utilize house items that offer character stat buffs when clicked
Create a private crafting space
But that's not all! Players can personalize spaces to be perfect venues for different roleplay experiences. Provisioners might want to run a small restaurant, Scholars might want their own extensive library, and Dwarves would be right at home running their own pub. Really, the possibilities are endless!
How Can Players Obtain a House?
There are a number of homes available to players that are obtained in a variety of ways. Currently, players can own up to 20 unique homes per character and that number is expected to rise by the end of the year.
Purchase homes with in-game currency
Purchase homes with Station Cash on the SOE Marketplace
Obtain homes through special promotions such as expansion packs or live events
Obtain homes as loot cards from the Legends of Norrath in-game card game
Obtain a home through raid loot
There is also a new way to obtain homes being released with Game Update 67: Darkness Dawns next week. Players will be able to earn daily loyalty tokens and save to redeem them for housing contracts that were previously only obtainable via raid loot or as a 7-year veteran reward. This opens up even more housing opportunities for players who want to create something truly unique!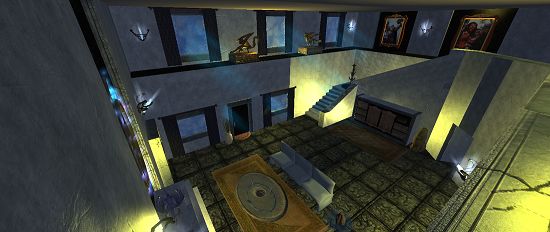 How Can Houses be Customized?
There are over 100 housing locations to choose from ranging from city housing to prestige homes and many of those have their own unique look. Some houses have the options to change wall, ceiling and floor appearances with a simple click. Other homes require the homeowner to place house items in order to obtain a customized look.
When it comes to furnishing your home, there are over 1,000 different items players can choose from to personalize spaces. Players can obtain house furnishings by crafting them, questing for them, or purchasing them from vendors and the station marketplace. For players seeking a professional appearance but lacking an eye for design, there is also a player community of housing decorators who can be commissioned to complete specific jobs.
SOE continues to add more housing items to game with each game update and expansion release. Player Studio artists also continue to make exciting new items that are being made available for players to purchase. With so many housing choices and furnishing available, there's no excuse for players not to have an awesome space!
What's in Store for Housing?
With Game Update 67: Darkness Dawns scheduled to release on July 23rd, homeowners can look forward to lots of new goodies. In addition to increasing the current capacity of the existing personal depot with a larger version, GU 67 is introducing 8 new personal depots to place in homes to hold items such as crafting fuels, collectibles, ammunition, and other adventuring supplies.
SOE continues to support the continued development of housing by implementing more features. One of the features decorating enthusiasts are looking forward to is the introduction of the Housing Broker system. This system would allow players to sell decorated homes through SOE's Player Studio marketplace for in-game currency and receive a portion of the proceeds back in real life money. Could this be a job opportunity in disguise? It definitely has the potential for players to earn some extra spending cash!
Join us at SOE Live on August 2nd as we discover what else is in store for Everquest II housing!
Published Jul. 17th 2013