Dario "TLO" Wünsch Talks ESports Global Reach
StarCraft II pro gamer Dario "TLO" Wunsch discusses the rise of eSports around the world in this exclusive interview.
NEW YORK CITY -- Dario "TLO" Wünsch is a StarCraft II player from Leipzig, Germany who made his first trek to the United States at New York Comic Con to play for Team Liquid at the Intel Extreme Masters (IEM). The former Brood War and Supreme Commander player has amassed a global following, in part, because of his unorthodox tactics in SC2. He's also as solid playing as Terran as he is playing Zerg in the game. TLO stands for "The Little One," and his older brother is "The Big One."
The pro gamer, who has had to take time off in 2011 as a result of suffering from carpal tunnel syndrome in both wrists, continues to impress in the international stage. He also takes time to use his eSports celebrity to give back to the community. He played StarCraft for 24 straight hours to raise $2,487 for "StarCraft Without Borders," a charity event that raised money for Doctors Without Borders. The stream peaked at 26,000 live viewers, showing his global pull.
Wünsch currently resides in South Korea, where he's able to hone his skills in the ultra-competitive eSports country. The pro gamer talks about the popularity of eSports today and explains how he ended up in The Big Apple competing against the best players in the world today in this exclusive interview.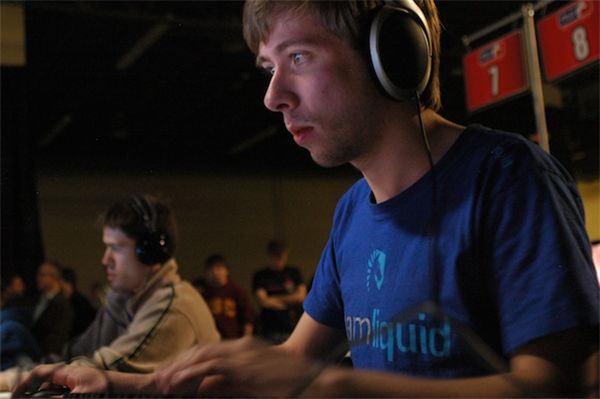 How popular is eSports in Germany and Europe?
Especially with PC gaming, Europe is a little bit bigger than America even. PC gaming is more of the niche in America. People recognize you on the street from time to time if you're a professional gamer and it's becoming more and more mainstream. I think over the next couple of years it's just going to be in every single media outlet.
What kind of reaction do you get coming to Intel Extreme Masters in New York?
New York Comic Con is interesting. It's the first time I've been to America and New York. It's pretty cool. The seats filled up very quickly and it's nice to always introduce new people to the game. I met a lot of people here who are seeing StarCraft II for the first time.
How you've seen eSports grow in the United States over the last few years that you've been involved?
It just went through the roof. If you look back five or years even, it didn't really have a lot of streaming technology. The fact that everybody can just broadcast their games now on the Internet from their home rigs is just absolutely amazing. Honestly, I can just see it grow from here.
When it comes to the U.S. recently the government said that eSports athletes get the same Visas as real athletes. What impact do you see that happening on eSports moving forward?
It definitely makes a lot of things easier because right now, especially people from countries that have issues with America like Eastern European countries or China, they've been hindered a lot by the fact that eSports isn't recognized as a proper sport. It shows eSports is a global sport and getting rid of boundaries is just good for us.
What type of cognitive thinking and hand-eye coordination is required for playing StarCraft II at a pro level?
The best comparison is to see eSports as a mix between really fast-paced physical sport like a martial art and chess. You have to make really quick decisions. You have to have fast reflexes, but you also need to think about the strategy in real-time. In chess you have a lot of time to make your move. In StarCraft II you need to make maybe 100 moves a minute and need to be able to process in your brain as precise and as quickly as possible.
How did you end up becoming a professional?
I've been playing video games ever since I can remember. When I was three years old I probably had already touched my first PC game. I did learn reading and writing from video games back in the days of Monkey Island. It was a natural process for me because I have three older brothers, so we've been very competitive when it comes to gaming.
In 2002, I went to my first game convention, which was Gamescom in my home town. And ever since I saw people playing on stage I realized that becoming a gamer can become a job. I was mesmerized by the idea to the point where I eventually become a pro gamer myself.
What do you feel you've had to give up to become a professional?
I don't think I really had to give up a lot. Of course, I had to put my education on hold because I was in university. But considering what I gained in return: the opportunities, the places I've been to, the people I've met, and also the skill sets I gained, it's definitely just a positive thing for me.
Published Oct. 28th 2013