ESO Voice Actors Revealed
Bethesda reveals The Elder Scrolls Online voice cast.
Bethesda has now revealed the all-star cast who will be bringing life to the characters of their latest MMO, The Elder Scrolls Online.
Game director Matt Firor has said, "This extraordinary group of actors helps bring the distinctive characters in The Elder Scrolls Online to life."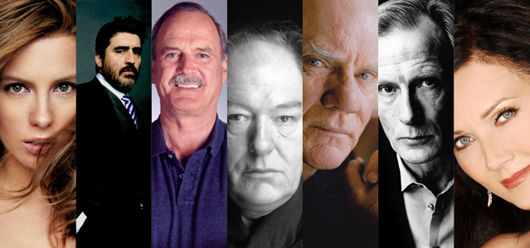 The star studded cast members revealed are:
Bill Nighy, known for his character Davey Jones in the Pirates of the Caribbean and Victor in the Underworld films, who will voice the merchant prince High King Emeric.
John Cleese, known for the Monty Python and the Holy Grail, will play a cheerful and endearing mad lost soul named Caldwell.
Kate Beckinsale, known for her roles in Underworld, Pearl Harbor, Van Helsing, is the leader of the Aldmeri Dominion and Queen of the High Elves, Queen Ayrenn.
Linda Carter, best known for her iconic role as Wonder Woman, is returning to The Elder Scrolls V: Skyrim, Azura, the Daedric Princess of Dusk and Dawn.
Michael Gambon, known as Professor Dumbledore in the Harry Potter series, will voice The Prohet, a mysterious blind man who guides the player through their journey to retrieve their soul.
Alfred Molina, known from Spider-Man 2, plays the role of Abnur Tharn, a wily old wizard and politician who is the head of the Empire's Elder Council and the power behind the Ruby Throne.
Malcolm McDowell, from Clockwork Orange, plays the key figure Molag Bal, an evil Daedric God from another plane who schemes to enslave the mortal souls of Tamriel.
Peter Stormare, Fargo, plays Jorunn the Skald King.
Jim Ward, Wall-E and Despicable Me 2, voices Mannimarco, a renegade High Elf wizard in exile.
Jennifer Hale plays Lyris Titanborn, a Nord half-giant.
Kevin Michael Richardson, who will play Sai Sahan, a noble martial artist and master swordsman.
The Elder Scrolls Online officially launches on April 4th, 2014 for PC and Mac.
You can meet the characters before then by signing up for the beta now.
Published Jan. 31st 2014