Gamers Outreach Founder Explains How ESports Can Help Others
Former eSports manager Zach Wigal explains how Gamers for Giving is helping kids in hospitals get their minds off being sick.
Zach Wigal is a former pro gaming manager who now helps kids in hospitals through his organization, Gamers Outreach Foundation. The non-profit company's main event, Gamers for Giving, will take place at Eastern Michigan University February 8-9 and will get a live international broadcast courtesy of headline sponsor Twitch.
The goal is to reach $20,000 to help support the construction of portable video game kiosks, dubbed Gamers Outreach Karts ("GO Karts") for use in children's hospitals. GO Karts contain a monitor, an Xbox console, Astro Gaming headphones, and are crafted for use within medical environments. These are for children who have limited mobility or access to activities away from their bedside.
Some big names from eSports have signed on to raise money through playing games, including:
Dave "Walshy" Walsh
Alex "GoldenBoy" Mendez
Mike "Hastr0" Rufail
Michael "StrongSide" Cavanaugh
Bonnie "Xena" Burton
Frank "u4ix" Bowen
Alex "Axeltoss" Rodriguez
Shaun "FourCourtJester" Delaney
Andy "Bravo" Dudynsky
Call of Duty: Ghosts, League of Legends, StarCraft II, Halo 4 and Killer Instinct will be featured during the event. Wigal talks about the event in this exclusive interview.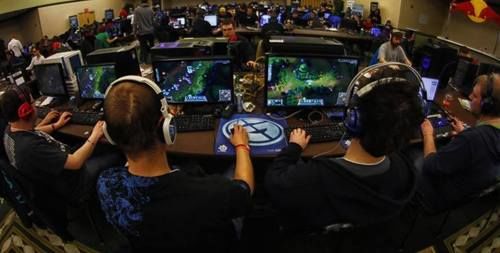 How did Gamers Outreach Foundation come about?
During my junior year of high school, a group of friends and I tried organizing a Halo 2 tournament for our student body. A few days before the tournament was supposed to happen, a local police officer who belonged to a media censorship organization called The Parent's Television Council found out about our tournament, and called our school's superintendent asking her to cancel the event. It was his opinion our event was a hazard to public safety, and that Halo wasn't an appropriate video game for high school students. Our superintendent revoked our rental permit shortly after she received his call, and we had to cancel our event.

Growing up, I was always involved in the 'normal' school activities. I played sports, made OK grades, was involved in music, but playing video games was the consistent hobby. I really resented the idea that my mind was somehow being corrupted because I enjoyed playing games like Halo.
Being supported by Twitch is something we're incredibly proud of and thankful for.
I decided the most productive course of action would be to move forward and organize a new tournament that would raise money for charity. I wanted to show the police officer that gamers were a friendly group of people, and that our event could actually benefit the local community for the better. A year after my high school tournament was canceled, the same group of friends and I hosted Gamers for Giving – a competitive gaming event that raised money for charity. We had around 400 people show up, and after covering the event's expenses, we were able to donate $4,000 to a local chapter of the Autism Society of America. Not bad for a bunch of high school students.

Fast forward to present day, the organization now has its own initiatives. Gamers for Giving is the annual fundraising event which helps us kickstart our work each year.
How have you seen Gamers for Giving benefit from the livestreaming phenomenon?
Platforms like Twitch have democratized livestreaming, and it has fundamentally changed the way the gaming community interacts as well as the way people organize events. Gamers for Giving used to be an event that was relatively limited to our local area of Southeast Michigan. Now we have people supporting our efforts from all around the nation, and even other countries. Streaming enables us to tell our story to the larger gaming community. If people can't make the trip to Michigan to be a part of our event in-person, they can still tune in and participate by watching or donating to the cause.

I'd also say that thanks to livestreaming, the fundraising ceiling for our event (as well as other charity marathons) has practically vanished. That's an incredible development. There are people in board rooms trying to figure out how to raise $2,000. Meanwhile, one of us gamers is on the Internet with a webcam raising thousands of dollars for our favorite cause in a single weekend. That's powerful. I hope people continue to be inspired to be involved with these types of activities, and it makes me proud to see gamers engaging more and more frequently with charity streams.
What impact do you feel Twitch will have on this year's event?
Being supported by Twitch is something we're incredibly proud of and thankful for. Twitch is an ideal streaming platform for events like Gamers for Giving, and considering the number of fundraisers that take place on the site, there's no question the Twitch community is incredibly generous. We're in the right space for our event. One of our foundation's initiatives, Project GO Kart, constructs portable video game carts for children in hospitals. By midyear, the initiative will be serving more than 10,000 children in hospitals annually. We've seen the impact our carts have made within the medial environment first hand, and Twitch is helping us tell that story to a much larger audience. They understand the mission we're trying to accomplish, and I believe their involvement is going to make a strong impact in the lives of people served by the programs of our charity.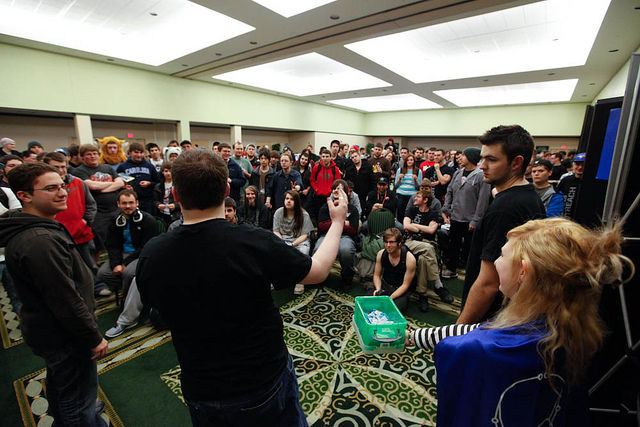 How have you seen the eSports pros get involved in this event?
Retired professional Halo player Dave "Walshy" Walsh was really the first eSports pro to become involved with Gamers Outreach. That's probably of no surprise to anyone who's met Dave. He's one of the most generous and humble competitive gamers around. Dave was able to attend our very first Gamers for Giving event in 2008. At the time, he was looking for a way to become involved with charity work, and I think our cause resonated with him personally given his professional career as a competitive gamer. He's now one of our board members and we've even donated a GO Kart to his local hospital where his mother has worked all his life.

Similarly, Mike "Hastr0" Rufail, known for his Call of Duty shout-casting, became involved in 2010, shortly after he and I connected at an MLG event. Mike's another stand-up guy – easily one of the most genuine people I've met. He makes it a personal priority to give back to the community whenever he can, and our initiatives have provided him with one of many outlets to express that generosity.
ESports fans are some of the most passionate gamers around.
Just recently, Ryan "Fwiz" Wyatt – Call of Duty shout-caster and head of eSports at Machinima – was able to build one of our portable gaming carts for the Cleveland Clinic Children's Hospital, where he received treatment for Crohn's disease as a child. During his treatments, nurses would wheel in a Super Nintendo cart so he could play video games. Ryan found out about our gaming cart program last year, and wanted to donate one of our carts to the facility where he was treated. We were able to visit the hospital in November to dedicate one of our gaming carts and meet with some of the physicians who took care of Ryan. It was a humbling experience, and I was really proud we were able to help Ryan give back to kids who are going through similar experiences he did when he was younger.

The story is relatively the same for a lot of the pro gamers who've become involved with Gamers Outreach over the years. Our roots are in competitive gaming – it's our heritage. Our charity programs serve people who've never heard of eSports, but certainly from our perspective, competitive gaming is part of where we came from. Our annual fundraising event is a competitive gaming tournament /LAN party, so we celebrate that heritage each year. It resonates with people in the eSports community for that reason.
How do you choose which games will be featured in these competitions?
Our decision is primarily based on which titles are most popular with the community at large, though we also host smaller exhibition activities that are geared towards casual players. Aside from the tournament we host at the event, Gamers for Giving also features a BYOC (bring your own computer) LAN party. People can sign up to participate in the LAN, bring their own computers or consoles, and play whatever games they like while our tournaments are taking place.

We really got our start because of Halo, but as we've grown, we've added other titles to our list of headline tournaments. This year our tournaments include Call of Duty Ghosts, League of Legends, StarCraft II, and Killer Instinct.
What have you learned about eSports fans when it comes to charity and giving?
ESports fans are some of the most passionate gamers around. I remember arriving to the Gamers for Giving venue in 2009 and finding a group of people sleeping outside the doors of our ballroom at 6 am. They had purchased plane tickets from California to attend our event in Michigan, couldn't afford a hotel, and decided to just rough the night outside the doors of our event. That's dedication. These guys wanted to be a part of our event so badly that they were willing to sleep outside the venue before any of our staff even arrived.

I think as gamers, we all understand that passion. Video games have made an impact on all of us to varying degrees. Gamers for Giving is an event that enables eSports enthusiasts to channel that passion in a positive direction. The community is especially supportive of charitable causes, and the fact that so many players who are active within eSports show up to Gamers for Giving illustrates how tight-knit we all are as gamers.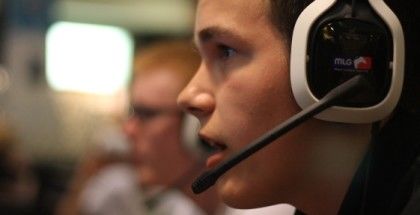 Where will the money raised go and how will it be used?
Our organization has two primary initiatives. One is called Project GO Kart, which constructs portable video game kiosks for children in hospitals. The other is Fun For Our Troops, which dispenses video game care packages to U.S. service members deployed overseas.

The overhead costs of Gamers for Giving are generously covered by our event partners, like Eastern Michigan University and Astro Gaming. Additionally, the organization itself is managed on a volunteer basis. This allows us to dedicate 100% of the donations and entry fees we receive during the event to the charity programs of the organization.

Our goal is to raise $20,000 to help kick start Gamers Outreach Foundation's programs in 2014. Specifically, donations will be split at about an 80/20 ratio between supporting the construction of portable gaming carts for children's hospitals, and sending care packages to troops.
Gamers for Giving is an event that enables eSports enthusiasts to channel that passion in a positive direction.
We want to place GO Karts in hospitals around the country. We especially want to reach facilities with limited budgets, where it's difficult for Child Life Specialists to afford activities for kids within hospitals. Those are the types of locations that we hope will benefit most going forward with funds raised from Gamers for Giving.

As for our military packages, we actually have a very healthy supply of video games, but need funding to purchase consoles, which are donated less frequently. We receive letters from deployed troops all the time, but they're often limited by the platform they have access to. Funds we receive from Gamers for Giving will help us afford new consoles to complement our existing inventory of games for deployed troops.
Published Feb. 7th 2014