Do Virtual Worlds Make Mundane Tasks Fun?
The fact is, many things are just more fun in a video game than in real life.
We all know of games like Sims and Animal Crossing. They seek to simulate real life through a video game. Plain tasks such as buying a house, talking to others, and rearranging furniture are all things we can do in the real world. The difference is, many of these things aren't as fun or are avoided as much as possible in the real world. So what is that makes moving my couch around so much more enticing in a video game than if I did the same thing in my actual house? Well, there could be several reasons.
Cooking omelettes, like a boss
One reason I may like cooking, for example, in a video game more could be that it is easier. No mess to clean up in a game, plus I can cook things far beyond my expertise. Can't make that perfect soufflé? In a video game, you probably do it in about two minutes. Always wanted to try preparing blow fish? In a video game, you don't have to worry about your health if you mess up.
The simple fact is whether you're cooking, building, mining, or whatever, you can do it in a stress-free environment and do it well in a video game.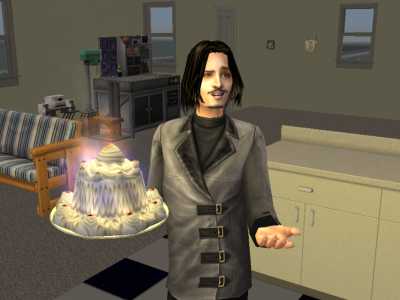 This probably took 30 seconds to make.
Simulating life is more fun
Maybe it's the fact that it isn't us and we can experiment, but having our characters develop relationships or decorating their house is a little more captivating in a video game. Take Animal Crossing, for example. In the real world I hate to go shopping and take time to go through a selection of things I want or need to buy. In Animal Crossing, it is almost exhilarating to head to the store everyday to see what I can buy.
It's fun to change my rooms and rearrange furniture in the game. In real life, I'm fine with never changing my furniture after I get it in the house. This could also do with the ease of moving around a huge couch in game, not so easy to do in real life.
Not quite as practical in the real world.
Because we can and it's free
Probably the biggest reason would be the cost of such endeavors in the real world. I can make millions in virtual currency and buy the most expensive things or build the biggest mansions in a video game. In the real world, I do not have the time and money to do such things. I can live out a fantasy of what I wish I had in the real world and all it cost me was the price of the game.
I'm sure there are plenty of other reasons people play simulation games or find routine activities much more enjoyable in a video game. Let me know how you feel in the comments section.
Published Sep. 3rd 2013