5 Sci-Fi Novels That Would Make Perfect TellTale Games
There are quite a few sci-fi novels out there that we have noticed would also make really good TellTale games!
Over the years Telltale games has provided us with many hours of entertainment through their critically acclaimed series such as The Walking Dead, Tales From the Borderlands, and The Wolf Among Us.
But there's one lucrative market that Telltale hasn't quite tapped yet -- the wonderful world of science fiction. Telltale is excellent at making narrative-driven games, so what better fodder is there for a new episodic series than the great sci-fi novels of our age? There are lots out there that could make incredible games through the usual Telltale formula.
Below are five novels that we would love to see Telltale make a game about, so we could have a nice playable representation to go with the amazing stories!
1. Star Wars: The Thrawn Trilogy by Timothy Zahn
Taking place five years after the fall of the Empire, the Rebellion (now known as the New Republic) must thwart an old threat that has risen back with power under the command of Grand Admiral Thrawn -- who has recruited a Dark Jedi to join his side and is ready to strike.
This would make an excellent Telltale game because it's a continuation of the characters from the original Star Wars trilogy that didn't get its own film, and it also has a solid antagonist who has a few tricks up his sleeve.
2. Neuromancer by William Gibson

Neuromancer is a story about a low-class hustler named Case, who lives in the underworld of Chiba City in Japan. Case used to be a talented hacker until he was caught one day stealing from his employer.
As punishment, Case's central nervous system was degraded by mycotoxin, rendering him incapable of entering cyberspace anymore. But eventually he is contacted by an ex-military officer named Armitage, who offers to restore his nervous system for a price.
Case has to pull off the job of a lifetime within a given time limit, as Armitage put the same poison in Case's blood that crippled him in the first place. If Case can pull it off in time, Armitage says he will remove the poison, but if not...
Neuromancer would make a great Telltale game because it's got good characters, an interesting plot and richly detailed universe, as well as exciting technology to experiment with -- a perfect opportunity for Telltale to foray into more futuristic settings.
3. Childhood's End by Arthur C. Clarke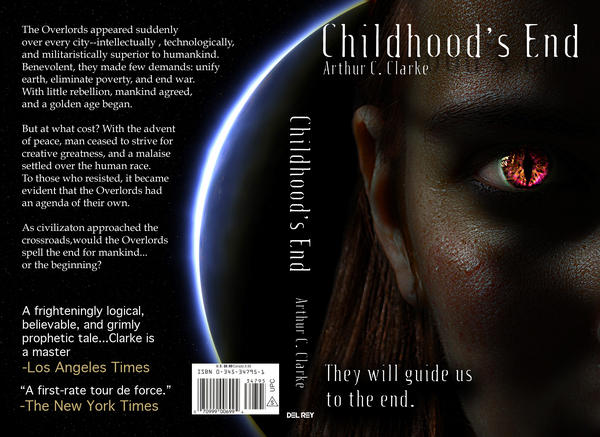 The United States and the Soviet Union are having a space race to be the first to launch a spaceship into orbit for military purposes. But after alien ships position themselves over Earth's major cities, the space race has ceased.
Shortly after their appearance, the aliens announce that they will be taking over supervision of internal affairs to prevent humanities extinction -- and take upon themselves the name "Overlords". The head overseer for Earth, Overlord Karellen, will only speak to one person -- the UN Secretary-General Rikki Stormgren. But Karellen still will not show his true form for another 50 years, or "until humanity has gotten used to the presence of the Overlords".
This would be an interesting theme to see unfold as a Telltale game. For instance, you could play as Rikki Stormgren and find out the true identity of Karellen and the Overlords. Or you could play from the opposite end and make decisions as one of the alien Overlords -- showing a different side of the narrative much like Telltale has already done with Game of Thrones.
4. Seveneves by Neal Stephenson
One day, Earth's moon suddenly splits into seven pieces, colliding with itself and creating a deadly shower of lunar rocks that will eventually hit the Earth. Before that happens, each nation of Earth is invited to choose a small number of young people to become eligible to join the Cloud Ark.
5,000 years later there are three billion humans living in a ring going around Earth, but they are divided against each other in some sort of cold war that's characterized by cultural isolation, espionage, and border skirmishes. And it's all mediated by treaty agreements that are more honored in breaches than actual observance.
In porting this to a Telltale game, it would be interesting if you could send up your own choices up to the Cloud Ark (with the exception of a few key characters). That way, you could have a different experience every playthrough. On the other hand, it would also be interesting to see where things would go after everyone is divided.
5. Hitchhiker's Guide to the Galaxy by Douglas Adams
In this story, we follow a man named Arthur Dent in a humorous portrayal of the future. Arthur was saved just moment before the destruction of Earth. He was saved by his friend -- a human-looking alien named Ford Prefect who hails from a planet somewhere in the vicinity of Betelgeuse. Arthur sets out with Prefect to meet new friends and experience new adventures.
It would simply be amazing to experience these travels across the galaxy with Arthur and his crew full of humorous characters. And will Telltale's penchant for humorous writing, we're pretty sure they could nail it and keep us laughing the whole way through.
What do you think? Do you like the idea of these novels becoming Telltale games? Do you have any suggestions of your own that you would like to see in a Telltale style? Let us know in the comments!
Published Nov. 30th 2016