Last time we looked into the best Minecraft castle seeds, and now let's take a trip into some of the biggest fan-made cities in Minecraft. The drill is the same as previously: you need to download the map (here is the instruction), install some mods if necessary, and insert the seed into your Minecraft client in Creative Mode.
This selection represents two styles of cities: modern metropolis and medieval towns. Some of these constructions have been inspired by the cities from video games, movies and historical places. Others are completely original and have been created using nothing but author's imagination.
---
Seed: Terraforming
Spawn on an island with a huge medieval City of Ambarina that covers 1600 blocks amidst the Mediterranean Sea. This Minecraft city consists of 120 houses fully decorated inside and outside, and a huge castle on the very top of it.
The creators of this city - Team Lyrah - suggest installing several mod packs for a complete experience of Ambarina: Optifine 1.7.10, Ambarina texture pack, and Conquest 1.7.10 V10.2.
---
Seed: 1234
Here is an example of a modern City of Portsmith – a huge project that includes the following structures: schools, restaurants, hospitals, gas stations, markets, subways, boats and a huge number of hidden secrets.
This Minecraft city is best used on public servers for zombie survival games. The project is absolutely enormous and even has a transport bridge that connects two halves of the city divided by a wide river.
---
Seed: 1841899790
Check out this ultra-modern neighborhood in the wilderness of Minecraft forests and plains. All houses look super cool and need to be viewed with a special texture mod - Mikey's Modern pack.
It adds a whole set of new blocks without which this project would be impossible to build. All the houses in this modern city are unique and you won't find two copies of the same building – they are all original.
---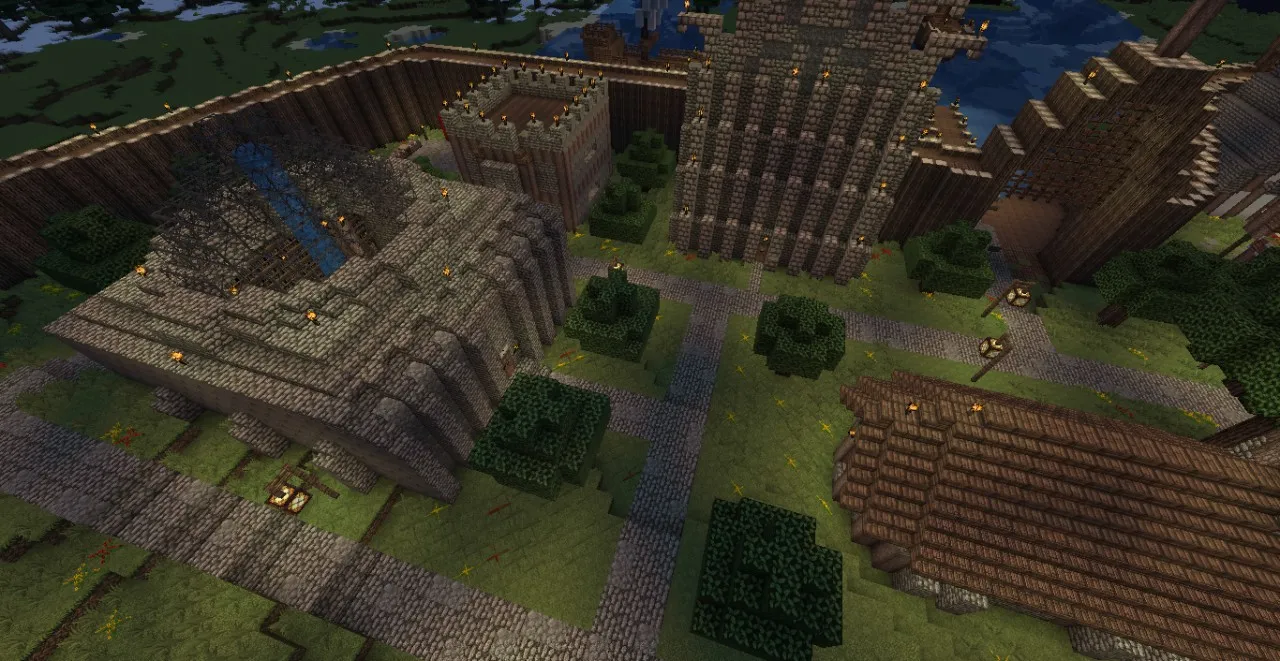 Seed: 1861004718282510878
An ancient City of Halory is presented in this Minecraft seed for all those who like to explore the medieval times. The grand city is surrounded by a tall wooden wall for protection with the castle and buildings located inside.
Halory includes the following structures: the royal chamber, market, city hall, chapel, barracks, library and prison. You should also use the following mods for best effect: Optifine and John Smith.
---
Seed: 179775337337371532
The City of Brighteria is a marvelous place to explore in Minecraft. It is called that way because it is as bright during the night just as it is during the day due to many sources of light surrounding Brighteria.
It incorporates Chinese and Japanese styled buildings with a lot of small bridges located upon the ocean and jungle biomes. This particular Minecraft seed map uses the Dokucraft texture mod.
---
Seed: 1082558785002400906
Ruggle City represents an entire complex of medieval structures located around a water reservoir. It includes several smaller castles on top of the hills with balconies and one massive Ruggle castle in the center.
This Minecraft map is built with the help of John Smith Legacy texture pack and Medieval building bundle, which can be used to help you create something similar or even better. The bundle can also serve as an editor, if you wish to change a few details here and there.
---
Seed: Temple
Let's get into some really ancient times! This is the City of Aztec Mystics – the great Incas that dwelled in Central America many centuries ago. The map includes pyramids and temples with lots of connected houses scattered all over the valley.
You will find several bridges connecting different parts of the city that covers a huge area. At night it is lit up with the help of torches, and to be honest, it looks simply amazing.
---
Seed: tryclope
The legendary City of Archangels hides many secrets – one of them is the hidden portal to The End. The lore of the city perfectly fits with the forthcoming fight against the ender dragon on the other side of the portal.
This city is not designed for modern ways and can be accommodated only by real savages that can protect the entrance bridge to the city.
What is your favorite big city Minecraft seed? Share your own seeds and maps inside the comments.