Mass Effect 3 Review
I break down the finale of the Mass Effect trilogy.
Mass Effect has come a long way over the years. The first Mass Effect won gamers and critics over with its deep RPG elements, innovative dialogue wheel, and fun combat. The second installment was received even better, winning multiple game of the year awards. Undoubtedly, expectations were high for Mass Effect 3 when it released on March 6 of 2012.
Despite a few design flaws, Mass Effect 3 is a thoroughly engaging and emotional game that will keep you on the edge of your seat. Throughout the series, Commander Shepard has been trying to prepare the galaxy for an invasion by a race of sentient machines known as the reapers. The galaxy would not listen, however, and they are unprepared for the brutal onslaught waged by the far superior reaper forces. Forced to leave his home world and find a way to stop the reapers, Shepard embarks on an epic quest to save the galaxy.
Eventually you discover plans for a device called the crucible, which is thought to have the power to put an end to the reapers. The rest of the game is spent brokering alliances between rival alien races to launch the crucible. Every story arc in the Mass Effect trilogy, from the krogan genophage to the war between the geth and the quarians, is wrapped up in a satisfying way.
As you gain new allies, they become war assets. The more war assets you have, the better the outcome of your ending will be. You can increase your assets by partaking in the new multiplayer mode. This is essentially horde mode with Mass Effect elements sprinkled in. You and up to 3 friends must hold off against waves of enemy forces and complete objectives as you wait for extraction. For the first time in Mass Effect, you can play as an alien race. Each character is fully customizable and has unique powers. If you win a match, your war assets are increased. It's nice that the multiplayer ties into the campaign, but the problem is that if you don't play online for a while, your war assets slowly decrease. I wish the assets would stay at 100% instead of dropping each time you play.
Regardless of this odd design choice, multiplayer proves to be a fun, if unnecessary, distraction from the main game. The story is long and satisfying, and the gameplay is intense and engaging. Mass Effect 3 is a worthy end to such an amazing trilogy, one that will go down in history as one of the best in gaming. It is sad to say goodbye to this universe, but it was a hell of a ride.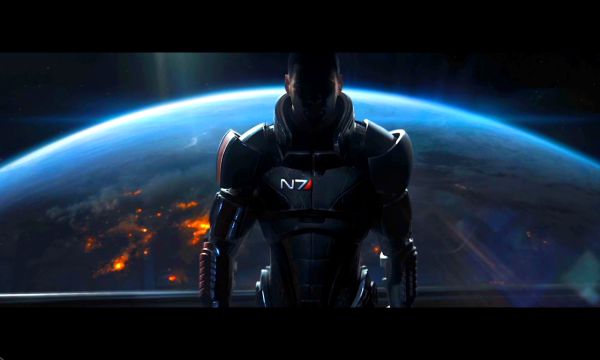 Our Rating
I break down the finale of the Mass Effect trilogy.
Published Apr. 1st 2013