Happy Valentine's Day!
Whether you're celebrating with someone special or swearing the holiday off, we could all use a little love today. What better place to get it than in our favorite video games?
Here's a list of our Top 10 video game characters we wish could be our Valentine:
Mario
Mario, arguably the most all-around good guy in video game history. Though he dabbles in mushrooms with magical powers and has breath that can spit fire, time after time, he proves that size doesn't matter!
Max Payne
You know you're hot when Mark Wahlberg is cast to portray you in a movie. Nuff said!
James Bond – GoldenEye 007
James Bond is just your average man trying to save the world. Oh, and did we mention he looks like Pierce Brosnan?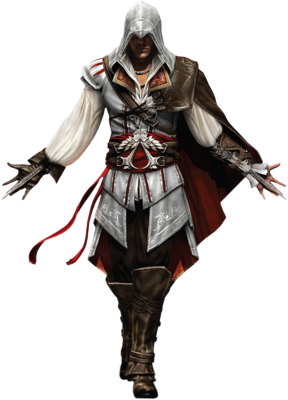 Ezio Auditore – Assassin's Creed
Ezio is brave and intelligent, and with lips like this, who cares if his eyes are covered most of the time?
Donkey Kong
Donkey Kong is everything we'd want in a Valentine – a big and strong protector, but a softy at heart.
Princess Peach
Peach is a classic, well-rounded girly girl that can hold her own and look dainty doing it!
Samus Aran – Metroid
She holds a Guinness World Record for "the first playable human female character in a mainstream video game" – SPOILER ALERT! — so what if you didn't know she was female until the end of the game?
Lara Croft – Tomb Raider
The original female bad-ass of video games. With those short shorts and skin tight t-shirt, she's paved the way for others on this list. Not even Angelina Jolie's version can compete with the original.
Jill Valentine – Resident Evil
Considered one of the most attractive females in video games, she's smart, feisty and can kill Zombies. What else could you ask for?
Rosalina – Super Mario Galaxy:
She's thoughtful and unbelievably powerful, and as the watcher of the stars, she will literally be the center of your universe.
So…
Think we're missing anyone on this list? What video game character would you want to be your Valentine? Tell me who I missed and if you're on Twitter and FB, tag your responses with #TheSkinny and your answer might be featured in tomorrow's weekly recap.
About the author