Star Wars is the epitome of a cult classic. What started as a single trilogy in 1977 has grown into a multi-million dollar franchise with merchandise ranging from video games to books, movies to home decor, apparel, and more. Each year fans gather to celebrate the Star Wars Universe with official Star Wars Celebrations. Here are some of the best Star Wars cosplays, with many of them coming from the recent Star Wars Celebration in Orlando.
---
Anakin, Obi-Wan Kenobi, and Mace Windu
Cosplayers: Skywalker Colection Inc, The Rusen, Ariel F Noe
Anakin and Obi-Wan join Mace Windu at the Jedi Temple. Looking to converse with the Jedi Council, the three enjoy quality time in the desert. Wearing the robes of the Jedi, these three cosplayers have their characters nailed.
Photographers: Zoch Fotografia, SIGNO Fotografia
---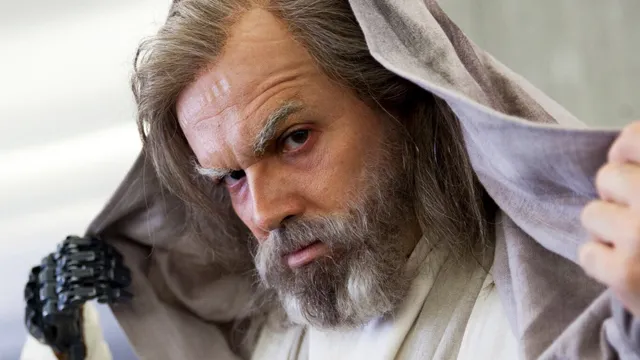 Master Luke Skywalker
Cosplayer: Oldmasterluke
Oldmasterluke takes on the latest version of Luke Skywalker, who has been in exile on Achto for some time. Going for gray hair and a missing hand, this cosplay is phenomenal. He looks like he just came out of The Force Awakens. The attention to detail on the robotic hand is simply astounding. The small details, such as gray hairs in his eyebrows, really help sell the old Luke Skywalker look.
Photographer: Jon Reino
---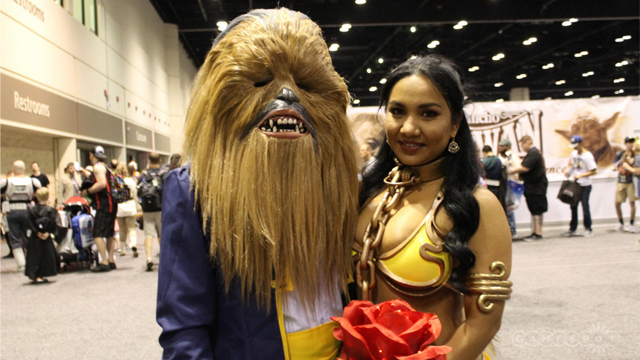 Beauty and the Wookie
Cosplayers: Unknown
Princess Leia and Chewbacca get a makeover in this crossover cosplay at Star Wars Celebration 2017. Strutting his finest duds, Chewie looks great in his rendition of the Beast. Princess Leia's slave outfit gets a color change to that of Belle's channel ballgown. Gold chains, a red flower, and a blue suit jacket complete this couple's cosplay well.
Image source: Gamespot
---
Boba Fett
Cosplayer: Widen15
Boba Fett is one of the most notorious deadly bounty hunters in a galaxy far, far way, who, under the charge of Jabba the Hutt, is tasked with hunting down Han Solo. Here, Widen15 nails Boba's original look. From the blaster bolt on the helmet (which he received from another infamous bounty hunter) and vambraces to the intricate construction of the props, Widen15's Boba cosplay is astounding.
---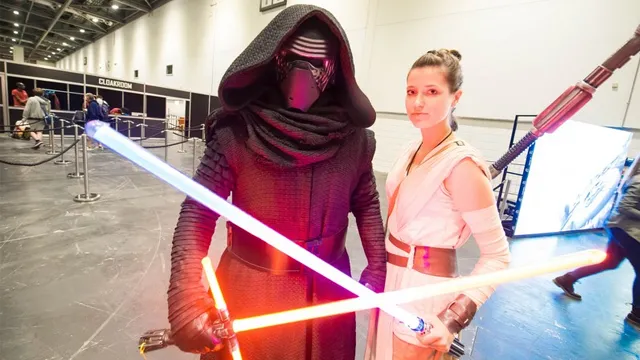 Kylo Ren and Rey
Cosplayers: Unknown
Kylo Ren and Rey were the stars of Star Wars: The Force Awakens. A new generation of lightsaber-wielding characters for a new generation of viewers, this pair captured the hearts of fans around the world: Kylo Ren, the grandson of Darth Vader, trying so desperately to follow in his footsteps. Rey, a strong female who can use the Force.
These two cosplay their chosen character magnificently. Kylo Ren is masked, with the small details in the mask and cloak really showing the dedication to recreating the character. Wielding his tri-saber, he is intimidating. Next to him stands Rey in her white outfit, wielding the legendary Skywalker lightsaber and her staff. The small details, such as her pristine hair and belt, really help the cosplay come to life.
---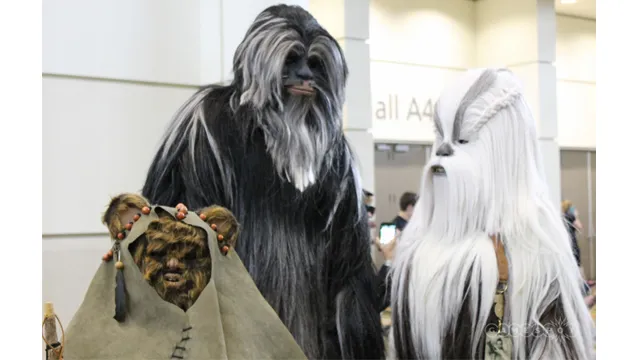 Ewok and Wookie
Cosplayers: Unknown
While Chewbacca is the most notable Wookie in the Star Wars franchise, he is not the only one of his species. Here are two Wookies hanging out with their furry brethren, the Ewok. It's obvious these cosplayers are dedicated to their costumes of choice, as wearing layers of fur at a convention is very hot.
Image source: Gamespot
---
Dengar
Cosplayer: Unknown
Dengar is another deadly bounty hunter that roams the galaxy. Hired by Darth Vader to track down Han Solo as a trap for Luke Skywalker, Dengar ended up losing the hunt to Boba Fett.

This cosplay has the weathered look of Dengar down. From the head wrap to the weathering and rust spots on the armor, there was some attention to detail that went into this costume.
Image source: GameSpot
---
Star Wars Celebration Orlando 2017 Group Cosplay
Here is a group of cosplayers from the recent Star Wars Celebration in Orlando. X-Wing Pilots, Jawas, Jedi, and Leias, as well as others, are all featured here. This is just a sampling of the cosplays and passion you will see if you attend a convention.
Image source: Coming Soon
---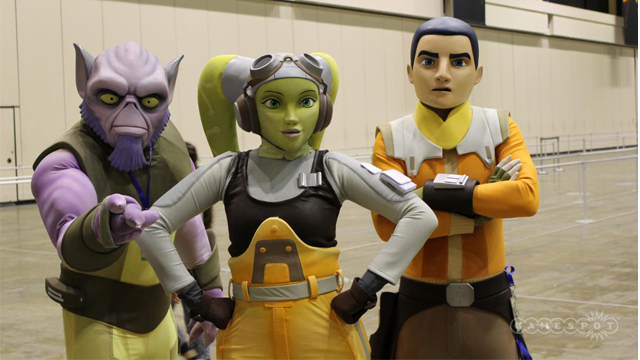 Garazeb Orrelios, Hera Syndulla, and Ezra Bridger
Cosplayers: Unknown
At first, I had to take a second look at this cosplay trio. The cartoonish aspect of their costumes is spot on, making me do a double take to make sure they were real people. The crafting, detail, and paint on the masks are amazing. The cartoonish feel of the attire matches the masks and really brings Star Wars Rebels to life.
---
Darth Vader Unmasked
Cosplayer: Unknown
Darth Vader is obviously a very popular cosplay. The Dark Lord of the Sith, a villain with his own theme music, and a loud mouth breather, Darth Vader is a mainstay within the Star Wars franchise. It is a rarity, however, to see him without his helmet when cosplayed. Here he is, though, suit fully detailed, helmet in hand, and scarred face exposed to the sunlight. The work on this cosplay is incredible, especially the scarring on his face.
---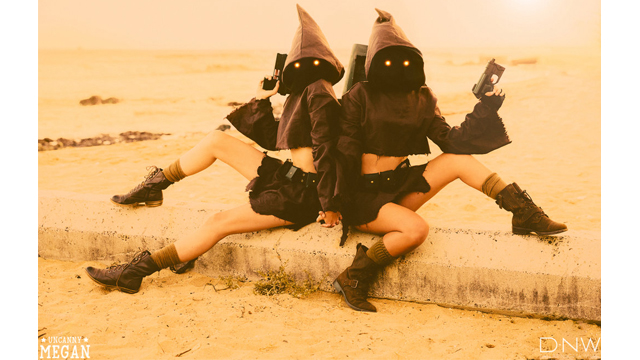 Jawa Girls
Cosplayers: Uncanny Megan, Dallas Nagata White
Uncanny Megan and Dallas Nagata White take a creative approach to their Jawa cosplay. Going a sexier route, they cut off the midriff and wear short skirts. Brown boots, socks, and the typical hooded top finish off the look. Glowing eyes stare from the depths of their hoods as they wait for their next target.
Photographer: Ed White
---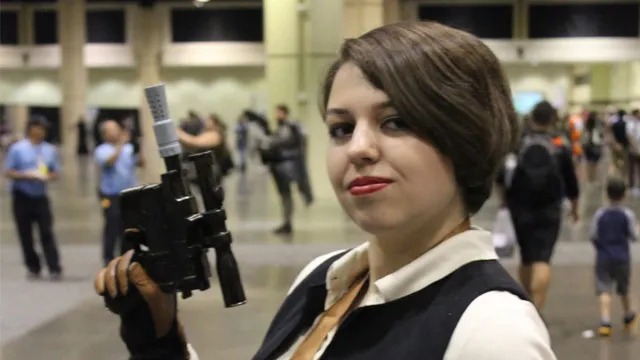 Han Solo
Cosplayer: Unknown
Han Solo is one of the most iconic characters in the Star Wars franchise. A smuggler who falls in love with Princess Leia, he has remained a fan favorite for the last 40 years.

Here, Han gets a little genderbend, though the cosplayer stays as close to his original costume as possible. Short hair, white shirt, black vest, and a blaster, she has all the main Solo points down.
Photographer: Coming Soon
---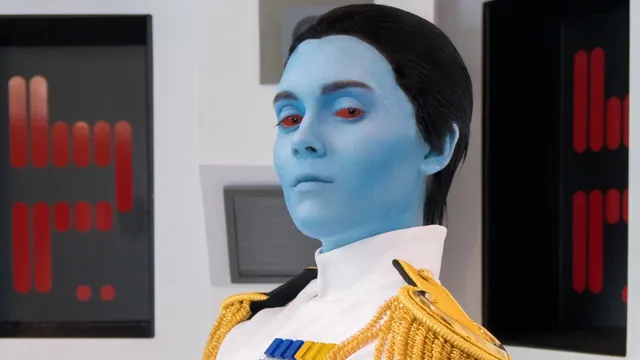 Grand Admiral Thrawn
Cosplayer: Rattle and Burn
Thrawn started off as a Grand Admiral in the Imperial Navy before the Galactic Civil War. With knowledge of the uncharted regions of the galaxy, he was an asset to Emperor Palpatine. Here, Rattle and Burn is covered in blue body paint and decked out in a white Imperial Navy uniform. Amazing that no paint smeared onto the white.
Photographer: OOC Photography
---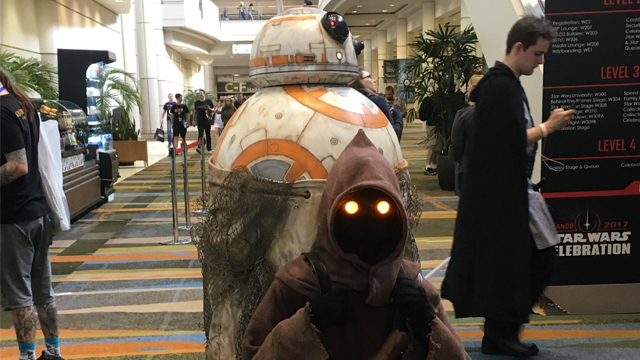 Jawa and BB-8
Cosplayer: Unknown
This Jawa went the traditional route. Covered from head to toe by a brown robe, its yellow eyes glow amongst the blackness of its hooded face. This Jawa has bundled up a battered BB-8, most likely looking to make a nice sale of the droid.
Photographer: IGN
---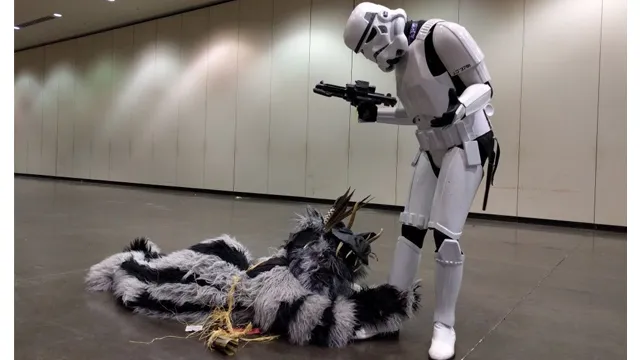 Stormtrooper
Cosplayers: Unknown
What would a Star Wars Celebration be without some stormtoopers marching about? It wouldn't be one, that's what.

Here, a stormtrooper, clad in his all-white armor, stands over an Ewok clinging to his leg, Return of the Jedi-style. With a questioning gesture, he is either unsure what the creature is actually trying to accomplish.
Image source: IGN
---
Star Wars Celebration 2017 Cosplay Videos
That wraps up our slideshow of the best Star Wars cosplays. Which cosplay was your favorite?

Before you go, take a look at these cosplay videos from Star Wars Celebration 2017 in Orlando by Florida Geek Scene. Let us know if you see yourself or any friends in the comments below!