Goblins Vs. Gnomes is Hearthstone's very first expansion to release since the game's original release. Many fans believe that the expansion breathed new life into the game but many fans also believe that the cards introduced too much of a random element into the card game.
However, sometimes its not about being good or being bad, its about what's hilarious and fun.
---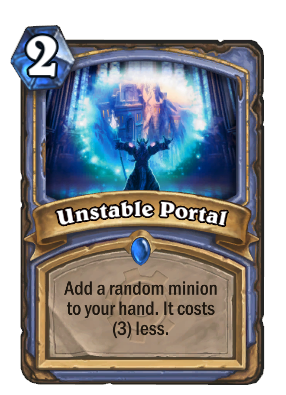 Unstable Portal
Unstable Portal is a card that can completely make or break a game. The number of minions that you can get from this card is enormous. Players can get any collectible minion from the game at the added benefit of it costing 3 less mana. Any minion costing 3 or less mana are automatically free, any mid game card can be used in the early game and any late game card can be used mid game. This gives a player a big advantage when it comes to the board if they get a really good minion since it allows them to place a minion that would normally only be played in the late game.
---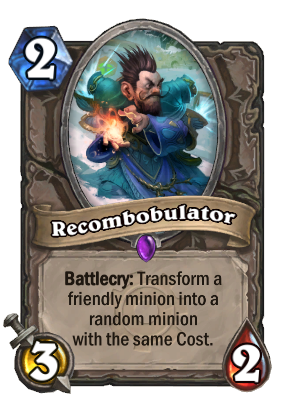 Recombobulator
Recombobulator is a minion with a lot of versatility. It allows a player to transform one minion into another one with the same cost. From transforming one giant back to the same giant or turning a big minion into a smaller minion, you either know what you're going to get or you have absolutely zero idea. Priests utilize this card with Shadow Madness in order to steal a minion and permanently turn it into their own. Classes running high cost minions use this card in order to heal the minion or turn it into something of at least equal value.
---
Piloted Shredder
Piloted Shredder is one of the most used or commonly seen minion after the release of GvG. The Shredder's deathrattle is an effect that most players hate dealing with, since they have to deal with two minions back to back. What pops out of the Shredder is something that has everyone on the edge of their seats, giving players anything from a Murloc Tidehunter or even spawning a dreaded Doomsayer. The Shredder's body may be small but the value of the card is great.
---
Blingtron 3000
Blingtron 3000 gives both players a random weapon from the game. From a puny Light's Justice to a mighty Arcanite Reaper, Blingtron 3000 can either make your day or break it. Players can play this card in hopes of getting a game ending weapon, giving the opponent a weapon with less value, or in hopes of not getting a Light's Justice. You can use the card to break any weapon your opponent may already have equipped or you can combo Blingtron 3000 with Harrison Jones or Acidic Swamp Ooze to make sure they get nothing.
Now if only it would stop giving my opponents a Gorehowl.
---
Sneed's Old Shredder
Similar to the Piloted Shredder, Sneed's Old Shredder pops out a minion from its cockpit once it dies but unlike the Piloted Shredder there is no mana-cost restriction to what comes out. It just has to be a legendary card. Anything from a Lorewalker Cho to a Deathwing could be in the Shredder.
Why is King Krush piloting the shredder?
How does a Sneed's Old Shredder fit into another Sneed's Old Shredder?
Who knows?
The only thing you do know is that you are probably going to get a lot of value out of this card. With a 5/7 body and an unpredictable deathrattle, opponents have to think twice before trying to face the Shredder.