Matthias is a YouTuber who does a host of different content, his main channel is all centered around fun, and making people laugh. He does sketch comedy, sometimes music, plays some weird mobile games, and interacts with his community by having several series' around reading comments — with over 1 million subscribers, there is a lot in his community.
Matthias also has an incredible ability have keep many different channels updated, and keep all of the content to a high standard, and varied. From vlogs with his wife Amanda Faye on their "Matt & Amanda" channel, to gaming content on his "it's whatever" channel, even challenge videos with his brother-in-law, Bryan, and brother, J-Fred, on the "TeamEdge" channel.
The "it's whatever" channel has recently been featuring a lot of VR content, specifically with the HTC Vive. With GameSkinny being a gaming focused site, I managed to find a time when Mathias wasn't busy and asked a few questions about gaming, but VR gaming specifically.
GS: How long have you been interested in gaming? What types of games got you into gaming?
M: I've been interested in gaming since I saw it as a kid. Got into NES and SNES, and I remember sitting next to my dad when he bought his computer and was playing flight simulators.
GS: What do you remember as being your go to game, and why was it?
M: When I was a kid I was super into Star Wars games, so anything Star Wars I would lose myself in. Some of these were just horrible games haha. Like The Phantom Menace and Jedi Power Battles.
GS: Before getting the HTC Vive did you have any previous VR experience? What hardware did you use, and what did you think of it?
M: No previous VR experience. I had just been waiting till they made it more accessible, because currently there is quite a bit of setup and stuff you have to do to get up and running, but since they sent me one, I figured why not.
GS: When did your interest in gaming turn to an interest in VR? Was it recently, or have you always wanted something like VR?
M: I always loved the idea of VR, I think anyone that has ever played a game has thought about it at least once. What it would be like to be fully immersed in the game? I didn't really experience VR, until I got the Vive — HTC sent me a pre-release version.
GS: Did you ever consider buying any VR headsets?
M: I had not considered buying [the Vive], had I tried the experience first hand though, that may have changed my mind pretty quickly. Videos of people playing VR show little of what it's like to actually use the Vive.
GS: What was the setup process like for the Vive? What was the hardest part or did it all just work?
M: The setup was definitely very time consuming. Took about an hour because I had never even researched the Vive before getting one. A lot of installing drivers and updating firmware. Had a bunch of issues getting that thing updated as well. Now that it's out of beta though, it works much smoother with constant updates. Updating the base stations is a pain in the butt though for sure! haha
GS: When you first used the Vive at home, what were your initial impressions?
M: Mind=blown. The experience is top shelf. Anytime someone comes over to my house for the first time, I force them to try it out. I have yet to find one person that didn't absolutely love it, and some of these people even hate gaming.
GS: What do you think of it now, given that you have had some time to tweak it and improve the calibration?
M: It works well, I wish I had more space to devote to the Vive because the bigger the space, the more immersive the experience.
GS: What is your favourite VR game to play? Is it because of the immersion, or just the gameplay?
M: One of the coolest game I've played was the Budget Cuts demo. Horrible name, but the game makes up for it. Such a clever way to manipulate gameplay, I can't wait till they release the full game.
GS: Where do you see VR gaming going? Do you think it's just a fad, or is it here to stay?
M: I think VR is WAY too expensive currently. I don't think it will be accessible for a couple years and with more generations of hardware. I think the sweet spot lies somewhere between the GearVR and the Vive. Essentially, if you had the Vive experience but weren't tethered to a 2k machine.
GS: If you could describe your perfect VR game, what would it be?
M: I can't even do that, the space is so new that I feel as though it's about to revolutionize how we play games. Something with Star Wars would be awesome though.
GS: Can you describe your experiences with VR in 4 words?
M: Try this now please.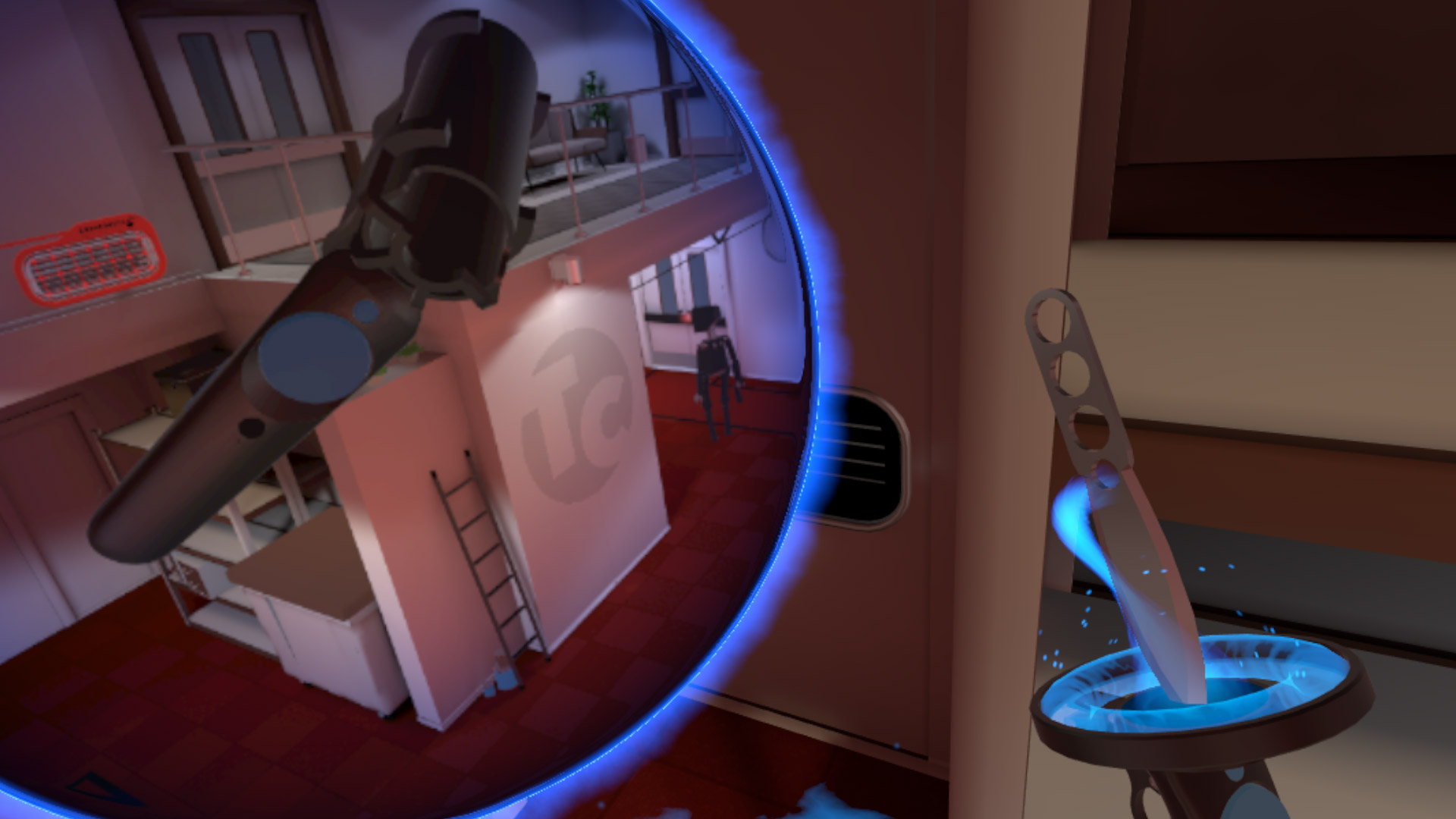 A screenshot from Budget Cuts.
I'd like to once again thank Matthias for taking the time to answer my questions.
If you want to find Matthias' VR content, there is a handy playlist with it all. But if you want to find some content which will just make you laugh, his main channel will fill that gap. You can also find him on Twitch, Instagram, and Twitter.
About the author