Steam's Early Access is a program that has more than its fair share of broken games that are doing nothing more than simply taking advantage of it. There are, however, still genuine games with a massive potential to be found.
Crest is one such title that is currently in development using Early Access. It is being developed and published by Eat Create Sleep. In Crest, you take control of a God who must lead their followers to the future by giving them commandments that tell them what to do.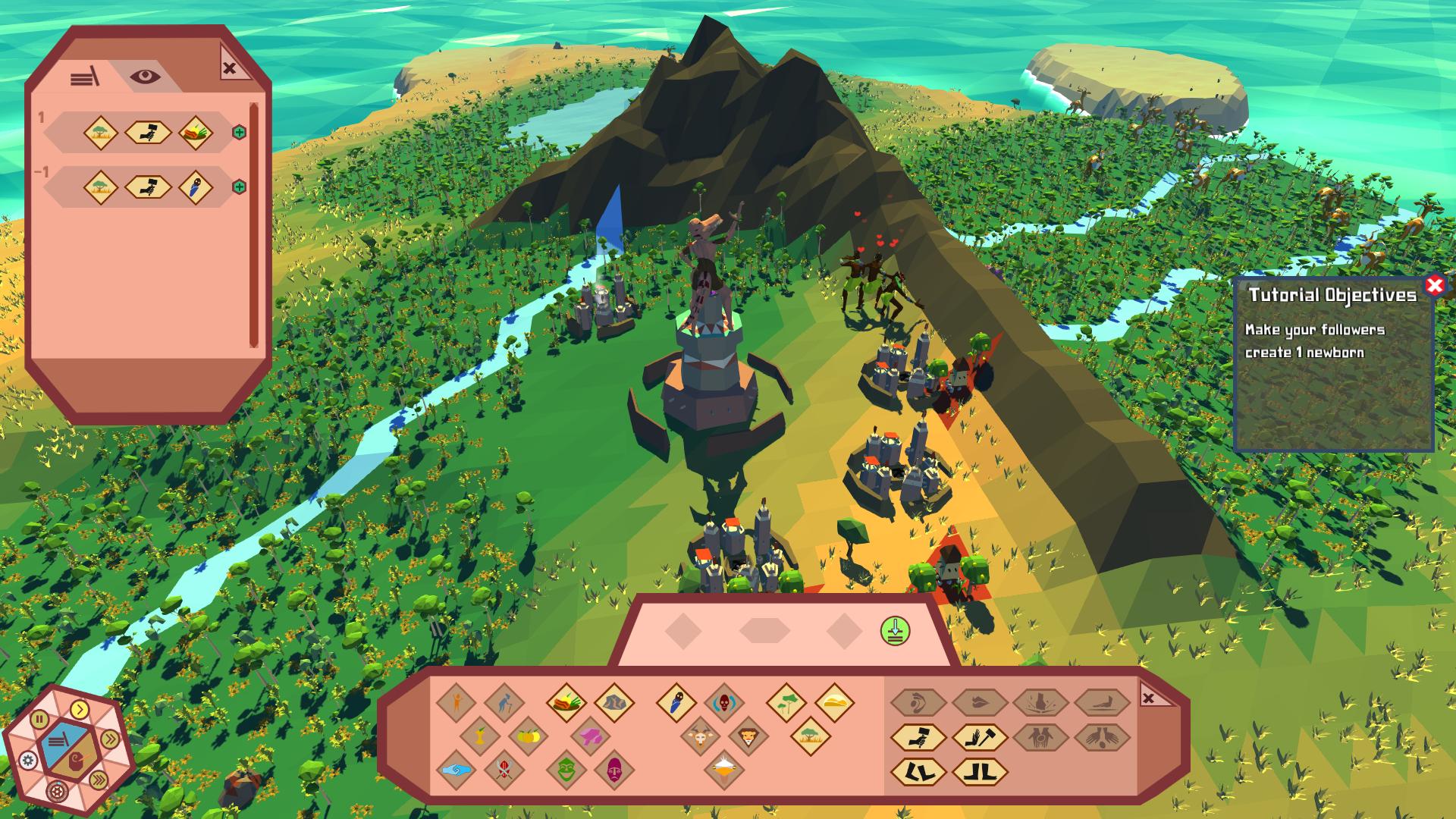 It has a wonderful art style, some unique mechanics, and great ideas. On the downside, it lacks signposting and essential information required to understand what the player needs to do.
Anyone got a "Being God 101" manual?
At the beginning of the game, players have but one town and a handful of followers. They must lead the followers by giving them commandments and telling them what they need to do in order to prosper. This starts off by telling the followers that they need to produce food and increase their population.
To do this, the player must select a region that the followers are in, followed by production and then food. This will then tell all followers in that region to produce food. This is but the most basic of commandments, which are perfect to begin with. Later things begin to get more complicated, with more towns and followers needing different commandments.
As you give more commandments that the followers like, their happiness and loyalty to you start to build. The followers can either listen to you, misinterpret what you say or simply tell you where to stick your commandments. The issue with the followers having their own wills is that there is no way of understanding why they are ignoring you.
Even if a player has full loyalty with their followers, it does not stop them from doing their own thing. They are also capable of completely rejecting a commandment but there is no information or feedback as to why they are doing so.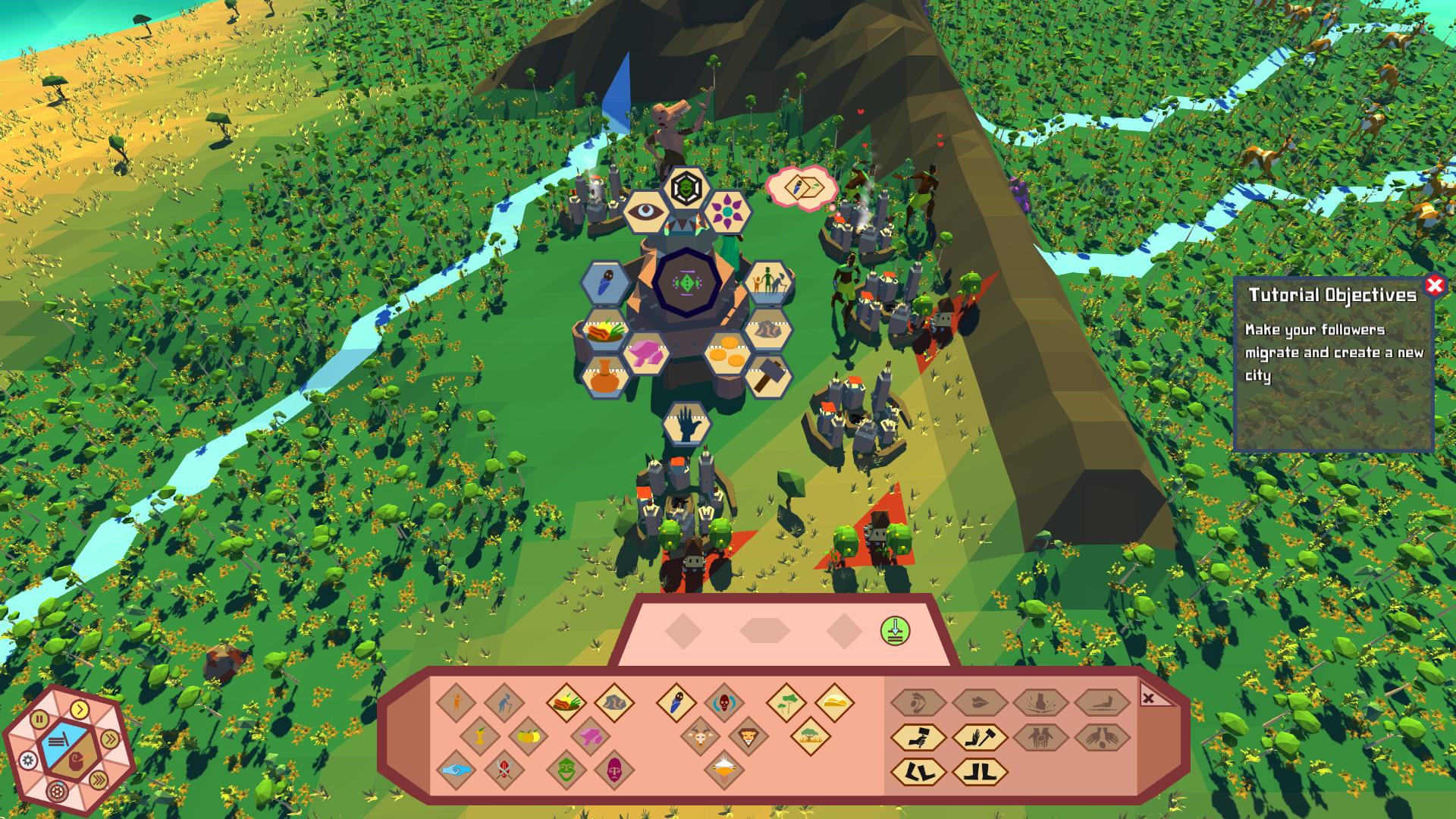 Indeed there is a tutorial, but it only covers the bare basics of how to play the game, including only a handful of the commandment options. Due to the lack of information and signposting, the game begins to be extremely frustrating. There is no way to tell why followers are acting the way they are, why they won't listen, what they don't like about a commandment, or why they are unhappy.
It also leaves you wondering how to use the commandments properly. In a game where everything relies on the players ability to lead their followers, not having the knowledge required to do so leads to hair ripping moments.
Beautiful visuals and soundtrack
One of Crests strongest points is that of its striking art style and beautiful soundtrack. Visually it is colorful and warming without being so vibrant that it blinds you. The art style takes a low polygon approach, making the models look rigid as oppose to the smooth look that most modern games go for.
While it certainly isn't an art style that would appeal to everyone, it never the less helps make the game ever more unique. The soundtrack truly adds to the overall experience with a relaxing tribal vibe to it that adds to the overall theme of the game. Both blend together in harmony that helps create a beautiful experience both visually and audibly.
A potential gem
Crest is very much a game that is still in its early days, currently at build V0.39. What we have is a game that has every possibility of being an absolute gem come release. The concept of the game is simple, yet underneath that is a game with a lot of depth.
It takes a unique approach to a genre where titles are few and far between. Not only through its art style is it unique but the games mechanics. It's tutorial, information and action feedback need some work. The amount of content the game has is a bit limited right now, but there is plenty still to come.
Should the developer fix these issues, it will be a game that everyone could easily play and enjoy as the only thing that dampens the experience is its uninformative gameplay. If playing God is an idea that interests you, Crest is certainly a game to watch out for as it grows.
Disclaimer: A copy of the game was provided by the publisher for the purpose of a preview.
4
Crest Preview – A gem that requires polish
Crest is a potential gem with some great ideas but requires polish.
What Our Ratings Mean
About the author