It's not unusual for franchises to develop their own variation of Mario Kart, and Disney Speedstorm enters the race with its own flair. Perhaps not outpacing the plucky plumber's karting style, Speedstorm flies down the track alongside it as a worthy rival.
Though there are similarities between the two racing games, I think it's best to judge Disney Speedstorm on its own merits rather than looking at its similarities to Mario Kart, a series that has supplanted itself as the karting king over the past 21 years.
Disney Speedstorm opens with a strong start for its Early Access period. From the beginning, it features 18 characters, and likely more to be added throughout Early Access. The courses are energetic, fun, and competitive with upbeat remixes of classic Disney songs playing in the background.
Despite these early signs of something good to come, I tend to go into Early Access games with lowered expectations. They're still in development and being updated, after all. But Disney Speedstorm surprised me all the way through.
You aren't going into a game with a story that has a lot of depth, or really any story at all, and while that's expected from a kart racer, the lack of narrative engagement isn't always balanced by the gameplay. Despite that, there's plenty of fun to be had on these Disney-inspired racetracks.
It helps that the controls feel smooth, and even using a keyboard instead of a controller is feasible with Disney Speedstorm, which usually isn't the case when it comes to driving in any games, much less racers.
Disney Speedstorm feels polished for an Early Access game. There aren't many issues while playing and bugs are infrequent. However, information about items you pick up during races is threadbare, and Disney Speedstorm could do a better job explaining items to avoid overwhelming players. Implementing features like item or skill encyclopedia pages would go a long way.
To keep things interesting, Disney Speedstorm has multiple game modes. The Starter Circuit acts as your tutorial, teaching you how to drive and use the items you pick up (not what they're for), as well as letting you experience different game modes like Last One Standing.
Each course has three objectives that must be completed to perfect it, but you can move onto the next course with only one objective completed, meaning you can continue through the chapter even without winning for multiple courses. While this can make the game more accessible for players, it's balanced by alternative, more challenging objectives for more seasoned players, like drifting for a certain length of time or stunning a specific number of enemies during the race.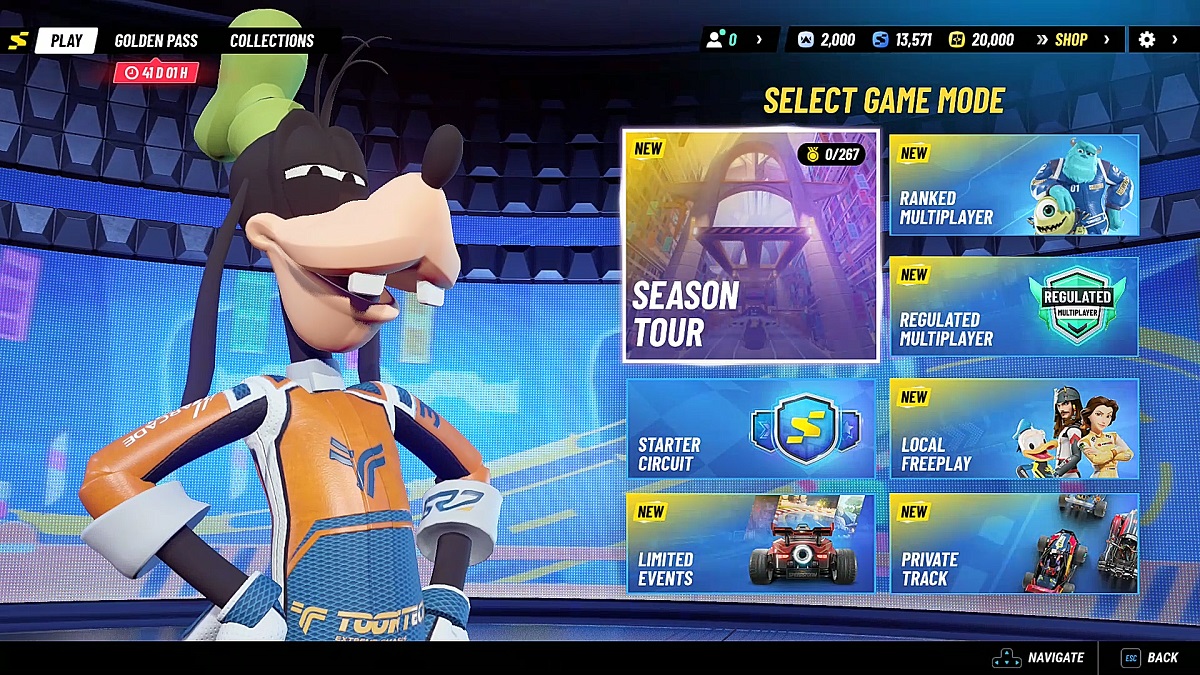 Screenshot by Gameskinny
The Starter Circuit is also where you'll unlock your first characters. In addition, you'll earn items needed to upgrade characters, too. It's not the only way to unlock characters in Disney Speedstorm, but it's a good way to build your roster before heading into multiplayer.
Unless you're playing locally or on a private track, you'll only be able to use characters you've already unlocked, which could put you at a disadvantage depending on how many racers you have, which type of racers they are, and how much you've upgraded them compared to your opponents.
After you get the hang of how the game works and add a few racers with the Starter Circuit, you can head into multiplayer to race other players online. When you enter the matchmaking system, you're put in queue as the game tries to find a fitting collection of players to keep the game balanced, and you'll play one course for each match. As a bonus, the queue didn't take long when I was playing. While it can vary greatly depending on when you play, your connection, and your setup, I didn't wait for longer than a minute or two for a multiplayer match.
The courses and music aren't taken directly out of Disney movies, but you can see elements of the films in the themed courses. The Beauty and the Beast course has swinging plates and spinning tea cups as obstacles, and it's fun to see these nods to the movies. Although I personally would love to see more courses that are similar to the Pirates of the Caribbean track, where you're surrounded by boats and have to avoid being hit by Kraken while on the docks. Other courses can feel a little too subtle with their references in comparison.
The music that plays in the background isn't pulled from movie soundtracks, but that might be for the best since not every Disney song is fit for a competitive racing game. Instead, the music that you hear consists of upbeat remixes of Disney songs, which gives them a sense of nostalgia combined with their novelty.
Image via Gameloft
The biggest drawbacks for Disney Speedstorm are currently the limited number of courses and the inclusion of microtransactions.
As an Early Access game, the limited number of courses is understandable. It's likely that more will be added as the game is updated, especially with the Season system that emphasizes a different movie with each Season and lets you earn related characters and other rewards.
However, the microtransactions are a different story. The game's current Season is Monsters Inc., which provides a course based on the movie with four unlockable characters. Though I suspect this structure will be used to continually add more racers and maps, the downside is that some Seasonal rewards require you to have a Golden Pass, which acts like a Battle Pass that you can level to receive rewards.
While it's possible to unlock all characters and content without microtransactions, it's faster if you're willing to spend real money on the game. If you purchase a Founder's Pack, you get varying levels of extra content, including Golden Pass tokens, that can help you speed up the process of unlocking content. But when the game leaves Early Access and goes free-to-play at release, it will take more time and effort to get content, which could lead to impatient players spending real money to speed up the process.
Daily and Weekly Rewards help mitigate microtransactions by rewarding players for completing specific tasks. So, while it can be annoying for microtransactions to be part of Disney Speedstorm, there are at least options that help you avoid spending extra money without losing out on content.
Disney Speedstorm Early Access Review — The Bottom Line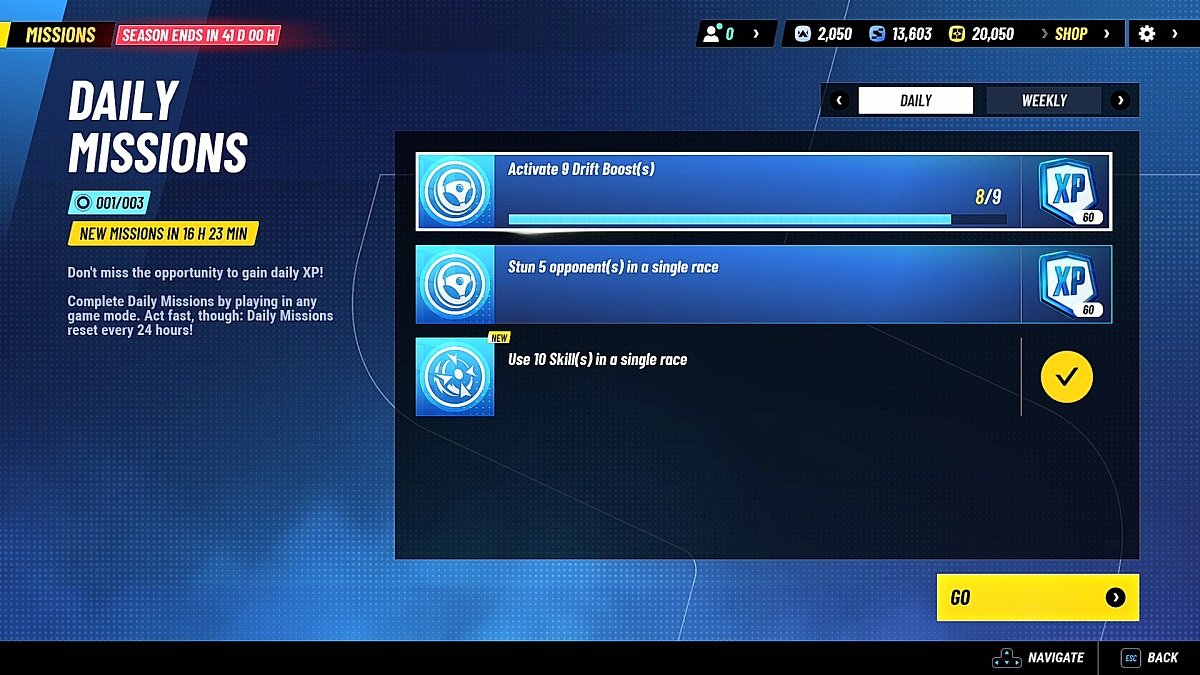 Screenshot by Gameskinny
Pros
Smooth gameplay
Multiple game modes
Classic Disney characters
Plenty of potential for characters and courses
Cons
Microtransactions
Limited course options
Lack of description for items picked up during the race

Too many in-game currencies
Overall, there's a lot of fun you can have with Disney Speedstorm, especially if you're playing against family and friends. It's competitive and fast-paced. Most courses are two laps, so matches don't take long to complete. While there are downsides to the game, some of which stem from being Early Access and others from design options, Disney Speedstorm seems like a game for Disney lovers to keep an eye on.
[Gameloft provided the copy of Disney Speedstorm used for this review. Featured Image via Gameloft.]
About the author