Mantis Burn Racing is a top down arcade racer, inspired by classics like Micro Machines, but with a more realistic and "innovative" approach. It's a stunning looking game where the cars also handle really well. There is a "deep progression system," where "as you progress through the 20 hour career" you gain XP. As you would expect from an XP system, this allows you to upgrade your car — including engine, tires, boost, suspension, chassis, and more.
GameSkinny had a little wag with Sean Walsh, Marketing and PR Manager at VooFoo Studios, the developers on Mantis Burn Racing.
We first had a chat about the upgrade system in the game, and how you went about tinkering. There are "18 different slots per car, so it almost works like an RPG in terms of the slots." It's a very simple system where you can select the part of the car, and then select the upgrade you want put there. The way the car handles will then either change a small amount, or drastically. While we have seen these sorts of systems in simulation racers, we rarely see them in arcade games beyond the basics of paint jobs, engine, and boost.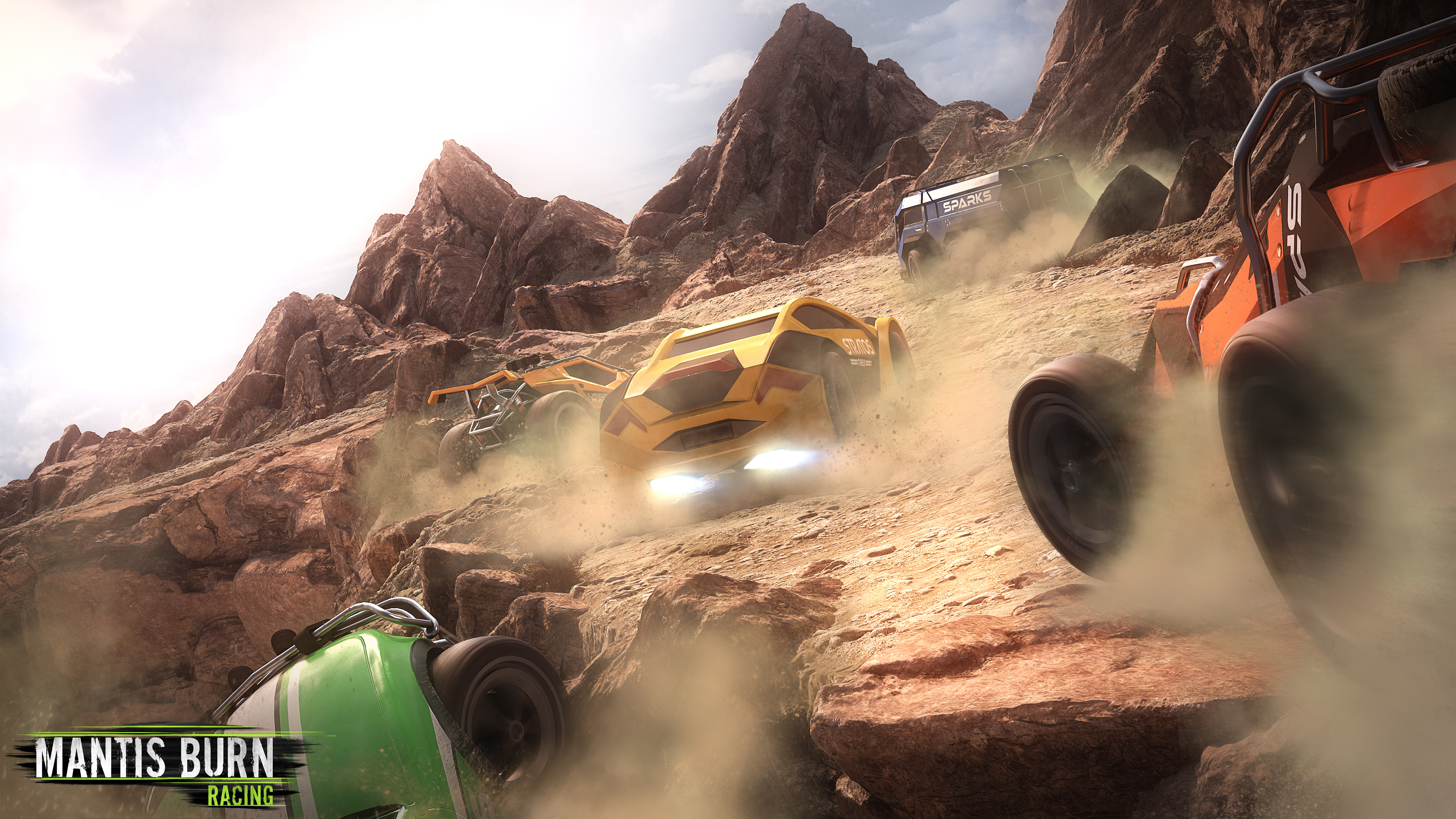 Sean discussed how the career mode doesn't just feature straight racing, as there are "9 different event modes." Things like "hot lap, overtake, accumulator, knockout, and others. They are specific challenges in the game which are not just about racing."
Mantis Burn Racing features "3 classes of vehicle." There's nothing fancy about these; they are light, middle, and heavy-weight. They all "react and handle very differently." The game also features weekly challenges, there is even 4 player local splitscreen — which is nice as "there [are] not many games that have that nowadays." There's also 8 player multiplayer, and for when the PS4 Pro is released Mantis Burn Racing will "support full native 4K at 60FPS." (That's a bold claim considering all the of the caveats Sony has put on the 4K rendering of the thing, but I'm not trying to argue against the PS4 Pro right now.) The game will also run at 1080p for each player while playing in 4 player local splitscreen.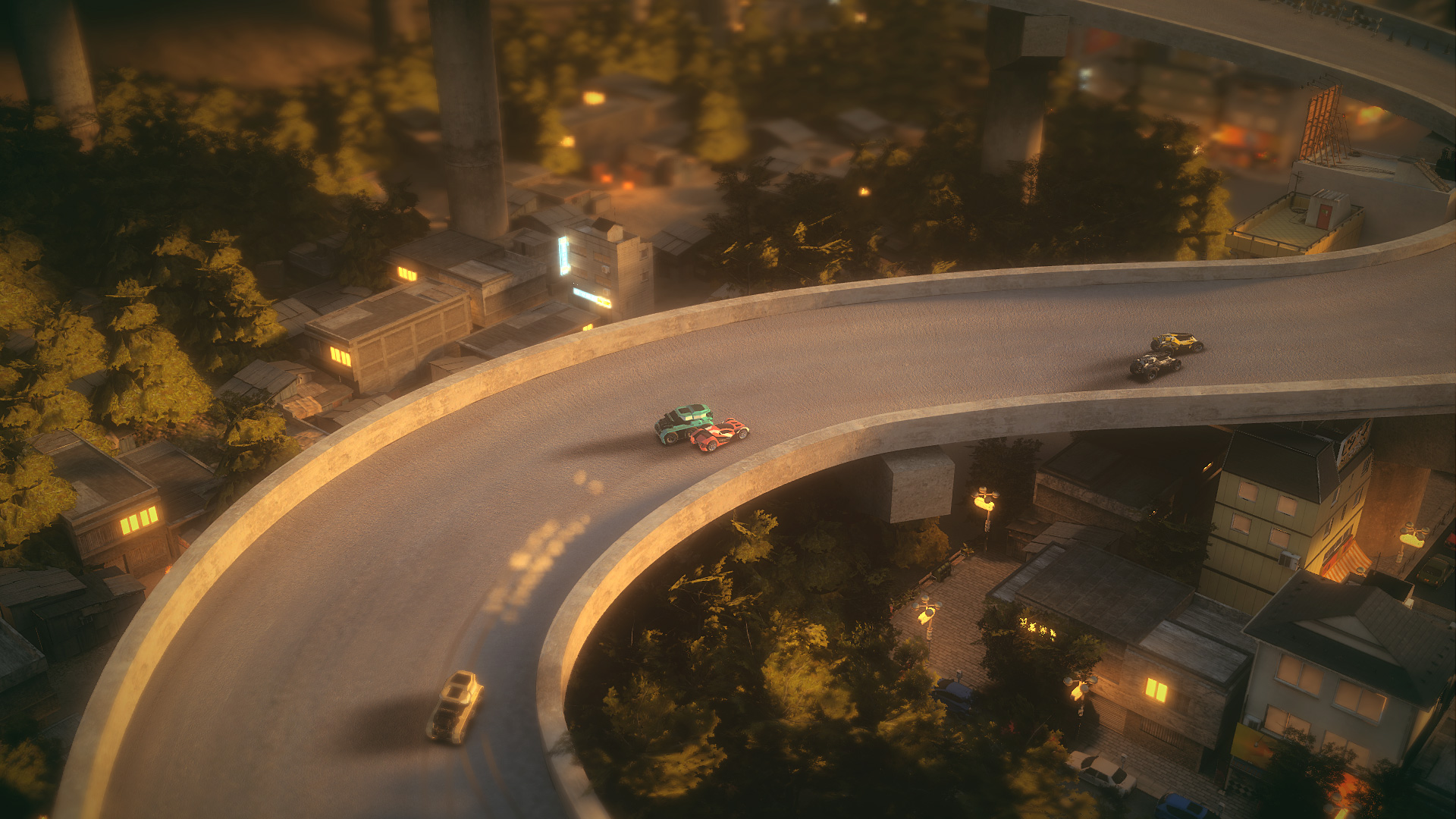 We then launched into talking about the gameplay, and how "it uses — kind of — real world physics," to blend simulation-ish ideas, with an arcade game, in a system VooFoo are calling "fun physics." Unlike most arcade racers, there are no 'do stuff for me' buttons, instead Mantis Burn Racing "handles how you handle the car." Sean then spoke about how the upgrade system, and the "fun physics" system interact.
"If you really upgrade your car with lots of acceleration and gear boxes, and you put your foot down, it's going to spin. So, whilst it's arcade-y it actually takes a bit of getting used to, and it actually has some real world physics behind it."
I think the strongest thing that Mantis Burn Racing has going for it is the level of detail that's put into the game, which is emphasized by the fact the team at VooFoo built their own engine to support it.
It really sounds like VooFoo are putting everything they can into Mantis Burn Racing, and not only with the level of detail. On top of all of that "there's going to be free DLC, post-launch as well, so [VooFoo] are going to keep [Mantis Burn Racing] going." The DLC will feature a "whole new environment," on top of the "two main environments" the game currently features — a sandy/dusty offroad environment, a and city based one (inspired by Shangri-La, China). That doesn't mean there's a shortage of tracks, as "there will be about 20 tracks by the time [FooVoo] launch that free DLC."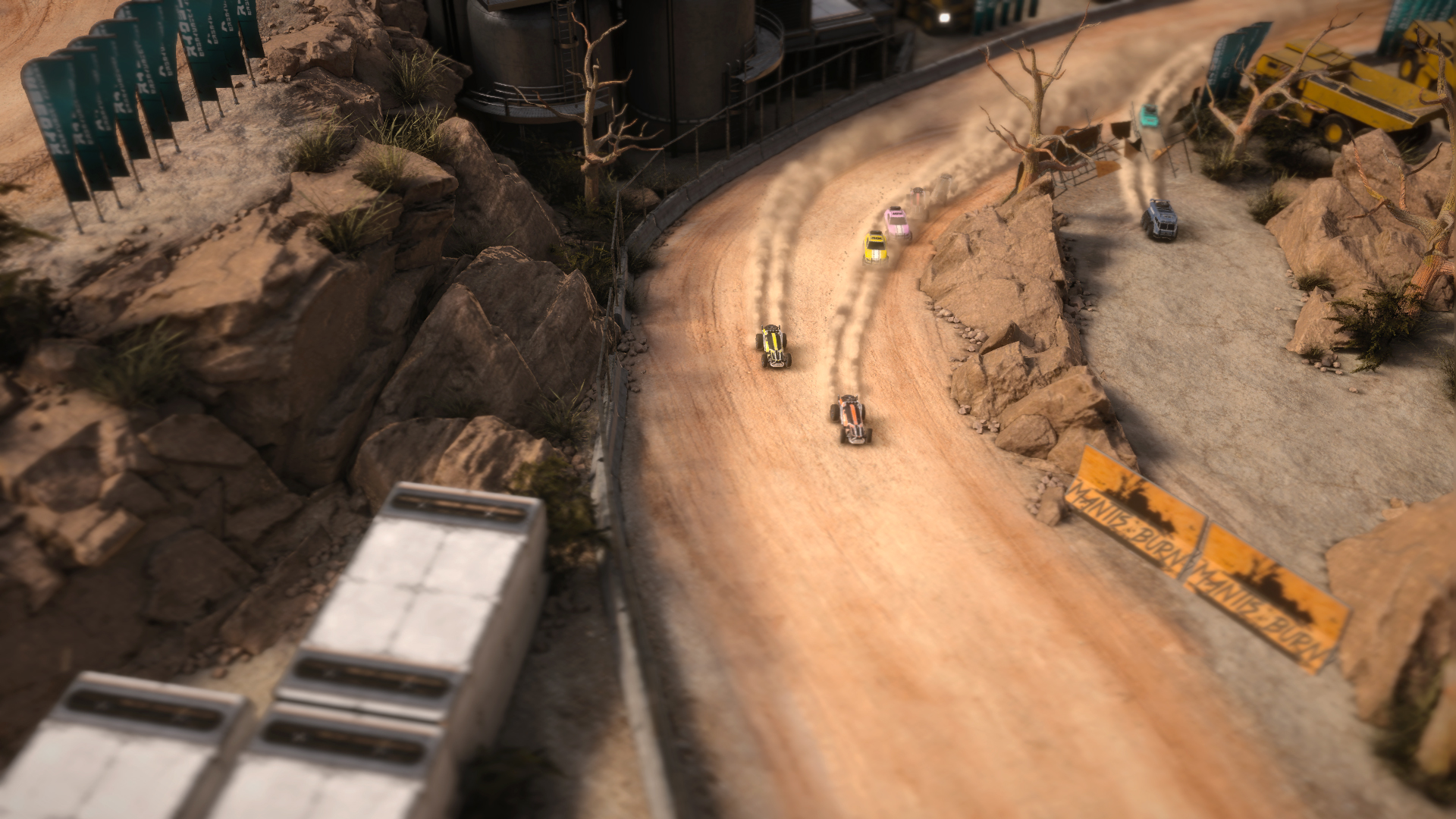 As Mantis Burn Racing is currently on Steam as an Early Access game, I was interested to hear how the reception of the game has been — what with Steam Early Access having a lot of stigma attached to it. Sean was overall very happy with the experience saying:
"Yeah, it's been really good, we've got quite a few people playing it. But importantly, one of the things we have changed through Early Access is the camera. So while people like top down racing games, you can't please everyone with the camera angle, so [VooFoo] have added about 4 or 5 different variations of camera. There's one camera angle which follows the car directly, there's a static camera, and just slightly different angles to please all tastes — hopefully.

"The feedback's been really good, most people people are really positive, they really appreciate that the game's pretty well developed since it's been on Early Access. It's been on Early Access since about July 2016, and we didn't want to be stuck on Early Access for [a long time] as that can be frustrating for people. But yeah, it's been really good, we've got some really valuable feedback."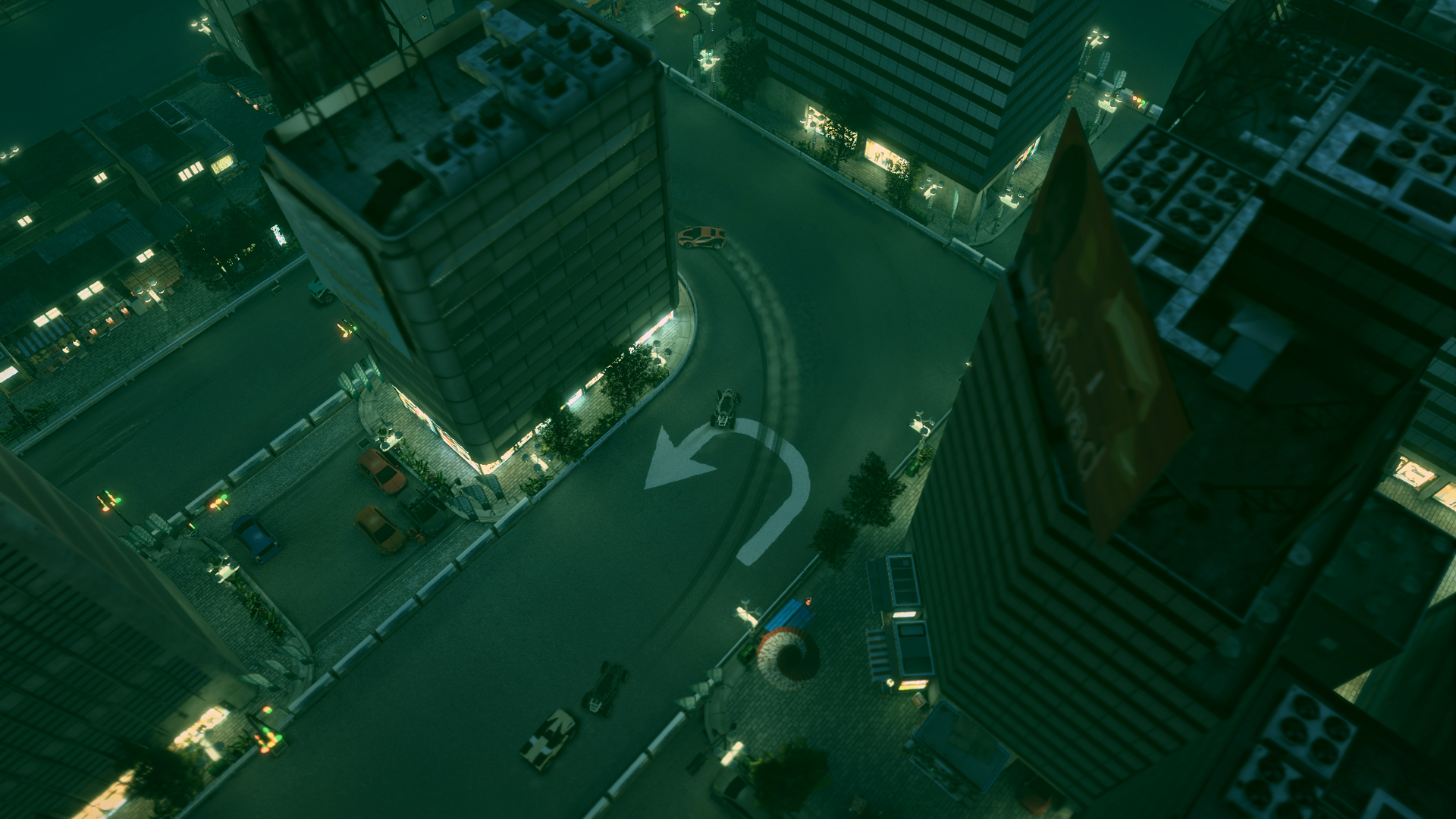 I then wanted to ask when the decision about having the "fun physics" system was made, as when driving — let's say up a hill which has a corner on it — most arcade racers just stick to the road, where in Mantis Burn Racing you're car's steering will go light. Sean replied simply with, "yes, pretty much," — the answer that I was expecting, really.
He then continued, saying that a lot of people were asking, "so are you going to add weapons, or motorbikes or what ever" but VooFoo really wanted "the racing to be front and center." And while adding some crazier features to the game isn't off the table with DLC, VooFoo wanted "the driving experience to be tactile…and in terms of it's genre, actually quite authentic." They also want the game to be "fun, pickup and play, and arcade-y."
FooVoo Studios really want to make Mantis Burn Racing as good as possible, aiming for "the best in class" and "hopefully bringing the top down arcade racer back."
To close out the interview, I then asked Sean my favourite question of all time, 'describe your game in 4 words.' After a few attempts, as is usually the case with my mean questions, Sean said:
Fun, top-down, arcade racer.
Which pretty much sums up my experience playing the game, I had fun, it's top down, and it's an arcade racer. Like always, they nailed what the game is.
I'd, once again, like to thank Sean Walsh for the interview.
Mantis Burn Racing is due out digitally for the PS4, and Xbox One, with a release date to be announced very soon. But if you want the game now, it's out on Steam Early Access.
About the author