The final day of 2017's EGX Rezzed was undoubtedly the busiest out of the long weekend. There were plenty of families attending, and things were a little bit manic. Even though there were queues to play games, I managed to get my hands on some fantastic adventure games, and even had some time to relax and do my own thing.
Here are some of the highlights from what I saw on this last day:
Knights & Bikes
It is always great to find games that remind you of your childhood — and Knights & Bikes by London-based indie devs Foam Sword does exactly that. It reminds you of carefree days going around your neighborhood on your bikes and letting your imagination run wild. This action-adventure co-op combines a unique hand-drawn style with a charming story turning it into a truly endearing game.
The game takes place during the late 1980s, and players join sisters Nessa and Demelza as they explore a British island on their bikes. Something evil is turning all the adults bad, and you are the ones to rescue them and save the island from ruin. The game features some great combat mechanics such as having to use water balloons, frisbees, and puddle jumping to kill nasties — and also allows you to customize your bikes with things like frisbee shields and flags.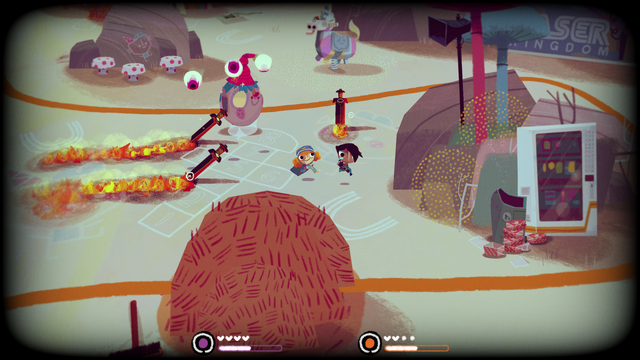 A trip to the carnival proves a bit more dangerous than normal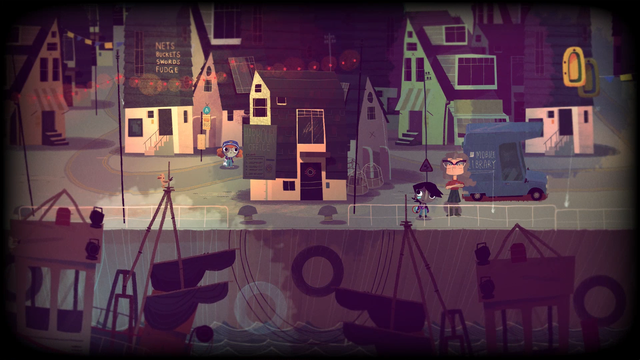 The island before the troubles hit. Even the librarian was kind of nice… kinda.
Development of Knights & Bikes has been funded via a Kickstarter campaign which ended in March 2016, but there is currently no estimated release date for the finished game.
AereA
I like it when music is the main feature of a game. And while there are many adventure games that have things like music-themed puzzles in, none that I've come across have actually used musical instruments as the main focus of the game. That is…until I was introduced to a game called AereA, developed by Triangle Studios from the Netherlands.
AereA is a music-themed action RPG packed full of musical puzzles and set in the mystical land of Aezir. A mysterious evil has stolen the Nine Primordial Instruments, and you're burdened with the odious task of retrieving them. There are four characters to choose from, and each is based on a particular musical instrument.
In the demo I played, I chose to play as Claude who is a gunner. Instead of normal guns, though, Claude's guns are actually trumpets. The other character I liked the look of was Jacques, the Cello-Knight, whose shield is shaped like the body of a cello and whose sword is like a bow. There is also a Lute-Mage and a Harp-Archer.
You can play co-op and form a formidable band of adventurers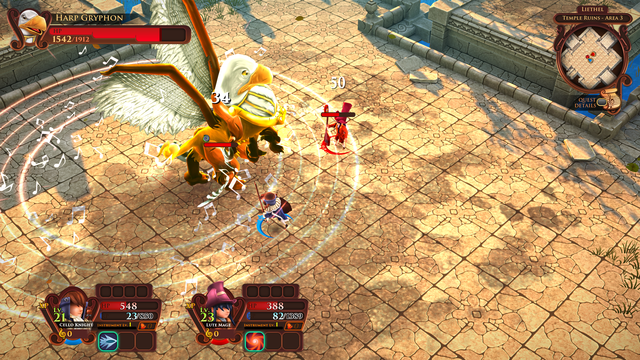 Even the enemies are themed on musical instruments
The games release date is still to be confirmed, but the developer says it should launch around Summer 2017.
Augmented Empire
I finally got to try Augmented Empire from Sunderland-based indie developers Coatsink. I've demoed and reviewed other games developed by this studio, so I was keen to check this new one out.
Augmented Empire is a story-driven tactical RPG set in a neo-noir city on a fictional island called New Savannah. You are put into a society that is split into different factions depending on your class. While the richer citizens live a life of luxury, the every day poorer folk struggle to survive — always facing violence and undesirable conditions. The society is on the brink of revolution, and you are one of the masterminds behind it.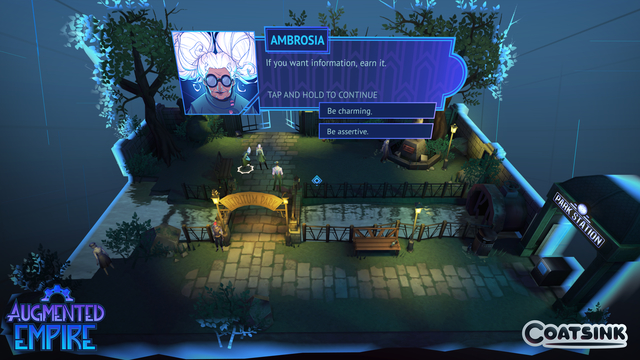 You must interact with everyone to find all the information you need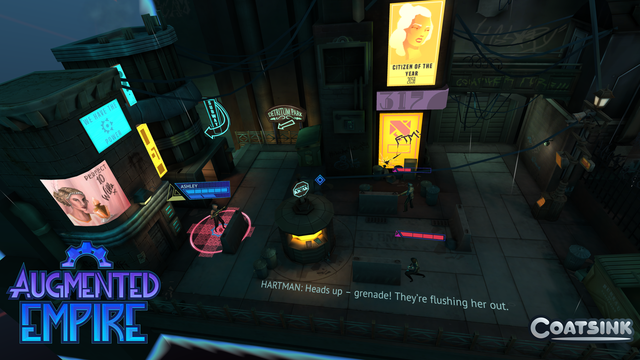 The police are out to get you!
Augmented Empire will be an exclusive Samsung Gear VR title and will be available at some point during 2017, though an exact date is yet to be confirmed.
Insane Robots
I spent a good amount of time speaking with the guys from London-based developer Playniac about their game Insane Robots. I was instantly drawn in by the bright and cartoony graphics, and the game made me immediately think of playing it with my family.
Insane Robots falls into many categories. It has been described as a 2D "rogue-lite" strategy game with elements of a turn-based card-battler in which you play a robot that has been thrown into an arena due to a malfunction. Your simple aim is to defeat all other robots in the arena and get out! You have to build up your attack and defense stats by playing a series of cards in order to gain the highest combo you can. There are also cards which allow you to hack your opponent but you want to be careful with those because the hacks can go against your favor as well as for.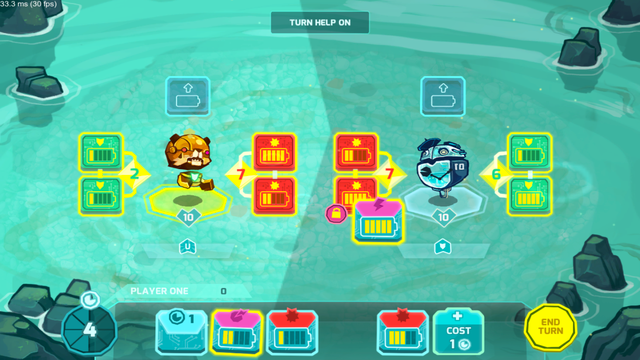 Pick the cards you want to play from the bottom display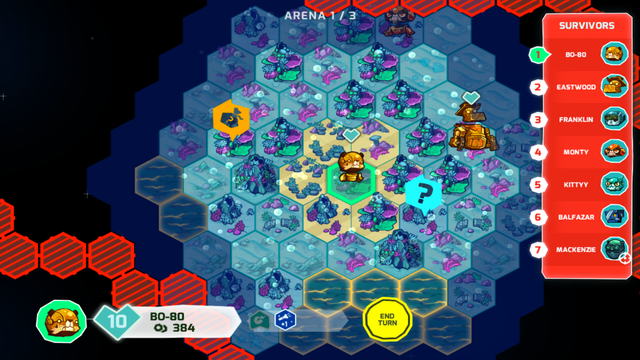 Be careful where you step in the arena because they are out to get you!
There is currently no confirmed date for the release of Insane Robots aside from "mid-2017". Whenever it's finally released, it will be available on PC, Mac, PS4, and Xbox One.
So, that was EGX Rezzed for another year. There were so many more games I could write about but you would seriously be here all evening so I hope these few highlights whet your appetite for more. Check out my other EGX Rezzed articles for find out about some other great games from the weekend!
About the author