When Masahiro Sakurai first created Kirby back in 1992, he probably had no idea of how much of a loved character he would become. The round, pink (although he was first introduced to North American as white) little creature is now one of Nintendo's titular icons and continues to be a huge fan favorite. The simple concept of a small creature who can fly and suck in enemies is so endearing and flexible that it has seen Kirby in lots of different adventures and scenarios and is always changing to suit today's trends.
In this article, I just want to show you how far Kirby has changed and to highlight why he one of the most beloved Nintendo characters of all time.
Kirby's roots in the 1990s
Well, it all began in 1992 when Sakurai, working for the developer HAL Laboratory, created a little placeholder image called Popopo. Developers liked this guy so much that they decided to keep him, and a game was developed around him, a game called Twinkle Popo. For reasons unknown, his name eventually became Kirby, and the game became Kirby's Dream Land.
Kirby's Dream Land was released on Game Boy in April 1992 in Japan and August the same year for North America and the rest of the World. Even though the original Game Boy had a grayscale screen, Kirby was always pink in the eyes of Nintendo, but the decision was made to have Kirby appear white in the box art for the Dream Land release in the states to match how he appears in the game. To date, this side-scrolling platform has sold more than 5 million copies. As well as Kirby, Dream Land also saw the introduction King Dedede. He was Kirby's adversary in this first game of the series and continues to be a reoccurring villain character.
Kirby continued to grow in popularity in the 1990s, and there was a total of 9 further games released based on his adventures. Kirby's Adventure released in 1993 and the world first saw Kirby in all his pink goodness (albeit a very pale shade of pink). This was the first and only Kirby game to release on the NES and, at six megabits, was one of the largest games to ever come out on the console. The last title to release in the 90s was a direct sequel to the first
The last title to release in the 90s was a direct sequel to the first Kirby game which was Kirby's Dream Land 3 and was released in 1999. This, in itself, was the last game to be released by Nintendo for the Super NES however many didn't get to play it until it became available via the Wii Virtual Console in 2009. Fans in Europe and Australia were unable to play the game as there were some pretty significant PAL conversion issues which resulted in the game being unreleasable in those regions.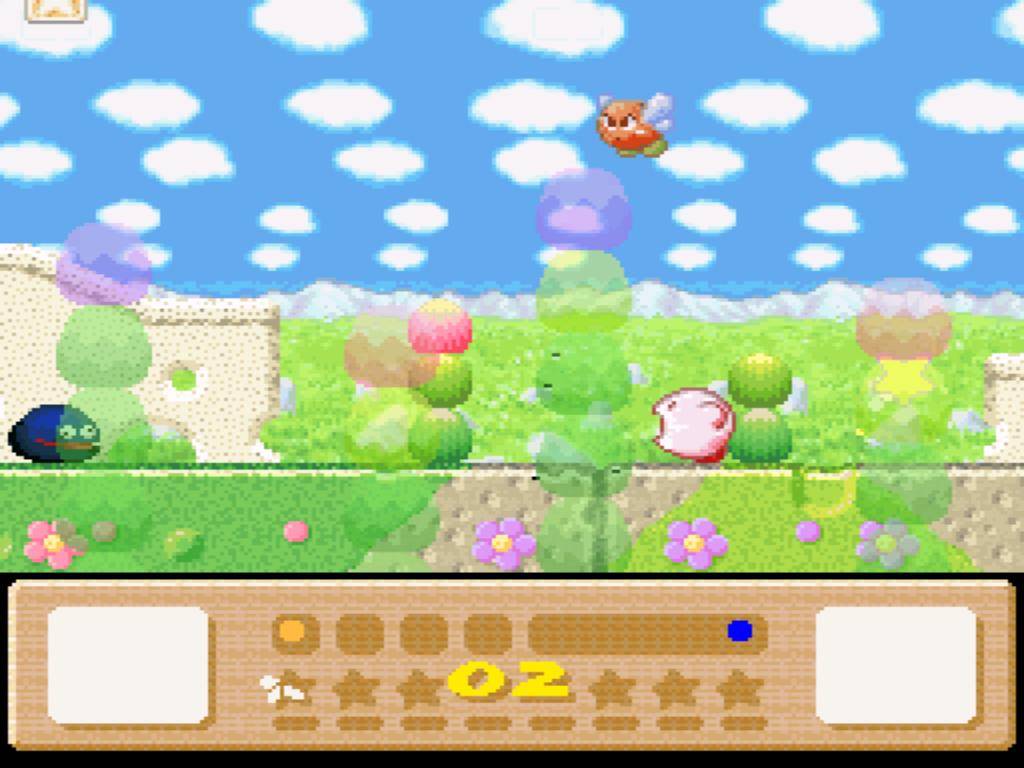 Into the 2000s and still going strong
At the start of the new millennium, Kirby made his way onto the Nintendo 64 in Kirby 64: The Crystal Shards. It was to be the only Kirby game to be available on the console even though he featured in another new game for the N64 called Super Smash Bros. which released in 1999. Kirby has a lot of "firsts" associated with the game such as being one of the first Nintendo games to utilize motion sensor technology in 2000 in Kirby Tilt 'n' Tumble for the Game Boy Color. During the 2000s, there were 7 Kirby games released, and the character never lost favor with fans.
As Nintendo was building momentum through the decade, releasing console after console, Kirby has had his rightful place on all of them. In 2003, he made his only appearance on the GameCube in a racing game called Kirby Air Ride.
Kirby & the Amazing Mirror and its prequel Kirby: Nightmare in Dream Land were released on the Game Boy Advance in 2002 and 2004 respectively. The Amazing Mirror introduced a new format to the Kirby games, a maze layout which allows players to go to any area they can get to at any time rather than sticking to Kirby's known and loved linear side-scrolling platform format. This game is also the only game in the entire Kirby series that does not include King Dedede.
Always a fan of remakes, Nintendo released Kirby Super Star Ultra in 2008 which was a remake of the 1996 title Kirby Super Star. The original game featured many different sub-games and modes and the remake introduced even more sub-games as well as updating the graphics and gameplay to make it suitable for the DS.
Soaring into the 2010's
As we fly into the next decade, Kirby is still hitting the mark with fans as new and exciting adventures make their way to our consoles. The critically acclaimed Kirby's Epic Yarn for the Wii was the first to hit the shelves in 2010. This stunningly different game won multiple awards at E3 2010 as well as Game of the Show from Gamespot.
As the name implies, there is a lot of yarn in this game, but the whole feel of the game is a haberdasher's shop. Kirby ends up being transported to Patch Land and turning him into yarn. For once, Kirby was unable to swallow his enemies or fly, so you have to make do with using yarn, buttons, scissors, etc. to get through each level.
Skipping forward a few years to 2016, Nintendo released their fourteenth title in the Kirby series. Kirby: Planet Robobot was released in June this year and is for the Nintendo 3DS. Like its predecessor Kirby Triple Deluxe, it makes use of the 3DS' 3D capabilities. The main features of the game style remain the same but in addition to Kirby's exhaling abilities he now gets to pilot mech suits or robobot armor.
If I were to mention all of Kirby's adventures this brief history wouldn't be very short at all but you can see just how far he has come. Kirby celebrated his 20th anniversary in 2012, and there are no signs as yet of him ever retiring. Together HAL Laboratory and Nintendo have created such a versatile character who can easily be adapted to fit into any scenario he is put in. This leaves fan thinking about what will Kirby do next? Where do we go from this new sci-fi game?
Let us know what you believe the future holds for Kirby below and share with us your memories of playing his games in the comments below.
About the author