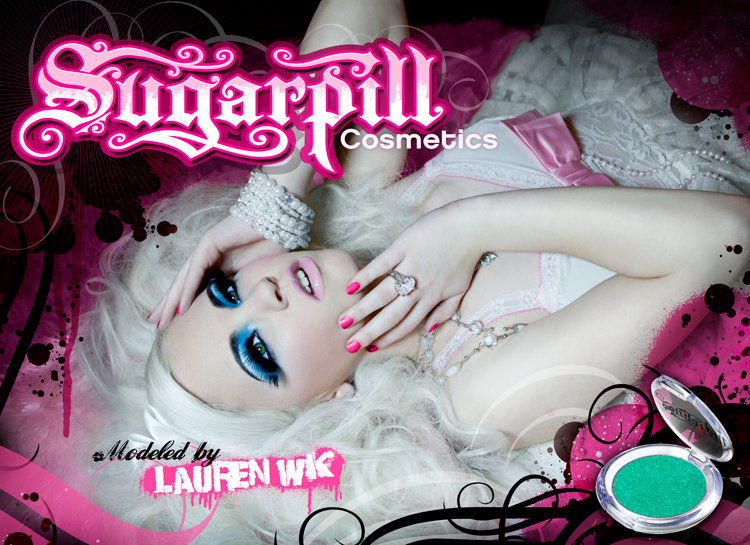 Let's face it. We ladies get enough flak as is about whether or not we count as a "real gamer" simply because of the choice of game that we play. (Being addicted to Candy Crush Saga is not a crime, in spite of what your Battlefield clan might think.) Everything that's not 100% badass makes us take a huge step back into Barbie Dreamhouse Party territory... and with over 2,000 hours clocked in various first person shooters, well, that just doesn't sound very accurate, does it?
It's silly. Nobody has to pretend about what they like or don't like. The "fake girl gamer" stereotype is largely bandied about, but in all honesty, how badly have they affected us, really? If you want people to know you're serious, you game like a boss not by giggling. If you're good, people will respect that.
All of that just to say - do we really need to throw shade at what a "real girl gamer" looks like?
No. We don't. So here's for those of us who enjoy looking fabulous (male, female, and household pets all). No matter where we are, or what we're doing.
Here are four epic examples where gaming, geek culture, and being pretty collide.
---
A personal favorite of mine, from which I have ordered buckets and buckets of brilliantly-colored eyeshadows. This small indie company pays loving tribute to a number of different gaming and geek loves, from games to TV shows and classic childhood movies. Ever reinventing themselves, their catalog of collections are constantly changing - these days they are more heavily into current TV shows than gaming, but they never forget their gaming roots.
(For more information on some of my personal experiences with this company, feel free to check out Geek Chic Cosmetics: pretty is srs bsns.)
[image via Kassandra Leigh Purcell for Geek Chic]
---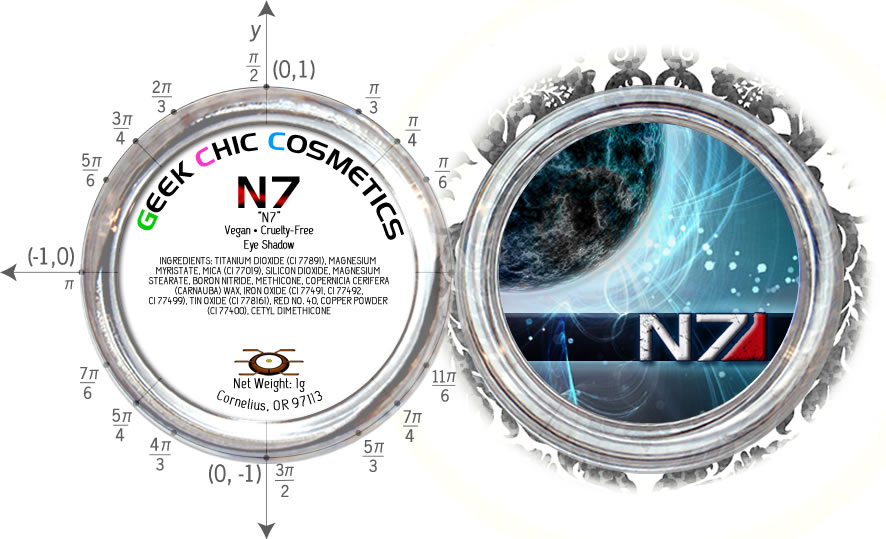 This company is known chiefly for its collective of eyeshadow colors which run high to glitter, super-pigmented shades, and tons of sparkle. With a net weight of about 1.0 g each, they do not give you an enormous amount of product - but when you factor in that a sample amount (about 1/8th of a teaspoon) already nets you about 5 uses already, you'll realize that the amount you do get is plenty.
As such, these babies sell for $5.99 each, with a set on sale each month for $4.19. This is impressive considering most indie companies do not use the cheap fillers and additives that bigger cosmetic companies use to inflate profits and to kill color payoff.
---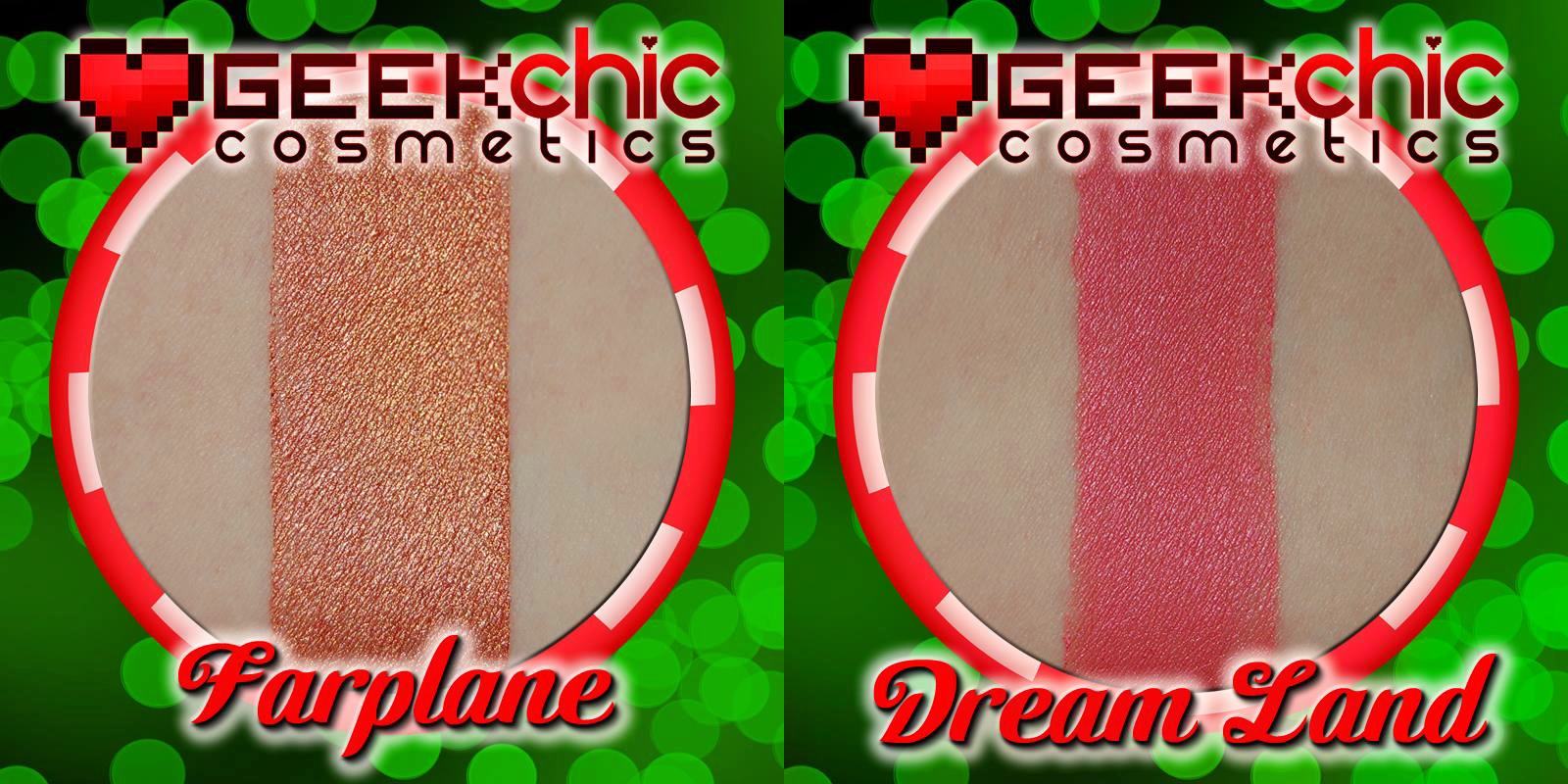 Also worth a mention are Geek Chic's lip products. Geek Chic has been shuffling and retiring a whole slew of eyeshadows, JoySticks and Geek Glosses (no more Pikachu, tear) but that has only made way for new shades and some much more attractive looking swatches.
Shown above are Final Fantasy and Kirby inspired JoySticks, newly released for their big Black Friday sale. JoySticks sell for $5.99 each and Geek Glosses for $4.99.
---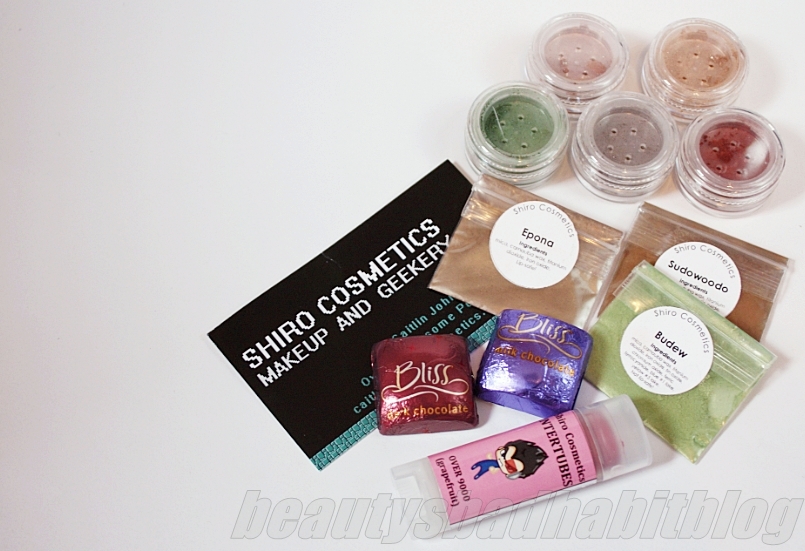 There are plenty of sites with prettier layouts, but that doesn't mean indie makeup company Shiro Cosmetics skimps on quality and presentation. Every order comes with sweet treats and often in a cute little bag.
I have not bought from this company personally, but it has received rave reviews from girl gamers and makeup enthusiasts everywhere. Like most makeup companies, many of their colors are for a limited run, but their Legend of Zelda and Pokémon-inspired collections are enormous and have stuck around for quite a long time.
---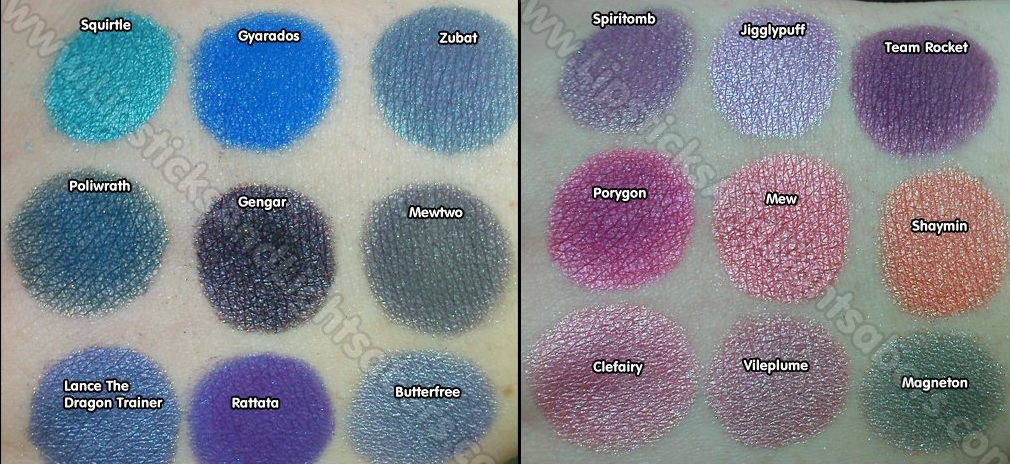 No one can doubt Shiro's geek cred when it comes to these lovingly-mixed colors packed with shimmer. The swatches above show some of the colors available from Shiro's "Super Effective" Pokémon collection (see more here for more Pokémon and Zelda, and here for some gorgeous Full Metal Alchemist swatches). Each of the full-size 2.0 g containers go for $5.00 though they are available in smaller sizes as well - mini (1.0 g) for $3.50 and sample (1/4 tsp) for $1.00.
In spite of the plain website layout, these loose shadows are super diverse and a great price for a fantastic amount of product. I know where I'm shopping next...
[swatches via Lipsticks & Lightsabers]
---
We mustn't forget lippies! Again, Shiro Cosmetics lacks a touch of polish compared to other companies without a collection of professionally-shot photos with models, but that doesn't mean their lip collections are in any way inferior.
The ever-growing collection based on popular internet memes and aptly named "the Intertubes," are glossy and pigmented, but not sticky (which is always a plus). Most reviews agree that they have pretty impressive staying power and leave your lips moisturized and healthy-looking/feeling.
[swatch taken from Sirvinya]
---
The guys at Fyrinnae are an inspiring mix of geek and mad scientist. While their shadows are not strictly game-inspired, you'll find plenty of sci-fi and fantasy-inspired colors and shadow names. (e.g. "Bitey Dinosaur," "Warrior Mage," "Elemental Fire," and "Cheshire Cat's Grin.")
These are the creators of the legendary "Pixie Epoxy." For those of you who like high-sparkle, high-shimmer, foiled looks this is a must have. Beauty bloggers have raved about this product for years, and I can say no different. Not exactly a primer or a base, it is essentially a glue for all that glitter and sparkle.
I wasn't kidding when I brought up mad science.
[image via Phyrra]
---
While Fyrinnae has an enormous cushion window for making your products when you order, they often ship sooner than that given window. Their full-size shadows (3.0 g) are between $6.25 and $6.80 for their Arcane colors, and their minis (1/3 tsp, also in twist jars) are $2.25.
This company quite proudly welcomes absolutely everyone to enjoy their products. They don't care about religion, sexual orientation or identity. And they're right, who really needs to judge?
(Please note that the above swatches were taken over a year ago and that Fyrinnae has since done some reformulating for their shadows so colors may be either slightly different or discontinued.)
[swatches via Lipsticks & Lightsabers]
---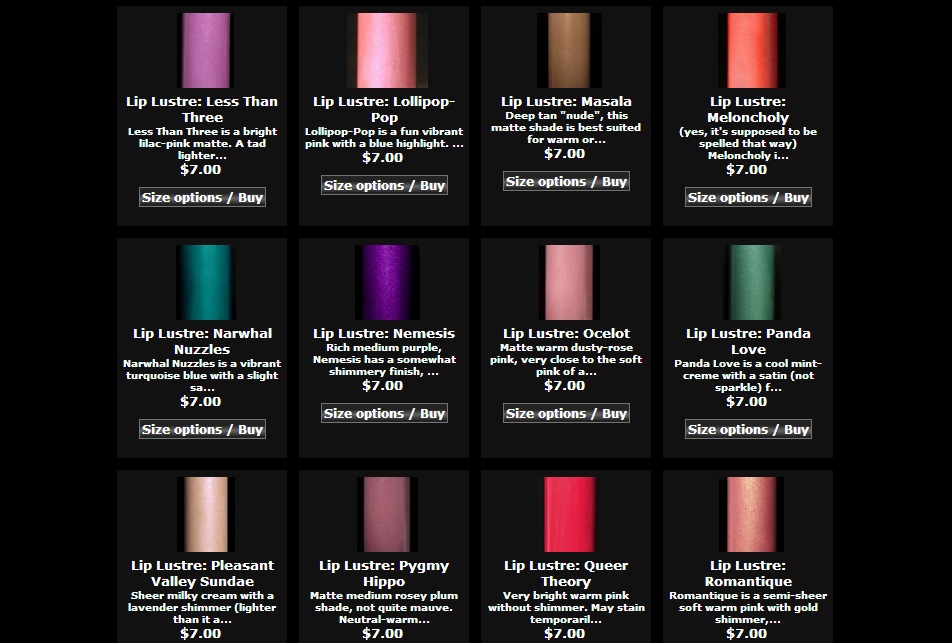 The above image is just a small subset of their many Lip Lustres, which are non-sticky lip colors that are nearly as solid as lipstick that don't leave you with any stickiness. In spite of their opacity and high pigmentation, they are not drying for your lips.
Like with most indie products though, the use of natural butters and a short list of ingredients means you will need to factor in the temperature they've been at before using them. Be careful if they've been sitting in the cold for awhile.
---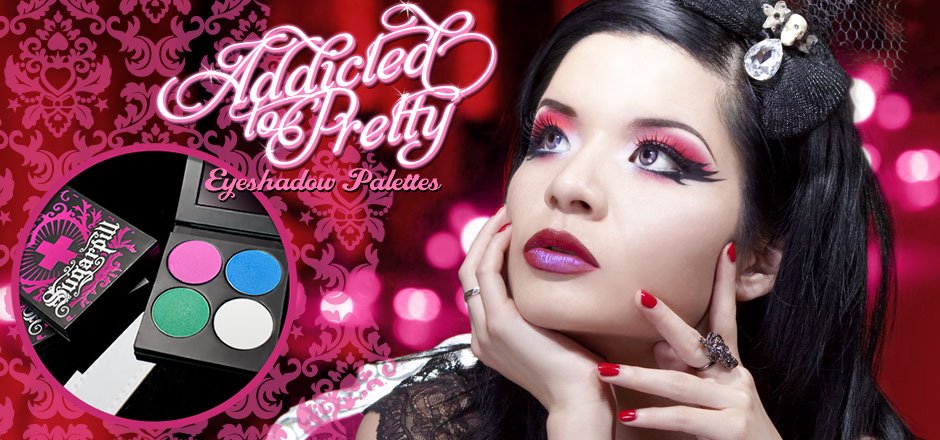 The brainchild of long-time beauty blogger Shrinkle, Sugarpill hit the internet with a storm of bright, bold, beautiful color. A beautifully-designed product, website, and packaging, Sugarpill was a hit from the start.
Although not strictly game-inspired either, her collection of pressed and loose shadows speaks to those of us who love the over-the-top color and fantastical vibrance in our games. We're not the only ones who noticed. Sugarpill cosmetics were the official brand for the Sanrio Hello Kitty 35th Anniversary Celebration.
---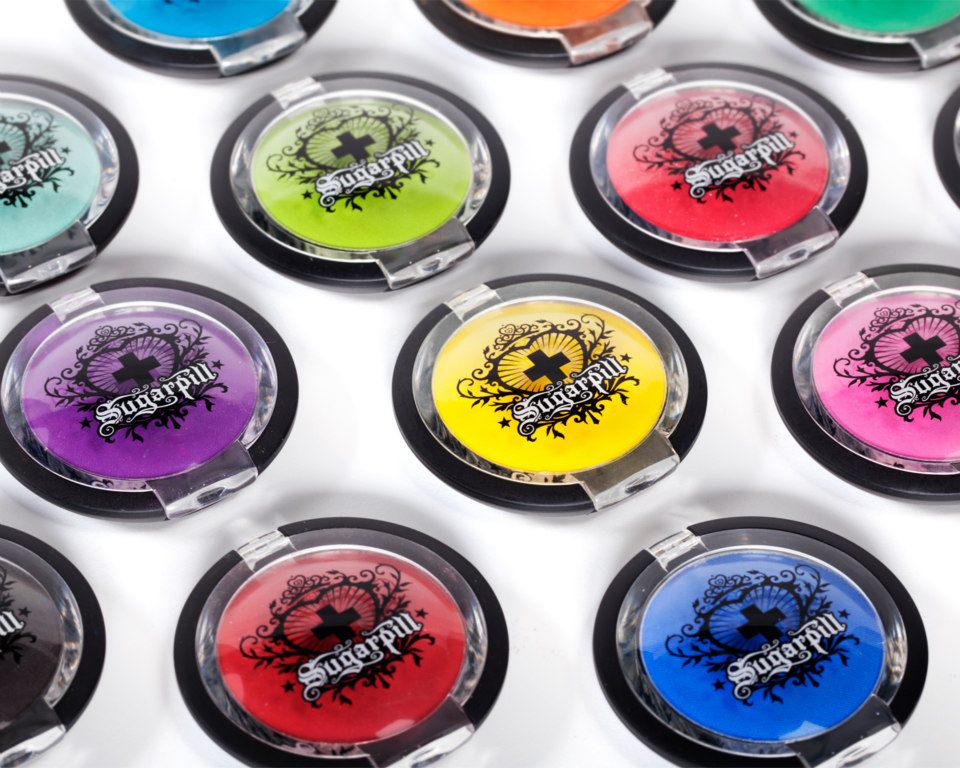 Sugarpill may cause you gasp from the sticker shock, but rest assured - these products are big. With a net weight of 3.5 g for pressed shadows, 4.0 g for loose shadows, and 5.0 g for her newest Elektrocutes neon pigments, you are getting almost more product than you could ever need.
Individual pressed and loose shadows are $12.00, Elektrocutes pigments are $16.00, and pressed four-shadow palettes are $34.00.
---

Unlike the other stores featured in this show, Sugarpill focuses exclusively on eyes. Eyeshadows are their main-stage number, but they make a fantastic number of different kinds of falsies as well - over 20 different styles in total.
All of the companies featured here give away free samples of their shadows with any orders, but Sugarpill also includes a giant, sparkly Sugarpill sticker you'd be happy to stick absolutely anywhere.
Also, if you're a guy gamer who happens to also enjoy dressing up in drag, or know any, it might make you feel better that this girl sticks to her guns about you. Customers who bash you and photos of you in her products can get out. She doesn't need them or their negativity. You have to admire that.
---
That's it for now!
Whether you're looking for some last-minute Christmas presents, or just interested in growing your stash, these companies can promise that their colors give the payoff you've been looking for.
If brights scare you off, all of them make plenty of perfectly wearable shades that you'd be happy to wear to the office - with that extra I've-got-a-secret feeling that you're wearing Solid Snake or a cactuar to work.
GG and happy shopping!