Ah, the gaming mouse. It's easily the most important gaming peripheral there is. Without a proper and dependable mouse, your favorite games can become basically impossible to play. That goes doubly so if you're trying to play any sort of competitive game -- if your mouse can't keep up, then neither can you.
Luckily, there are loads of awesome gaming mice out there that can do just about anything you need them to. Whether you're an FPS player who needs a low DPI and a snipe button, or an MMO mogul who prefers mouse/keypad hybrids, there's something out there for you.
And the best part is...you don't even have to empty your savings to get them. In fact, you can get some quality gaming mice for less than $100. Here are a few that will suit any type of gamer without breaking the bank.
---
Razer DeathAdder Chroma
Rating: 4.5/5
Price: $67.99
Buy It: Amazon
Pretty much any PC gamer has heard of the DeathAdder Chroma. It's also one of the bestselling gaming mice on Amazon, so clearly Razer is doing something right.
This self-proclaimed "world's most popular gaming mouse" boasts an ergonomic design for maximum comfort, customizable RGB lighting, and an adjustable DPI sensor that maxes out at 10,000. Its sensor can also be extra-sensitive to Z-axis movements, for those gamers who want tracking to stop the moment the mouse leaves their desk.
There are also multiple alternate versions of this mouse available. For a few dollars more, you can get the Elite model ($69.99) -- which packs in extra DPI range and a bit more, plus a tactile scroll wheel. Or, you can pick up the much cheaper Essential model ($34.99) -- which forgoes the adjustable DPI and locks you in at 6,400.
Are you an Overwatch fan or a left-handed gamer? Good news, the Overwatch Chroma ($78.96) and Left-Hand Chroma ($58.79) models have you covered, too.
---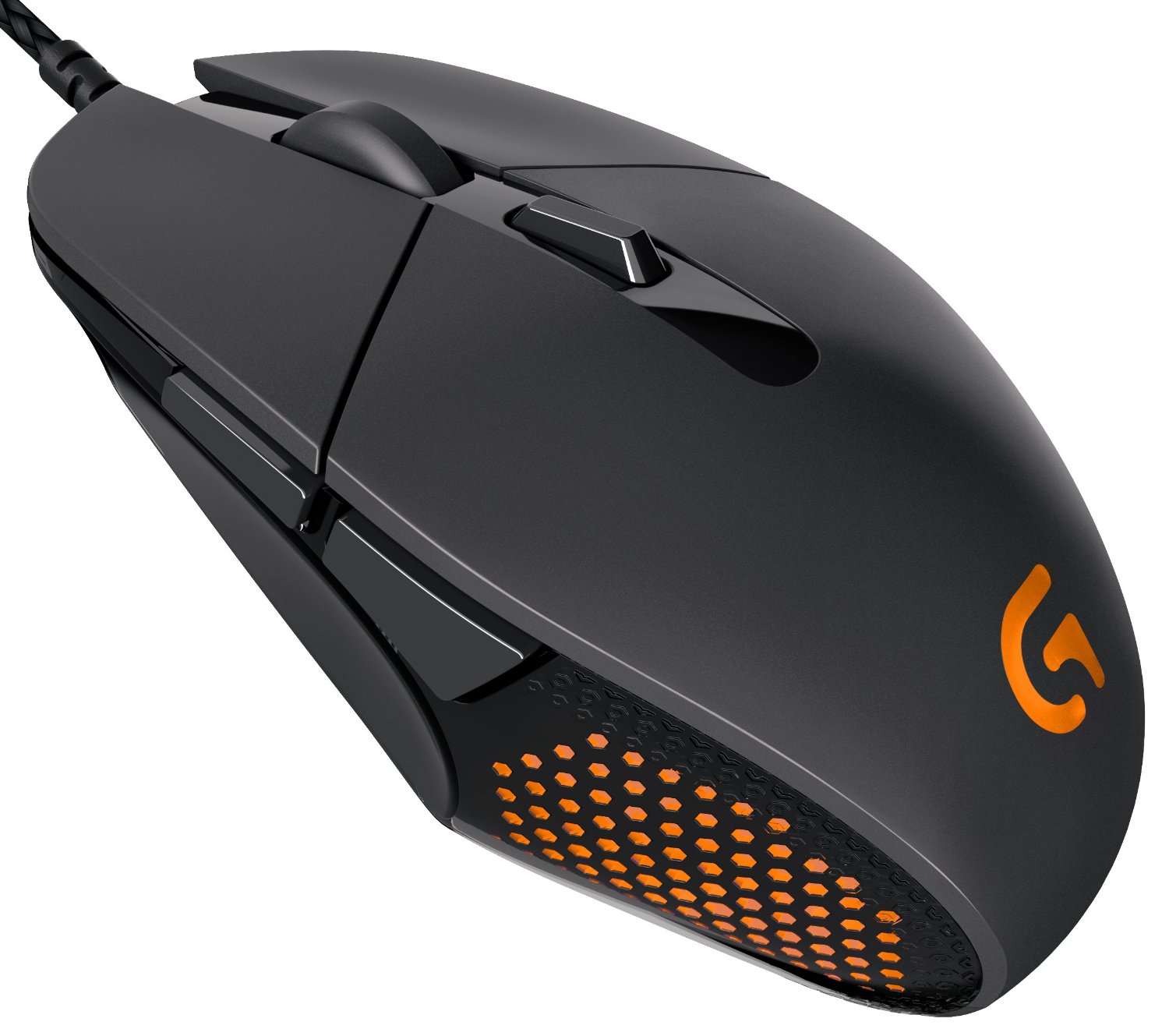 Logitech G303 Daedalus Apex Performance Edition
Rating: 4.5/5 Stars
Price: $39.98
Buy It: Amazon
Would this really be a list of gaming mice without the Logitech name popping up a few times? We don't think so. And their Daedalus Apex is a great buy for gamers who only have a little spending money but want a whole lot of quality.
This mouse offers RGB lighting, 6 customizable buttons, and a 200-12,000 DPI range with the option to adjust it on the fly. Its advanced optical sensor promises more precise targeting, and its L/R buttons have been tested for a lifespan of over 20 million clicks. And it's incredibly lightweight to boot.
Last year, I reviewed a slightly cheaper version of this mouse, the G302 Daedalus Prime -- and I loved it. It's got a slightly smaller DPI range and doesn't quite have the same optical sensitivity as the Apex, but if those two things don't matter so much to you, it's available on Amazon for $29.99.
---
Corsair M65 Pro RGB
Rating: 4.5/5 Stars
Price: $39.99
Buy It: Amazon
The Corsair M65 is basically an FPS player's dream. Though this model has been on the market for a few years now, it's still hugely popular among competitive shooter fans.
Under its high-quality aluminum body, this mouse packs a lot of specs that will make gamers giddy. In addition to the standard on-the-fly DPI switching (up to 12,000), 8 customizable buttons, and RGB lighting, the M65 offers an advanced weight-tuning system, a surface calibration utility that will optimize sensor performance for any surface you play on, and an extensive utility program that will let you program your mouse to basically anything you want. (Except maybe ordering pizza.)
And guess what, shooter fans? There's a dedicated snipe button right under your thumb. Boom -- headshot!
For even more information about this particular mouse, you can check out our review of the Corsair M65.
---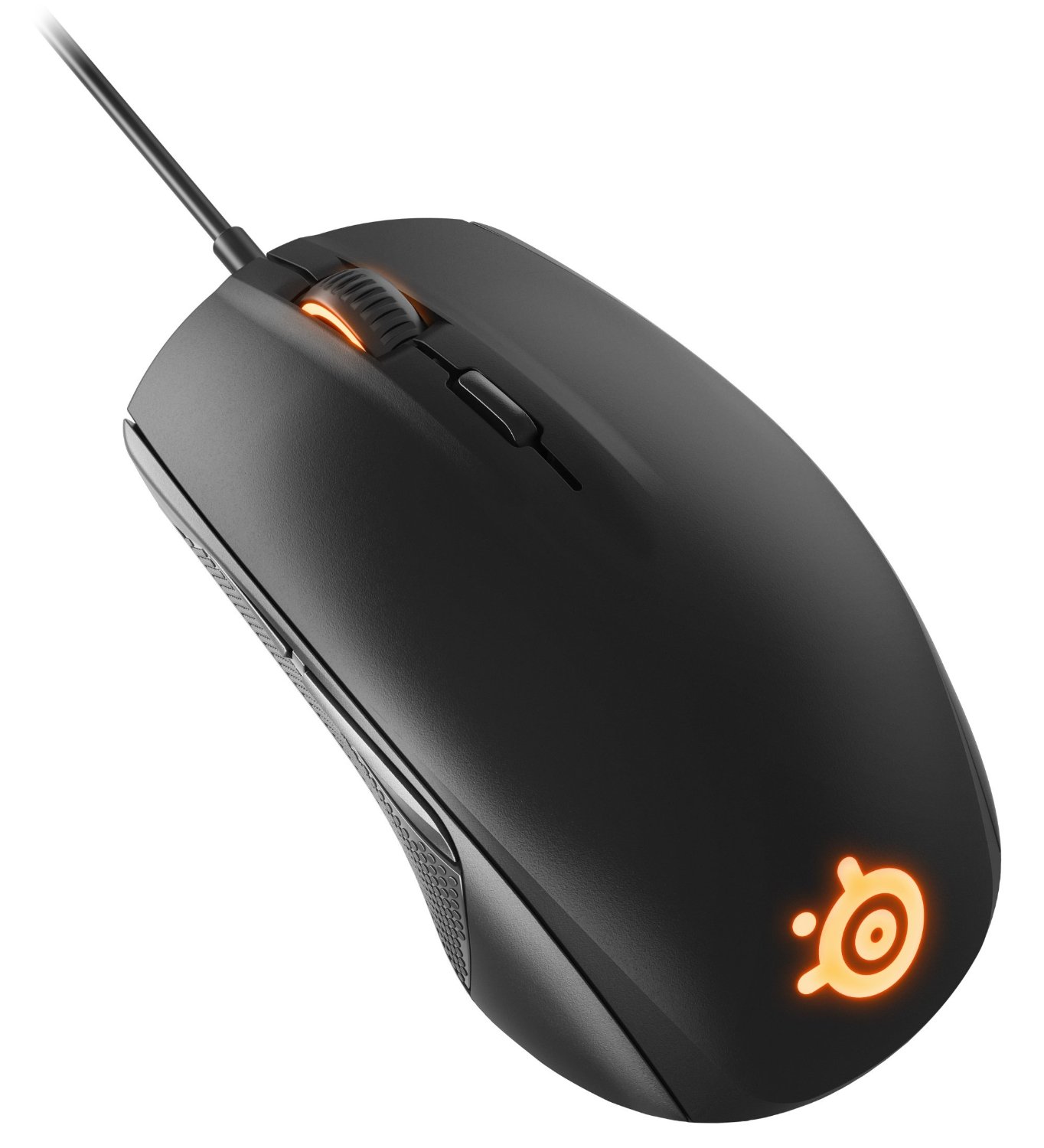 SteelSeries Rival
Rating: 4/5 Stars
Price: $29.99-$99.99
Buy It: Amazon
This mouse line from SteelSeries offers 4 different models that hit a number of different price points and specifications. So no matter what you need out of a mouse or how much you're able to spend on it, there's a Rival model out there that should get the job done.
Here's the breakdown of what each iteration offers:
Rival 100 ($29.88)
6 cutomizable buttons
Adjustable DPI up to 4,000
RGB illumination
Rival 300 ($43.65)
6 programmable buttons
Adjustable DPI up to 6,500
2 zones of RGB illumination
Zero Hardware Acceleration for precise tracking at all speeds
Rival 500 ($79.99)
15 programmable buttons
Adjustable DPI up to 16,000
2 zones of RGB illumination
"Next-gen" ergonomic side button design
Programmable tactile alerts (vibration, etc.)
Rival 700 ($99.99)
7 programmable buttons
Adjustable DPI up to 16,000
2 zones of RGB illumination
Programmable tactile alerts (vibration, etc.)
Modular components (swappable covers, cables, sensors, etc.)
Optional laser sensor (sold separately)
OLED display (customizable with GIFs, player name, etc.)
Phew, that's a lot of options. Heck, we didn't even know mice could have OLED displays for less than $100. No matter how big or small your budget, one of the Rivals is bound to have what you're looking for.
---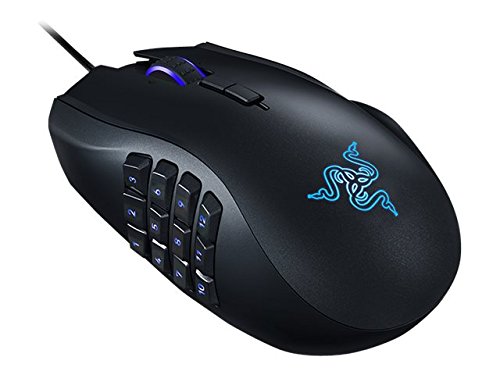 Razer Naga Chroma MMO Mouse
Rating: 4/5 Stars
Price: $62.99
Buy It: Amazon
From the same company that brings you the DeathAdder Chroma comes this Naga mouse. Obviously geared toward MMO players -- and those MOBA players who like extra controls on their mouse -- this Razer model is the best of both the mouse and keyboard worlds.
Featuring 19 fully programmable buttons (12 of which can be reached with just your thumb), this mouse is perfect for someone who needs a more compact and easily reachable setup than a standard keyboard offers. It also has an adjustable DPI of up to 16,000, fully customizable RGB lighting, and the standard Razer ergonomic design.
For a similar price of $69.99, you can pick up the alternative Naga Hex model on Amazon. It's basically the same mouse, but with a 7-button thumb grid as opposed to the full 12.
---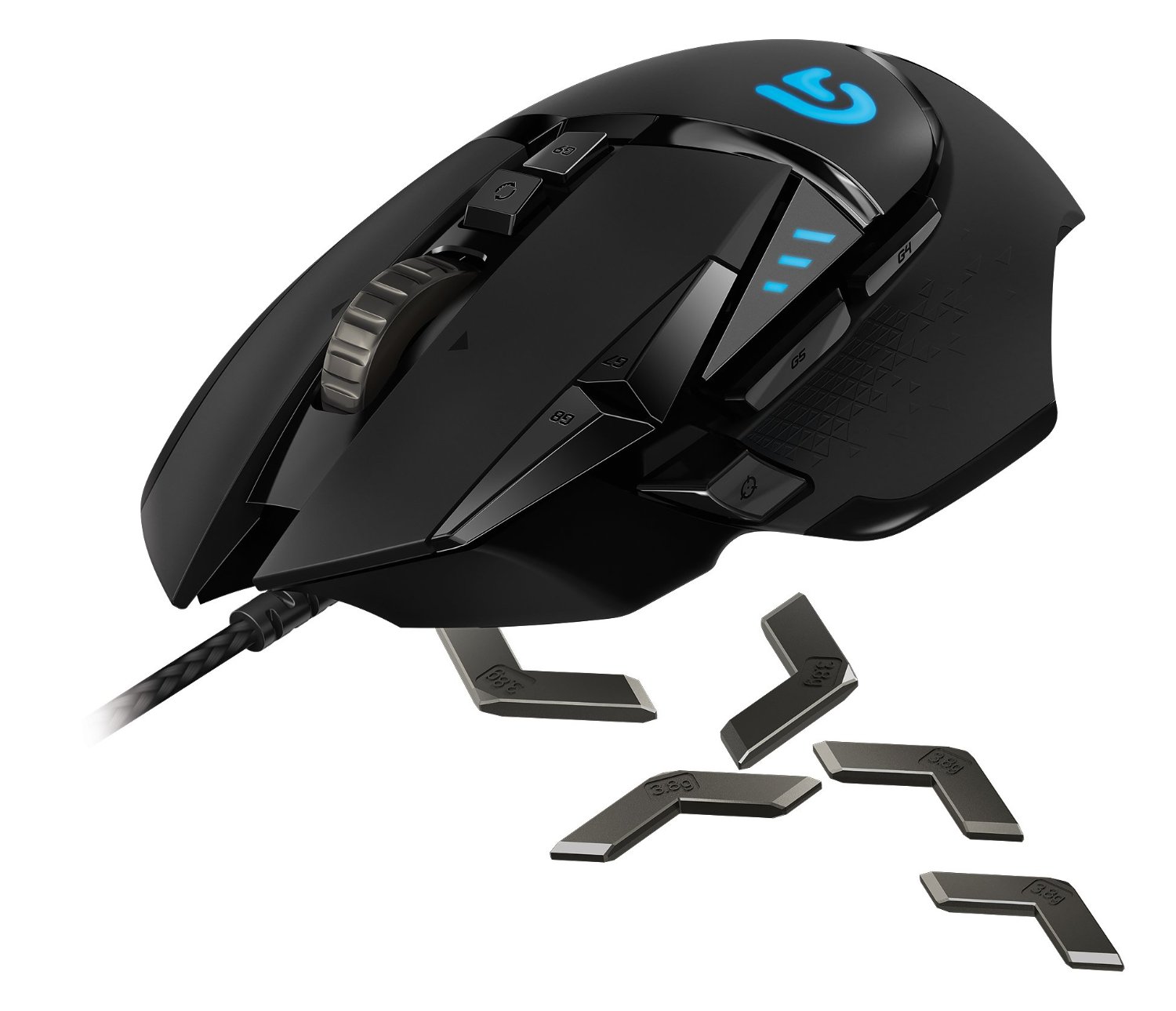 Logitech G502 Proteus Spectrum
Rating: 4.5/5 Stars
Price: $62.78
Buy It: Amazon
If you're a shooter fan, here's another mouse that's probably a good fit for you. Unlike the Daedalus G303 or the Prodigy G403 that we'll feature later in this list, the G502 Proteus Spectrum is designed specifically for FPS players.
It's got a tumble weight system that lets you control how hefty your mouse is, with repositionable weights that let you decide where your center of gravity will be. The body design allows you to rest your thumbs during long gaming sessions and keep a better grip on the mouse during intense combat sequences.
There's also 11 programmable buttons, on-the-fly DPI adjustment with a range of 200-12,000, and your usual RGB customizable lighting options too.
If this looks like the mouse for you, but not the price point you want, you can also check out the G402 Hyperion Fury on Amazon. It's a smaller, more streamlined version of the G502 that has a more palatable $36.00 price tag.
---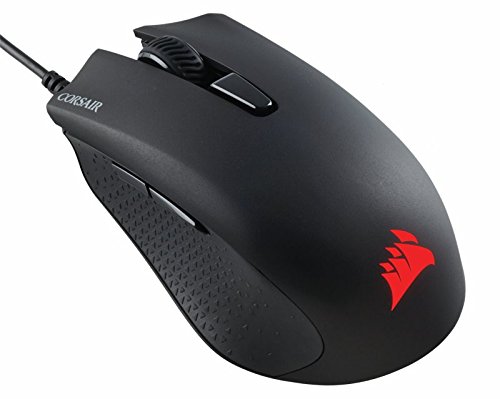 Corsair Harpoon RGB
Rating: 4.5/5 Stars
Price: $45.99
Buy It: Amazon
This mouse is Corsair's foray into budget gaming peripherals. It doesn't have all the bells and whistles of the M65 RGB, but it's still a fantastic piece of equipment for gamers who like a clean, simply designed mouse that gets the job done right.
The Harpoon has 6 fully programmable buttons, including a DPI cycling button with a range of up to 6,000. Like all other Corsair models, it also offers standard RGB illumination for the logo at the base of the mouse. There's also textured rubber on the side grips so that you'll keep a better hold on your game -- even when your palms start sweating with anticipation.
You can check out our Corsair Harpoon review for more info on this mouse.
---
Logitech G403 Prodigy
Rating: 4/5 Stars
Price: $60.95
Buy It: Amazon
This mouse is part of the new Prodigy line from Logitech, which also features a keyboard and a headset that we featured in our roundup of awesome gaming headsets that you can get on the cheap. The whole line is designed to suit gamers who want excellent equipment for pennies on the dollar.
Much like the Daedalus G303/G302, the Prodigy G403 features an ergonomic, lightweight design and a streamlined set of 6 programmable buttons. But if you want something a little sturdier, the box includes a 10-gram weight that can be added or removed at any time.
This model comes in both wired and wireless options. While the wireless version will cost you a bit more at $79.99, we know from our time with the wireless G900 Chaos Spectrum that Logitech can deliver a totally latency-free experience that persists even in high-interference environments.
---
Razer Mamba Tournament Edition
Rating: 4/5 Stars
Price: $74.99
Buy It: Amazon
If you're an eSports lover, this mouse is made for you. It's a serious step up from the DeathAdder Chroma, and designed to give you a competitive edge at an even more competitive price.
Available in both wired and wireless options, the Mamba features a highly sensitive 5G sensor that can handle up to 16,000 DPI and on-demand adjustment. In addition to the 9 programmable buttons and fully customizable RGB lighting, this mouse also features Razer's usual ergonomic design with textured rubber side grips for even more comfort and control.
Another fun feature on this mouse is the ability to sync it with other Razer devices. You can use Razer's utility program to control "inter-device color synchronization" -- which is just a fancy way of saying that you can carry your color schemes across all your Razer peripherals without programming each one individually. Pretty neat!
---
Logitech G602 Wireless
Rating: 4.5/5 Stars
Price: $39.99
Buy It: Amazon
The only full-fledged wireless mouse on this list, Logitech's G602 is a surprisingly affordable option for gamers who want the best wireless experience that peripherals have to offer.
This mouse promises 250 hours of battery life, with the option to stretch that up to 1,440 hours in the battery-saving Endurance mode. It also comes with standard DPI-switching capabilities (at a range of 250-2,500), a battery life indicator, and 11 programmable buttons.
While most gamers tend to be wary of wireless peripherals due to issues with latency and spotty input, Logitech has put a lot of time into making sure that their wireless experience is the best it can be. While I haven't personally gotten a hands-on with the G602, I know from using the wireless G900 that gamers can expect a totally lag-free play session. So if you already have a desk that's slithering with cords, this might be the option for you.
---
Redragon M601 Centrophorus
Rating: 4.5/5 Stars
Price: $13.99
Buy It: Amazon
Last but not least, the Centrophorus offers precisely what any good mouse does -- adjustable DPI (up to 2,000), weight tuning options, and six programmable buttons. It's also got a durable braided cable and red backlighting.
This nifty Redragon model is the best-selling gaming mouse on Amazon. With excellent reviews and a very cheap price tag, it's easy to see why. This mouse looks like a good fit for any player who needs high-quality gear, but can't afford to pay for an iconic brand name.
That wraps up our list of the best gaming mice you can find for under $100! What others do you love playing with? Got other suggestions that we missed? Let us know in the comments!