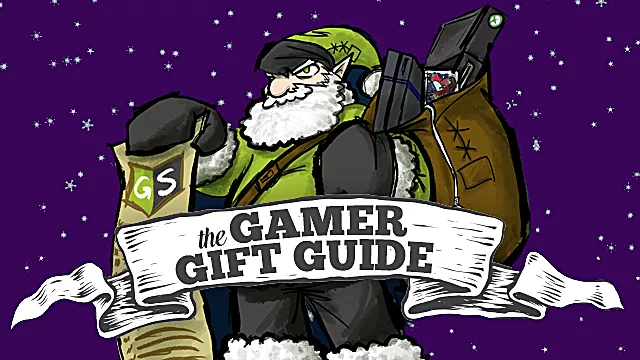 As a PC gamer you interact with your entertainment via your mouse and your keyboard -- for those who are able to do so. Not everyone is able to.
But with so many options out there, and for a wide range of prices, what do you buy if you are on a budget?
There are three main types of keyboard: membrane, mechanical and a mix of the two. The membrane keyboard is similar to the one you might find on your laptop; they don't have much feeling when you click, and their buttons can often get stuck if you are a messy gamer. Suffice it to say, these types of keyboards will not be found on this list.
Mechanical keyboards, on the other hand, will. These come in a wide range of types. Some are harder to press, while some are easier, some click when pressed, some depressed when pressed and some just don't click at all. Arguably, the best mechanicals are made by Cherry with the MX range (there is also the ML range for low profile [laptop] keyboards).

Then, the mix-type keyboard marries the height and the (overall) feel of mechanical keyboards with the cost effectiveness of the membrane types. These don't feel as good, but they also don't cost as much.
And of course, it's all about finding the perfect middle ground between functionality and comfortability.
So which gaming keyboard is the best keyboard? Lucky for you, here is a list of sub-$100 keyboards that might sound budget, but definitely aren't in quality.
Just make sure you also have a good gaming headset too.
---
SteelSeries Apex 350
Rating: 4/5 Stars
Price: $99.89
Buy it on: Amazon
SteelSeries are well known for a lot of reasons, mostly because they make quality products -- and that is evident here. With low profile keys that still have a good feel to them, 16.8 million color backlighting (RGB),and looks that could slice through the most competitive of environments, this keyboard would look great next to the rest of yourself.
With the Apex 350 you get 10-key anti-ghosting located around the WASD area -- which also just happen to be textured -- the RGB backlighting has 5 independent zones, which can be set, as well as 22 macro keys -- which can be recorded on the fly-- and dedicated media keys. You can also swap out the keyboard's feet if you want a flatter or more tilted gaming experience.
---
SteelSeries Apex M500
Rating: 4/5 Stars
Price: $96.99
Buy it on: Amazon
The Apex M500 features mechanical switches, Cherry MX Red, so you have a nice smooth press without a loud audible click. You also get blue LED backlighting and full anti-ghosting (a full 104-key rollover).
Along with durability that lasts for more than 50 million clicks, as well as each click always feeling the same no matter how many times it happens, the backlighting LEDs are placed directly underneath the keys so no matter what you can always see them.

On top of that, every key can be programmed, and you just need to use the function key (the SteelSeries logo) to use the media keys.
---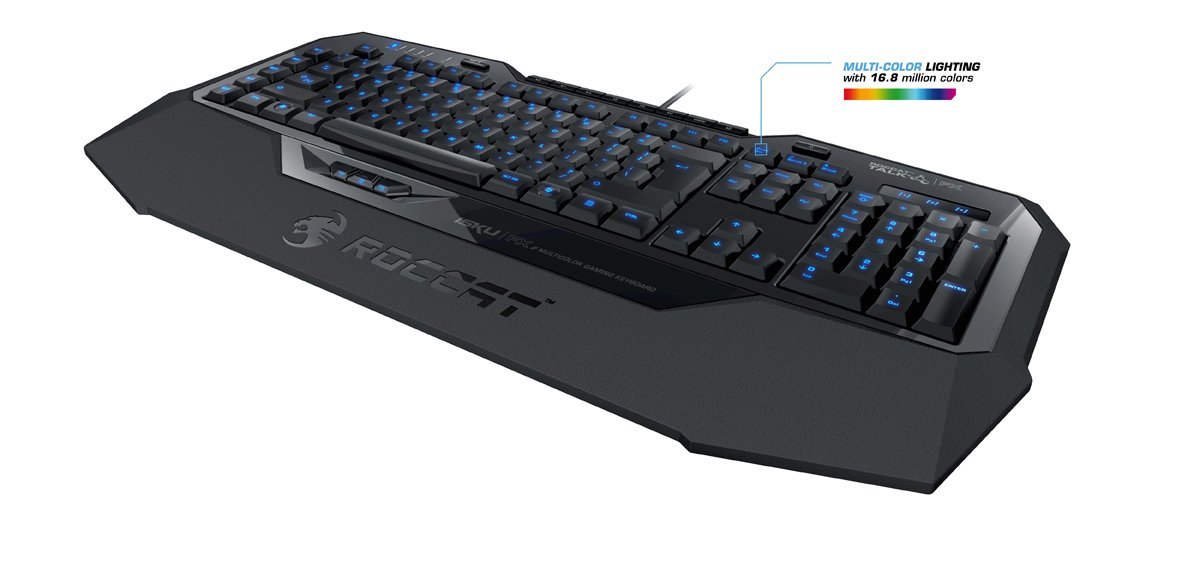 Roccat Isku FX
Rating: 4/5 Stars
Price: $74.99
Buy it on: Amazon
RGB lighting is all the rage, and this Roccat Isku lets you set them at 6 different brightness levels, making lighting customization high on this keyboard's list.

Along with this, there are 5 completely customizable keys to the left of the keyboard and 3 under the spacebar, as well as 5 profiles that store lighting and macro information, meaning you can have 40 different macros on these keys at any one time.

This is one of the most customizable keyboards out there, so while it's not mechanical, it still has a medium key height, making each press feel great.
Along with all of this, there are 8 different media keys (which are also programmable), and non-slip rubber feet, meaning those quick music pauses when you thought you heard someone won't make your keyboard run away from you -- and yes, there is also full anti-ghosting.
---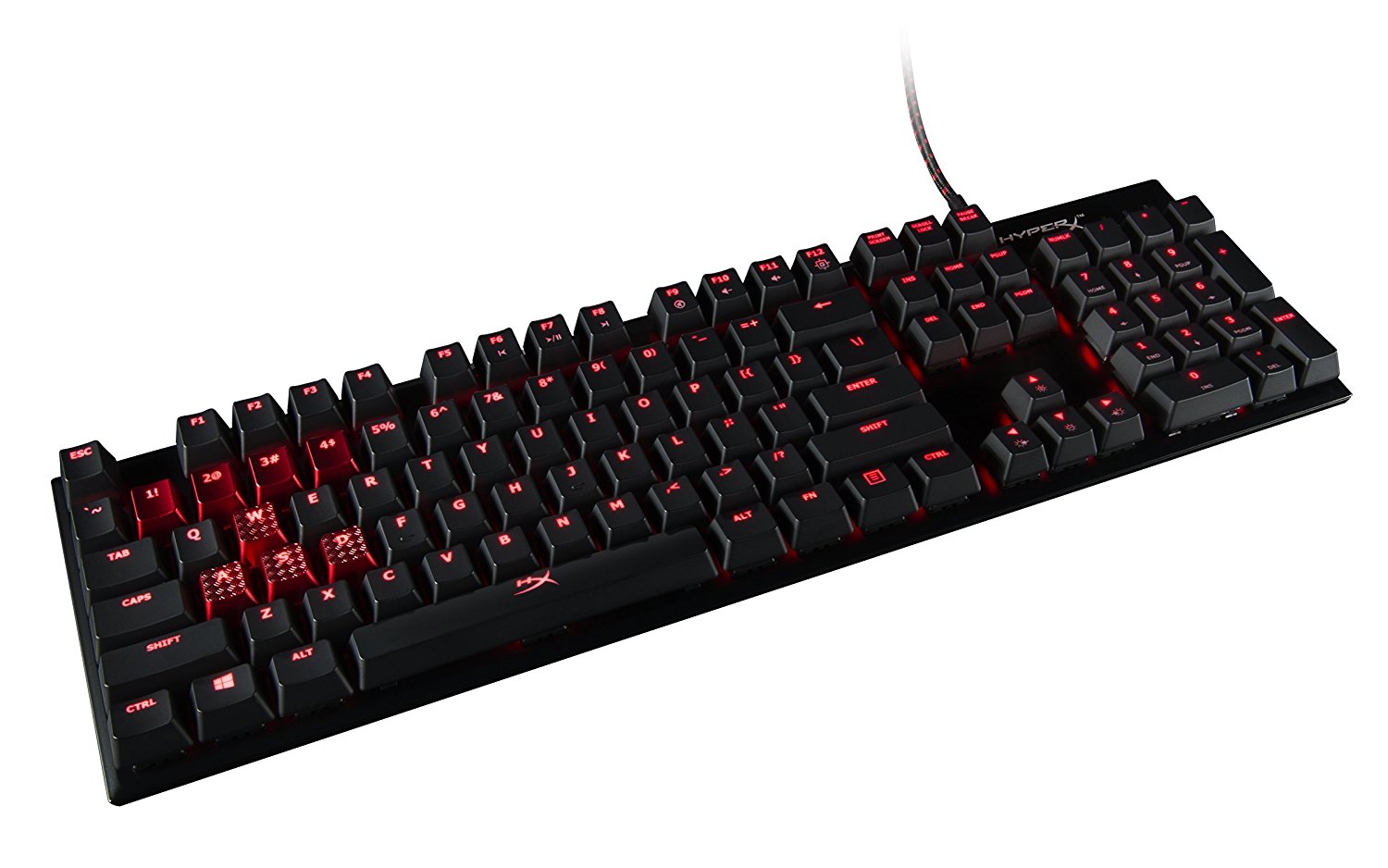 HyperX Alloy FPS
Rating: 4.5/5 Stars
Price: $99.99
Buy it on: Amazon
This is a compact keyboard, so it's easy to transport (and fit on your desk). It also has a detachable cable for when you transport it. And, I almost forgot the mention: This is a mechanical keyboard with Cherry MX Blue switches, so each press has an auditory and tactile feedback for the press -- they are very loud.
Along with this, there is also an extra USB port on the back of the keyboard for charging your phone -- or anything else. But don't worry about the keyboard breaking, the frame is a metal alloy, as the Cherry MX switches will keep you gaming for years to come. And on more thing: The anti-ghosting is on every single key, so every key press is registered.
---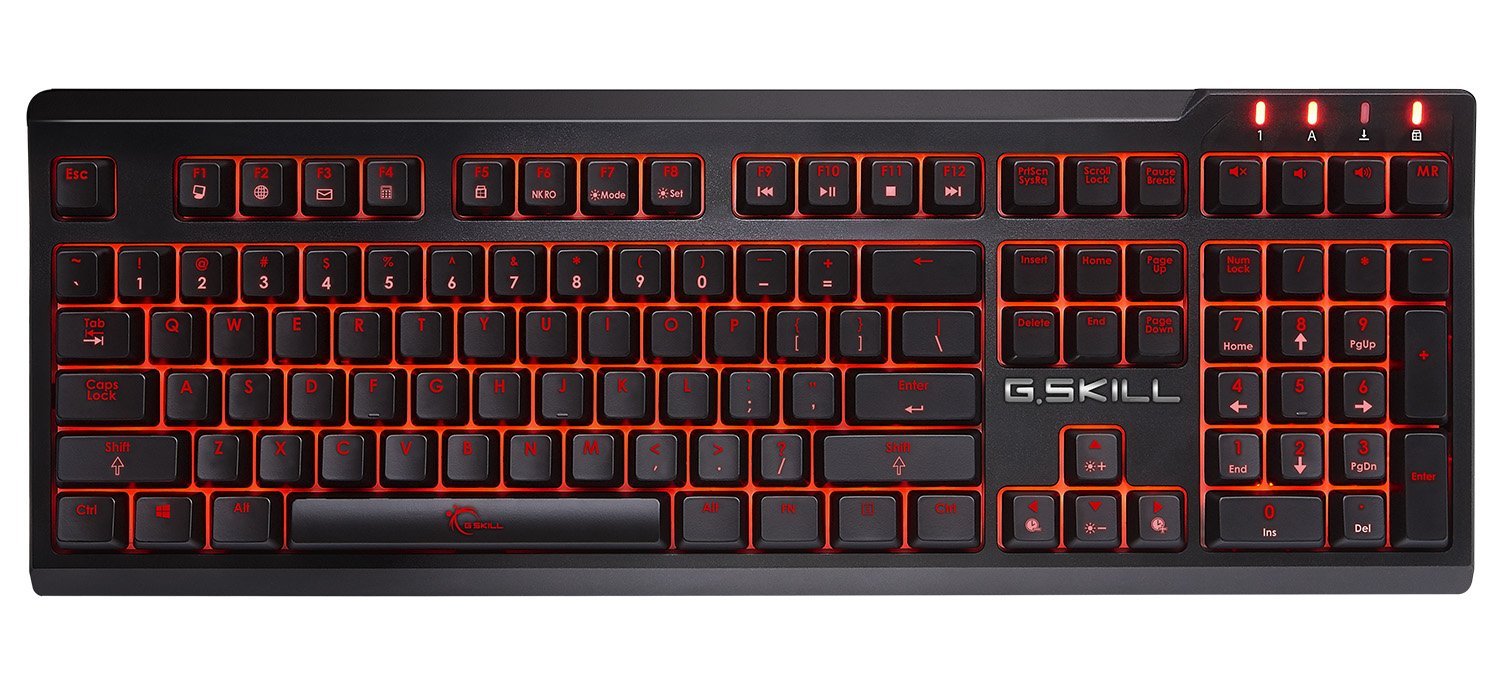 G.Skill RIPJAWS KM570
Rating: N/A
Price: $89.99
Buy it on: Amazon
This compact keyboard is made by the same people, G.Skill, who make some of the best RAM in the business, so you know that this keyboard will last a long time. Alongside this, you have Cherry MX Red switches, giving you smoothness with each key press. And if you want customization, you can do that here, with the very relevant red LED backlighting, too.
While you don't get full dedicated media keys -- play/pause are on the function keys -- you do have dedicated volume controls, as well as on-the-fly macro support, with each key being customizable. The KM570 might feel a little light on features, but being made by G.Skill, it's bound to last you for a long time.
---
Logitech G105
Rating: 4.5/5 Stars
Price: $34.99
Buy it on: Amazon
You can't get more budget than the G105, yet, it is still one of the best gaming keyboards on the market. It doesn't have fancy backlighting that does eleventy one different things. It doesn't even have full anti-ghosting (at only a 5 key rollover).
But what you do get is the durability of Logitech keyboards, as well as media keys on the function key, a soft blue backlight and 6 customizable G-keys with macros that can be recorded on-the-fly. Oh, and you also get a fancy button that turns off the Windows and Context Menu keys
---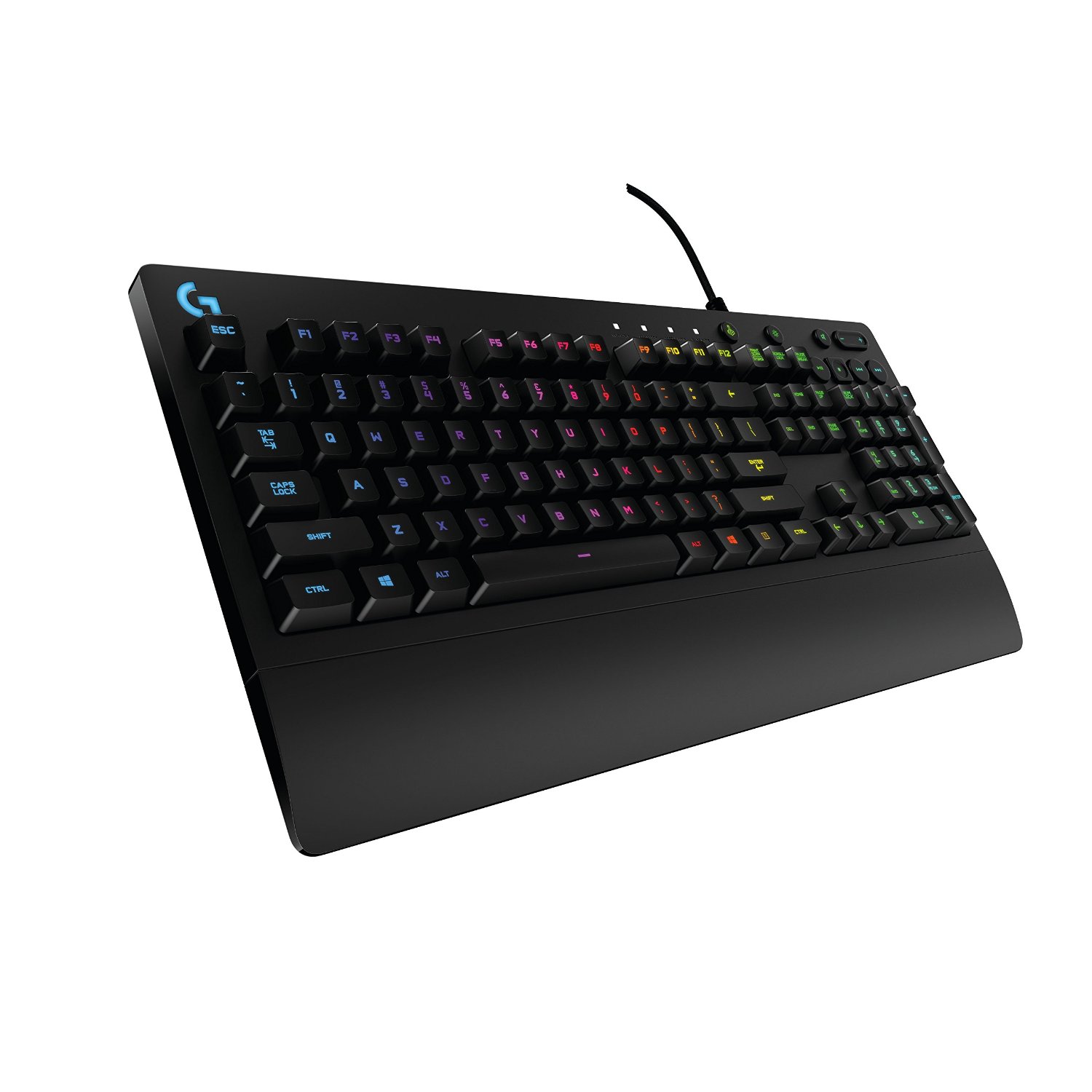 Logitech G213 Prodigy
Rating: 4/5 Stars
Price: $69.99
Buy it on: Amazon
Having RGB is lovely, but it does cost. Really, though, who cares when you have 5 zones from which you can make a whopping 16.8 million colors, matching your gaming room perfectly with your gaming keyboard?

So while this isn't a mechanical keyboard, Logitech are very good at making keys that still feel really great to the press, and are very good at cramming features into a sleek product.
Dedicated media keys that don't overstate themselves and the F-keys able to become dedicated macro keys (if you wish them to be), as well as being spill resistant and having the durability to withstand even the messiest gamer, the G213 Prodigy is a great gaming keyboard that shouldn't be overlooked (unless you need to have mechanical switches).
---
Corsair Vengeance K65
Rating: 4.5/5 Stars
Price: $72.49
Buy it on: Amazon
The Corsair K line may not be the cheapest when you go up the range, but when you start right at the bottom, you still have one of the best gaming keyboards on the market. With Cherry MX Red mechanical switches, an anodized aluminum frame, standard key spacing with a tiny body and a detachable braided USB cable (with built-in cable management), this is a tiny powerhouse.
You also have full anti-ghosting, dedicated volume controls (with the other media keys being on a dedicated function key), and the ability to lock the Windows and Context Menu keys from working when gaming.
So while there is no backlighting, we couldn't ignore this gaming keyboard for being one of the most compact, yet feature rich, keyboards out there.
---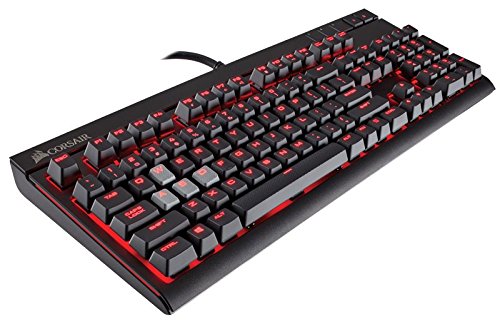 Corsair STRAFE
Rating: 4.5/5 Stars
Price: $89.99 - $99.99
Buy it on: Amazon
Being the bigger brother to the K65, the STRAFE offers a very similar feature set, but with the added bonus of having red LED backlighting. However, this does mean it lacks dedicated media keys (they are useable by using the function key).
This, and the next on this ist, are the only mechanical gaming keyboards that allow you to pick which Cherry MX switch you want. Is it the smoothness of the Red you are after? Or the very tactile feedback of the Blue? Maybe you want the audible click of the blue, but the speed of the red so opt for Brown? What if you want the feel, but not the sound and go Silent? It doesn't matter. You can choose whichever fits you best.
On top of that, you get textured keycaps (W, A,S, D, Q, E, R, F) you can swap out, as well as a USB passthrough that can be used for any device. This all means that once again, Corsair has made another "Best of Gaming" keyboard -- just make sure you don't buy the RGB backlit version if you want to stay under $100.
---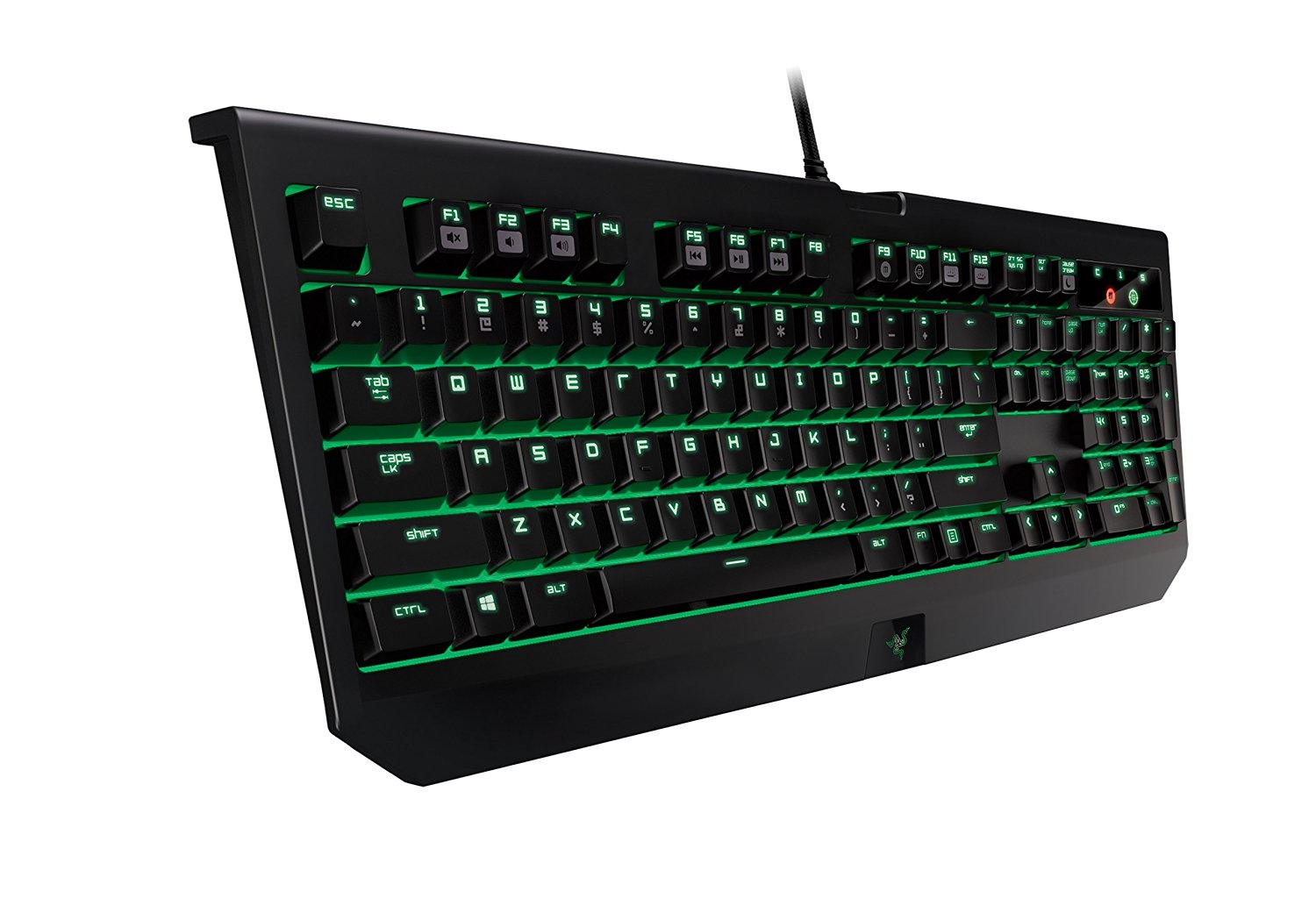 Razer Blackwidow Ultimate 2016
Rating: 4.5/5 Stars
Price: $79.99 - 99.99
Buy it on: Amazon
Razer makes pretty look good! And with Razer's own, and proven, mechanical switches to be almost as good as Cherry's, you know that you will be getting a durable and nice-feeling gaming keyboard.
As with the Corsair STRAFE there are a number of different switches you can pick from here. The Clicky is Razer's version of the Cherry MX Blue (which is also an option); the Stealth, which is similar to the Cherry MX Red, and the Clicky - Metal, which is the same keyboard with a metal construction.
Featuring 10-key anti-ghosting, as well as dedicated headphone and mic jacks in the back and striking Green backlighting, and of course all the customizability of the lighting, you would expect this gaming keyboard to exceed $100. But it doesn't. So while Razer hasn't made their keyboard as bloated with features as Corsair or Logitech, it still stands next to them.
That's about all the typing my keyboard can manage today -- I need to buy myself one of these. Which, if any, are you picking up? Are there any great typers you think should have been included in this list? Let us know in the comments below!