Editor's Update: TotalBiscuit won! Check out the video here.
Any gamer needs to know who this man is. Meet John Bain, aka TotalBiscuit, your nominee for "Notable Gaming Personality" in the 2013 Guild Launch Dragon Slayer Awards! This fine example of a British man was once a Law student at De Montfort University, but has quickly become one of the most popular game commentators and has a YouTube channel with well over 1,000,000 subscribers.
TotalBiscuit began his journey to internet stardom as Totalhalibut in World of Warcraft. From there, he hosted the popular "WoW Radio," a podcast that was dedicated to all things WoW. It was during this time that Blizzard Entertainment (now a part of Activision Blizzard) invited him to be an official caster at BlizzCon in 2005. It was there that he met his wife, Genna, and eventually moved to the US.
Since 2010, after being let go by his employer, he started producing "let's play" videos on YouTube to try to earn some money. The popularity of his videos became so huge that StarCraft 2 commentator, HuskyStarcraft, invited him to join The Game Station (now Polaris). Since joining, TotalBiscuit has become a main contributor to the company, including hosting Polaris' weekly podcast, The Co-optional Podcast.
In addition to his work for Polaris, TotalBiscuit also has his own YouTube channel with various gaming related shows including Alpha Strike, Content Patch, and WTF Is…. With so much content being produced, it doesn't look like he will be stopping any time soon.
This is why TotalBiscuit has earned his place as a nominee. If you are a fan of his, head on over to vote for him as your "Notable Gaming Personality." Voting for the Dragon Slayer Awards is open now, so make sure you click on the picture below and cast your vote today!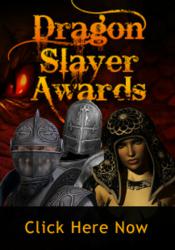 About the author