With house colours of reds and blacks touched with silver, finding an outfit to perfectly show off this mesmer hasn't always been easy given his fiery locks. Going for subtle and elegant as opposed to garish or vivid, Ahrwit's trim physique is nicely ornamented by this getup as he fights for the honour of Queen Jennah.
Born in Ebonhawke, this mesmer prefers to wear garments that permit movement and prevent snagging, after decades fighting in the Fields of Ruin. In honour of his slain Ascalonian fellows, muted shades have always been a habit of his. To finally demonstrate his prowess in martial skill while showing the colours of his noble house is a private pleasure made possible within the Queen's Pavilion.
Dyes
To duplicate this sleek look and show off your figure while slaughtering clockwork enemies, look for dyes in Abyss, Midnight Fire, Black Cherry, and Mahogany, with a buckle of Nickel on the pants, and a pearl accent on the top in Blue Ice.
Gear
The gear itself is comprised of a Phoenix top care of ANet's latest trends, Invader's shoulders from far too many hours in World v World, the Ascalonian Clergy Pants and gloves, and Inquest shoes, along with a guild skinned pistol and Bonetti's Rapier.
In terms of difficulty, adjusting the dyes to match well is the greatest challenge, as the items are not from the same 'set,' and take colours very differently.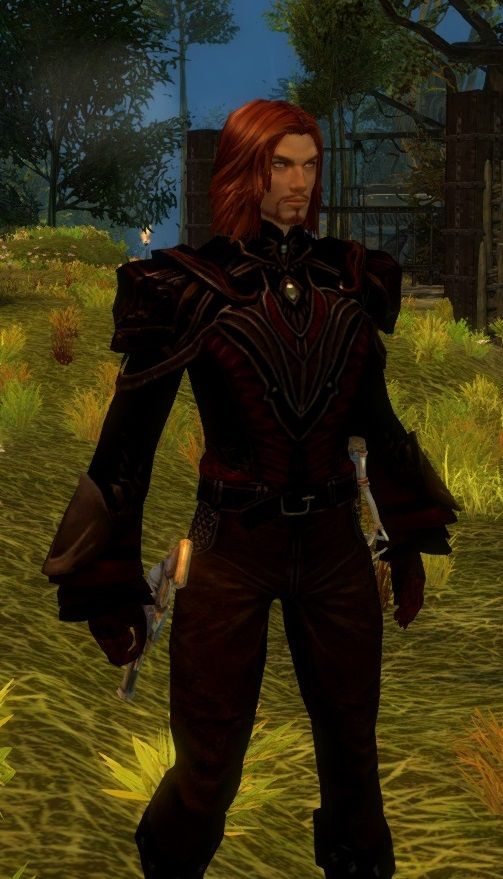 About the author