Being a free-to-play card game, Mythgard faces a handful of hurdles from the get-go. The already established might of Hearthstone, the power of Magic: the Gathering Arena, and the popularity of other free-to-play genre titles makes for a flooded market, causing lower-budget competitors to like flies.
Valve's Artifact (though not actually free) is a notable victim, with its rapidly dwindling playerbase.
Thankfully, Mythgard, a plucky young offering from developers Rhino Games Inc., has a few aces up its sleeves that might give it an edge, particularly its monetization aspect. Like all free CCGs, Mythgard gives you the option to pay real money for card packs, but its approach is commendably user-friendly.
Not only can individual cards be crafted using an essence system similar to Hearthstone's Dust, but the card packs can also be purchased with an in-game currency that you steadily collect across all modes of play.
This means that you never need to spend any money if you don't want to, and though this is technically true of other titles, Mythgard's pacing feels more organic than any other CCG I've played. All too often, CCGs make earning packs feel like a horrific grind, leading players to pay their way to a better deck out of frustration — or stop playing entirely.
Mythgard, on the other hand, feels like the Warframe of CCGs; an ethically paced experience, where a devoted community will likely spend money out of a desire to support the developer, rather than feeling that they have no choice but to pay their way to success.
The comparisons don't end there, though; Mythgard also has systems that could do with better explanations.
The gameplay itself feels like a cross between Hearthstone and Magic: The Gathering, with monster cards having single-digit numbers for attack and defense, and an associated mana cost, as well. There are no land cards, though, and cards must be discarded to earn additional mana or gems — a secondary resource that functions almost identically to mana.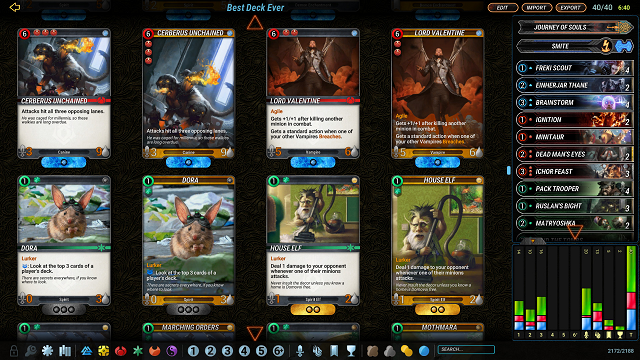 Though reasonably simple to pick up, it isn't aimed at a casual market, especially considering the additional rules that take more than a single match to master. What will keep players of all abilities coming back, however, is the great selection of modes to play, which range from a basic single-player story that leads you through various tutorials to multiple casual and ranked PvP options.
Once you've spent some time with the game and leveled up your profile, you'll even find constructed and draft modes, with PvE versions that ease newcomers into Mythgard's ins and outs, letting them get acclimated to the game before taking their decks and drafting talents to the game's PvP arenas.
There are also a number of puzzles in Mythgard, which give you a predetermined playing field and one turn to finish off your opponent. Though these offer a decent level of challenge and fun, the completion rewards are relatively low, leaving the mode feeling more like a minor distraction than a robust attraction.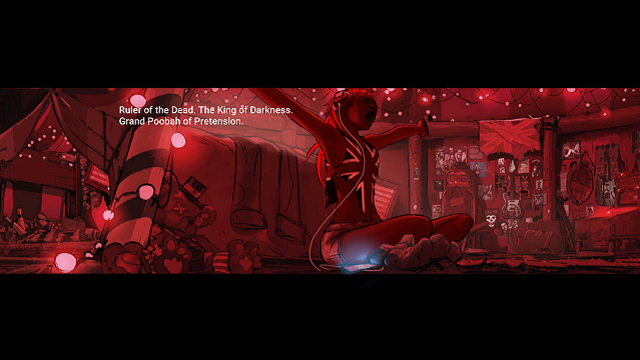 The primary draw here, though, is the story mode, which blends gorgeous, comic-book-style narration with tutorials and duels. While the rest of Mythgard's art might not maintain the lofty quality found here — the character portraits can look a little rough, in particular — the storyboards are wonderfully drawn.
The animations, on the other hand, become more of an encumbrance than they should be, often taking far longer than they need to. This slows turns — and, ultimately, matches — down to the point where my interest eventually began to wane. And it was this, along with the over-complication of some of its systems, that ultimately led me to put Mythgard down in favor of something else.
Pros
Variety of solo and multiplayer modes means there's always something new to try
Already a diverse selection of builds available, with good synergy between multiple colors
Pacing is ethical and microtransactions are less egregious than other card games
Cons
Not the simplest set of rules
Tutorials still lacking in some areas
Some animations take much longer than they should
Despite putting up a good fight against the established might of CCGs like MtG, Mythgard ultimately lacks the finer polish to feel like a true competitor.
Hopefully, the Early Access will allow it the time it needs to work out the kinks and elevate itself to a higher standard, but it's on the right track; having already played an earlier alpha build of Mythgard, it's plain to see that steady progress is being made towards improving the game as a whole.
[Note: A copy of Mythgard was provided by Rhino Games Inc for the purpose of this review.]
8
Mythgard Impressions — A Plucky Challenger to the CCG Throne
A worthy challenger to the likes of Hearthstone, Mythgard shows real promise but needs to make proper use of its Early Access to reach its true potential.
What Our Ratings Mean
About the author