The White House is on fire. Rockets hit the East Wing as black smoke clouds the sky over Washington D.C. Bullets fly and explosions rock the ground.
The core story idea of The Division 2, Ubisoft's recently-released third-person shooter, is basically Olympus Has Fallen: you are Gerard Butler, you kill everyone, and, hopefully, as the last line of defense after the Secret Service has been wiped out, you save the day.
In fact, in a recent trailer, you can even see Air Force One getting hit by multiple rockets and going down. So yes, Massive Entertainment and its partner studios, such as the inventor of the squad-based tactical shooter genre Red Storm Entertainment (Rainbow Six, Ghost Recon), is playing with pure Hollywood fantasy in The Division 2.
From a story perspective, they have no problems admitting that. Game Director Mathias Karlson explains:
It's been seven months since the virus outbreak. Large parts of the military have been killed, there [is] chaos and anarchy all over the country, and The White House, Capitol, and other important government buildings in Washington D.C. get hit by wave after wave of attacks.

The attack forces are mostly using ground troops, remote controlled C4 drones, and helicopters get added later into the mix.
Ubisoft knows that taking The White House would be a mission impossible, but in the storyline of The Division 2, the President, Vice President, and Secretary of Defense are dead or missing, and as Division agents, players take control over all units protecting D.C.
You might be surprised that despite the pseudo Olympus Has Fallen scenario, Ubisoft is taking authenticity very seriously.
"We Want Washington to Feel as Realistic as Possible"
At an event in Berlin, Karlson explains that Ubisoft's teams used GIS data to rebuild the government district of Washington D.C. almost 1:1.
"It's GPS data used by Google Maps for example," he says. "It allows us to know exactly how long and wide streets are in DC, how large every building is, the length of The White House complex with its multiple gates."
And he is right: If you've ever been to Washington D.C., you can even find pizza parlors and coffee shops at the exact same positions, just with different names on Pennsylvania Avenue. Ubisoft has also gone through a great deal of painstaking research with its TD2 advisors, some of whom are ex-military or former government agents from organizations they won't disclose.
Using experts plays into the game's environmental storytelling, such as coming across a stranded Marine One near Andrews Airforce Base, just a dozen miles southeast of The White House.
Knowing that Marine One always travels in a group of three Sea Kings or White Hawks that regularly change positions midair to confuse potential attackers and protect the President, Ubisoft created a realistic scenario in The Division 2: Division agents in charge of D.C. can't locate the President, something real agents train for.
We don't tell you the entire story, what exactly happened. A lot of it is going to play out in your own mind. You can retrace information via recordings and conversations, but it's mostly based on environmental storytelling.
This interesting creative choice plays into Ubisoft's goal to imbue The Division 2 with a sense of chaos and realism.
Ubisoft also used the knowledge provided by its advisors to build the fortress seen around The White House used as a base of operation by JTF (Joint Task Force) units, CERA (The Ubisoft version of FEMA), and Division agents.
In the game, these forces have built a massive security wall surrounding the compound, and all entry points are protected with a steel cage. Players must pass one gate and another to access White House ground.
This is how Ubisoft's consultants think the military would secure the most prestigious building in a siege situation. They've even taken into consideration from where military units would arrive, from where they would fly in, and from where enemies would intercept them.
However, since Ubisoft wants to focus on ground-combat and not tread the same ground as the Battlefield franchise, Ubisoft is taking a ton of creative freedom here, too.
Despite all of the realism Ubisoft has created in The Division 2, a real-world defense of the White House would also include M1 Abrams and Bradley tanks as the first line of defense.
An army consisting of mostly ground forces, helicopters, and drones would have a tough time laying siege on The White House for multiple days considering, too, that F16 and F35 fighter jets would reach the location within minutes. And there are more than a couple of thousand soldiers stationed as Andrews, not to mention the Pentagon and Secret Service. 
Military Logistics Might Be Fantasy, But The Atmosphere is Stunning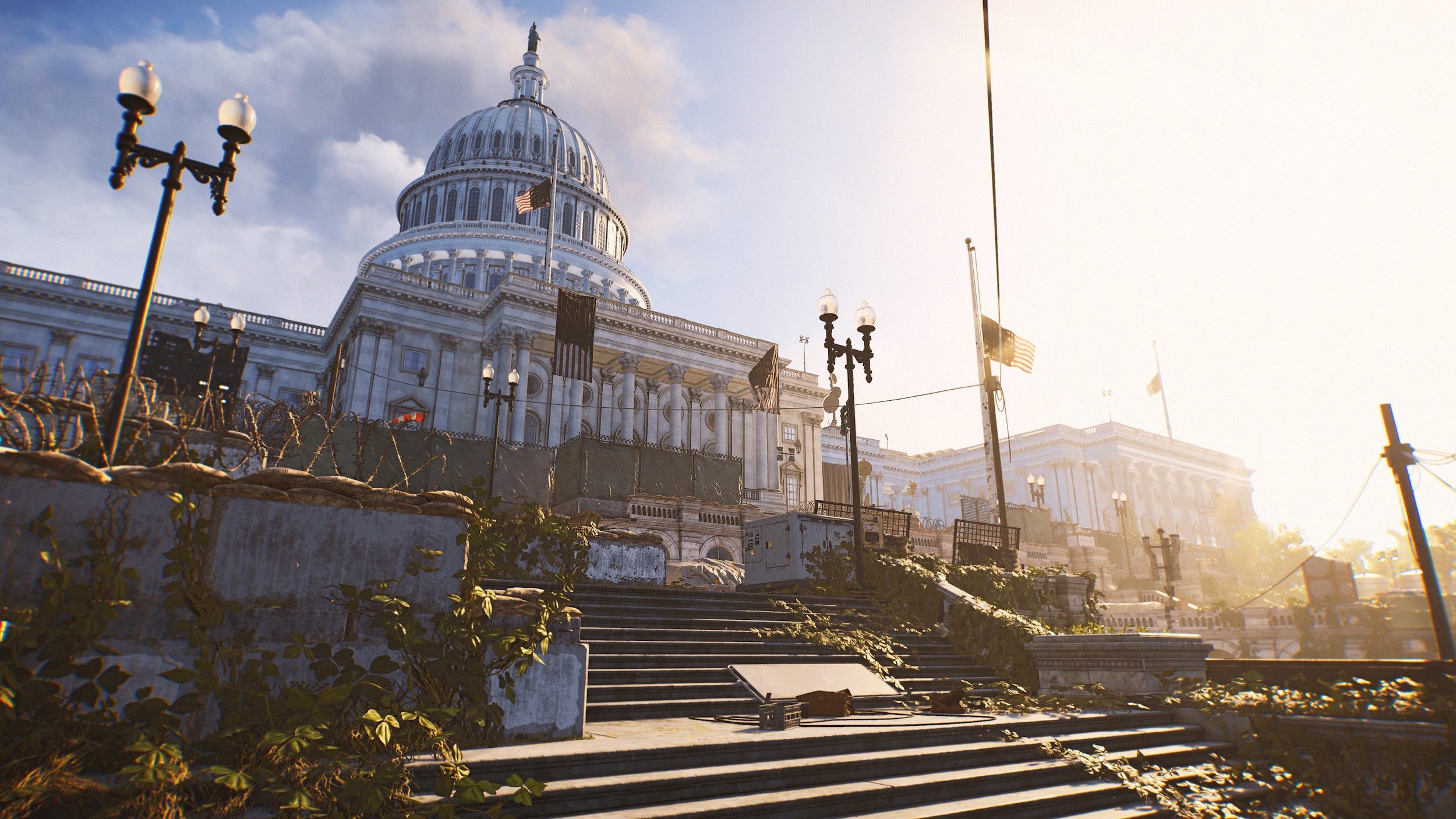 The atmosphere of The Division 2 still works great because Ubisoft managed to capture D.C. in a way that feels real. So many buildings are correct, their sizes are right, the way parks are structured is realistic, and even streets are accurate and wide.
You walk through the Lincoln Memorial and it feels real; the same can be said of the Capitol. Karlson says, "We've used all of this GPS data to rebuild an exact footprint of Washington D.C. Every park bench, every light pole sits where it is is in reality."
Additionally, D.C. feels much more like a war zone than the New York of The Division 1. While that city was captured with great detail, Ubisoft had forgotten to lay over the city a real war scenario. Looking back, it was almost baffling that only a couple of hundred soldiers were left to defend New York City; there wasn't even an entire platoon had to secure key positions against waves and waves of enemies.
That's different in D.C. Now, you will see burned out Humvees and MRAPs literally everywhere. If you take a closer look, you can even find destroyed armored SUV convoys in the government district.
Taking things further, there are dozens of downed helicopters of all sorts everywhere: Black Hawks, Apaches, Chinooks. Some of them lay crumpled in the streets, some of them can still be entered and hold powerful and useful weapons.
Where, for example, Call of Duty: Modern Warfare 2 shows how an invasion looks in real time, The Division 2 is all about the aftermath. Every street is littered with ambulances and police cars, Capitol, Park, and Metropolitan. A lot of them are empty, but in some, there are dead bodies.
While the first game was all about snow, The Division 2 plays in summer. There is rain, but mostly it's hot. Parts of the city have been flooded and there is a lot of greenery everywhere, taking over the city.
"When I've traveled to Washington the first time in August, I was surprised," recalls Karlson. "It's super hot and humid. If no one takes care of the city, nature will take over fairly quickly."
Shots Fired: Why Guns Sound Far More Realistic in Games Now
Weapons used to sound weird in games. Sometimes they were not punchy enough, and when used with suppressors, they were often too silent. To fix that in their games, Ubisoft acquired Red Storm Entertainment, a studio built by Doug Littlejohns, a former captain of the SAS (Special Air Service), the most elite military unit in the United Kingdom.
Littlejohns moved to Cary, North Carolina, to build a studio dedicated to developing more accurate tactical shooters like the old Rainbow Six games, ones where players could pre-plan every step — and hear what weapons of war really sounded like. 
So, for The Division 2, Massive Entertainment and Red Storm decided to team up with the legendary Pinewood Studios, who are responsible for the epic sound design found in all of the Stars Wars and Mission Impossible movies.
So while Ubisoft could have simple hired ex-special forces to understand how they would operate in D.C., they went the extra mile to also let them fire guns on specific studio sets at Pinewood to get an accurate representation of how the reverberation and echo changes from a narrow street to a major one.
Audio Director Simon Koudriavstev explains in a video shown at the event  how they've achieved that:
They've used a total of 65 microphones located in all locations possible to record gunshots of long caliber sniper rifles, assault rifles, LMGs, Shotguns, MPs and their exact reverberation. Every gun has a very iconic, unique sound that we want to portray in the game.
To get an even more authentic sound, crucial parts of government buildings were rebuilt and shot at. For example, the marble used in the U.S. Capitol building has a particular reverberation that other buildings do not. So when you shoot the walls of that particular building in The Division 2, you'll hear a very specific sound depending on which of the more than 50 weapons you're using. And this even includes the specific attachments for each gun.
"This [part] was important to us because suppressors simply aren't as quiet [as] most games made them be."
Aside from bullets bouncing off objects and lodging into walls, players will hear helicopters approaching, footsteps clattering over wooden panels, and the reverberation of voices in long halls and buildings just as they would in real life.
"When you walk through the streets of Washington, it gives you a sense of power. We strip that away with The Division 2. The country feels very vulnerable and we want you to feel that. All those bullet holes in SUVs, that maybe belong to the government, maybe even The White House. The trash on the streets, burned out military convoys.

This is a game, it clearly is. The shooting part is supposed to be tactical and fun. But we want Washington DC to feel as real as possible" concludes the Game Director.
—
The Division 2 is out now. Considering the studio's attention to detail, a 40-hour campaign, and a robust post-launch plan, The Division 2 looks to take what made the original game to the next level.
Our review of the game is currently in progress. Until then, be sure to head over to our closed beta impressions to see what we think about Ubisoft's latest third-person shooter so far.
About the author