As I was making my daily blog round-up while derping my way through the internet and swimming through mountains of PAX coverage, I happened to find a link on an upcoming MMO that was so…non-MMO that I had to throw in my two cents. Now don't get me wrong, I'm usually the type of gamer where if I'm not busy getting things cracking in a game, I'm sleeping on it. And I was definitely sleeping on this one!
Wander is an upcoming MMO being promoted as a (get this) "non-combat, non-competitive, collaborative multiplayer game….Wander focuses on exploration and beauty." Of if you are like me, then you probably read that with your head cocked and your eyes crossed, no doubt thinking…."say what now?"
Already scratching your head? Keep reading. Wander apparently has no maps, no checkpoints, or objectives. In Wander you are encouraged to explore, and discover other races hidden away in the rainforest in which you find yourself. By working together with these other races, you will be able to unlock new experiences, and piece together what exists of the plot, as well as enjoy the beauty of the world around you.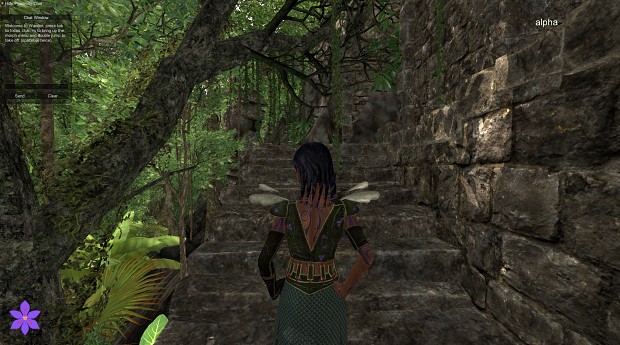 Early alpha footage from the world of Wander
Set in your typical fantasy universe, your standard races in Wander focus on collaborating in order to understand the world around them. Now when you're used to MMOs that encourage race wars and long, bitter histories of rivalries, when you hear anything fantasy based that doesn't involve violence it definitely makes you cock an eyebrow.
You mean we're not going to be killing each other?…..Like for real? You mean to tell me I can be a wood elf and just stay in my forest and mind my own damn business? Did I really have to wait practically ten years for that?! I honestly don't know what struck me more, the fact that ,as far as I am aware, I have yet to play a MMO/MMORPG that does not involve violence, fighting, or some weird hybrid thereof – probably says a lot more about the society I live in then about me.
But seriously, give that one some thought – when was the last time you played an in-game race and just peacefully checked out the world you were placed in? -raises hand- Um…never. There was always something to kill, some quest that required me to rough someone up, or those poor low level monsters that had to perish just so the newb that I was could level up high enough to pick that really cool rogue class. To go and kill more things. Repeat.
Wait, so what's going on here?

Wander seems to be based on one simple, straightforward idea: exploring. There's no list of nonsensical madness you have to complete via that thing we love to hate, the quest log. There's nothing to kill. There's only you and the world – which you explore yourself. According to creative director Loki Davison, the game is based on "collaborative exploration."
Not sure I know how to feel…
On one hand, the whole concept of Wander is so bizarre and jarring simply because it is so off the beaten path it almost comes across as near insane. On the other hand, I have probably been so desensitized by fantasy violence in video games that the thought of not being a blood elf hell-bent on vengeance against all orcs just sounds downright weird. Somehow I want to blame most MMOS/MMORPGS that don't even give me the option of a relatively peaceful existence inside a fantasy world. Unless that's an oxymoron?
Whether I ever wind up playing Wander or not, the fact that this idea strikes me as so novel probably says more than enough about what many say is wrong with video games these days. And to that, I have to point out there is now a truck simulator game….where you just drive a truck. Forever. If that answers your question. If that was even your question. The point here I suppose if you want to go do something peaceful, go drive a truck…or something.
Wander runs on Linux, PC, and OS X, and the Oculus Rift VR device. The development team is also currently trying to get greenlit on Steam, so if this is somehow your cup of tea to go show your support.
Otherwise, here's an odd one for you gamers. Is there such a thing as a 'peaceful' MMO? Or is that just a pipe dream?
About the author