In just four years, the battle royale genre has gone from niche to a must-have addition for many of gaming's biggest franchises. Now, many competitive games, including virtually all shooters, continue to iterate on the popular mode in different ways.
Though Midwinter Entertainment is unusually shy about saying so, Scavengers is one of the genre's newest innovations.
It seems as though the team doesn't want to be pigeonholed into the battle royale maelstrom, and perhaps that's smart given how busy that space is these days, but some games inevitably rise to the top, and thanks to the team's shooter pedigree, Scavengers has the potential to emerge from that storm as a fan-favorite.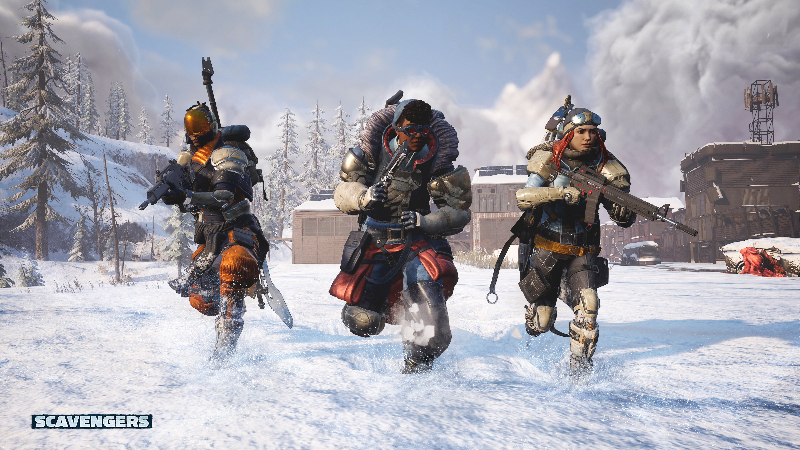 Scavengers is a free-to-play third-person co op "survival shooter," according to its creators, but for anyone jumping in for the first time, what you really need to know about Scavengers is that it's a battle royale.
With dozens of players on every iteration of the game's massive and frosty map, teams of three must work together to scavenge for supplies, fend off enemies both AI and human, and be the last team standing when the dropship arrives.
Perhaps Midwinter doesn't call its debut title a battle royale because that comes with certain connotations, several of which Scavengers defies. For instance, you can die and return after a 60-second respawn timer. There's no Gulag to prevail in. There's no Reboot Van at which your allies revive you. The simple, yet ultimately nerve-rackingly long, respawn timer is one way Scavengers challenges players to play cooperatively.
As the map shrinks due to an ever-encroaching blizzard, if at any point all three players are eliminated on a team, they're all sent back to the lobby. This provides the right kind of anxiety, the kind this genre is meant to provide. Being the lone survivor on a team, desperate to survive until your allies get back in the fight, is fun every time, even if it doesn't go your way. It gives every round the sense that you're going down swinging.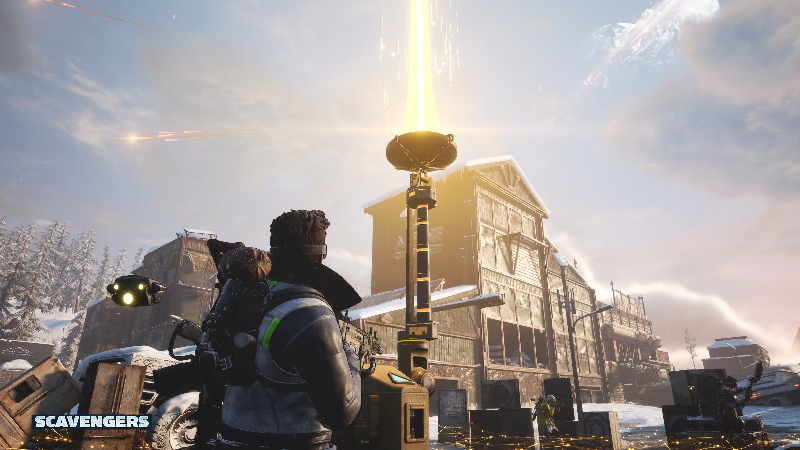 The map's storm moves slower than the ones in other games in the genre, meaning you can often outrun it even if you start to trek out of it later than you should.
But there are unique consequences for staying in Scavengers' storm. With gauges for both hunger and warmth, players will see the latter drop fast, eventually blocking part of their health bars unless they can recover it using campfires or some crafted items, like a Thermal Boost. As you sprint, you accumulate hunger as well, so even if you're hoping to lie low for a long portion of any round, it won't be long before it's time to hunt for food.
These survival elements add a necessary spin on the genre. In addition to crafting vital survival tools, players can also craft shields, throwables, and signature weapons for each of the game's seven class-based heroes at launch, three of which are unlocked on day one. While crafting and survival mechanics aren't anything novel either, Scavengers bridges the last-player-standing excitement of battle royale with the reward of survival games, where the best-prepared players, not necessarily the best shooters, can do the most damage.
Shooting in Scavengers feels excellent. The game's pedigree, including the former Halo creative director and veterans from Battlefield, Call of Duty, and more, shines through. A pretty standard assortment of guns, like assault rifles, shotguns, snipers, revolvers, crossbows, and more, don't impress with any sort of innovative mechanics on their own, but they make up for it thanks to tight controls that ensure players never need to grapple with the game itself, only the enemies.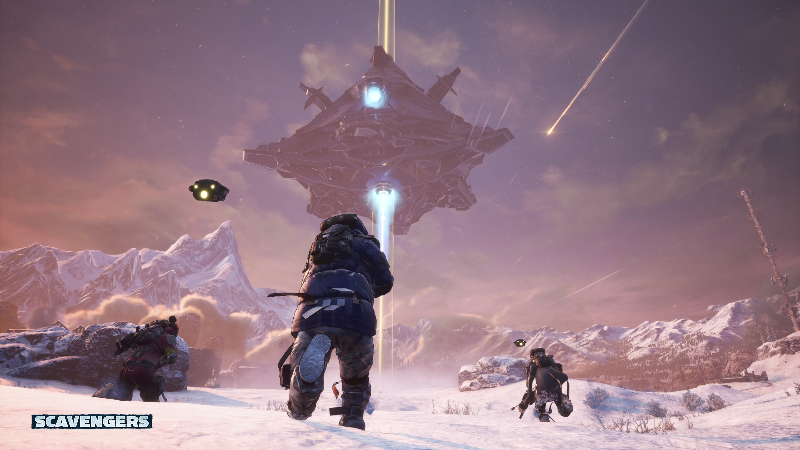 That's more than one can say for what is admittedly still my favorite game ever — PUBG — and puts Scavengers closer to Warzone or Fortnite in terms of battle royales that actually feel good to play. The genre is wildly all over the map in this regard, but Scavengers is reliable when it comes time for a shootout.
The biggest issue Scavengers has is its map features. The point of every round is to escape with not just your life, but also the most Datapoints, which can be gathered at major settlements across the map or dropped by AI and human enemies. This added factor means Scavengers is the battle royale that scores you based on your found loot, which is fun as a concept.
Some of the game's best bits are nevertheless let down at times by a map too flat and barren in between its main settlements. I've landed on using the sniping- and crossbow-class characters, because I just don't see the utility in playing someone with close-quarters special weapons, like a shotgun or a melee sword. The sightlines are so vast when between settlements. It feels like anyone who needs their targets at close range is at a severe disadvantage.
I've lucked into my preferred character, a stealthy archer named Kali, being such a strong fit for the current geography of Scavengers. Anyone who loves to play as the shotgunner of their group may find Scavengers to be more of an uphill battle, figuratively and ironically speaking, because the terrain can be so flat on the outskirts of towns.
I expect the meta to quickly reveal itself to favor long-range gunners, at least in this earliest of Early Access stages.
Scavenger's economy is based on not just cosmetics, but also individual research projects players can explore between rounds. Researching new items, weapons, and talents is straightforward for anyone who's played mobile games or those that borrow from it, though it's worth noting nothing in Scavengers' economy is predatory like those of many mobile games. Players earn credits as they play, and while you can use them to complete research projects faster, I've not yet seen any reason to.
There's always more to unlock, and every crafting resource you'll need can only be found by playing the game. I wouldn't call anything in Scavengers pay-to-win for that very reason. It's play-to-win, with an option to speed things up by a few hours if you really want to.
—
Scavengers is in its infancy as an Early Access live service game, and that's a period during which fans should reasonably expect some growing pains. Midwinter's debut has fewer than some others, to its credit, though no one would rightly argue it's without blemishes.
The foundation is strong, and one can quite easily see a future where this competitive game continues to grow thanks to its fusion of two of the industry's biggest trends. Scavengers has at least earned my curiosity for now, and with strong ongoing support, I expect its harsh but fulfilling world will draw in plenty more Explorers too.
About the author