First on our list is personally one I favor among all comic book hero video games. Made in 2000 for the very first PlayStation by Activision and Neversoft. Spider-Man gave me more of a reason to stay up at night web-swinging across town finding any reason to destroy a criminal's hopes and dreams of a good getaway.
---
Spider-Man 2 for the Original Xbox and PlayStation 2 brought in a free-roam that felt genuine and well integrated. With every swinging moment a citizen could be in trouble by hanging from a skyscraper or a police shoot-out could occur. Sure, you had limitations as to where you could venture off to, but what game doesn't? Out of the three Sam Raimi's Spider-Man video game ports, this was definitely the golden cup. Concussions for all criminals!
---
The Amazing Spider-Man brought free-roam back to the light and the game also added a greater fighting mechanic. It kind of felt like I was going back to Spider-Man 2 for the original Xbox with the simple fact that anything could happen. You could be enjoying a nice web-swing through Central Park until a sudden spidey sense kicks in and you're off to save the day. The game also held secret Spider symbols to unlock certain Spider-Man suits. Some you had to get at a certain date which you could easily switch your console's date to in order to get the suit and no penalty would be at your mercy.
The suits didn't disappear or anything! I personally used the black Symbiote suit from Sam Raimi's Spider-Man even though Spider-Man 3 was a flop. I currently await the arrival of The Amazing Spider-Man 2.
---
Next up on my list is the entire Batman Arkham series. With Batman: Arkham Knight just now being revealed, I thought I would give you Batman fans a good treat with the announce trailer for the explosive finale in the series. This series made me enjoy playing comic book hero video games more than any other, because Batman is my all-time favorite. I grew up with him, hell my baby clothes were Batman designed.
While, seeing the series end is sad and nobody likes to see things they like go away, it is also great knowing that we have a great Batman series that will live on. There will always be a new series for the Dark Knight, won't be the same, but change is sometimes good.
---
Injustice: Gods Among Us makes the final step in this list of great super hero video games. With Mortal Kombat being one of the most successful fighting game franchises to date, I think it was inevitable that NetherRealm was going to make a Super Hero equivalent. DC's heroes were already a better guess since the making of MK vs. DC Universe. I enjoyed the game for the fact that you could finally make your own debates against who would win. The biggest debate always being Batman vs. Superman, I also liked to pit Green Lantern vs Superman and etc. As much as I don't care for Aqua Man, he did have some pretty awesome moves, especially his special move involving his trident and a great white shark coming around for dinner. Injustice: Gods Among Us is perfect for a gaming party and also to go head-to-head with a former friend that you just want to punch into a coma, but can't, because that is against the law and also frowned upon.
---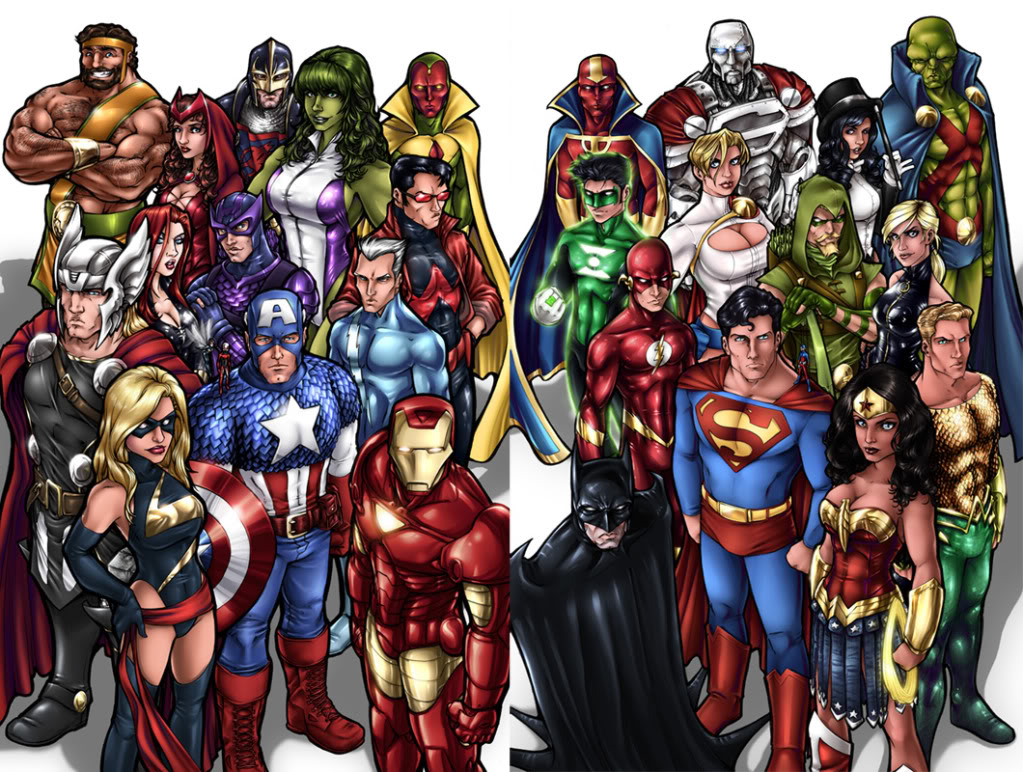 Well, there you have it, that is my list. There are more games I could have added, but none of them I felt held higher with my personal taste than of those on my list. Comment below on which games you think should be added and explain why. And if you liked this list, go ahead and share with your friends and tell them to check this out! Remember, It's not who we are underneath, but what we do that defines us and with great power comes even greater responsibility.