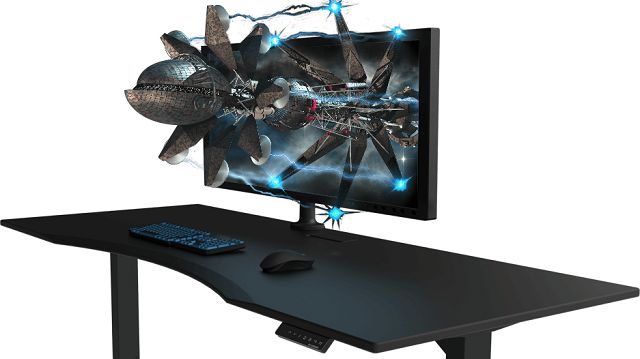 Getting the right desk for your gaming setup is important. You want to be comfortable gaming hours on end. There's nothing worse than having a desk that's not only uncomfortable but one that's also cramped.
Usually, that means you're going to have to shell out big(ger) bucks for a nice, state-of-the-art gaming desk. However, we've done some sleuthing and found some of the very best desks for gaming on a budget. These may be cheap in price, but they're not cheap in quality -- and that's what matters.
Here's a quick list (complete with links) to all the gaming desks on this list. You can go ahead and buy them now OR you can click through to the following slides and see why we recommend them for gaming.
Note: This gaming desks article is an expansion of our Top 5 Gaming Desks on a Budget article. All sizes follow Length x Depth x Height.
---
Linnmon/Aldis Desk from Ikea
Price: $39.99
Desk Type: Simple
Desk Size: 59" x 29.5"
Buy it on: IKEA

This gaming desk is massive for the price. Is it simple? Yes. Is it boring? Maybe. But it gets the job done in a big way (and for cheap).
Bear in mind: IKEA desks may have an ~$10 flex based on what colors are in stock. If you aren't picky about desk color, you'll be fine -- but do yourself a favor and double check all the colors before taking it to the register.
Luckily, $10 isn't that much more to pay for your ideal desk color. Legs are customizable.
---
Linnmon/Aldis Corner Desk from IKEA
Price: $66.50
Desk Type: Corner
Desk Size: 47 1/4" x 47 1/4"
Buy it on: IKEA
This is the desk some of us at GameSkinny personally use for gaming, and we love it. It's very affordable, has a gap in the back for cable management, and fits perfectly in a room corner. This cheap desk might not look like much, but it's actually very large: it can fit the computer tower itself, monitor, keyboard & mouse, speakers, laptop, mic stand, and a lamp on it with additional room to spare for misc office things. Legs are customizable.
---
Sauder Beginnings Computer Desk from Amazon
Price: $32 (+$32 shipping)
Desk Type: Compact
Desk Size: 19.5" x 39.6" x 28.9"
Buy it on: Amazon

Relatively small and compact, this desk gives you ample space for a monitor and tower, plus it has a roll-out keyboard & mouse tray for gaming purposes. The raised section of this cheap desk is nice for storage or a lamp, but could easily be taken off to make room for a second monitor. There is a decently sized bottom drawer for storage, too -- which is especially helpful if you hoard a lot of gaming mice or gaming headsets.
---
Techni Mobili Upright Desk from Amazon
Price: $86.59
Desk Type: Cart
Desk Size: 40.5" x 22" x 52"
Buy it on: Amazon

Computer cart desks are hit or miss, but this is one of the best we've found for the price. The rolling keyboard tray is larger than the image gives credit and you can easily use the mouse down there if you up your mouse sensitivity.

With a tower caddy on the side, your CPU has designated room to breathe and can travel with minimal hassle if you find yourself shifting/rearranging your furniture. Cart desks can be ideal for dorms and small or shared spaces -- and this cheap, but sturdy one is a fantastic choice.
---
South Shore Axes Desk from Amazon
Price: $89.99
Desk Type: Compact
Desk Size: 42" x 20" x 37"
Buy it on: Amazon

While it may be small, the back shelf on top is where this desk shines. That shelf is great for a monitor (or two), speakers, and a lamp -- plus it has ideal gaps for cable management, which gives you much more desk space that you might anticipate.

There is some room for storage on this desk, and it has a roll-out tray for keyboard & mouse. And, if you remove the bottom storage shelf, you can fit a reasonably sized computer tower -- but you might end up keeping your tower on the floor, which isn't entirely recommended.
If you want to make sure you're keeping your computer as cool as possible -- or HAVE to put it on the floor -- these fans will make sure your tower stays cool.
---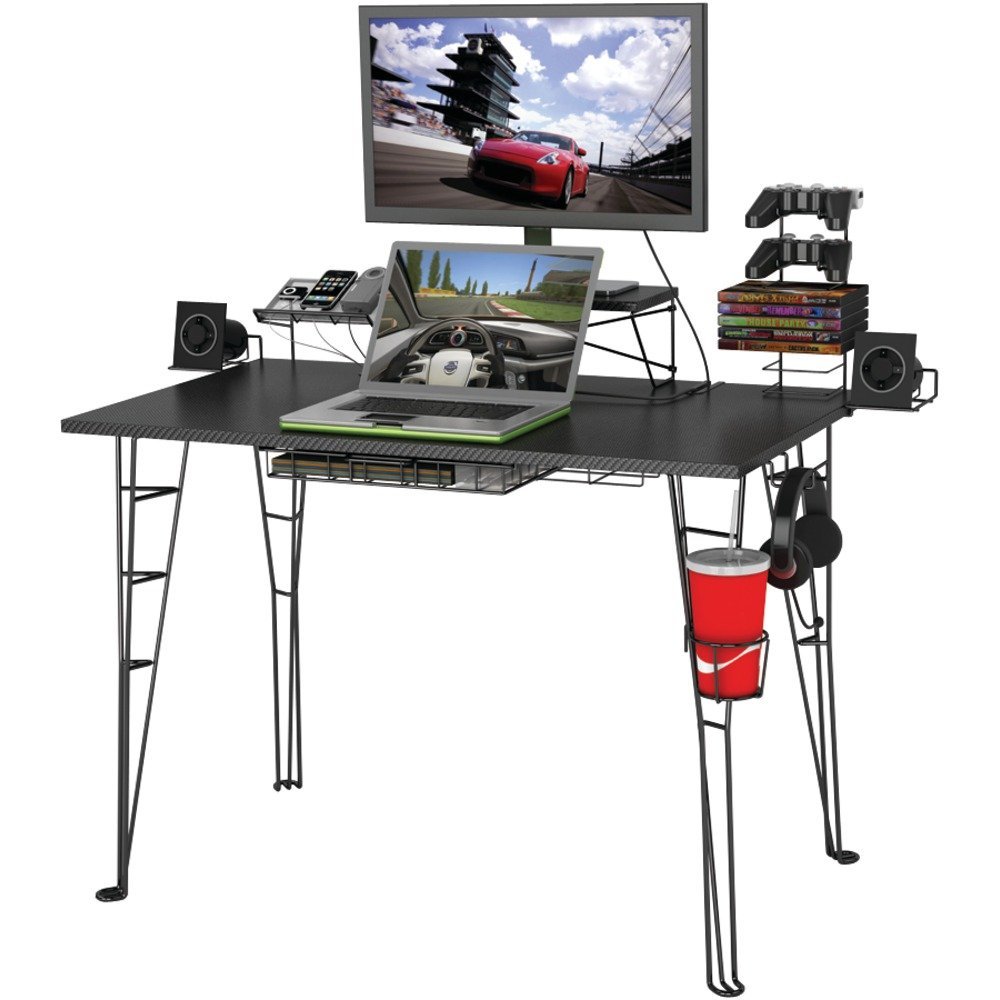 Atlantic Gaming Desk from Amazon
Price: $99.88
Desk Type: Compact
Desk Size: 50" x 40.2" x 26.5"
Buy it on: Amazon

This is a great gaming desk on a budget; its accessories are very nice and are removable, which is potentially even nicer. This funky looking desk is as minimal as you need it to be, but is best if you can utilize things like the speaker trays, device charging bay, and game controller holders. The rungs on this desk provide a lot of options for creative cable management, which is a plus since your computer tower will likely be on the floor.
---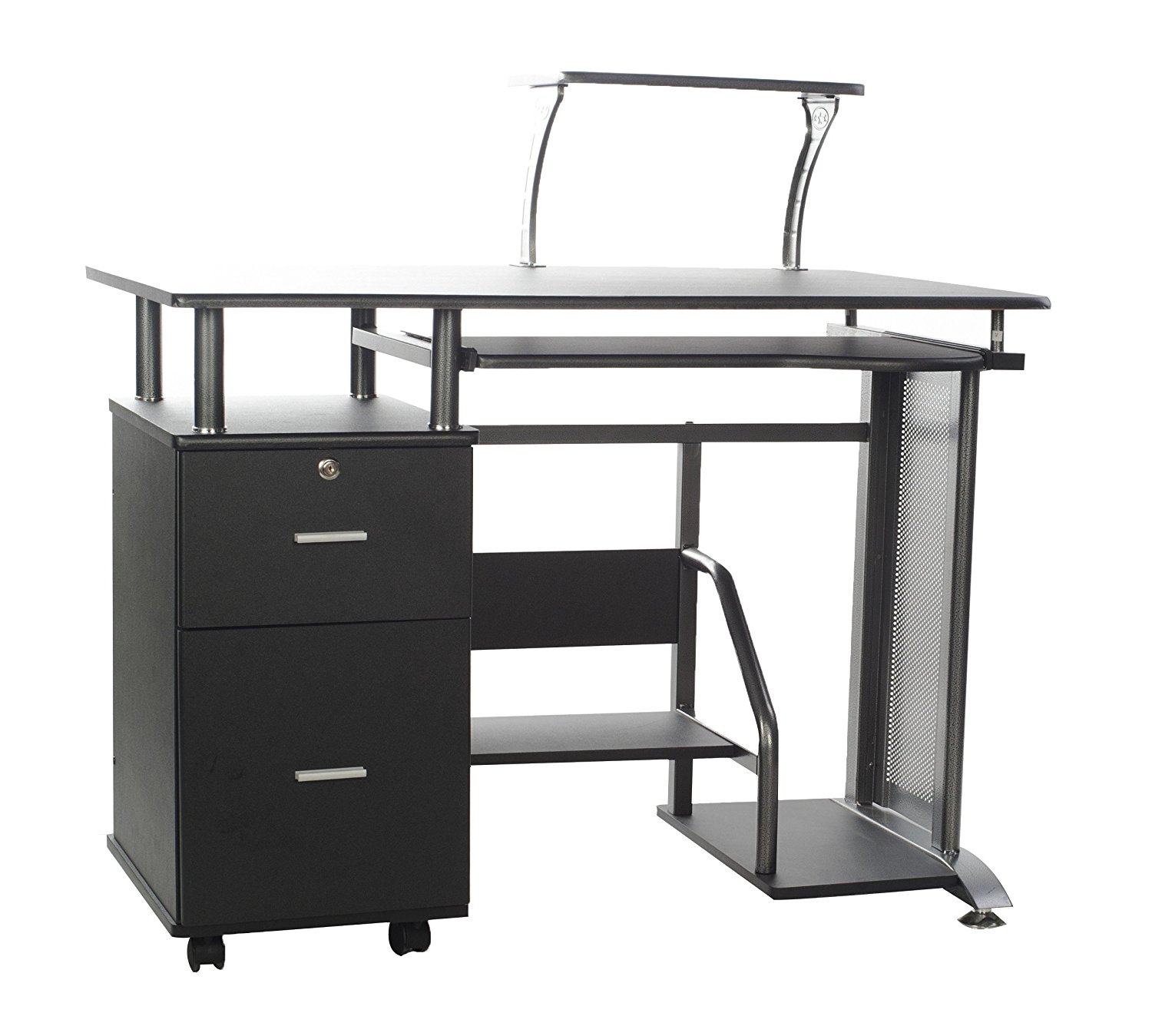 Rothmin Desk from Amazon
Price: 107.86
Desk Type: Storage, Compact
Desk Size: 39.4" x 23.6" x 39.4"
Buy it on: Amazon

The tower tray on this gaming desk is mesh, which is great for avoiding overheating, and the cabinets are a suitable size. With an extra top stand (optional during assembly) and storage, this desk has quite a bit going for it despite its cheaper price tag.
The only hiccup: many customers seem to get frustrated by the confusing assembly instructions. So, buyer beware: you'll need some patience and a helping hand to get it together.
---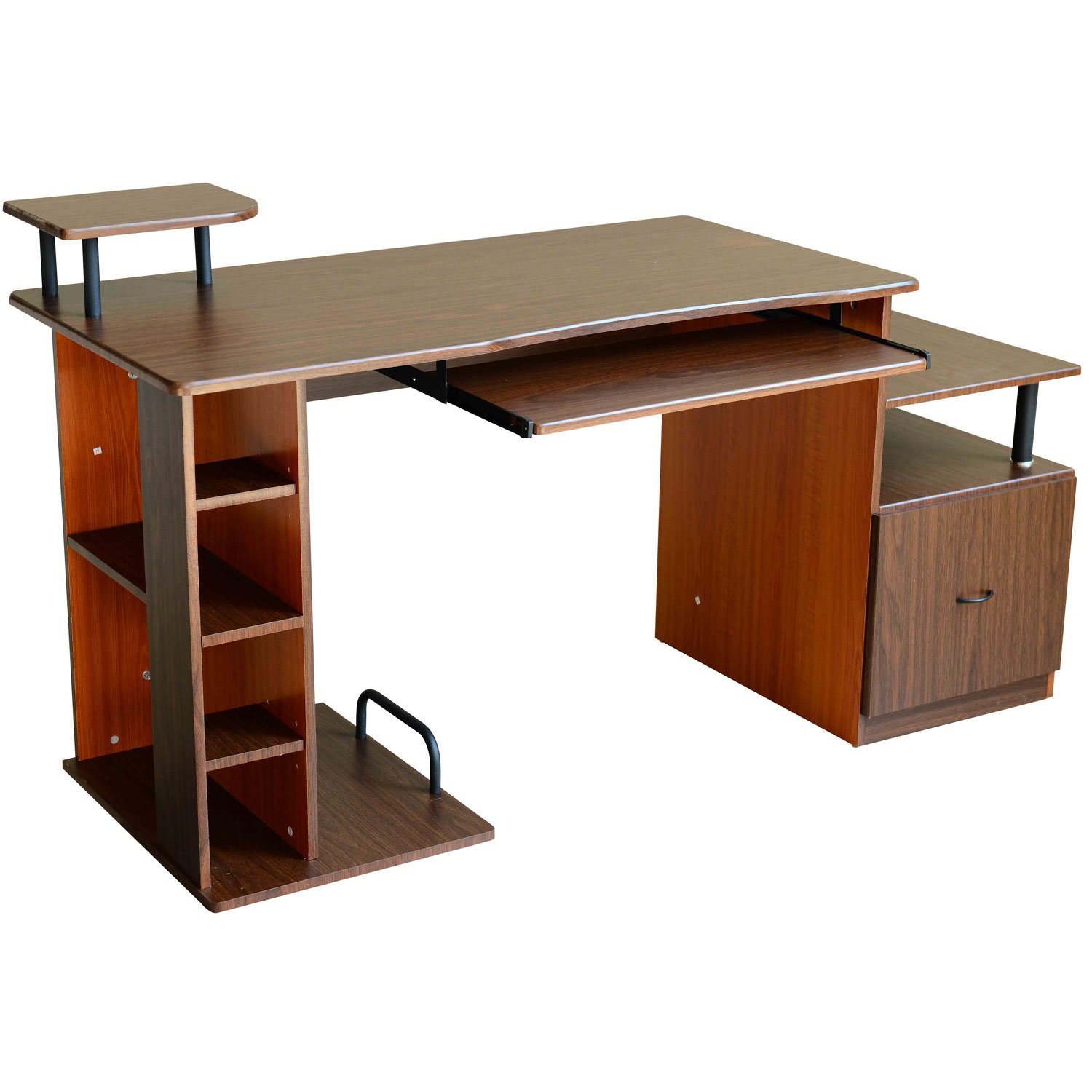 HomCom Multi-Level Desk from Amazon
Price: $114.99
DeskType: Storage
Desk Size: 63" x 23 1/2" x 34 3/4"
Buy it on: Amazon

This is a feature-rich desk and is great if you have a little extra cash or need those extra features. There is a large amount of exposed storage and a large drawer in this gaming desk, plus there is an extra floor tray for a computer tower. This extra tray area is specifically for keeping a tower off a rug (which may cause overheating and dust issues over time).
The small surface shelf on the top of the desk might be tough to remove, but it is possible to axe it if you need the extra space.
---
Walker Edison Soreno Desk from Amazon
Price: $155.00
Desk Type: Wraparound
Desk Size: 51" x 20" x 29"
Buy it on: Amazon

Pricey for this list, this desk has tons of space and a dedicated computer tower tray. The keyboard tray rolls, and it has good space to it, but it's really just an option -- you'll have tons of space to put a keyboard wherever you'd like.
The curved back corner gives the desk a nice, natural space for cable management, and the desk fits well into a corner if you have space. Unlike some other wraparound desks, this one is sleek enough to look good both in a corner and wrapping around off a wall.
---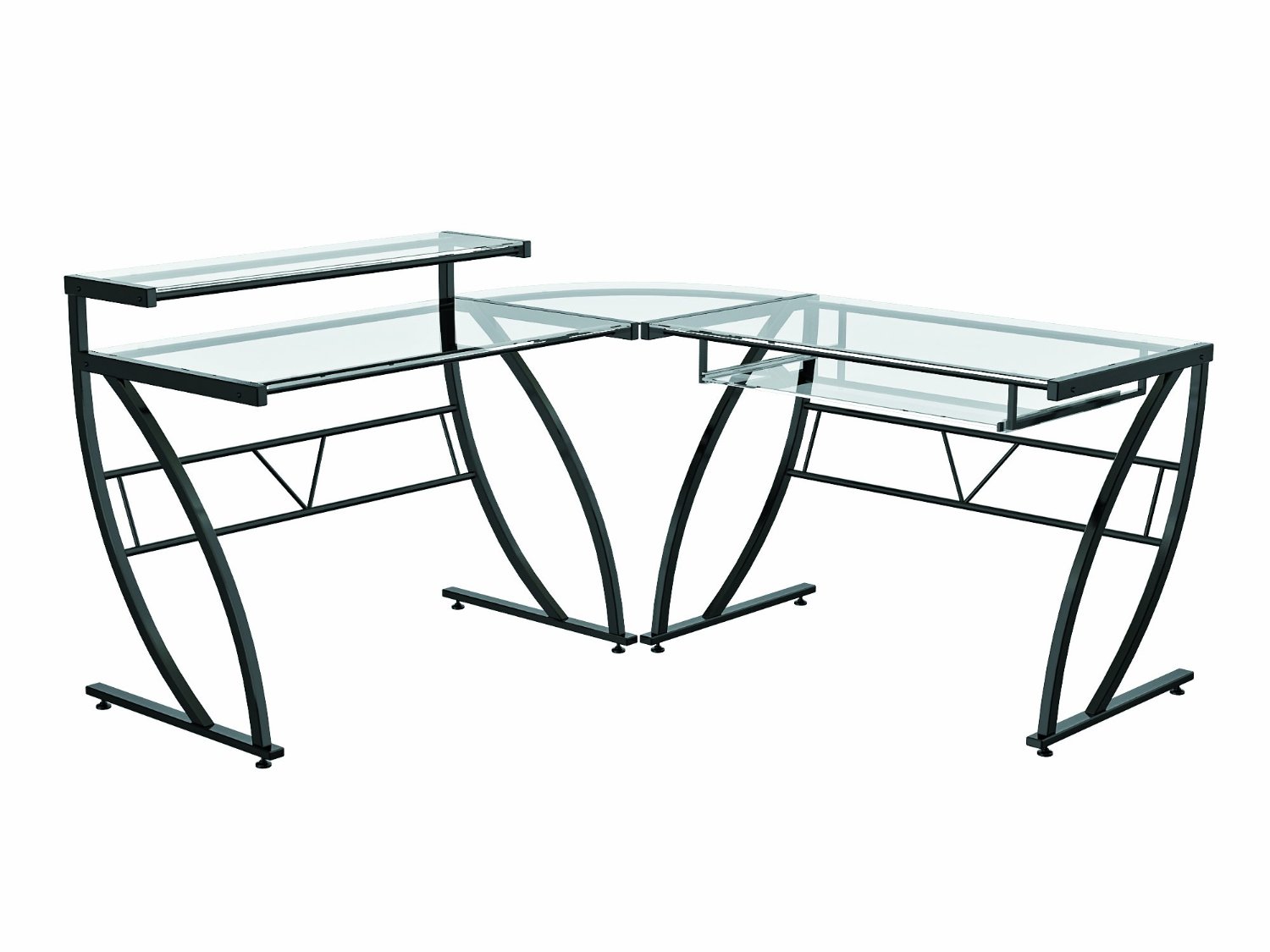 Z-Line Belaire Z L-Desk from Amazon
Price: $158.05
Desk Type: Wrap around
Desk Size: 60" x 24" x 37"
Buy it on: Amazon

The Z-Line desk is the high-end of this list: tons of space (check out those dimensions), a rolling keyboard tray, slick design, glass surfaces, a sizable shelf, and a curved L-shape+rungs for cable management. This gamig desk is sleek enough to look good both in a corner and wrapping around off a wall.
If you need the space to spread out, this desk is worth springing for; it's the most expensive here, but it has a nice aesthetic and is still a great deal at under $160.
---
And that's it for our expanded guide to cheap -- but reliable -- gaming desks. Sure, almost all of the desks on this list aren't specifically designed for gaming. However, their price points and ubiquity help them serve multiple purposes. From standing desks to sitting desks and desks built for computer gaming, hopefully, this list helped you find exactly what you were looking for without having to break the bank.