PAX East 2014: Not a Hero Impressions
Roll7 brings the candy-colored violence to their upcoming release "Not a Hero"
From the creators of 2D skateboarding game Olli Olli comes a quick paced piece of candy-colored ultraviolence - Not a Hero. With a unique 2D aesthetic and brutal action, it's a fascinating experience in destruction.
In Not a Hero, you play a murderous loner tasked with killing all the opponents of the mayoral candidate BunnyLord, an anthropomorphic rabbit from another dimension. Without your characters violent intervention, BunnyLord has no shot of winning this election. The action in the game takes place during destructive missions along five city sectors, and utilizes two unique aspects to stand out from other brightly colored murder simulators.
The game's unique perspective, utilizing what the developers call Iso-Slant, is one of its more interesting attributes. The developer I spoke with jokingly called it "2.25D," a reference to the isometric angle often used in platformers 2.5D. This perspective gives players some screen depth while not compromising the 2D vision.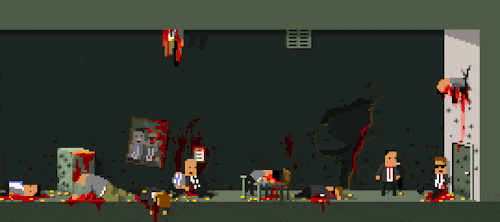 The art style is also incredibly important to the game's mechanic - cover shooting. With a traditional 2D game, cover would look more like straight lines and it would be difficult to tell what is simply wall decoration, and what you can hide behind. With Iso Slant, it becomes easier to spot the walls and cover that you character can use.
The control scheme is simple and versatile, and players can implement a variety of interesting weapons, including a bomb cat and fire inducing rounds. There are several mechanics in place to maintain the characterization of a determined killer -- cowardice in this game is punished, and stopping to reload your weapon at a certain time could mean death.
Roll7 had made a fantastically action-packed game, and hope to release it before the end of the year.
Published Apr. 15th 2014