Lords of the Fallen Review: Making Me Question My Temper
A review of Lords of the Fallen, a game that left me questioning my temper during its many boss fights.
I like to think I have a good sense of control when it comes to my temper while playing games, but apparently I was wrong. No, my anger is not anger expressed because of disappointment in the game or a feeling that I was ripped off. Let's just say my frustration lies with boss fights that rivaled those of the 12 labors of Hercules.
CI Games and Deck 13 Interactive have delivered a third-person action RPG that most have compared to Dark Souls, but it's a game all its own. You are the anti-hero, a convicted criminal named Harkyn in a world where no sin is forgotten. Those convicted of crimes have their faces imprinted with runes that denote their sins. Harkyn is given a chance at redemption after being freed from prison by Kaslo, as the human realm is being invaded by an army of gods and demons. It is on this journey to Rhogar that Harkyn must battle enemies and make alliances in order to be forgiven.
Round **... fight
There are various enemies found throughout the game, some harder than others. I will admit some are also hideous to look at, but thanks to the gorgeous graphics it's hard to look away. Some enemies are shielded, bearing armor, wielding various types of weapons, use magic or even use what I could compare to alien suckers that protrude from their mouths. Some can be easily defeated with blocking and quick mobility; others require a bit more finesse.
You will die and die often.
Let's just say my frustration lies with boss fights that rivaled those of the 12 labors of Hercules.
Upon each death, all enemies respawn. Don't fret about your experience. Your body leaves behind a ghost that retains your experience but you do have a limited amount time to retrieve it to get it all. As each moment passes, a small percentage is removed. The benefit of death is that you know what to expect when you come back, allowing for additional experience to be gained. You'll spawn at the last crystal where you saved.
These bosses want your death and nothing else.
Their names alone can cause fear. Names such as: First Warden, Commander, Worshiper, Infiltrator, Champion, Beast, Guardian, Annihilator, Lost Brothers, and the Judge. These guys can be frustrating, yes, but it's the amount of time it takes to bring them down that's a pain. This is where my temper was clearly tested.
It took many trials and errors to figure out the best methods to take down each boss. Once achieved, it was GLORIOUS! I'm pretty sure my neighbors heard my screams of victorious delight. Getting to know your weapons and armor are beneficial, as light armor will allow you mobility, which is key. Being clever with your health potions, quick on your feet, and knowing when to charge in for the hit is all it takes.
Character Development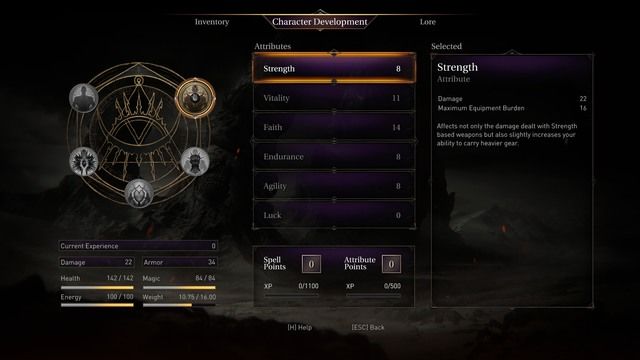 The character development menu is user friendly. Attribute points that are gained from experience can be applied to build up your strength, amount of weight you can carry (which benefits the type of armor you can wear), or to increasing your energy, magic, and your chances of finding rare items.
Applying your Spell Points allows you to build up your magic ability. There are three types of magic for each character build (as are the equipment types), so decide on what kind of play style you prefer whether you're the Warrior, the Cleric or the Rogue. Each Spell Set is defined with 4 sub-catergories as well.
Brawler Spell Set: offers mostly offensive boosts, which can help you brute force your way through some encounters

Prayer: motionless clone attracts the opponent's attention providing an advantage and with time, replenishes some health.
Rage: powerful aura reinforcing attack and temporarily provides unlimited energy
Ram: tremendous power that deals lots of damage to opponents, capable of knocking them off balance, or knocking them down
Quake: most powerful of Harkyn's allies comes to his aid and knocks down the enemies with a powerful hammer

Solace Spell Set: offers some great ways to strengthen your turtle tactics

Prayer: motionless clone attracts the attention of the opponent to providing an advantage and speeds up mana regeneration
Shelter: protective barrier that raises all types of defense, considerably and reflects damage
Daze: power to stun the opponents which slows them down and weakens them
Punishment: instead of stunning the opponent, you make him even more vulnerable to attacks, for a short period of time

Deception Spell Set: motionless clone attracts the attention of the opponent to provides Harkyn with advantage and speeds up energy regeneration

Prayer: motionless clone attracts the attention of the opponent to providing an advantage and speeds up energy regeneration
Mimic: followed by a magic aura that copies your moves and deals as much damage
Stab: bloodthirsty magic assassin dashes at the opponent to kill him, or at least, to inflict wounds
Shift: transferred to the dimension of shadows, each attack deals tremendous damage, but makes Harkyn more visible
Let's talk graphics and story, shall we?
First thing that captured my attention were the amazing cutscenes and graphics. I remember whilst playing my first few hours, my fiancé walked in, stopped and had to comment on how gorgeous the game looked. There's no denying - playing on the Xbox One with an HD 52 inch LCD television, I was privileged with seeing the amazing details.
The attention to detail is wondrous. Standing within the gigantic monastery as light pierces through the broken stained glass windows is so realistic. I almost wanted a pair of shades for Harkyn. Every facial characteristic is lifelike, right down to the specks of dirt and grit. Yet, things aren't flawless. The game does struggle to maintain 30FPS, so you'll experience tears at certain times but it doesn't hinder your gameplay.
There's a storyline somewhere...
Exploring the dark corridors and pathways are typical. You'll find yourself backtracking at times to later open doors and travel through portals that were once inaccessible. There are story missions that must be completed but I found the actual storyline got lost within the relentless battles of enemies. There's no shortage of enemies to challenge your skills with the projectile gauntlet and sword.
Each of the various weapons in Lords of the Fallen all require different methods of use. Some weapons take longer to swing than others, and knowing this information will make the difference of defeat or victory. Like the various weapons, armor ranges from light to heavy. Each type has its own advantages and disadvantages, so trying them out will help you find what will suit you best for the given task.
Verdict
Overall, I was pleased with my experience with Lords of the Fallen and I do recommend it. Especially if you don't mind getting a bit frustrated at some boss fights. It's definitely a fun game and has earned its right to stand on its own merits. If you enjoy a challenge, this is the game for you.
Our Rating
A review of Lords of the Fallen, a game that left me questioning my temper during its many boss fights.
Published Feb. 1st 2018