Gears of War: A Series Retrospective (Part 1)
Joseph takes a look back at Gears of War, in what will hopefully lead to a bigger project.
For 10 years, Gears of War has shot, took cover, and chainsawed its way into our hearts. Since its inception, it has become one of the most important franchises for both Microsoft and the third-person shooter genre. In honor of Gears of War's 10th anniversary and its upcoming debut on this generation of consoles, I'm taking a look back at the history of one of the most influential franchises in gaming, along with a bit of my own history with the franchise.
I won't be talking about the novel or comics, since there so much to cover there. So join me on this little project of mine as our journey begins in the early 2000's
Early years
The concept for the game was first conceived around the 2000-2001 as Unreal Warfare. It was much closer to the multiplayer-driven Unreal series, with features like class-based characters and mechs. However, the project was put on hold to focus on the next Unreal Tournament.
When the team came back, the industry was shifting towards more single-player experiences. As a result, the game also changed to focus more on tactical-based shooting. Games like Resident Evil 4, Kill.Switch, and Bionic Commando were influences for both the game's producer, Rod Fergusson, and lead game developer/designer, Cliff Bleszinski.
Original gameplay trailer
Gears of War was first shown off at the Game Developer's Conference in 2005. It also received numerous awards for Game of the Show at E3 2006 from outlets like IGN, 1UPS, and Gamespy.
Gears of War was released on November 7th, 2006. I was 14 at the time, and had no interest in a 360. However, my cousin told me about Gears, and since my Brother had a 360, I decided to give it a shot and rented the game at Blockbuster. Gears of War would slowly become my biggest obsession for years to come.
First game trailer
The Tale of Delta Squad
Gears of War told the story of Marcus Fenix. Fenix (voiced by Futurama actor John Dimaggio) was originally a soldier in the Coalition of Order Government, C.O.G for short. He was put on trial as a war criminal and traitor for disobeying orders to save his father. He failed to save his father and prove his innocence and was sentenced to 40 years in Prison.
14 years later, he's broken out by his friend, Dominic Santiago (voiced by Carlos Ferro). He's asked to re-join the C.O.G as a part of Delta Squad, in an effort to search for a device called "The Resonator". It will map all Locus Tunnels so they can use a Lightmass Bomb to kill them all. Along the way, the two meet up with Augustus Cole (voiced by Lester Speight), a former Thrashball Player that goes by "Cole Train", and Damion Baird (voiced by Incredible Hulk Voice actor Fred Tatasciore), a wise-cracking mechanic and engineer.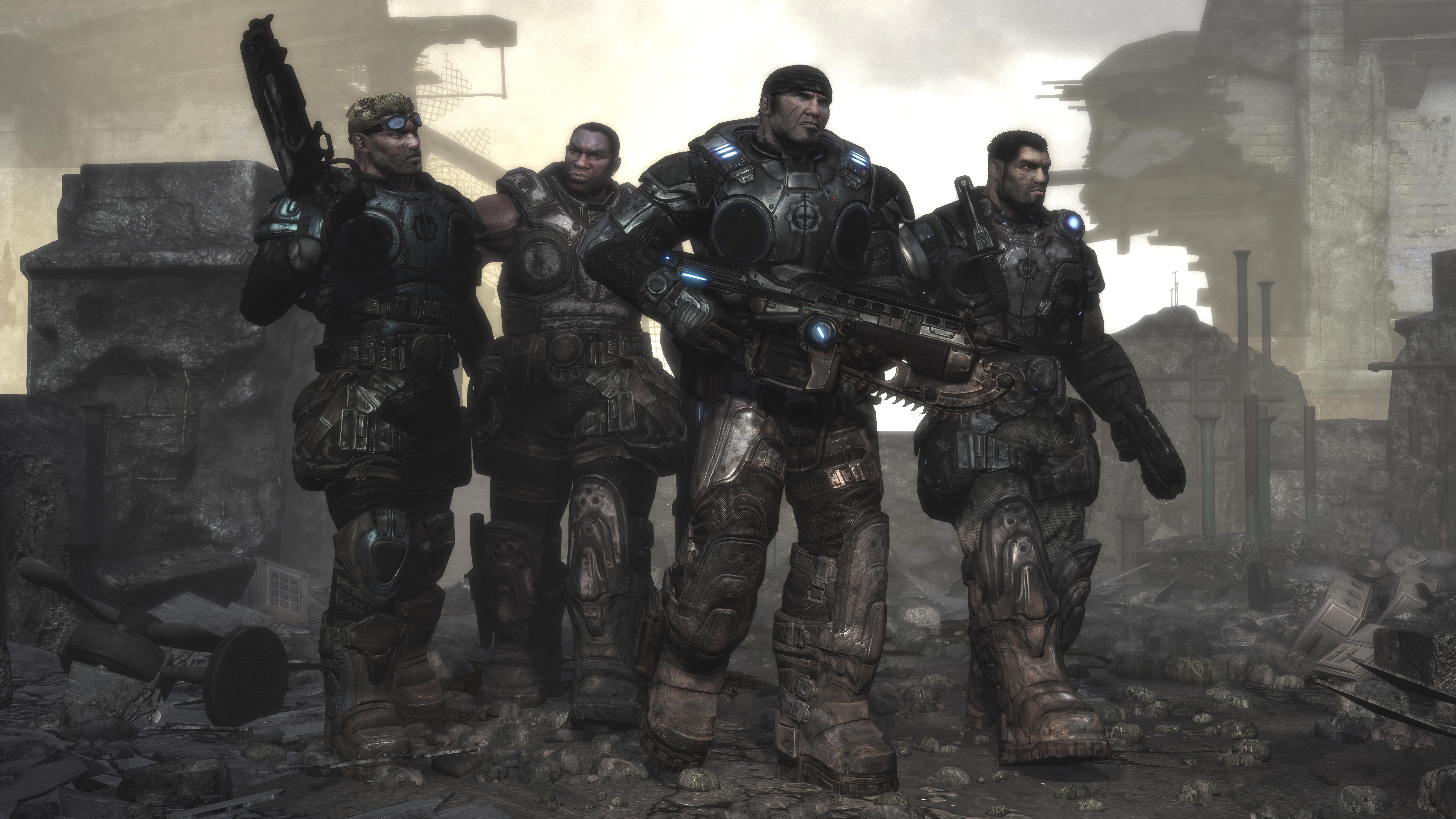 The group is able to find and activate The Resonator, but are ultimately unsuccessful in their mission. However, they travel to Marcus's home, where his Dad had a map to a larger tunnel system. After fighting off hordes of Locus and a giant Dinosaur-like creature called a Brumak, Marcus and Dom are able to get on the train holding the Lightmass Bomb, defeat General RAAM, upload the necessary data and activate the bomb, striking a blow to the Locus...or did they?
The Gameplay that changed everything
What made Gears of War special was its Cover System. Sure, games like Kill.Switch and Wing Commander used a cover system. But Gears of War's was simple to use, allowing for easy shots to be fired when in cover. It worked so well that every third-person shooter would look to Gears to implement its cover system.
What also made Gears special was its world and characters. Delta Squad oozed testosterone -- with liberal swearing, giant biceps and muscles, and armor to the teeth. This, coupled with its bleak, war-torn world and dark color palette gave Gears of War personality.
Even its weapons stood out. Gears had plenty to offer -- an assault rifle with a chainsaw bayonet called the Signature Lancer, a satellite laser gun called the Hammer of Dawn, one of the best shotguns in gaming, and a lot more.
Gears of War won numerous awards, including Game of the Year, from outlets like Gamespot, Joystick, and the official Xbox Magazine. At the 2007 Interactive Achievement Awards, Gears of War not only won Game of the Year, but it also won Console Game of the Year, Action/Adventure Game of the Year, and Outstanding Achievements in Animation, Art Direction, Visual Engineering, and Online Gameplay.
In 2008, Gears of War set Guinness world records for the industry: it was the first console game to use the Unreal 3 engine, the fastest-selling original Xbox 360 game, and had the first music single to top the charts after promoting a video game.
Gears of War was ported to PC a year later, where it featured new campaign missions and multiplayer maps and modes. The game was remade in 2015, titled Gears of War: Ultimate Edition. This version included graphical enhancements and the campaign missions and multiplayer maps that were exclusive to the PC version.
Come back for Part 2, where we'll talk about the second installment of the series.
Published Feb. 22nd 2016