Conker's Director's Commentary Might be as Funny as the Game
The blokes behind Conker's wacky adventures give you their very candid takes on how they put it all together.
Over the years, we have all owned probably a lot of DVDs and Blu-Rays. I can confidently say that I've never turned on the director's audio commentary option. Even for movies by directors I love like Tarantino or Robert Rodriguez, I wasn't that curious about how they did what they did.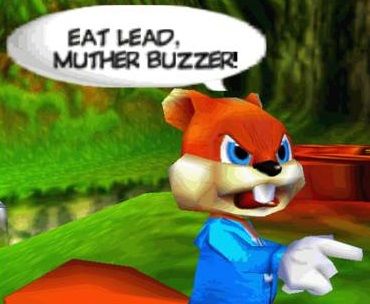 But, the Conker games (the quirky, funny but inventive platformers from Rare Ltd.) with their mature humor, wacky violence and sexual innuendo had more than a cult following.
Though off-color and definitely not something for young kids, the titles earned critical acclaim and a copy of Conker: Bad Fur Day could now set you back over $175.00 on Amazon.com!
So, you want to know what was going through the minds of those madmen behind Conker's adventures?
Chris Seavor, Mark Betteridge, Robin Beanland, Sean Pile and Chris Marlow recently released a video series doing just that. With a hearty clink of glasses, the gents proceed to give their remembrances of the game Conker: Bad Fur Day on the Nintendo 64 system while watching the game play.
Whether you've played this funky game or even remember it at all, listening to how these blokes put it together, what worked, what didn't and how they had to make their game to work within the limitations of the time and the Nintendo 64 system is a great listen.
WARNING! THIS VIDEO CONTAINS EXPLICIT LANGUAGE!
The audio content is quite raw and these guys hold nothing back with plenty of f-bombs and some randy language, just to let you know. I've provided a link to the first chapter, but there are currently 6 on the Conker King Youtube page with a promise of more to come.
It's a hoot to hear their banter. It makes you feel like you're down at the pub throwing back a pint with your mates and listening to war stories.
We definitely recommend a listen, but if you don't like salty language remember - you've been warned.
Published Jun. 14th 2013