Bloodborne: A Beautiful Nightmare
Despite a few performance issues, Bloodborne's solid combat and innovative multiplayer make it easily the best game of this new generation, and a worthy successor to Dark Souls.
Hidetaka Miyazaki, creator of the beloved dark fantasy RPG's Demon's Souls and Dark Souls is back with what is arguably his best work yet. In Bloodborne, players must cast aside their preconceived notions of modern gaming. Here you will find no quick time events, no pointless micro transactions, no boring NPC follow missions, and no filler content. What you will find is an unforgetable, atmospheric, and rewarding experience that will leave you yearning for more.
After choosing your character and class, you are dropped into the world of Yarhnahm, a beautiful yet terrifying Victorian city brimming with lost and fragmented souls. After a brief tutorial and an inevitable death, players are sent to the hub world of the game, The Hunter's Dream.
Once you are done admiring the view however, it is time to face your nightmares.
Much like The Nexus of Demon's Souls, The Hunter's Dream serves as a break from the terrors of Yarnham and offers a place to level up your character and purchase and upgrade items. This hub world is simple yet memorizing, and does all it needs to do without trying to be more than it is. Ominous tombstones mark your path of progress through the game, and NPC's fill you in on the backstory. Once you are done admiring the view however, it is time to face your nightmares.
Gun Combat to Encourage Aggression
The combat system of Bloodborne is fairly similar to its predecessors, you still dodge enemy attacks, look for parry and back-stab opportunities, and wait for openings in an enemy's attacks, but this time things are a bit different.
The game encourages aggression in two simple yet brilliant ways. First, shields have been removed and replaced with firearms. Don't worry, the game hasn't become a mindless shooter. Rather, the firearms do very little damage and serve instead as a means of stopping enemy attacks and parrying for massive damage. The second way the game encourages aggression is through the new regain mechanic. When you take damage, you have a small window to regain that health by striking at the enemy. Don't get too greedy though, as the game's countless enemies love to punish an eager player, and these enemies are not to be trifled with.
Grotesque Creatures of Immense Variety
Where the enemy designs of Dark Souls 2 mainly consisted of rather flat humanoid designs, Bloodborne is home to grotesque creatures of immense variety. Flaming Warhounds, Werewolves, giant mummies, flying frogs, electric eels, frozen statues, gargoyles, birds, spiders, and more will kill you. Each enemy has their own unique moves and style, requiring the player to pay attention to each attack and face every enemy in a different way.
You may want to throw your contoller out the nearest window in a fit of rage after dying to a boss for the 10th time in a row, but when you finally defeat him, the sense of achievement is unparalleled.
Once you've dealt with the cannon fodder, you must face the bosses, and my are there some intense boss fights here. Nearly every fight in the game is unique and challenging, requiring both skill and patience to defeat. Each boss is accompanied with beautiful and often intense battle music as well. You may want to throw your controller out the nearest window in a fit of rage after dying to a boss for the 10th time in a row, but when you finally defeat him, the sense of achievement felt is unparalleled in today's market.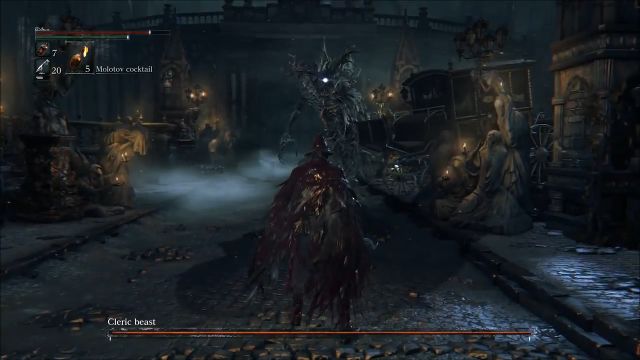 Diversity in Weapons Design
Another change to the Souls formula is the weapon design. Though there are fewer of them than in previous games, each weapon in Bloodborne is unique in that it offers 2 functions. By pressing L1, your weapon will transform into a different version of itself with an entirely different move set, allowing you to create insane combos and adapt your fighting style to each situation.
For example, the hunter axe starts as a simple one-handed axe, allowing you to have a firearm in your other hand and for quick strikes. When transformed however, it becomes a large two-handed weapon with broad sweeping strokes, perfect for dealing heavy damage or facing a crowd of enemies. You can further customize your weapons by equipping them with Blood Gems, special items that grant new properties to your weapon. By using Blood Gems, you can add attribute scaling, poison, or just raw damage upgrades. The choice is yours.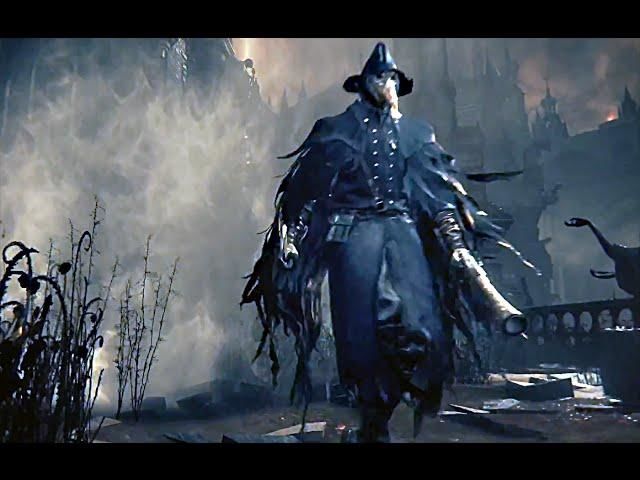 Level Design as an Industry Standard
Bloodborne also features some of the best level design in all of gaming. Each area is filled with optional paths and hidden items. The entire game world is fully interconnected and sharp-eyed players will discover many shortcuts to make travel throughout the world that much smoother.
This level design is best displayed in the game's new randomly generated chalice dungeons. After acquiring certain ritual items, you can create your own dungeon filled with bosses to explore, or join your friends in one of their dungeons. There are countless possibilities and tons of unique loot to be gained, though some of the dungeons do repeat themselves.
Like its predecessors, Bloodborne also features a unique form of seamless online multiplayer. When playing online, players can write inter-dimensional messages to help or hurt others. In addition, players can team up to take down a difficult boss or challenge each other to intense duels. It is now very easy to connect with friends by simply setting up a passcode for your friends to enter and to keep unwanted guests out.
Not Flawless, But a Satisfying Challenge
In an age filled with push x to win games, Bloodborne is a refreshingly satisfying challenge.
The game is not without flaw, however. The load times are agonizingly long, which can become especially annoying after repeated deaths. There are also a disappointingly few number of weapons and armor in the game, though there uniqueness and variety help to somewhat make up for that. Additionally, the game has fps issues, and stuttering can become very irksome in certain areas. Overall however, these issues are small and only slightly diminish an otherwise excellent core experience.
In an age filled with push x to win games, Bloodborne is a refreshingly satisfying challenge. The amazing level design, brutal combat, stunning boss fights, innovative multiplayer, and rich lore weave together into a fascinating experience the likes of which haven't been seen since Dark Souls. Easily the best game of this generation, Bloodborne is a welcome addition to any gamer's library.
Our Rating
Despite a few performance issues, Bloodborne's solid combat and innovative multiplayer make it easily the best game of this new generation, and a worthy successor to Dark Souls.
Reviewed On: Playstation 4
Published Apr. 2nd 2015