Games Workshop Attempts to Claim Sole Ownership of the Term 'Space Marines'
Tabletop battle-games company, Games Workshop, flexes their legal might and force over the use of the phrase "Space Marine."
A marine is traditionally a soldier trained to fight in, on and around water and whilst putting them in space is a bit of a strange decision, the Space Marine is an odd sci-fi trope that has been around almost as long as science-fiction itself. The choice to use marine is undoubtedly a natural extension of the naval lexicon used elsewhere in sci-fi; spaceships, star destroyers, space navy, star fleets, photon torpedoes, space pirates.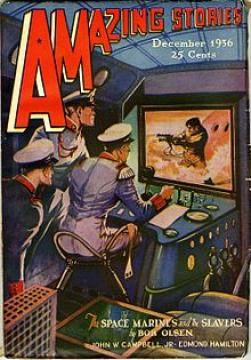 However, Games Workshop, the UK-based tabletop games specialist behind the Warhammer 40k sci-fi franchise, has made moves to lay sole claim to the rights to use the term "space marine".
According to author, M.C.A. Hogarth, after Games Workshop became aware of her novel entitled Spots the Space Marine: Defense of the Fiddler for sale on Amazon in December last year, the games company "told Amazon that I'd infringed on the trademark they've claimed for the term 'space marine'".
It transpires that Games Workshop does in fact have a US trademark on the term "space marine", but only covering them for "board games, parlor games, war games, hobby games, toy models and miniatures of buildings, scenery, figures, automobiles, vehicles, planes, trains and card games and paint, sold therewith."
As Hogarth points out on her website, "Fiction isn't included in that list, which means Games Workshop has no grounds on which to accuse me of trademark infringement."
Corporate Clout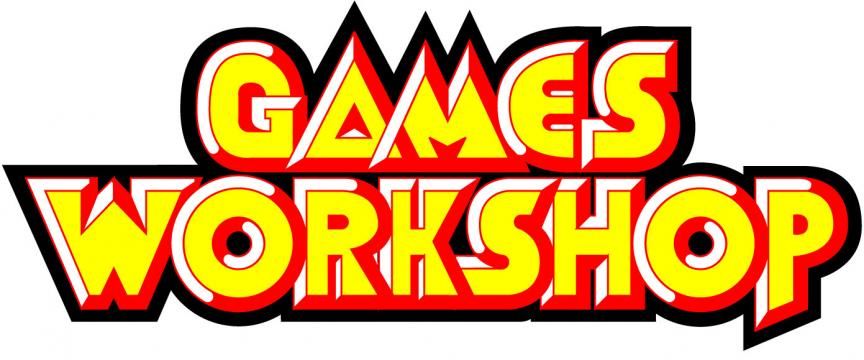 Nonetheless, Amazon acquiesced to Games Workshop's demands and removed the e-book from sale, although the paperback edition remains available. Hogarth has since been in contact with Games Workshop, who has apparently explained to her "that they believe that their recent entrée into the e-book market gives them the common law trademark for the term 'space marine' in all formats."
Hogarth is not in a position to take on Games Workshop in a court of law, writing, "To engage a lawyer to defend me from this spurious claim would cost more money than I have, certainly more than the book has ever earned me. Rather than earning money for my family, I'd be taking money from them, when previously my writing income paid for my daughter's schooling. And I'd have to use the little time I have to write novels to fight a protracted legal battle instead."
Popular Opinion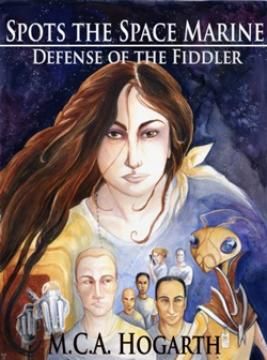 However, on 6 February 2013, Hogarth posted a statement explaining that she is now in talks with the Electronic Frontier Foundation, a donor-funded non-profit organization who, by "blending the expertise of lawyers, policy analysts, activists, and technologists...achieves significant victories on behalf of consumers and the general public."
The popular support for Hogarth's position has seen her receive a plethora of "encouraging comments" and "warm personal emails", including a retweet from author Neil Gaiman and a significant amount of coverage across electronic media.
The e-book version of Spots the Space Marine: Defense of the Fiddler is available on Smashwords.
Games Workshop's Modus Operandi
Elsewhere, a protracted legal battle with independent figurine manufacturers Chapterhouse Studios sees Games Workshop attempting to shut down a third party who makes parts compatible with Games Workshop products in much the same way that third-party manufacturers can produce car parts for established brands. It seems Games Workshop feel this is unacceptable practice.

Aside from the questionable validity of their claims and the distasteful tactics employed, Games Workshop seems to have selective tastes when it comes to leaning on people who may be infringing their copyright. Blizzard has long been borrowing heavily from Warhammer canon for their Warcraft and Starcraft material, yet Games Workshop perhaps doesn't have the stomach for such affluent legal opposition.
In reference to their latest legal maneuver, it is disappointing to see an organization whose products have given enjoyment to many for decades, stoop to dirty tricks against such inoffensive parties. Why even bother; just Googling "space marine" proves they've got very little to worry about.
But no matter how rich they become, they don't own "space" and "marine" as an aquatic adjective. Is the world really getting to the stage where we have to worry about the order in which we write such innocuous words just to avoid possible litigation?
Edit: Further developments here.
Published Aug. 4th 2017