Why Advanced Warfare Will Have the Best Campaign in CoD History
There's every indication that the narrative in the new Call of Duty will be the best yet.
For the record, I'm not a big Call of Duty fan. As I don't really care about multiplayer, I haven't been all that interested in the franchise over the years.
However, I like shooters just fine and I'm always up for a solid FPS campaign. That's why I've loved games like Singularity, RAGE, and the Resistance and Killzone franchises, as all put an emphasis on stirring single-player adventures. Battlefield and Call of Duty really haven't delivered great campaigns in recent years, in my estimation, but I'm encouraged by what I've seen of Advanced Warfare.
I'm sure we'll be seeing some gameplay very soon, and when the multiplayer details start to hit the Internet, it'll be all anyone can talk about. But for now, with just the trailer and some story and tech information floating around, we can focus on that potentially compelling narrative.
A much more dynamic gameplay experience awaits...?
Based on the trailer and some leaked info, it seems we can expect a wide variety of futuristic vehicles in the new CoD entry. Of course, we've seen vehicles in shooters before, but as it's the year 2054, we might be seeing some highly imaginative vehicles that offer unique control experiences. If done correctly - I still recall some of the awful vehicle mechanics in the Halo games - this could result in more dynamic and diverse gameplay.
Furthermore, the exoskeleton suit, which continues to remind me of the nanosuit in the Crysis games, is very promising. One of the reasons I really liked Crysis is because of the added depth afforded by that nanosuit; it was almost like a role-playing system. Might we have the freedom to customize our Advanced Warfare soldier however we see fit? What if we can use some nifty futuristic abilities to be all stealthy? Where's the rule that says Call of Duty always has to be a frenetic, ceaseless, brainless shooter?
A little extra depth and customization, which can be largely ignored if you just want to shoot everything in sight, shouldn't be frowned upon. And I love the idea.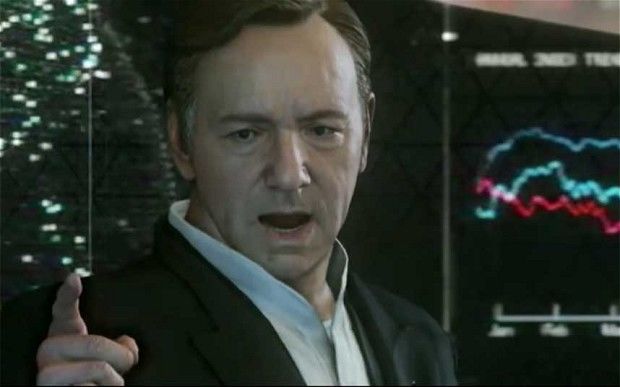 I'd like to think that Kevin Spacey wouldn't work with a crappy script
This is an Academy Award-winning actor who knows a good script when he sees one. He's not just some high-profile Hollywood actor who will take anything that pays well. He strikes me as someone who doesn't really want a role unless it's at least somewhat challenging, and the script is solid. On top of which, based on the story breakdown we have, it seems like the plot could be rife with tension, emotion, twists, climaxes, etc. Jonathan Irons (Spacey) might actually end up being one of the best characters in video game history. Yeah, I said it.
Then again, maybe he just wanted to try something new, and maybe he's not all that familiar with video games. Hence, he saw the script, thought it was "pretty good for a game," and decided to give it a try. However, I'm hoping he took the gig because it offered a worthwhile challenge for a great actor, and if that's the case, why shouldn't we anticipate a gripping story?
A three-year development cycle HAS to result in a decent campaign...right?
Activision keeps reminding us that Advanced Warfare is the first CoD to have a three-year development cycle, as opposed to the previous generation's two-year cycle. Okay, so in three years, with multiple teams working on it (as we've heard), and with seemingly unlimited resources, I have to assume this will result in a worthwhile campaign. I mean, logically, they're not spending all their time and money on the multiplayer, even though I know it's this particular IP's bread and butter.
And here's the wild card: Sledgehammer Games. We haven't seen a CoD with this team in the lead design role before, so who really knows what to expect? I'm sure Activision has kept a close eye on the proceedings (they know what sells and what doesn't, and they don't want to stray too far from the formula), but still... The last thing to consider is that part of the reason recent CoD titles have failed to impress critics is due to a lackluster story. Great multiplayer and a great campaign will do it.
Three years has to be enough time for this to happen. If not, I don't know what to think.
Published May. 4th 2014