Call Of Duty Pro Jevon Gooljar Discusses Ghosts Even Playing Field
Canadian pro gamer Jevon "Ganja" Gooljar has seen Call of Duty Ghosts give more teams a chance to win tournaments.
Jevon "Ganja" Gooljar is a Call of Duty Ghosts pro gamer for Team Kaliber hailing from Ontario, Canada. After the Call of Duty Championship this year, Gooljar is one of the holdovers with some team changes. He and Brandon "Sharp" Rodgers now play alongside Bryan "Apathy" Zhleyazkov and Kenneth "Dedo" Dedo. Gooljar discusses his own history in eSports and how Halo 5 could revive the COD rivalry in this exclusive interview from Los Angeles.
How did you get involved in eSports?
Gooljar: "I started back when I was 20 playing Call of Duty World at War in pubs. But the competitive side didn't start until Call of Duty Modern Warfare 3 when a couple of friends from school and me started Donut Shop. Over the years we got better and better, and ended up going to MLG Dallas back in 2012 and I got my name out there. I started playing really well and a lot of people started to get to know. During the six month mark in Black Ops II I joined my new team, Team Kaliber, and we just started placing second, third, fourth and we were a consistent top four team."
Do you have a favorite match that stands out from all of your eSports?
Gooljar: "My favorite match probably was back in my first event at MLG Dallas 2012 when I was in Donut Shop and we played Optic Gaming. We ended up losing the series 3-0, but it was a really fun series to play because we were the underdogs and they were Optic Gaming. They were the biggest team in Call of Duty. Even though we lost it was still a fun match to play and see how we compared to the pros."
When it comes to your own personal strategies, how do you like to play the game?
Gooljar: "Before a match I have to like think this team is the best team in the game. Any team can lose, so if I don't take everything 100 percent seriously something bad might happen and we might get out early. So I make sure I take everyone seriously."
What do you feel TK's strength is when it comes to this game?
Gooljar: "Probably our teamwork. S&D is probably one of our better game types, just because we work so well together. We talk a lot and that's one of our best game types, Search and Destroy."
When it comes to the different maps that are out there can you pick a favorite map and give us some play tips and tricks?
Gooljar: "My favorite map is probably going to be Octane, only because I play an AR role. I'm like a slow AR. For that map you really want to control the building. I sit and control and try to pick people off."
What's your favorite weapon and why?
Gooljar: "My favorite gun is the Remington, but I'm using the MTAR a lot more because it's quick and it has no recoil. You can run around and do whatever you want. It's very mobile."
Can you give us a sense of what your normal everyday life is like as a pro gamer?
Gooljar: "A lot of people know me as a grinder. I play Call of Duty almost 24/7. I'll wake up, play it, go to sleep, wake up, play it again. I really want to win these events. I'll be on my grinder and just play the game non-stop trying to win everything."
What opportunities has livestreaming opened up for you to be able to actually earn money while you're grinding?
Gooljar: "That actually is a really good thing. I love the fact that I can play all day, stream all day. I just make money off of doing what I love."
When it comes to Call of Duty do you feel that it's a good intro for people into eSports, especially when you look at a StarCraft or a League of Legends being a little bit more complex for the average person?
Gooljar: "If you're a console player definitely Call of Duty would get you into eSports 100 percent. It's an easy game to play. Everyone can play it. If you play on the console Call of Duty is an instant eSports starter because they have all the websites you can play tournaments on. If you're more of a PC player probably League of Legends is good, but if you start out with console Call of Duty is definitely a good way to get into it."
Do you find rivalries between Halo and Call of Duty?
Gooljar: "It used to be, but because Halo got taken off the circuit and it's not really played at tournaments anymore, there's not really a rivalry for Call of Duty right now."
That could change if Halo 5 has eSports, right?
Gooljar: "Yeah, that could change. Honestly, I started playing Halo before Call of Duty. So Halo's a great game. But if Halo 5 is competitive eSports then I can see it competing with Call of Duty."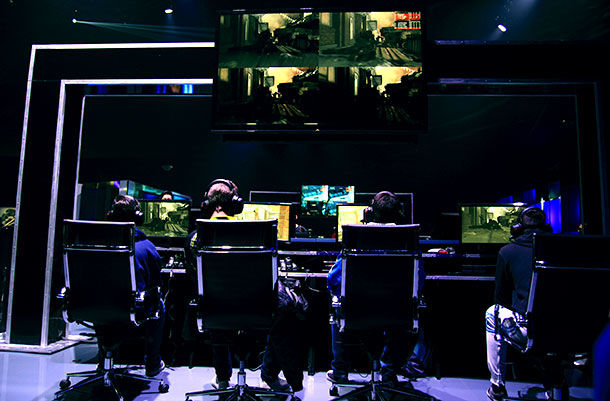 What impact does the fact that the Call of Duty game is changing every year have on you as a player?
Gooljar: "With our team in particular, Infinity Ward games like Modern Warfare games I like a lot more because that's the type of player I am. Switching back to a Black Ops game -- I still love Black Ops games -- but it takes a little bit to get used to because guns have more recoil and are usually harder to use, but it's not that bad. You just have to play the game a lot, which is what I do when the game comes out."
How have you seen the COD Championship evolve over the last couple of years?
Gooljar: "I only started playing last year and I went to last year's COD Champs. But compared to this year's, this one is much more organized. There's actually a lot more people here spectating, and it's a really big place too. It's a lot better than it was last year."
How has the competition evolved?
Gooljar: "The competition has actually gotten a lot closer. The skill gap is not as big as Black Ops II was, so now a lot of teams are catching up with the better teams very quickly. You have to take every team 100 percent seriously or else you might get upset and lose early in the tournament."
Published May. 26th 2014