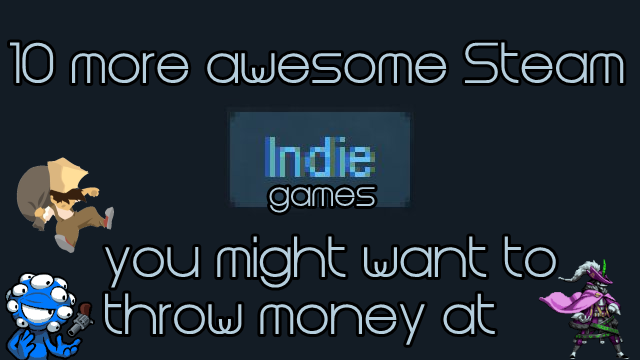 I like indie games. Do you like indie games? I hope you like indie games, buddy, because you're in the wrong place if you don't.
My last look at some lesser-known and awesome indies in Steam packed in ten good buys, but there are way more than ten great indie titles on the platform and the last list made me feel a little bad. I mean, what puts the ones in the first list above the host of other great small team/individual-developed games on Steam? Nothing, they're just the ones that made the cut.
This time around, ten really great games made the cut and they, too, are probably well-worth your time and dosh. I think.
A lot of these games are also available on consoles, but that research is all on you. That said, I do include demo links and pricing for the indecisive buyer. Let's choo-choo out of this slide. It's getting cramped in here.
---
Savant: Ascent
Standard Price: $1.99
Genre: Arcade action
Demo: No
Steam Store link
It's difficult to pinpoint Savant: Ascent's genre, but it doesn't matter. Genre classification need not hold back this goldmine for highscore mongers.
This is the cheapest games on the list and is the smallest in terms of content, but anyone who digs the music in the trailer or just can't help but ram themselves into games with score systems repeatedly should definitely pick this bad boy up.
There's really nothing like pushing your furthest in Savant's Endless Mode, bouncing and shooting like there's no tomorrow, feeling that music pump through your veins as you take out a few Wyrms at a time and feel absolutely amazing.
The last boss in Story Mode since the Void Update is also insanely cool the first time. That alone's worth the $1.99.
---
Dust: An Elysian Tail
Standard Price: $14.99
Genre: Action Metroidvania
Demo: No
Steam Store link
This one may not be the least known indie title out there, but Dust: An Elysian Tail is often overlooked because of its basic art style and sometimes grating voice acting.
Don't let either of these things deter you: It's a worthy action platformer with plenty of content and solid gameplay.
There's so much to say about Dust: An Elysian Tail it's hard to know where to start, but the best place may just be that it's the full package in terms of what one would want from a Metroidvania, even with the anthropomorphic characters.
Dust gives players a ton of secrets to find (true to the Metroidvania genre), a respectably-sized game length with an interesting story, and gameplay that's just as fluid as its animations.
PC (as opposed to console) players have the extra option to play with mouse and keyboard -- which plays amazingly well as attacks are tied to the mouse. This creates new gameplay experience for anyone who played it on the Xbox 360 first.
It's great, okay? There is no reason not to own this game if you like action platformers and Metroidvanias. Do it.
---
Sword of the Stars: The Pit - Gold Edition
Standard Price: $12.99
Genre: Turn-based roguelike
Demo: Yes (See Steam Store link)
Steam Store link
For me, Sword of the Stars: The Pit was an impulse purchase during a sale. But it may just be your next planned purchase if you've been looking for a new roguelike and have somehow overlooked this gem.
The game borrows a lot from classic roguelikes. It requires heavy resource management, the will to survive at any costs, and careful stat/skill point allotments to survive, scavenge, and fight your way to the depths of The Pit.
The Gold Edition release, which added four additional classes, now comes standard with the game on Steam for a total of seven out of the box. Five more classes can be added to the line up via DLC -- each DLC costing $1.99 and adding new items and monsters alongside the new characters.
Fans of classic/traditional roguelikes will feel at home with Sword of the Stars: The Pit and it's a shame it's been overlooked for more visually appealing options. If you like the genre, definitely check out the demo.
---
Dustforce DX
Standard Price: $9.99
Genre: Precision platformer
Demo: Yes
Steam Store link
Dustforce has been fawned over in certain parts of the internet since its release in 2012, but most who don't sit around in these gaming communities have either overlooked or ignored this game completely. That is a real shame.
Dustforce looks like a relaxing platformer but the game dishes an undeniably brutal punch, especially if you're the type who goes for timing perfection -- then the game boils down to super precision platforming.
Despite not being the newest game out there, Dustforce DX still has a lively playerbase fighting over fastest times on the leaderboards. It's unknown whether that's a testament to how fun the game is or how its relaxing soundtrack can make anyone be willing to ram themselves into the game time and time again, but who cares. If you want to compete, you certainly still can today.
The DX update, released in 2014, added over 100 community-made levels, improved tutorials, and more music. Developer Hitbox Team has treated the game and community with respect. That paired with the sheer mass of content and tight gameplay makes Dustforce DX a must-buy in my book.
---
Lovely Planet
Standard Price: $5.99
Genre: Speed FPS
Demo: Yes
Steam Store link
Look, okay. I remember when basically every gaming site went "Buy this game!" back in 2014. You might too -- and you probably totally ignored the Lovely Planet just like I did. You might want to rethink that, though.
It doesn't make sense for an FPS. The music is cutsey, the game's visuals are basic but vibrant, and the gameplay is.. super fast?
Lovely Planet won't score points for being totally unique, but this game is probably for you if you're into going fast and becoming a pro at shooting things while going going fast. Just get over the cute aesthetics.
I can understand why this game has been ignored. The theme just doesn't mesh with the gameplay for most. But that doesn't mean it's not a bucket of fun that is probably just about worth its $5.99 price tag.
---
La-Mulana
Standard Price: $14.99
Genre: Puzzle Metroidvania
Demo: No, but you can download the original game in English
Steam Store link
You don't want to play one of the most difficult games released in the past decade? I mean, you don't have to play it. You're just missing out if you don't.
La-Mulana is nothing new. It's a remake of its original Japanese-only release in 2005 with new visuals and a few changes, and it's pretty much the only thing like it on the modern market. Its 2D visuals are nice and detailed, the lore is complex, the depths of the ruins are huge, and the puzzles are so hard there's a substantial chance you're going to end up having to look them up.
This is a platformer, but you're not going to be speeding along and having anywhere near an easy time.
The game is slow and deliberate. The labyrinth inside the ruins is massive and confusing. You will probably spend most of your time mulling over your own notes, perhaps drawing a map (I know I did), and trying to figure out how to progress.
If any of the above sounds good in any way, get La-Mulana. Just don't even question it.
---
Fortune Summoners
Standard Price: $19.99
Genre: Action sidescrolling RPG
Demo: Yes (See Seam Store link)
Steam Store link
Excuse the lack of trailer, that bit isn't my fault. But hopefully the above video will give you an idea of what Fortune Summoners plays like.
Anyway, back on track:
Fortune Summoners is a distinctly Japanese-style action Metroidvania, packed with enough cute to give you diabetes and enough difficulty to go ahead and kill you via heart attack before the diabetes does.
The game is an RPG at its heart, with all the aspects you would expect from a decent doujin JRPG. There are tons of small details spread about the game, tons of exploration, and one small thing: a viciously brutal difficulty.
The movement and combat in Fortune Summoners requires a fair amount of precision. Combat in particular requires players to pay attention to monster tells and absolutely punishes anyone prone to button mashing.
Players looking for a challenge with a side of cute will find themselves right at home here, especially anyone who enjoyed the combat style of the old Tales of games. Fortune Summoners may be pricey for an indie game ($19.99), but it's a great buy if you want a difficult Japanese RPG you can sink your gameplay teeth into.
---
Recettear: An Item Shop's Tale
Standard Price: $19.99
Genre: Shop sim action RPG
Demo: Yes (See Steam Store link)
Steam Store link
This baby was one of the first doujin (indie) Japanese games on Steam and its money-mongering dungeon-crawling ways are still absolutely novel and addictive.
You run a shop in Recettear to make enough money to pay off your father's debt under the watchful eye of a straight-laced fairy. Buy paltry items around town and sell them to varyingly stingy townsfolk, then hire mentally unbalanced adventurers to delve into dungeons to retrieve rare items.
Wow, that just summed it all up in a really dry way.
Recettear is charming to the bone. The silly dialogue ("Capitalism, ho!" etc.), haggling buying and selling system in your shop, and adventuring for treasures itself are all bizarrely engrossing and downright fun.
It's hard to be sated with this game even once you're finished, let me tell you -- but there's certainly a magic to your first playthrough. You might play it through again, you might run into Survival and Endless Mode, but you'll know you'll never be able to feed the shopkeeping beast quite the same way as you did your first time through.
---
Nuclear Throne
Standard Price: $11.99
Genre: Twinstick shooter roguelite
Demo: No, but you can play the prototype Wasteland Kings
Steam Store link
If it were up to me, my description for this game would be simply the following:
Buy it.
And I'd be happy enough with that. After all, that's all I want to convey. You should almost definitely buy Nuclear Throne. If you like roguelites in general, anyway.
I wrote an exceedingly dry review on this game. It's pretty much my favorite roguelite since Risk of Rain. It has soft permanent progression, fast and varying gameplay, and virtually unlimited potential playtime.
The only real downside is the lack of online multiplayer, which seems almost criminal. Maybe one day it will actually be criminal and it will get added, who knows.
It's worth noting the Vita/PS4 versions of Nuclear Throne are far behind on patches. They're buggy, and using a controller is terribly inaccurate compared to mouse and keyboard. Just stick with the PC release.
---
Pizza Express
Standard Price: $6.99
Genre: Restaurant sim
Demo: Yes
Steam Store link
I'm going to bet you didn't expect to see a retro-style restaurant sim sitting here at the end of the list, did you?
Like many games in my Steam library, Pizza Express was an impulse purchase. And unlike most of my impulse purchases, this was one I did not regret.
Unlike Cook, Serve, Delicious! which was featured in my last hidden indie game list, Pizza Express puts a heavier focus on actual restaurant management than cooking. You do cook pizzas to order, which is a fun challenge in itself -- but you spend a fair amount of time managing your recipes, advertising, and other aspects of your restaurant.
This game is a treat for any restaurant or cooking sim fans, provided they can deal with the lack of pretty food (you'll learn to live) and the 8-bit style visuals.
Don't take my word for it, though. Just check out the Pizza Express demo. This deceptively complex game deserves more of a chance that it's gotten on the indie market.