Alongside its vast software library, the PlayStation 4 offers a huge variety of themes for you to choose from. But say you don't really want to shell out for a new theme after buying some of the games from that library. Never fear! We've put together a list of the 14 best free PS4 themes to help you out of just such a dilemma. They do a fair job of representing that variety too, from platformers and
They do a fair job of representing the variety the platform has to offer, from platformers and exploration games to RPGs, sports, and otherworldly combat. You're sure to find something you like over the next several slides, so read on to discover your next favorite backdrop for your favorite console.
---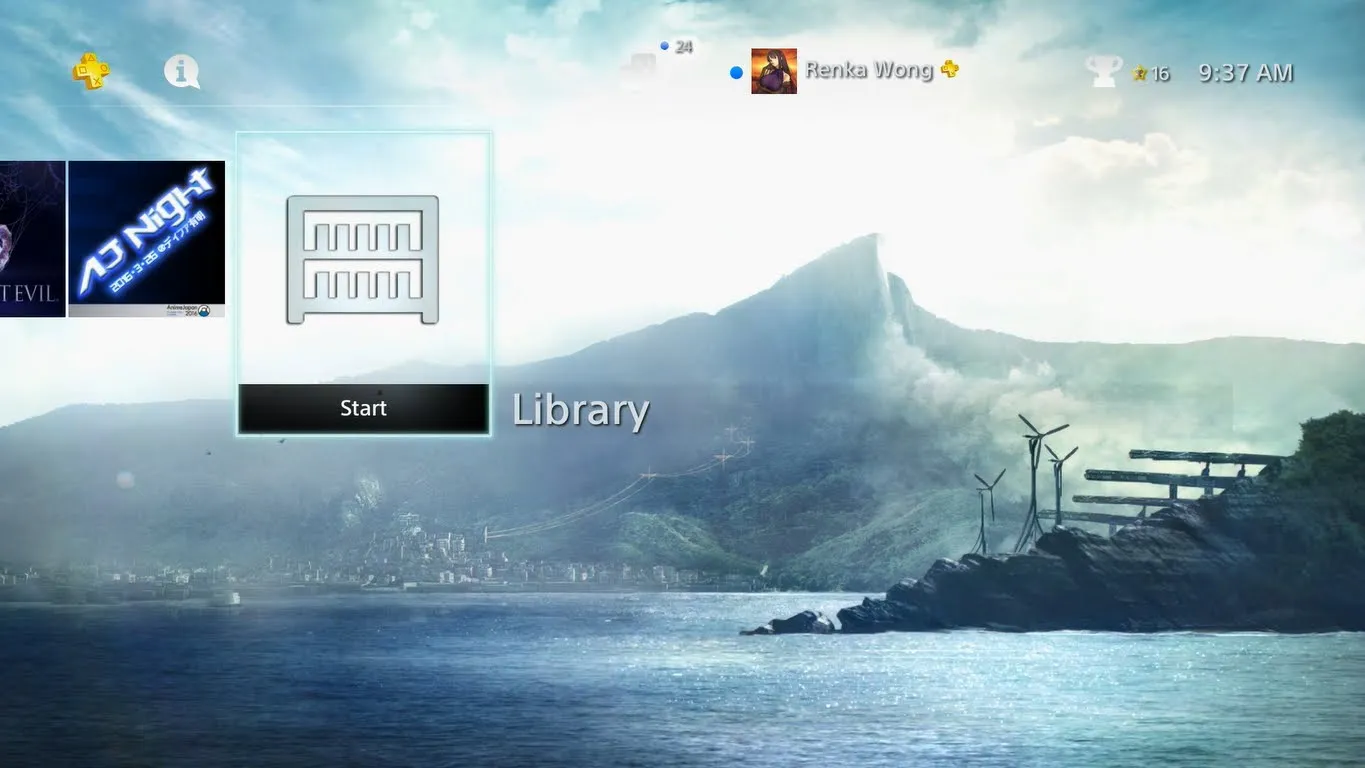 Dishonored 2: Karnaca
Find this theme on the PlayStation Store
This free dynamic PS4 theme showcases the natural beauty of Dishonored 2's main setting. It's not the view you normally see while playing, but it is one of the most iconic views of the game, nonetheless. Eschewing the touristy glitz of the main city, this theme focuses on the gently flowing water and the slowly turning windmills instead. It's a nice break from the intense action of the game itself, but the muted tones go far in setting a nice aura for whatever game you're about to play.
---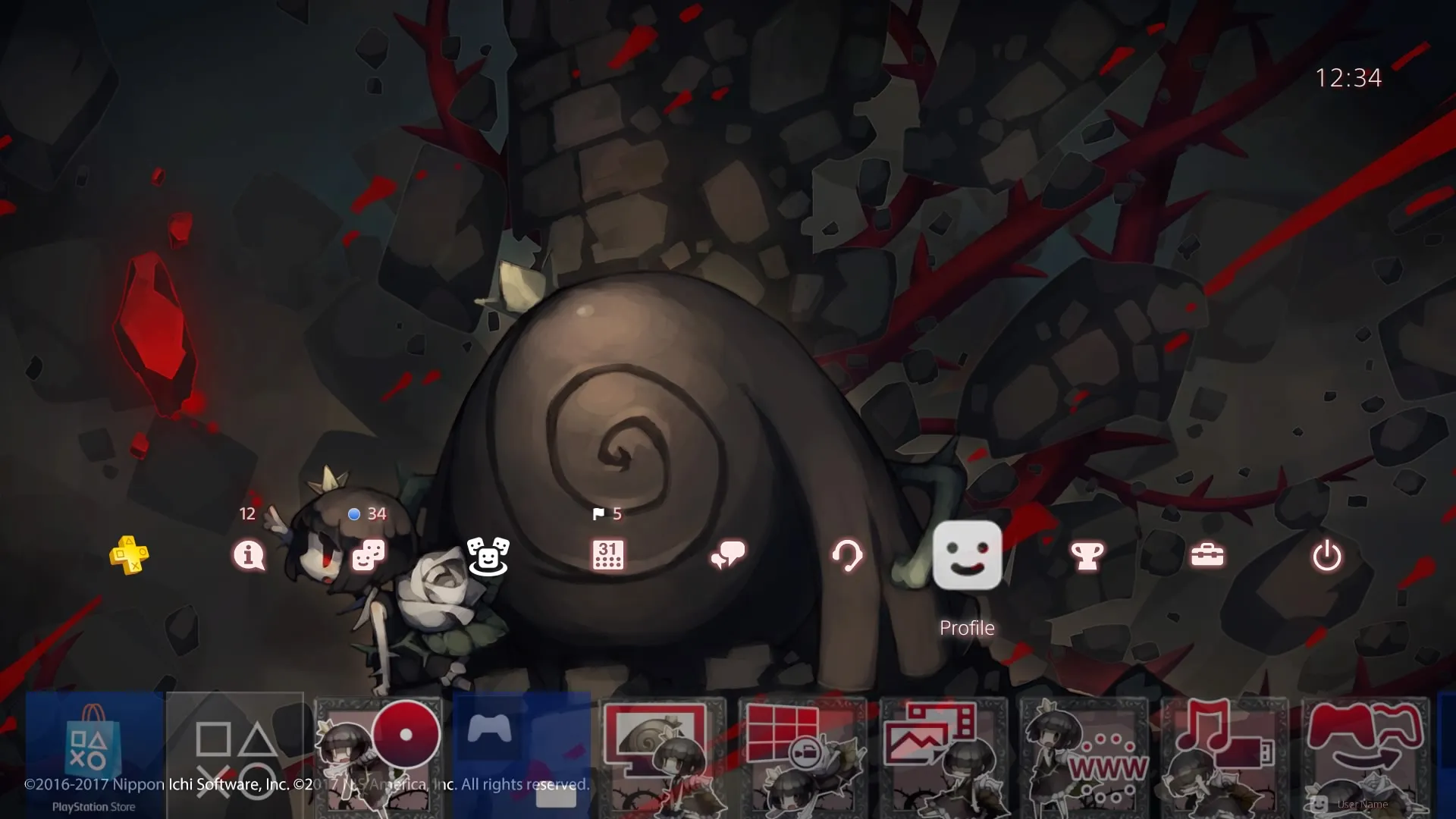 A Rose in the Twilight
Find this theme on the PlayStation Store
This free PS4 theme might be static, but that doesn't keep it from being wonderful to look at. It perfectly captures A Rose in the Twilight's unique art style - -which is more than enough to recommend it. However, it also manages to convey the game's key themes as well, from the main character's general vulnerability and her giant companion's impressive strength to the narrative importance of the color red streaking through the mysterious castle. It's fitting for a Halloween theme, but definitely worthwhile year round.
---
Everybody's Golf
Download this theme on the PlayStation Store
If you're looking for something a bit brighter, consider checking out this cheerful Everybody's Golf dynamic theme. It changes scenes depending on which menu you are working with at the time, from the primary one you see here -- complete with golf ball being driven right at you -- to a more urban scene, and a desert course as well. It's a good way to show off the game's cheerful colors and quirky characters juxtaposed in the realistic looking courses. Plus, it's just fun in general.
---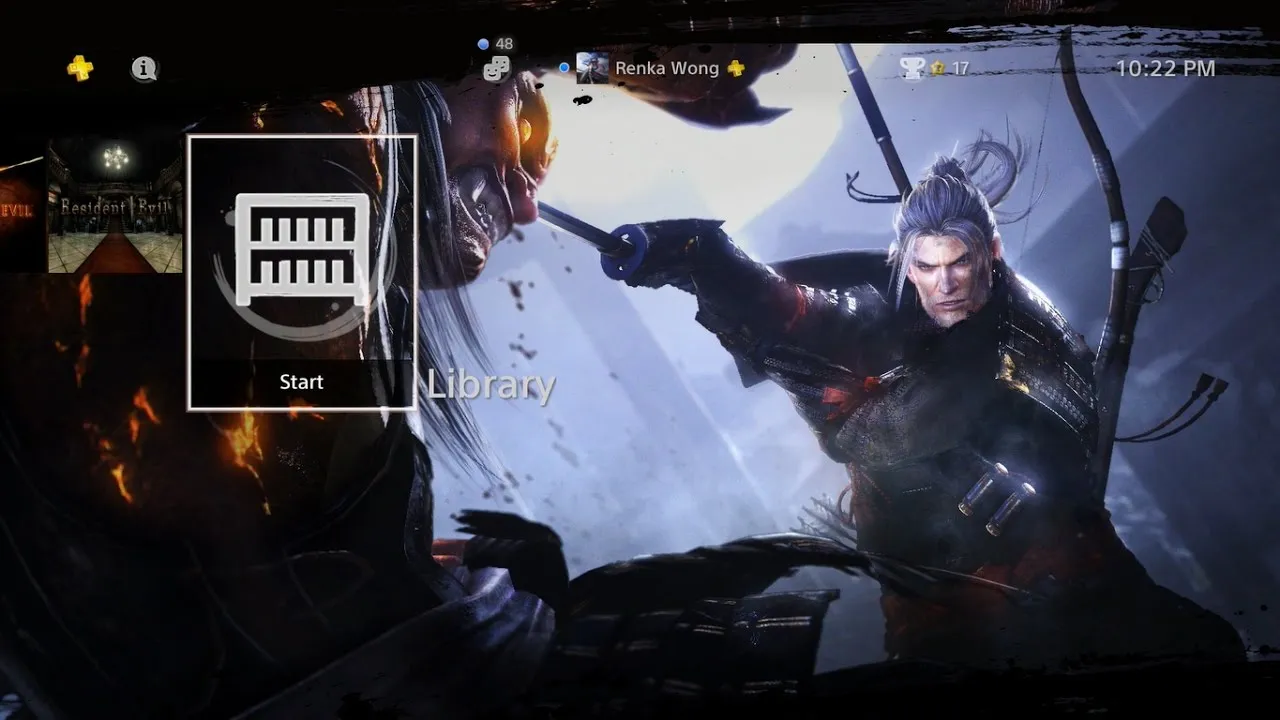 Nioh Yokai Theme
Download this theme on the PlayStation Store
This Nioh theme might just essentially be the game's boxart plus a monster. But it's pretty good art, nonetheless. That's because it manages to give you a distinct impression of what the game's all about. The gear and coloration leave no doubt as to combat's central role in the game -- if you had doubts, given that it's a Koei game -- and the otherworldly glaze of Nioh's eyes suggesting that something out of the ordinary will play a significant role in plot and characterization. It provides a bit of intensity for your background and proves the old saying that simple is often best.
---
Final Fantasy XIV: Heavensword
Download this theme on the PlayStation Store
This Final Fantasy XIV: Heavensword theme offers up a more traditional look in more ways than one. As you can see, it focuses on a dragoon, which, apart from being an important class in FFXIV in general, is one of the series' oldest and most well-known character classes -- thanks in part to FFIV's Kain. More importantly, though, it gives you the chance to admire Akihiko Yoshida's fantastic artwork close up, bridging the gap between the olden days of Final Fantasy and the modern.
---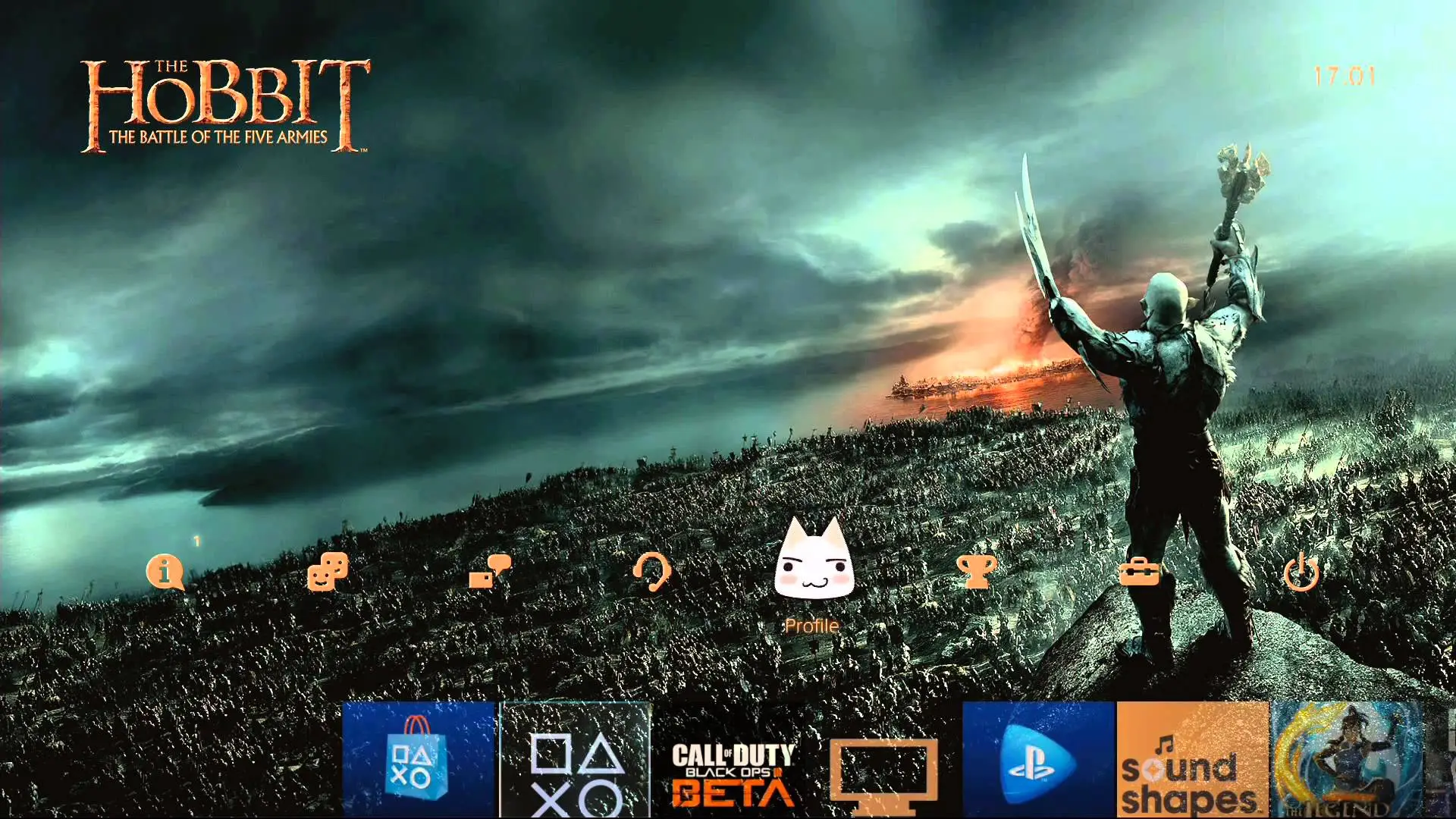 The Hobbit: The Battle of the Five Armies
Download this theme on the PlayStation Store
Tolkien fans rejoice! The Hobbit still has a free theme on the PlayStation store. And it's a darn good one, too. Azog the Defiler takes center stage -- well, right-center if you want to be technical - -in the depiction of the slow, tense build to the film's climactic final battle. However, in the background, you're also treated to the sight of Esgaroth on fire, with Smaugh above. Sure, it's not the happiest of scenes -- but it looks amazing.
---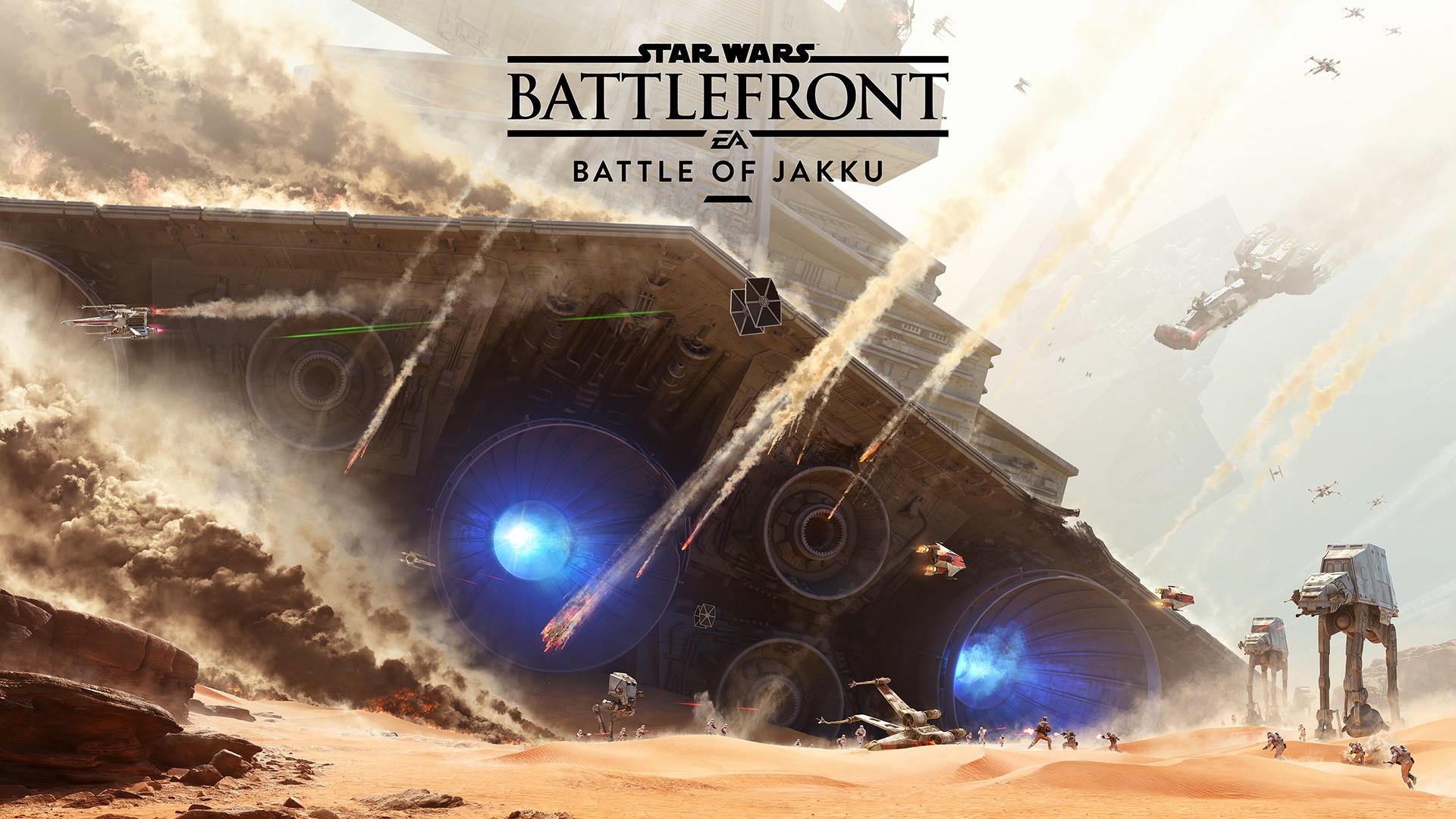 Star Wars Battlefront: Battle of Jakku
Download this theme on the PlayStation Store
Here's another one that's sure to please fantasy fans. It draws on the exclusive Battlefront packaging that explores the important lore behind The Force Awakens, connecting the original and new trilogies. Despite its connection to the latest films, it's got something for everyone to enjoy, from TIE Fighters and X-Wings for those faithful to the originals, to the raw fan appeal of such an awesome conflict between Empire and Republic that never could have happened in the first three films. (And, by far the best for some, there's nothing to connect it to the prequel trilogy).
---
Star Wars Battlefront: Leia Organa
Download this theme on the PlayStation Store
And one more Star Wars theme. We know it doesn't look like the "real" Leia Organa, but there's still quite a bit to love about this zooming dynamic theme. It forgoes the flashiness of the Jakku theme in favor of a toned-down approach that lets Leia's determination shine through. Plus, it hearkens back to one of the most memorable moments in the original Star Wars films, with the Imperial siege on Hoth.
---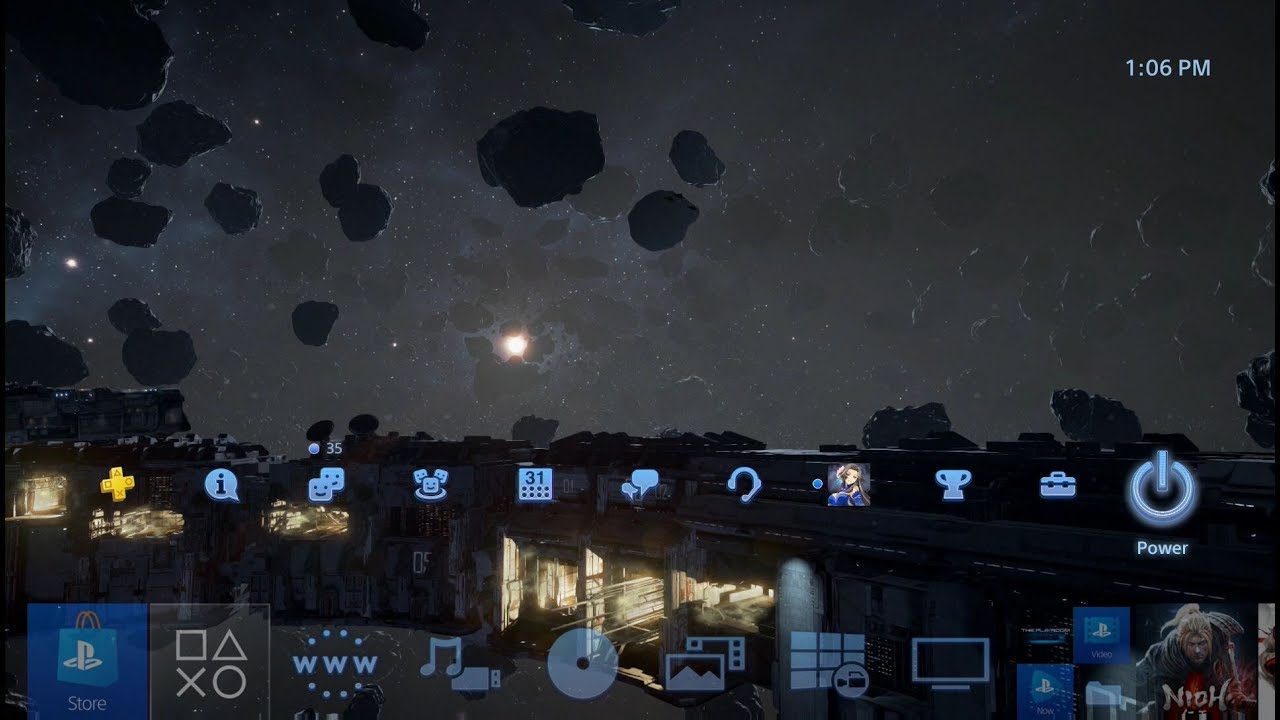 Dreadnought: Sinley Bay
Download this theme on the PlayStation Store
Here's another theme to satisfy the sci-fi lover in you -- Sinley Bay from the tactical space game Dreadnought. This, too, is a dynamic theme.
Stare into the endless depths of space, and as you scroll through your menu options, you'll see ships cruising slowly by. Combined with the subtle space tones in the background, it really creates an atmosphere equal parts wonder and isolation. That feeling will resonate particularly well with fans of the game since Sinley Bay is where the war-weary renegades train their future leaders to ensure the solar system's freedom -- not a bad little motivator to get you started with whatever game you choose.
---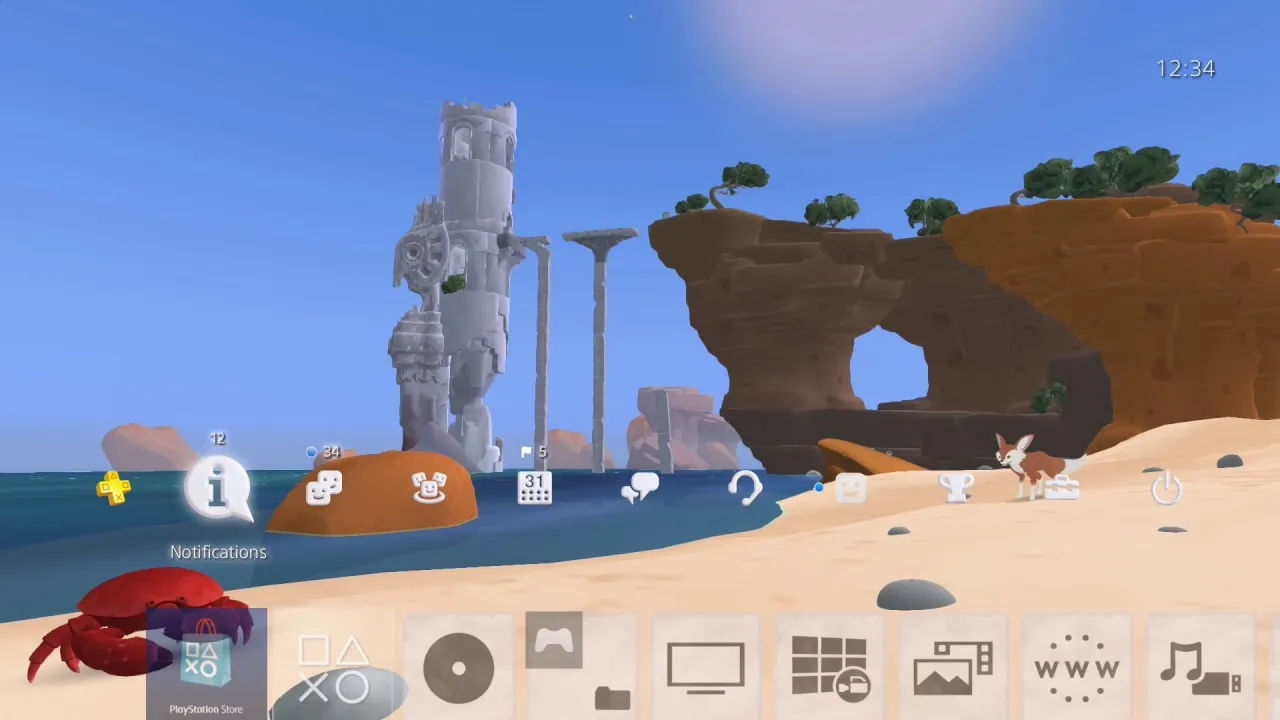 RiME
Download this theme on the PlayStation Store
That's not all on offer from Grey Box, though. The RiME dynamic theme comes close to one-upping its predecessor. It focuses on the beach from the game's opening scenes, but that's not all. You'll hear the sounds of the waves and gulls, along with being greeted by your ever-present, friendly fox guide. It does a fine job of transferring the game's sense of wonder and the urge to explore into just one scene, and you may be hard-pressed to actually navigate away from it to choose a game.
---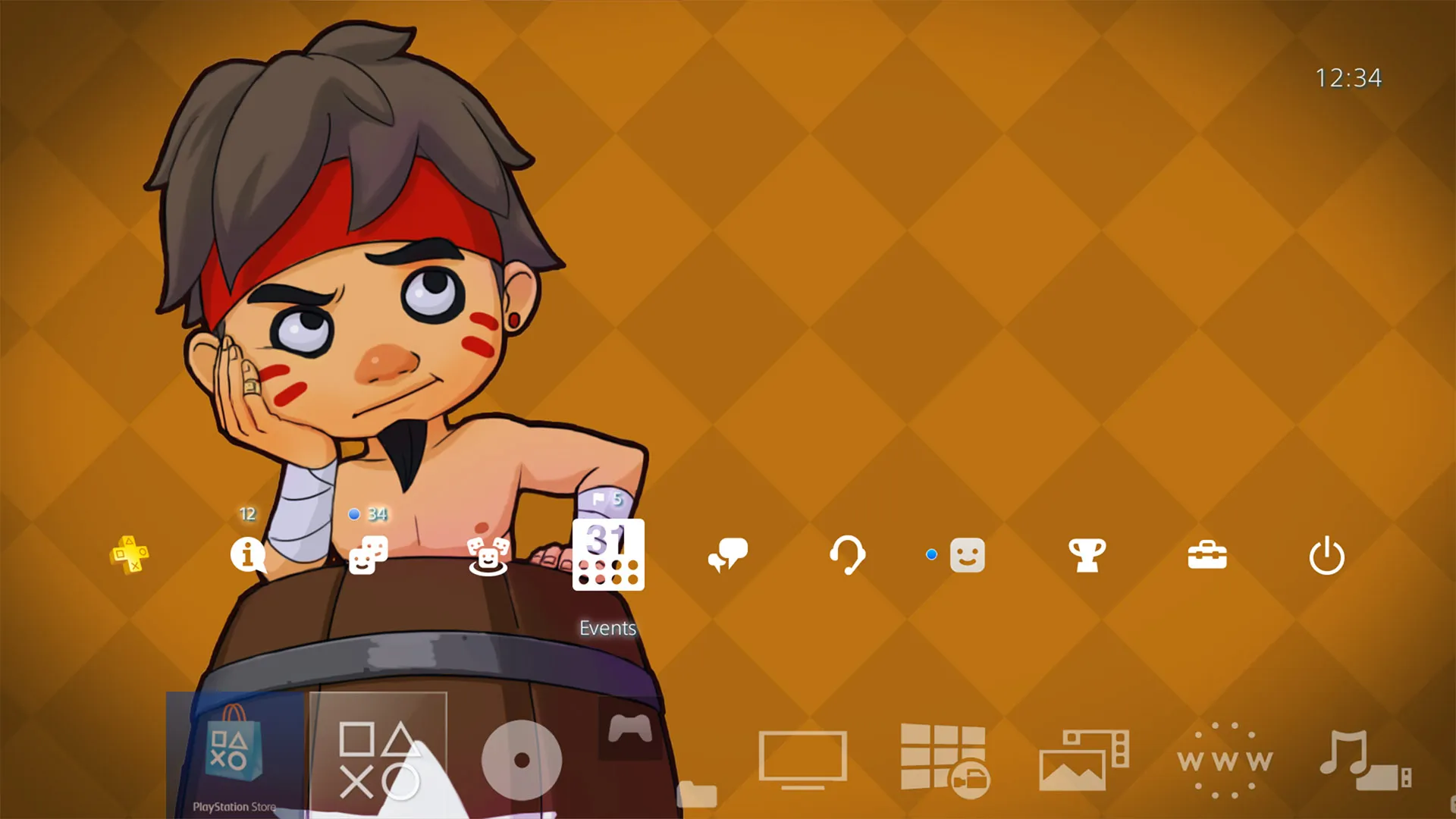 Poi
Download this theme on the PlayStation Store
Here's another one for explorers to check out. The Poi dynamic theme brings with it the bright colors and cheerful cartoon aesthetic of the game itself. Each screen depicts one of the principal characters in a characteristic pose, set against a bright backdrop. It's an excellent way to page homage not just to the game itself, but to the genre it represents, one that -- for many -- formed an important part of our early gaming years. If you're in need of a break from the grittier side of gaming, or just want to be reminded of your platforming days of yesteryear, you could do far worse than this.
---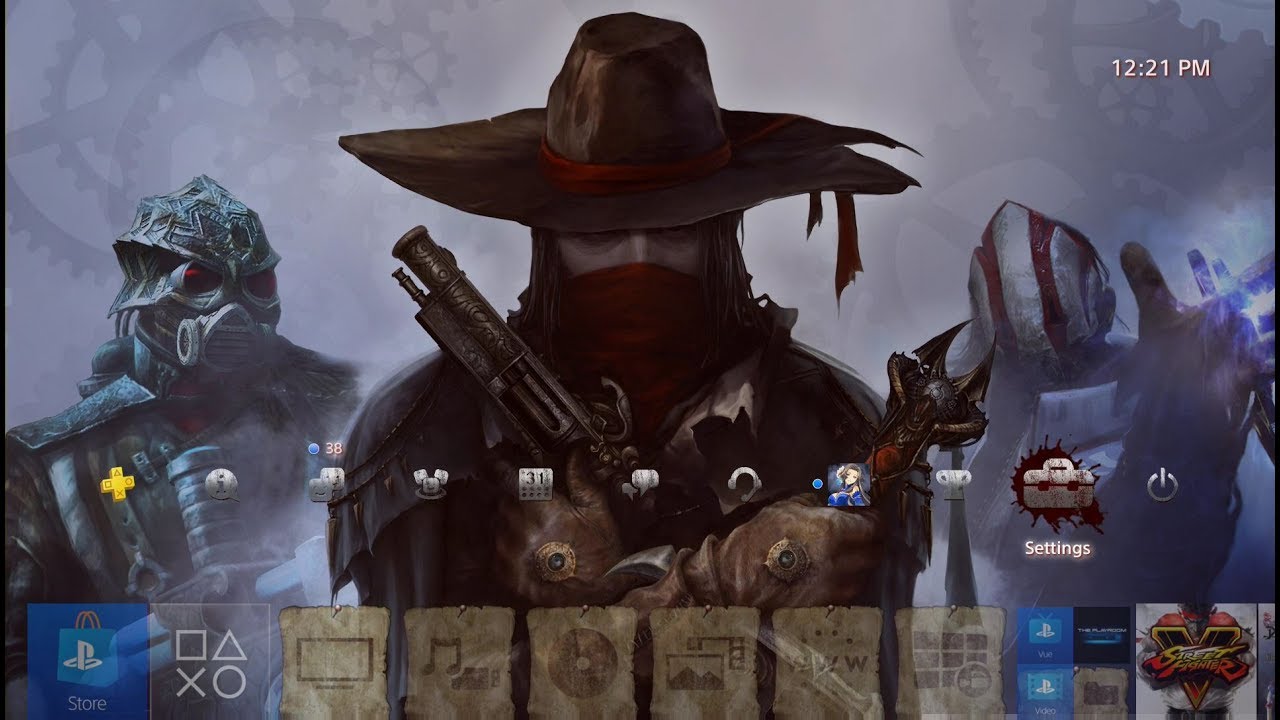 Van Helsing
Download this theme on the PlayStation Store
This Van Helsing theme's not just for fans of vampire lore. The game itself combined a wide variety of concepts in an ambitious attempt to merge folklore with science -- adding a touch of RPG goodness to round it all out. The theme conveys those concepts very well.
Apart from the titular hero, you've got a rather bizarre, alien-looking creature and a sinister robot, while giant clockwork dominates the background. The parchment-themed icons add a nice touch too. It's another one that's especially suitable for a Halloween theme, but fans of what goes bump in the night and Diablo-style RPGs can enjoy it year-round.
---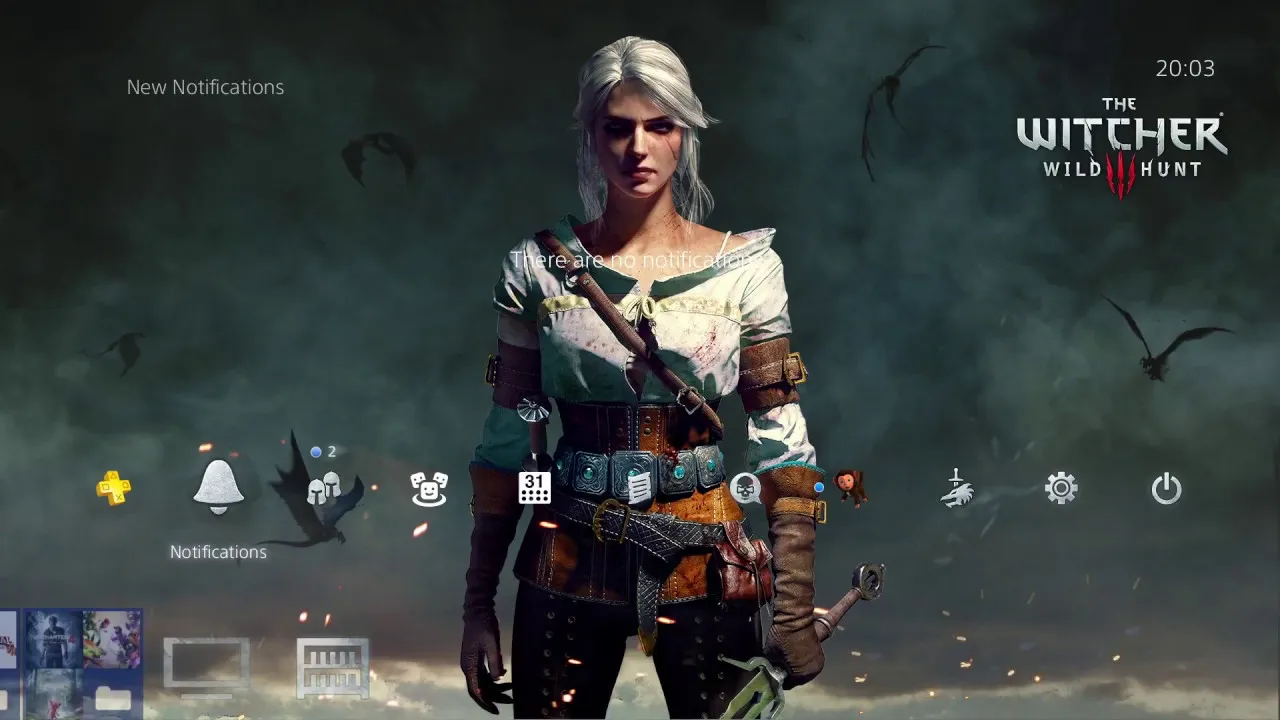 The Witcher 3: Geralt and Ciri
Download this theme on the PlayStation Store
How is it possible to capture the essence of an entire trilogy and its themes in just one image? Like this. The Ciri and Geralt theme from The Witcher 3 manages to convey the folklore and high-fantasy elements of the entire series through two of the game's most important characters. This particular image from the theme emphasizes Ciri's determination and independence, which, in turn, helps make the game itself stand out. That determination is yours to shape through your in-game choices, an ambitious undertaking on the developer's part that works oh-so-well in action.
---
Dark Souls III: Transitory Lands
Download this theme on the PlayStation Store
Here's on for the Dark Souls fan! Saying this theme is dynamic carries a double meaning, as it's probably the most dynamic of the lot. It features your hero walking across what looks like old linen (or maybe parchment). He comes across various environments as he progresses, all of which look like old engraved images, and their deep blackness throws their intricate details into sharp relief against the rest of the scenery. They vary, too, so it's almost entertainment in itself.
---
When it comes to PS4 themes, it's definitely not true that you get what you pay for. There is a wide variety of free themes just waiting to find their new home on your console, whether you're a fan of RPGs, platformers, sci-fi, or fantasy.
Let us know in the comments which ones you plan on downloading or which ones you'd like to see added to this list!