We've all played those mobile games that we love to hate; those are the games that make us want to throw our phones across the room out of sheer frustration.
For some, Flappy Bird comes to mind as one of those games. I'm sure you remember that infamous side-scroller game from dotGEARS that came out in May 2013.
Since Flappy Bird was taken down in February 2014, after its developer felt guilty about the game's addictive nature and players' tendency to overuse it, fans like me have fallen into the hole of addictive mobile arcade games, and you should too.
Here are five of those games to get you started.
Video Source: The Perfect Solution To Flappy Bird
---

Steppy Pants
From developer Super Entertainment, comes Steppy Pants, a game almost as frustrating as trying to eat soup with a fork. However, while this game is frustrating, it is also very addictive and a lot of laughs.
The point of the game is to control the protagonist as he walks down the street.
The catch? Players must avoid cracks in the sidewalk to move forward, collecting cups of coffee, coins, and more. Players move forward by tapping the screen. Longer taps make for bigger steps and shorter taps for smaller steps. One misstep and the game respawns to your last checkpoint. Stepping on the same crack six times in a row is enough to make anyone scream every profanity known to mankind.
Steppy Pants was released for iOS June 1 with a potential Android release sometime in July. It is available free for iOS.
---

Tiny Sea Adventure
Tiny Sea Adventure has received mixed reviews since its release by Kongregate early in June, but one thing is for certain, this arcade game gets increasingly addictive as it becomes more difficult. Players control an unbelievably cute submarine by toggling an invisible joystick on the screen to collect stars and coins, while avoiding fish, and other sea creatures.
While some reviews of the game have been less than enthusiastic about the controls, the game begs the player to keep respawning with its simple premise and cute theme. Tiny Sea Adventure is available for free on Android and iOS.
---

Crossy Road
Hipster Whale Studios released Crossy Road, an endless runner mobile game, in November 2014. Endless seems like the right word to describe both the genre and the feeling you get when playing it. The premise of the game is to cross the road, dodging cars and hopping across logs and lily pads along the way. Players can use an array of characters to explore different freeways, railroads, and rivers.
Avoiding cars, trucks, and semis while hopping across seven lanes of traffic is by no means easy, but getting flattened by an automobile feels almost satisfying and makes you want to keep playing. Not to mention, playing this game just might help you understand why a chicken would want to cross the road. Crossy Road is available for free for Android, iOS and Windows.
---
Woodland Way

Woodland Way sounds like it should be the most peaceful, zen game you'll ever download. This is not the reality, however. While the game features cute characters and delicious treats to unlock, along the way it increases in speed until you are in a frenzy.
Released by Appsolute Games early in June, the game hasn't garnered a lot of attention as of yet. However, its addictive quality leaves players entertained as they tap their way across the pixelated logs. The game begins slowly, deceiving the player into thinking that it gives off a relaxed atmosphere. However, as jumps become more frequent and the music more intense, one missed tap might send you into a rage as you barely miss beating your high score.
Woodland Way is available for free for iOS.
---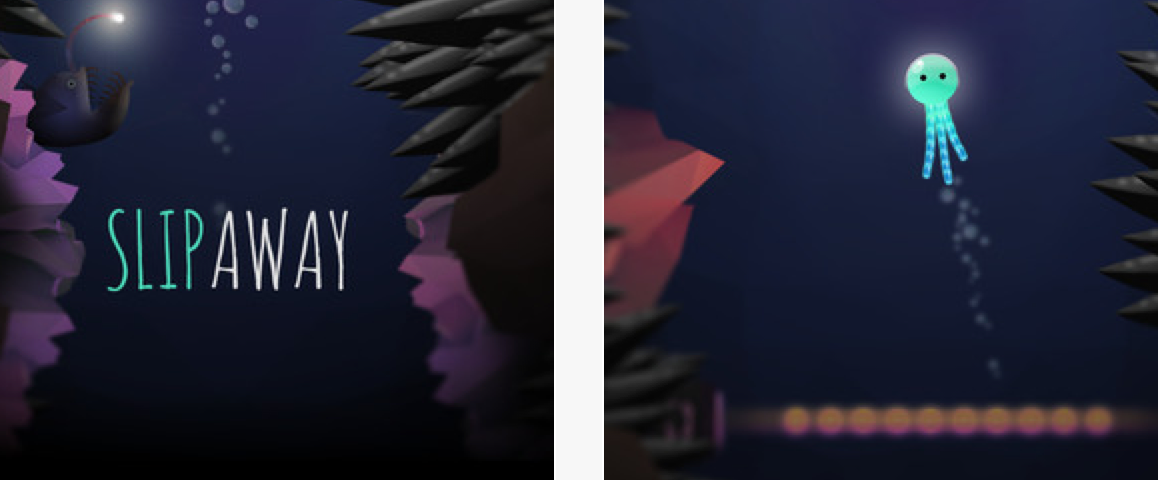 Slip Away

Slip Away, an arcade game released by Nanovation early in June, combines beautiful graphics and dynamic music as players tap to swirl away from obstacles like underwater bombs, jagged rocks, lasers, and more. In the game, players collect gems to unlock different color jellyfish.
Slip Away is by no means easy. Players must anticipate the obstacles ahead to deftly avoid them, and the slightest touch will send your jellyfish exploding into several pieces. However, the enchanting lights and soundtrack make for an addictive, if not frustrating, experience. Slip Away is free for iOS.
---
Those are the five free mobile arcade games that drive me crazy and entertain me to no end. Tell me below which games drive you mad and giddy at the same time. Until then, keep a tight grip on your phone and remember: it's only a game.
Gif source here.