Video games have the power to change lives and rooms! Do you have an office or gaming room in need of some improvements? Are you trying to find posters to put in your dorm room? Either way, the best addition to any room is one that involves a gaming controller.
These five pieces are works of art that will definitely show off your interests. These pieces are guaranteed conversation starters by placing them in any room.
Game controls never looked so cool until now. Each panel is individually painted and takes about a week to make. It would take me months if I tried this! You can even specify the colors and controllers you want. For three panels, it costs $105. This means that for each individual panel it costs $35, which is a steal. Most artist would charge you $50 per panel. This three piece set will match any decor in the room and makes a great statement piece.
High school chemistry would have been way more fun if we were studying this instead. The production company for this periodical table of game controllers works really fast to make sure you get your poster on time. They ship out of California one to two days after your order is placed — just like Amazon.
The frame is not included in the $15 price, but nonetheless people will be jealous.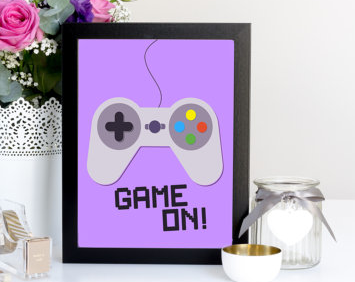 I love the minimalist design of this print. Adding the pixel font was the perfect touch. If you love this print, this seller on Etsy has more cute gaming designs. For the cheap price of $3, it may become my new obsession. But the $3 price is the cost of the JPG file. You can print as many copies as you want and give them to your friends on special occasions.
I've been dying to get my hands on this Pokemon shadow box since I saw it on Etsy. The 3D elements really bring this piece to life and make it look like it came right from a 3DS. This shadow box is completely customizable. You can select which Pokemon you want (only from Fire Red/Green Leaf though) and you can select the frame color. Unfortunately, all the shiny Pokemon are excluded from this, but this piece of art will definitely add some shine to the room.
Game Controller Shadow Box
This is perfect if you have a bunch of controllers that no longer work. The design is sold on Etsy, but it can easily be done at home. Just get a shadow box from Michaels, Walmart, or Target. The size of the shadow box will depend on how many controllers you have. Then mount the controllers using nails or command strips. You can even spray paint the controllers for a unique look. This piece is guaranteed to be a conversation starter.
What are some of your favorite gaming art pieces? Let me know down in the comments!
About the author