Watch Dogs 2 may not be the most anticipated game of the year after the underwhelming performance of the first installment, but Ubisoft still puts a lot of effort into the marketing of the sequel no matter what. This has led to enormous amounts of information appearing online about the contents of the game.
Up to this point we've learned many things: the main story will be non-linear; you can finish the game without killing a single person; the quadcopter can be crafted again, if you've lost it to damage; 3D printing will have many additional tools for improving your gadgets; there is no need to physically enter the building in order to hack it, you can just sit outside and hack the rooms remotely; etc.
It is hard to say if all of this will be included in the sequel or not, as lately the developers promise too much and deliver too little. However, some of these facts are actually appearing in the game and most of them may even surprise you. They have been discovered during this summer's gaming conferences (e.g. Gamescom 2016) and through data mining. So, sit back and enjoy the ride!
---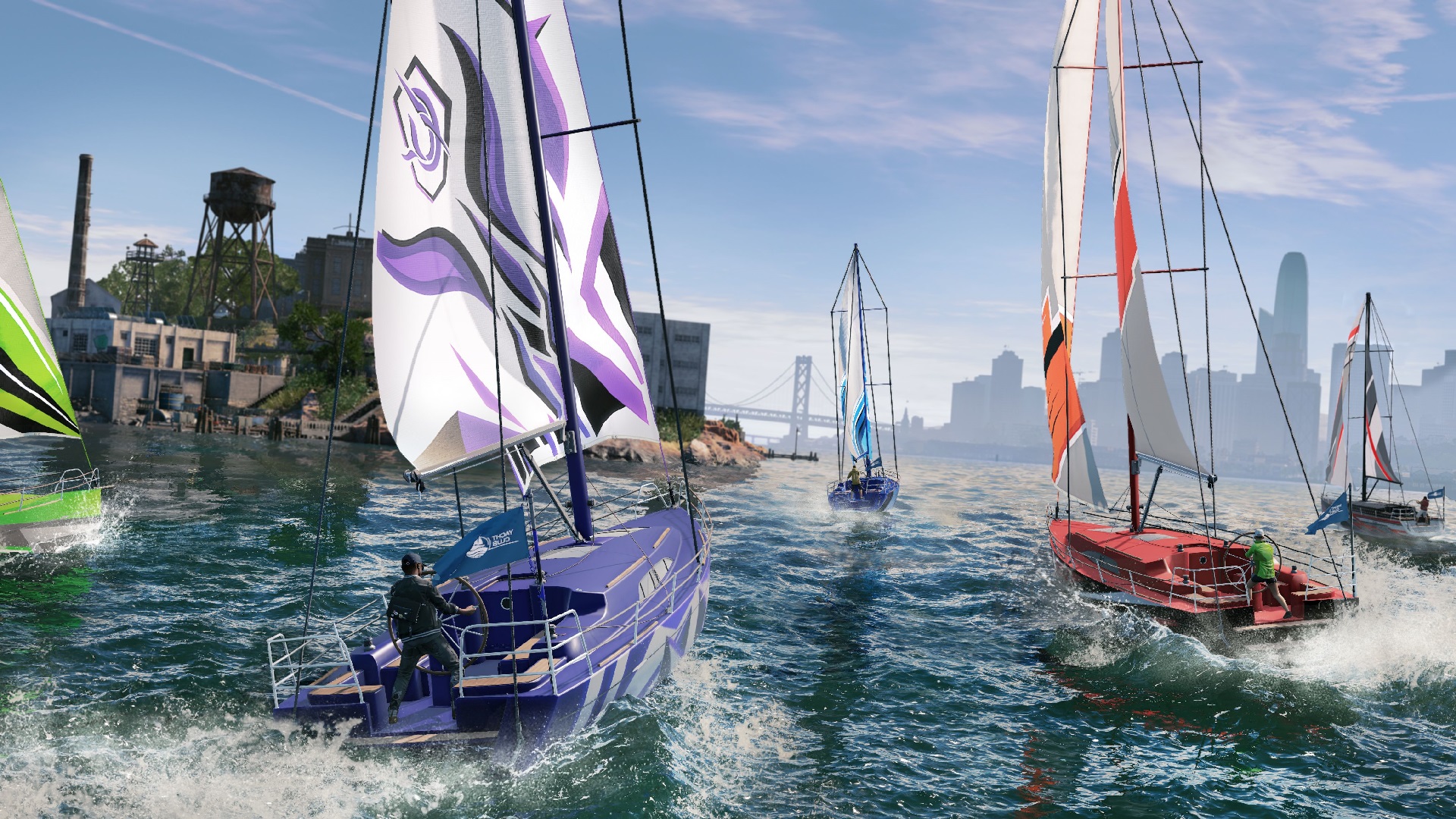 Forget the grim Illinois, now it's all about San-Francisco
Okay, this is not a surprise that the city in Watch Dogs 2 is San-Francisco, but you probably don't know that the atmosphere is totally different from the rainy and cold Illinois of the first game. The city in Watch Dogs 2, besides being twice as large, is sunny and bright with a lot of energetic, young and happy people roaming the streets.
Ubisoft is known for putting a lot of details into their gaming environments and this time it's not an exception either. San Francisco looks fantastic with a huge number of famous landmarks, including The Golden Gate Bridge, Alcatraz Island, Silicon Valley and many, many others (over 150 places to look for).
All of them are fully-sized, so you can visit them in the game either for fun or to accomplish your missions.
---
Multiplayer and single-player are now merged
This doesn't mean that you won't be able to turn the multiplayer off -- you will. This just means that if you want to spice up your gameplay, then you can play your single campaign while being online. This will lead to unexpected encounters with other hackers (similar to Dark Spirit intruders from Dark Souls).
According to recent messages from the developers, players will have three options for online interactions. Firstly, you can cooperate and accomplish the missions together by helping and supporting each other. Secondly, you will be given an opportunity to hunt down the intruder for a huge reward. And lastly, you yourself will become the target of the headhunters.
This is a great idea and can really lift things up during a boring day in the city.
---
Parkour on the level of Assassin's Creed
The protagonist of the first Watch Dogs – Aiden Pearce – had a very limited number of movements, not to mention that there was no system of parkour at all. This time Ubisoft gave the fans what they wanted – a parkour system on par with that of the Assassin's Creed series.
Marcus Holloway, the main protagonist in Watch Dogs 2, is a skilled master of parkour. It is just as easy to use as it is in the AC games – just by holding R1 + X to climb the high buildings, jump over the fences or simply covering the long distances by free-running.
And generally, Marcus is a much more flexible character to control than Aiden has ever been. Why didn't Ubisoft think of this before?
---
Vehicle physics are getting better
This is probably the biggest grudge that fans hold towards the first Watch Dogs – terrible vehicle physics. Ubisoft took this into account and redesigned this aspect of the gameplay from scratch. It will be much easier to control both cars and motorbikes from now on.
Also, now you can drive and shoot at the same time, which will definitely give many GTA players some sort of flashbacks. Each car has its own specific feeling and you will have to adapt every time you sit in a different model. However, developers assured that this will not deter from the fun aspect of driving.
---
The new ctOS becomes even more powerful
The infamous ctOS that Aiden Pearce managed to hack in the first game becomes a completely different animal in Watch Dogs 2. Previously it was a system used to operate the city's infrastructure, which had its limitations. The new ctOS 2.0, however, is a much more dangerous thing.
Marcus Holloway will have to deal with a monster of massive proportions, since ctOS 2.0 in Watch Dogs 2 literally controls every aspect of human life. It was designed in the Silicon Valley with a sole purpose to penetrate each and every person's privacy.
No one can escape punishment, and even the smallest hacking attempts are cruelly punished. This is how Marcus gets into trouble in the first place, and your job is to help him get out of these virtual clutches once and for all.
---
The developers are being consulted by real hackers
Hacktivism is the central plot point of Watch Dogs 2 – it's a movement directed at revealing all the secret data to public. In order to present this idea authentically, the developers at Ubisoft Montreal had to address real-life hackers.
The hackers take part in the script writing process, game mechanics, and share their knowledge about the insider's slang that should be used by the characters. They also give ideas about what and how should be hacked, and so on.
It will be really interesting to see how all this knowledge manifests in the actual game. We will still probably see and hear a lot about the inconsistencies in the hacking mechanics by the critics, but at least we get to hear how hackers actually converse in real life.
---
DedSec will be joined by many others
The hacking collective DedSec was first introduced in Watch Dogs as a small anti-government group of hackers. However, Watch Dogs 2 will increase the membership of DedSec significantly and add a number of other rebellious underground organizations.
ctOS 2.0 is an extremely powerful system, and Marcus Holloway will not be able to deal with it alone. DedSec has its own application that will help recruit new members, test them and eventually integrate them into the group.
The goal of the DedSec and others alike is simple – bring freedom to all the citizens of San Francisco through mutual hacker attacks at the ctOS.
---
The optimization will be much better
Hopefully, everybody remembers how the graphics shown in the first Watch Dogs trailers were never present in the actual game. Well, Ubisoft definitely remembers the negative reactions of the community.
This time they have outdone themselves and showcased a huge leap forward in the graphics and optimization department of Watch Dogs 2. However, some players did witness a few lags during the Gamescom 2016 presentation.
But otherwise, the revealed gameplay was all smooth and shiny, although only at 30 FPS. This was the case on PS4, and most probably the PC version will have 60 FPS, if not more.
Which of these eight facts surprised you the most? Don't be shy to leave your comments below.