Unless you've been living under a rock (or have had absolutely zero contact with anyone under 20), you will have heard of Fortnite -- the smash 'em up/battle royale funfest from Epic Games.
Partly because of its not-too-serious and cartoony aesthetic, partly because you can pretty much play it for free, Fortnite has taken over. The middle/high school crowd is catching a game or two during free period, Twitch streams are though the roof (Canadian rapper superstar Drake set records during his debut Fortnite stream), and the game is tearing apart fictional relationships in various forms of the "Fortnite boyfriend meme."
It's not enough that the game has become a global sensation; it's also started taking over parts of the convention floor. If you're on the hunt for the perfect weapons or accessories to finalize your Fortnite cosplay or add that extra touch of nerdy to your battle station or bedroom, take a look at some of our favorite picks!
Image courtesy of War Panda Cosplay
---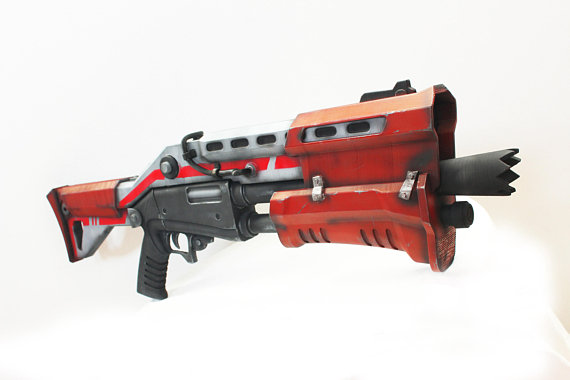 Fortnite Tactical Shotgun 1:1 Cosplay Prop Weapon
Price: $297 USD + shipping
Sold by: Etsy seller BlackForgeCosplay
The tactical shotgun is a personal favorite in the world of mobile Fortnite, mostly because it is so forgiving at close range, even if you turn like a tank. (Thumbs just don't quite cut it the same way mouse and keyboard do.)
You won't find any moving parts on this bad boy, but you probably won't even miss 'em. 3D printed and about 80 cm long, no one is going to ignore you with this fabulously hand-painted gun prop, no matter how lackluster the rest of your getup may be.
This prop is based on the gun design by Jonathan Mason at Chronos Creations and is made to order. It'll take 6-8 weeks before it's even ready to ship (from Portugal)!
---
Fortnite Pump Shotgun 1:1 Weapon Prop
Price: $136 + shipping
Sold by: Etsy seller BlackForgeCreations
It's an old saying, but it's hard to slap down big money on a pig in a poke. (That's not quite how the old saying goes, but it's pretty true nonetheless -- buying something without seeing how the end product is going to look like, especially on the internet, is not always easy, nor is it always a great idea.)
What you do get if you're interested in this Fortnite pump shotgun prop is the knowledge that almost all of the best-looking props on Etsy are done by this guy, and he's got both quality pictures and rave customer reviews (e.g., the tactical shotgun shown previously is also his work -- plus, he's also quite known for making and painting Destiny weapon props.)
The final product is 3D printed, hand-painted, and enormous -- about 80 cm long. Also note that each one is made to order, so be ready for a 6-8 week wait before it's ready to ship.
---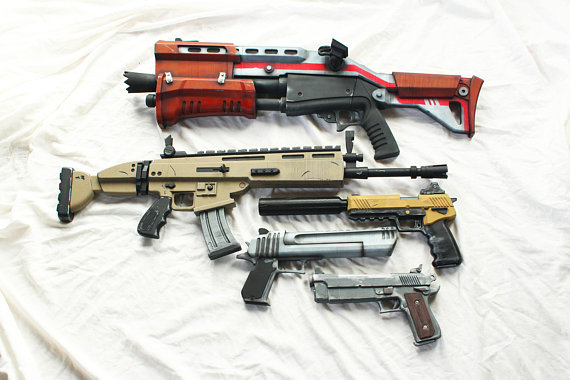 Fortnite Weapon Props Pack
Price: $680.52 USD + shipping
Sold by: Etsy seller BlackForgeCosplay
Go big or go home is the name of the game when it comes to this pack of five different weapon props (no moving parts).
While it may be slightly overkill to load this many guns onto just one person, if you've got a group cosplay in the cards for the near future, this could be just the right opportunity to help split the bill a little -- if you can all settle on who gets what!
This may be the order of the day if you like a bunch of the Fortnite weapons from BlackForgeCosplay (and who doesn't?). The set includes: a tactical shotgun (shown previously), a SCAR/Siegebreaker, a suppressed pistol, a regular pistol, and a hand cannon/Desert Eagle.
All of them are hand-painted and made to order, so it can take 4-6 weeks to make and ship. Plan accordingly if you're going to spring for it!
If you don't want to drop top dollar for the full weapons pack, you can still buy them individually. For example:
---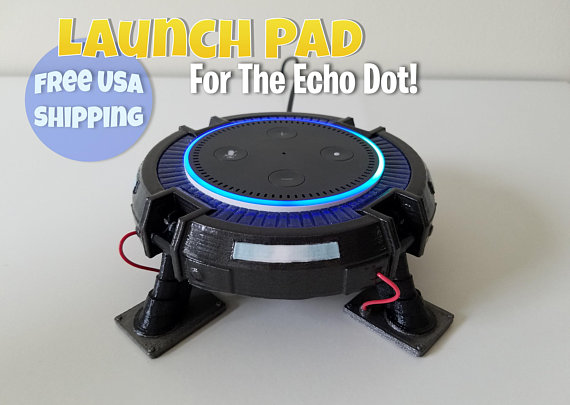 Fortnite Launch Pad Stand for the Amazon Echo Dot
Price: $22 USD + free US shipping
Sold by: Etsy seller OneShot3D
This is definitely one for the desk and not for the cosplay -- a 3D-printed replica of the launch pad that perfectly slots an Amazon Echo (not included, obviously) in the center, with sections for your Echo Dot's cords to fit through.
This is hand-painted and made to order, so it can take one to three weeks to make. If you want one, plan accordingly!
(Unrelated note: If you're browsing through this guy's store, check out their bestselling Baby Groot planter as well! Too cute for words.)
---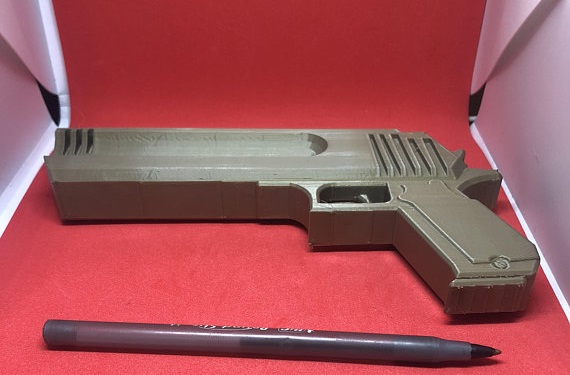 Fortnite Hand Cannon Cosplay Prop
Price: $40 USD + shipping
Sold by: Etsy seller HarrysPrinters
If the other, finished products are feeling a little rich for your blood, this single pistol option is available in a ton of different colors (though you may prefer to paint it and sand it down yourself anyway).
This hand cannon is appropriately large enough to make an impression (7 inches) and ships out of the U.S., so it's ready to go in one to two business days. Not bad if you've got a strict deadline coming up.
---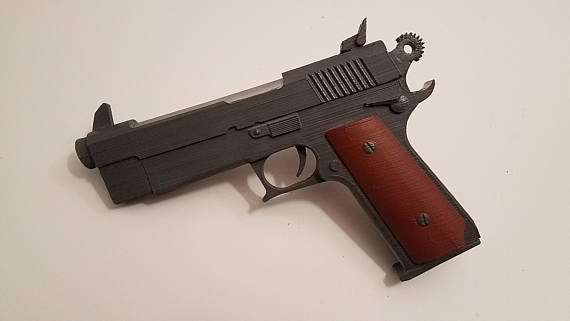 Fortnite Common Pistol Prop
Price: $25 USD (unassembled) / $35 USD (assembled, unpainted) / $55 USD (finished) + shipping
Sold by: Etsy seller RPMprototype
If the other stuff is looking way too pricey, consider the option of buying a basic, unassembled kit and putting it together yourself.
This seller offers a few options -- the base weapon is 3D printed from PLA plastic, with no moving parts. It'll take some more work (e.g., sanding, gluing) to get it looking how you want, but it won't break the bank nearly as much as buying everything ready-made.
---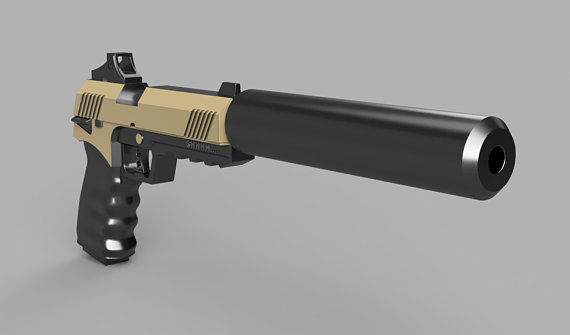 Suppressed Fortnite Pistol STL File
Price: $12
Sold by: Etsy seller KGPropWorks
If you're lucky enough to have your own 3D printer, you can skip a step and buy the digital download for this pistol design instead! You'll have to sand it down and paint it yourself, but it means a heck of a price drop from buying the finished item entirely.
No moving parts, and the whole thing measures approximately 403mm long by 74mm. You'll also receive the download file pretty much instantly.
Now, if you don't have a 3D printer and still want this pistol design to bring to the table, you can also pick up the printed version of the suppressed pistol ($21 USD + shipping). It'll still need some paint work, but far less equipment to get it serviceable.
---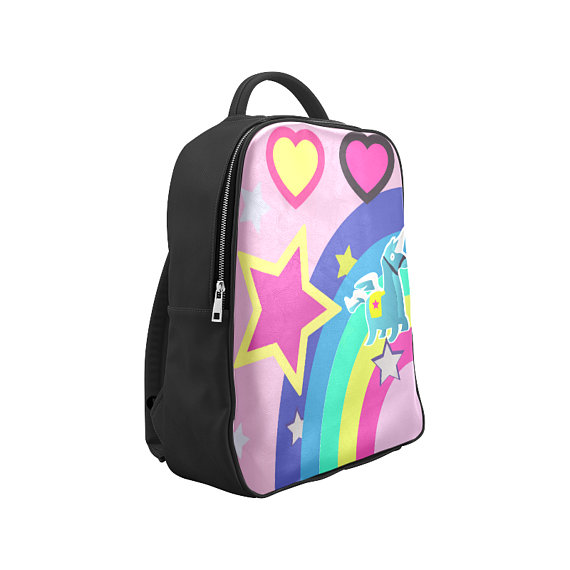 Brite Bag Bomber Unicorn Fortnite Backpack
Price: $56 + free shipping
Sold by: Etsy seller Incomplette
It ain't always about what guns you're carrying -- you're going to want something else to help carry around all those trees you've been smashing down.
Whether or not you want this for holding con freebies or to take to classes, it's big enough to hold almost whatever you need it to. Measuring 12.2" x 4.9" x 15.7" and made from high-grade PU leather, it comes with a laptop sleeve, padded back, and adjustable straps.
If unicorns aren't your cup of tea, there are a couple different styles available from this seller for the same price:
---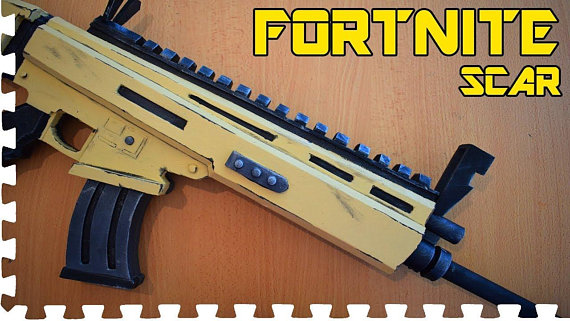 Fortnite Scar Cosplay Replica Digital Blueprints
Price: $10 USD
Sold by: Etsy seller NotEazy
Slightly different from the others, which all revolve around using PLA and 3D printing, this digital download is intended for use in other mediums.
One downside to 3D-printed plastics is the sheer weight -- this particular design will allow you to extend the prop-making to other materials, like EVA foam (which is much lighter and much less expensive, although certainly a great deal more labor-intensive as well).
This shop doesn't have a lot to offer, but this is a digital download only, and you'll get it right away once payment is verified, so it's worth a try!
---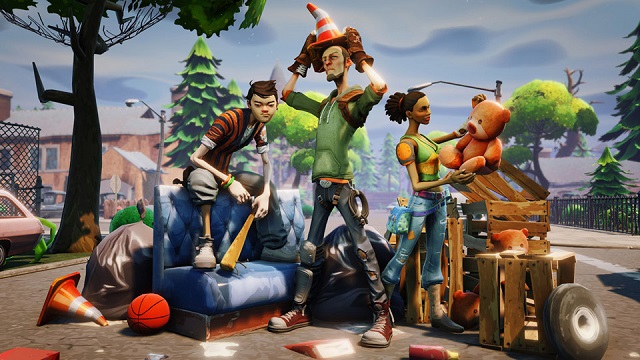 That's it for now!
While the character artwork and costume design of Fortnite don't exactly make cosplaying as simple as grabbing stuff right out of your closet, there's a ton of options out there for you, whether you want to dress up or keep things dressed down -- and on a budget to boot!
Any more excuses?