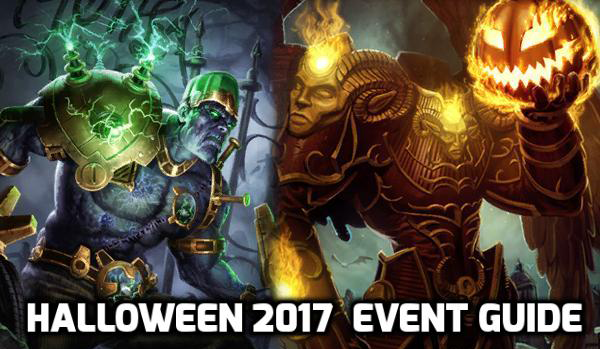 It's that time of the year again! Developers are slowly starting to unveil and release their yearly Halloween events. And for gamers, there's a lot to choose from. Every year, there's a wide variety of games that offer Halloween events, from Final Fantasy XIV to Pokemon GO and Paladins to Overwatch and beyond. The events themselves include a multitude of different updates and skins as well, including additional game modes, accessories, and item skins.
To date, there are only a handful of games whose 2017 Halloween events have started or been revealed so far, so this piece will be updated as we continue to get more information about what's to come. For now, check out what's currently on offer to help get you in a spooky frame of mind.
---
Overwatch Halloween Terror 2017
Overwatch's Halloween Terror event is back! And the best part is that there's even more to it this year, from new skins and new items to Halloween-themed arenas and a brand new game mode. You've got a good while to enjoy this hero-shooter event, too: it runs from now through November 1.
PvE Brawls
Dr. Junkenstein makes his return in Junkenstein's Revenge, and Blizzard added an endless mode for it -- appropriately named "Endless Night"-- to really test your skills as you battle endless waves of enemies fighting to gain entrance into the castle. You can also choose from four additional characters for this mode: Genji, Torbjorn, Zenyatta, and Widowmaker. Alongside that is a brand new leaderboard to record the highest scores and see who made it the farthest.
New Skins
In addition to the skins from last year's event, there are eight new skins for the 2017 Overwatch Halloween event:
Dragon Symmetra
Van Helsing McCree
Jiangshi Mei
Corsair Ana
Cultist Zenyatta
Totally '80s Zarya
Viking Torbjorn
Vampire Reaper
Spooky Arenas
Two maps have received a Halloween makeover as well. During the event, you can play in spooky versions of the Hollywood and Eichenwalde maps.
Loot Boxes
In true Trick-or-Treat style, there are also Halloween themed loot boxes for you to purchase. These loot boxes contain a wide variety of things, from new skins and voice lines to avatars, emotes, and even last year's items -- some of which you might have missed.
---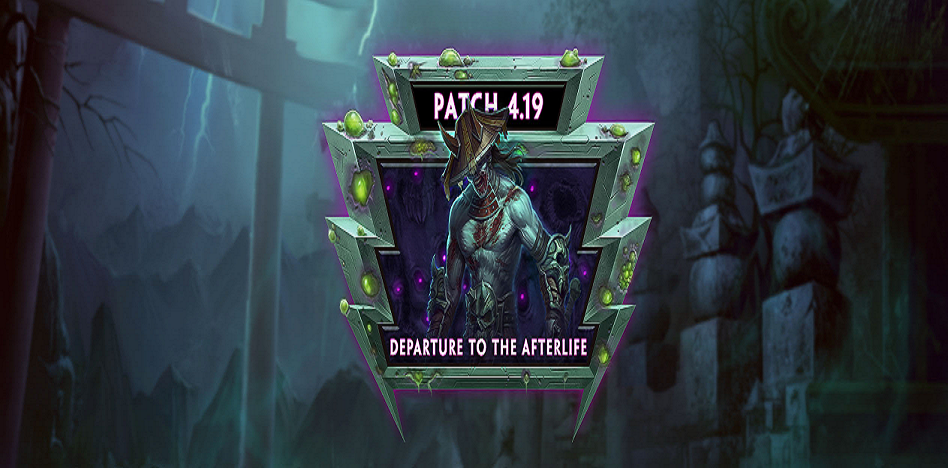 SMITE: Departure to the Afterlife
Hi-Rez Studios is offering a Halloween 2017 event for SMITE players, too. It comes in the form of its Departure to the Afterlife event, which is part of the latest SMITE patch, 4.19. It includes plenty of features to help infuse your game with some frightful fun.
SMITE Halloween Skins
There are six new skins in the Departure to the Afterlife event to help put you in the Halloween mood. And of course, they're all appropriately afterlife themed:
Grim Reaper Thanatos
Trick or Treat Cupid
Warchief Raijin (Odyssey)
Hachiman Mastery
Yurei Susano (Odyssey)
Mummified Izanami (Odyssey)
Other Departure to the Afterlife Treats
In addition to the new God skins, the Halloween map makes a return appearance, alongside the Scary Potion. You'll also get some new Halloween chest items, including the Cupid and Thanatos skins mentioned earlier, a Jack-o'-Lantern Jump Stamp, and the Spooky Music Theme.
The patch itself includes the return of foul-mouthed announcer Tactless Tina, which may or may not count as frightening, depending on your viewpoint -- and your playstyle.
---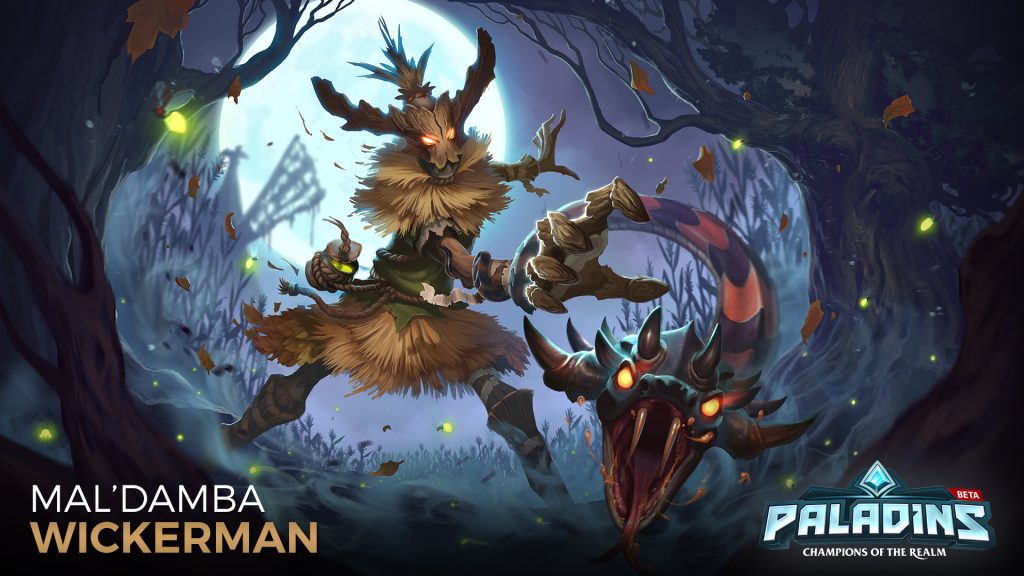 Paladins: All Hallows Evie
Paladins: Champions of the Realm's treat bucket is full to bursting with the All Hallows Evie patch. There's something for everyone in the Little Box of Horrors chest, from exclusive VIP content and items to new skins for your favorite characters, making this Halloween 2017 event full of scares and delights.
All Hallows Evie Skins
Hi-Rez has included a number of well-designed skins for this Halloween 2017 event, including --finally!-- the tantalizing PumpKing.
Evie Bewitching (Epic)
BombKing Pumpking (Epic)
Grover Blightbark (Uncommon)
Mal'Damba Wickerman (Epic)
Strix Raven (Rare)
The Strix and Mal'Damba skins are connected to the Harrowing Horrors Quest Line -- which involves paying crystals and defeating a set number of enemies -- so keep that in mind. Strix's outfit is tied to the new "Give 'em a Scare" Harrowing Horror quest (more on that later) and once you unlock his, you can get Ma'Damba's as well.
VIP Content
This content is exclusive for VIP members and includes the Bruce Buffer announcer and a special dance for Pip. However, you'll also get the Nightmare Mount, a horse with ram's horns --of course-- and green glowing hooves.
All Hallows Evie Accessories and Weapons
The Little Boxes of Horror could contain a number of other things, including costume pieces for your heroes or, for some, weapons.
Available Weapons
Pumpking's Bomb (Epic)
Bewitching Broomstick (Epic)
Blightbark Throwing Axe (Uncommon)
Pip's Boo Blaster (Epic)
Available Accessories
Note: All of these are rare.
Parasite (Seris)
Screech (Androxus)
Ghoulish Goalie (Jenos)
Lil' Andy (Ruckus)
Grave-Robbers' Spoils (Torvald)
All Hallows Evie Quests
The Halloween patch also brings three new Harrowing Horror Quest lines with it:
A Night's Haunting
Heal for 200,000 health
This unlocks the next quest, Toil and Trouble, and a spray for Wickerman
Toil and Trouble
Win 10 Games
This one gives you Strix's talon rifle and leads to the last quest
Give 'em a Scare
Accumulate 40 kills
As mentioned, this unlocks Strix's costume
---
Black Desert Online: Halloween in Wonderland
Kakao Games and Pearl Abyss are bringing a unique new crossover and aesthetic to Black Desert Online starting October 18. As the above trailer shows, it centers around mysterious wormholes linking Wonderland to the world of Black Desert -- and, of course, the White Rabbit plays an important role. But so do you: you're enlisted by the White Witch to assassinate the Black Witch.
Other Halloween additions include spooky makeovers for central hubs like Velia and Heidel, and there will also be special Alice in Wonderland- themed areas and props, like the Mad Hatter's Tea Party.
Of course, it wouldn't be Halloween without costumes, and there'll be plenty of those. The Angelic and Demonic Queen outfits are two notable inclusions, and you can also dress your horse up with the Skeletal Horse Set. Throughout the event, you can wear Scarecrow Masks and Halloween pets Neurotic Cabby and Witch Hat Charlotte make their return this year too.
More information is set to come next week when the event starts, so be sure to check back!
---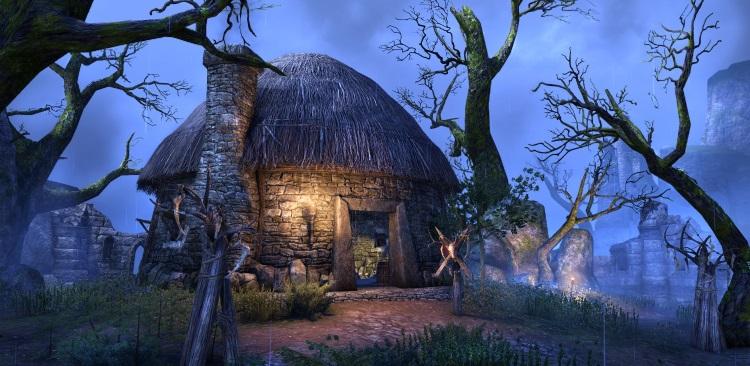 Elder Scrolls Online: Witch's Festival
The Elder Scrolls Online Witch's Festival makes its return this year as well, with a glut of new content for you in the Crown Store. However, a good chunk of it is limited to certain periods of time, so make sure to note the dates for your favorites listed below. Note, too, that everything listed is available on all platforms.
Housing
Like the creepy witch's cottage you see above? It's called the Coven Cottage, and it's for sale from October 19 through November 1. It's allegedly guaranteed not to be haunted...but who knows?
Mounts
Ditch your regular mount for Halloween and pick up one of these eerie rides instead:
Shadowghost Guar (October 12-16)
Zombie Horse (October 16-20)
Shadowghost Wolf (October 19-23)
Shadowghost Senche (October 26-30)
Jackdaw Daedrat (October 12-November 1)
Personalities, Polymorphs, and Masks
Dressing up for Halloween is the perfect chance to play around with a new personality, and Halloween in ESO is no exception.
Personality
Zombie (October 19-November 1)
Polymorphs
Scarecrow Spectre (October 23-27)
Pumpkin Spectre (October 23-27)
Hats and Masks
Deep Elf Executioner's Hood (October 12-November 1)
Moonshadow Wings Mask (October 12-November 1)
Jhuna's Owl Mask (October 16-20)
Rajhin's Cat Mask (October 16-20)
Dibella's Doll Mask Pack (October 19-November 1)
Nightmare Demon Mask Pack (October 19-November 1)
---
CoD: Infinite Warfare -- Willard Wyler's Halloween Scream
Call of Duty: WW2 might be coming out soon, but that doesn't mean you can't still enjoy the series' latest offering in the meantime. Willard Wyler's Halloween Scream is back, with some frightful extras to help spook out your game.
Items
Every week, there will be a free Halloween-themed Supply Drop at the beginning of the week. At the end of the week, you'll get a free Halloween cosmetic item and an extra drop on the 30th, including:
Zombie Ear (Friday the 13th)
Calling Card and Emblem (Friday the 20th)
Gravestone Accessory (Friday the 27th)
Zombie Mercenary RIG (Monday the 30th)
Extra Modes
Boss Battles
Starting Friday the 13th, you can re-challenge select bosses from the zombie campaigns. Do note that you have to own the respective DLC packs in order to access these battles.
Zombies in Spaceland + Rave in the Redwoods (Friday the 13th)
Spaceland + Shaolin Shuffle + Attack of the Radioactive Thing (Friday the 20th)
Spaceland + Director's Cut + The Beast from Beyond (Friday the 27th)
Carnage
The event also features the return of fan-favorite Carnage DLC map, along with double XP. This one lasts until November 1.
---
Paragon: Shadow's Eve
If Overwatch or SMITE just aren't your favorite, you'll be happy to know Epic Games' Paragon Shadow's Eve event is now live. It brings several new skins and banners, in addition to the return of some old favorites, and the event runs until November 1.
Skins
New Skins
Narbosh Bash-O'-Lantern
Infernal Wukong
Crypt Goddess Yin
Returning Skins
Spider Witch Belica
Murdock Dock-O'-Lantern
Mephisto Gideon
Franken-Grux
Sweet Dreams Khaimera
Feline Queen Sparrow
Skullbot TwinBlast
Banners and Chests
There are three new banners, featuring the three new skins, you have a chance of winning in a chest after each match. Each chest also gives you the chance to win one of the new or older skins, alongside the usual keys and tokens.
Miscellaneous
The in-game store is also running a 25% discount on these additional Halloween skins.
Silver Ghost Kwang
Death Mask Sevarog
Undertow Gideon
Biofreak Murdock
White Tiger Greystone
Grux Pelt Khaimera
---
Be sure to check back for more details as they come in. For now, let us know in the comments which of these you're playing or planning on playing!
---
Minecraft: Spooktacular Server Events
Sandbox fans aren't left out of the Halloween fun either! Mojang's server partners are running several different Halloween events from Friday 13th (quite appropriately) until October 31st. From trick-or-treating to fleeing from zombies, there's plenty to keep you in the Halloween spirit.
Lifeboat
The lobby received a Halloween makeover, featuring pumpkins, glowing green goo, and spiders, but there's more lurking in the dark than the eye can see right away.
You'll need to keep an eye out for a tiny skeleton wandering around the lobby, and if you catch him, you receive a cave spider zombie jockey as a pet to accompany you until Halloween. But beware: the hunter can easily become the hunted. Zombies prowl the lobby, looking for their next snack. However, you can always take a break and enjoy the Haunted House parkour course too--if you dare.
InPvP
There are changes afoot in the lobby here too. The entire lobby has taken on an eerie Halloween-themed neighborhood look, complete with spooky skins for your characters. Get your skin from the Jack-o-Lantern by the spawn point, then head over to the house for your treat--but be prepared for tricks too. You can also bring along one of the limited time DLC pets, including blaze, wolf, or mooshroom, among others.
On top of that, you can play the Halloween themed SkyWars map, where every island is a grave, and you have to keep on your toes to ensure it isn't yours.
Mineplex
The Mineplex event is all about rewards. The Pumpkin King has arrived, and he brings with him an assortment of quests, each with their own rewards, on a three hour basis. There are also flaming pumpkins that will randomly appear in games, each offering prizes to those who smash them, from gems and keys, to Top Rank.
This one has its own limited time DLC too, in the form of trick-or-treat boxes you can gift to your friends (or hoard for yourself). They contain lobby effects, potions, costumes, and food.
---
Trailer Park Boys: Greasy Money Zombie Outbreak
What happens when zombies and killer zombie raykins invade your neighborhood? Well if you want to know, check out the Trailer Park Boys Halloween event, running until October 20th!
Take down the zombie horde before they become out of control, and seek out the source of the creeping plague by taking on the evil raykins. Depending on your performance, you may just unlock a raykin for your wrestling arena too, which boosts profits for your ring.
---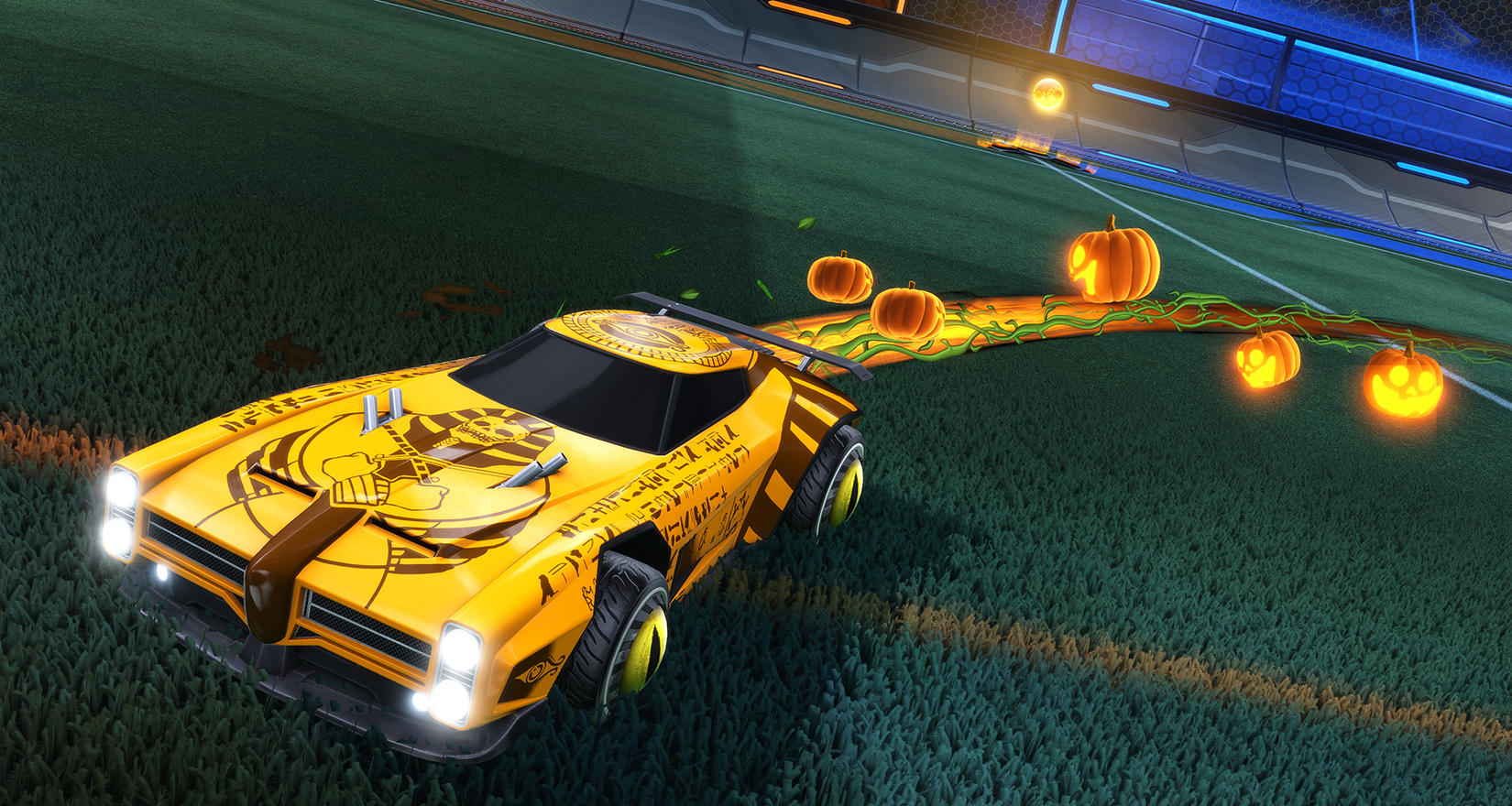 Rocket League: Haunted Hallows Event
Rocket League''s first ever Halloween event is here! It runs until November 6th at 10am PST, and it introduces a brand new form of currency for a limited time: Candy Corn. You'll be using this throughout the event, so here's a short guide to help get you started.
What is It?
Candy Corn is your spendable reward that you use to purchase Haunted Hallows Crates, alongside Decryptors and other Halloween items. You receive Candy Corn as a reward for completing an online match, so it's a simple and intuitive system.
Your Candy Corn will disappear one week after the event ends, but everything you purchase with it remains in your inventory, including crates. To spend your candy, click the Special Events button on the main menu, and go from there.
What Can I Get with It?
The Haunted Hallows Crates are your the main draw for spending your Candy Corn, and they contain a variety of items for your Halloween enjoyment. These items are separate from the ones you can purchase in the event store as well.
However, you can also purchase Decryptors with Candy Corn, Decryptors are a new way of unlocking crates in Rocket League and, for now, can only be purchased with Candy Corn. Be sure to note that crates unlocked with Decryptors cannot be traded.
Anything Else I Should Know?
There are two other ways of obtaining Haunted Hallows crates. One is through regular online play; there's a chance a crate will drop at the end of each match. The other is through purchasing them directly, with real-world money. However, like crates unlocked through Decryptors, Haunted Hallows crates bought with money cannot be traded. The crates won't be updated for next year either, which means you can wait an entire year to open them, if you so choose.
---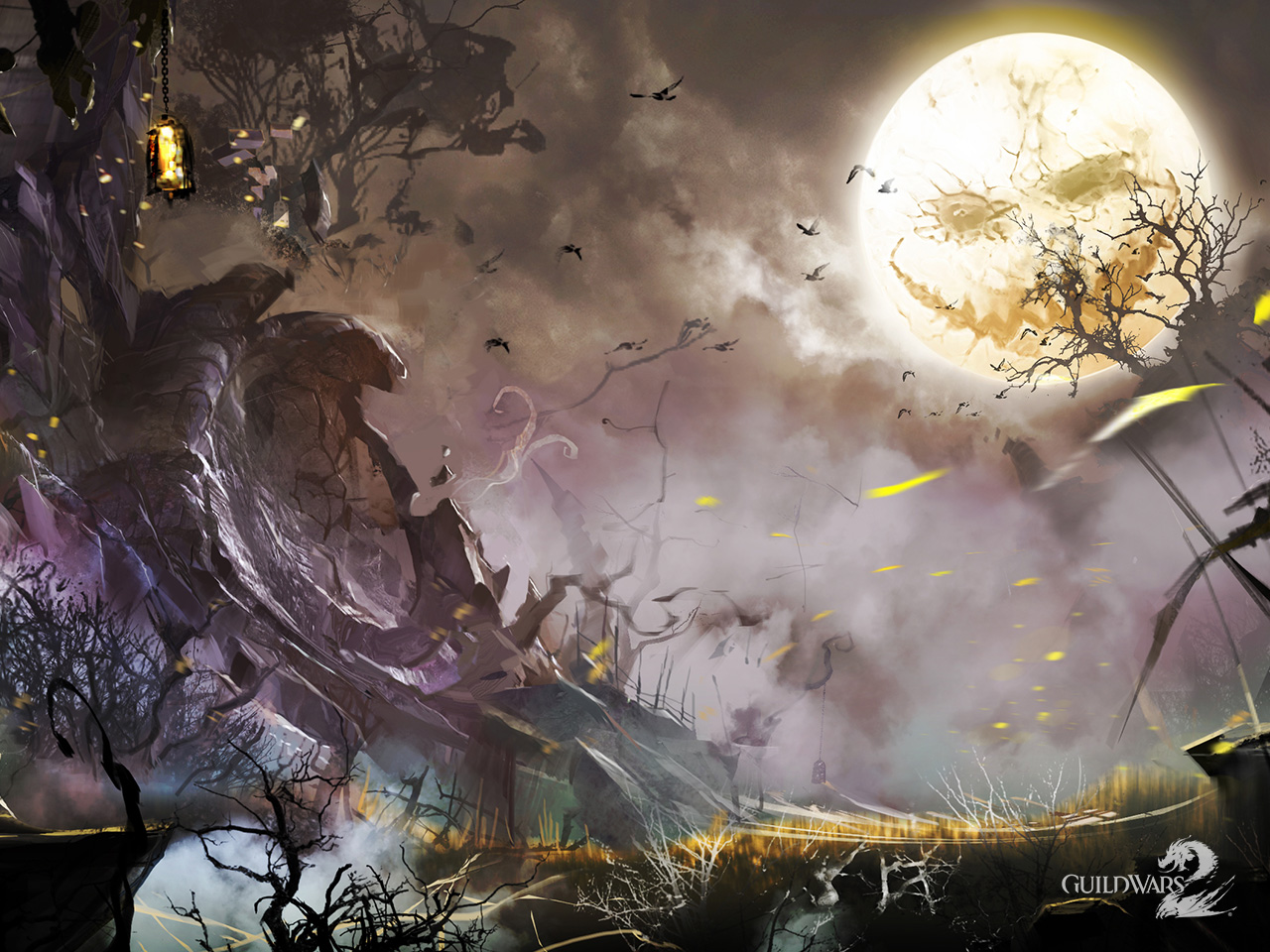 Guild Wars 2: Shadow of the Mad King
The Mad King returns in Guild Wars 2 for yet more Halloween mayhem! The event brings with it numerous spooky diversions for your gaming pleasure, from battles to puzzles and more besides!
The Mad King's Labyrinth
Find your way through the maze, knocking on doors to trick-or-treat, if you have the courage for it. Watch your back, though; monsters prowl the maze, looking for an easy meal. If this all gets too much for you, there's always the Lunatic Inquisition you can try instead, the event's PvP mode
Ascent to Madness
Face off against the Mad King himself--Oswald Thorn. Study his tactics carefully if you want a chance for survival. But be careful--you never can tell what a madman might do next.
The Mad King's Clock Tower
Race your way to the top of the crumbling, haunted clock tower. Mind your step as you go, because one wrong move sends you tumbling into the rising tide of horrors below.
Lion's Arch Festivities and More
Drink in the Halloween atmosphere at the creepily bedecked Lion's Arch, and you might even have Oswald Thorn himself drop in for a game of Mad King Says. But of course, it wouldn't be Halloween without treats, and there are plenty to go around, including Halloween skins, weapons, and armor.
---
Pokemon GO: Halloween 2017
Niantic finally announced what dataminers already discovered: Halloween introduces Generation III Pokemon from Ruby and Sapphire! The event runs from October 20th at 12pm PST to November 2 at 1pm PST.
As in previous years, there will be higher chances of finding the returning spooky Pokemon, including Houndoom and Gengar, but you'll also get to catch Gen III's Ghost types as well--Duskull and Dusclops, Shuppet and Banette, and Sableye. And, starting in December, Niantic will be slowly rolling out additional Hoenn Pokemon, though which ones and when specifically have not yet been stated. However, you'll also want to be on the lookout for the special witch-hat-wearing-Pikachu seen in the trailer.
Special boxes are on sale too, with items including Raid passes, Super Incubators, and, of course, candy. Pokemon will be earning twice as much candy as normal during the event too. There's also a Gen VII surprise in store, in the form of a Mimikyu hat you can get for your avatar.
---

Clash of Clans: Halloween 2017
Fans of Clash of Clans won't be surprised to hear that Supercell appears to be gearing up for yet another seasonal event. Details aren't confirmed as of yet, but here's what seems to be in store.
Troops
Supercell is introducing two new troop types: Pumpkin Barbarian and Giant Skeleton Troop. The Pumpkin Barbarian is a regular Barbarian dressed up as a pumpkin and with an extra shield -- a pumpkin shield, of course. Don't let the images you might have seen fool you either. The Pumpkin Barbarian doesn't have low HP; that's just for the shield.
The Giant Skeleton has its own unique characteristics that actually encourage you to let it get defeated. It carries around a giant explosive that goes off when it dies. It can even destroy structures like spell factories.
Obstacle
This year's Halloween obstacle is a baby dragon skull. Like other obstacles before it, it costs 25k elixir to remove and gives you 75k in return.
We'll post more as it becomes available, so check back soon!
---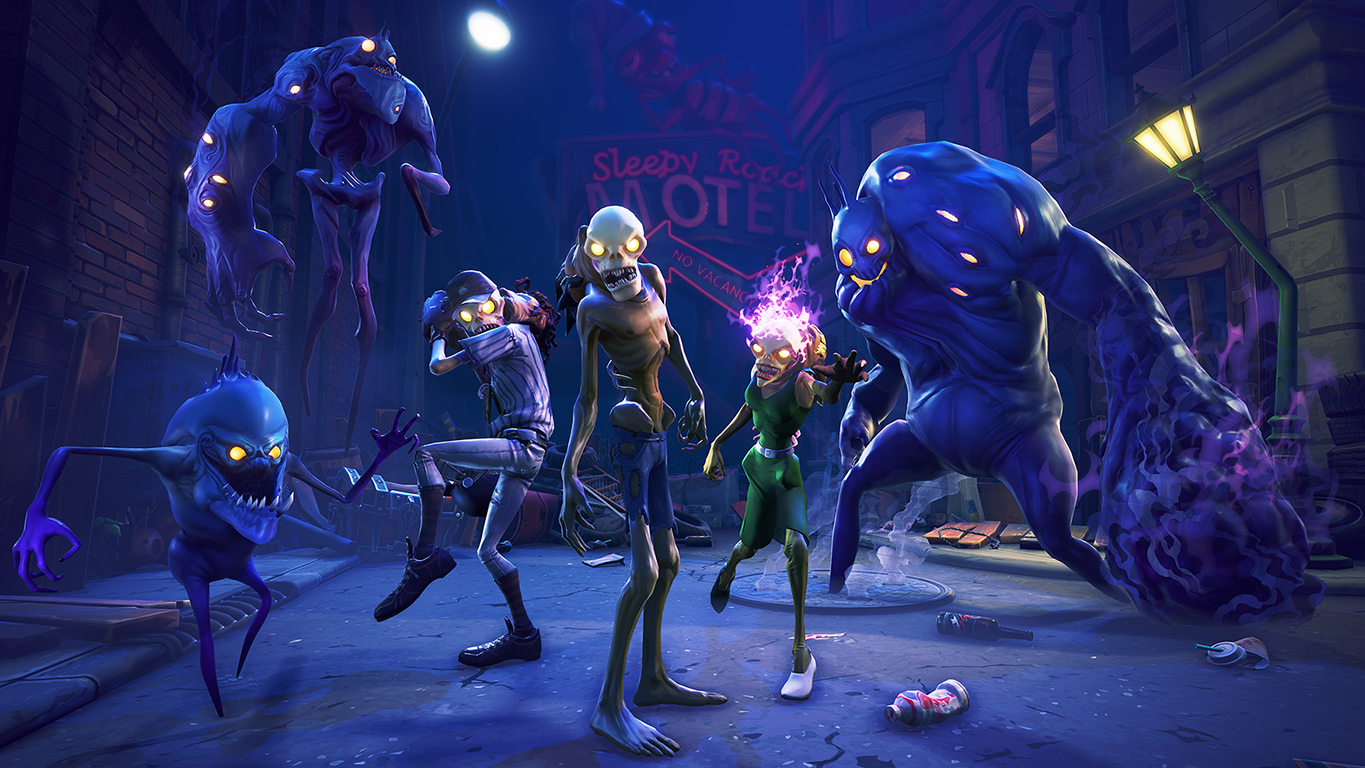 Fortnite: The Fortnitemares
Epic Games' Fortnite is yet another hero shooter joining in the Halloween fun. The Fortnitemares Fortnite Halloween event, starting October 26, brings with it a brand new stage: Hexsylvania. Hexsylvania is full of creepy catacombs and long hallways lit only by the dim light of floating candles and is covered with dense fog that obscures your path. There are plenty of other good things in store, too:
25 new story quests
2 new spooky creatures -- Vampire Taker and Pumpkin Head Husk
Spooky llama you can buy with candy
8 Hexsylvanian-themed heroes of each class and gender
New weapons -- pumpkin launcher and gravedigger
New storm effects and visuals
There are some new Halloween skins on sale in the store too, purchasable with V-bucks.
Character Skins
Skull Trooper
Ghoul Trooper
Weapon Skin
Fortnite Patch 1.8
All of this is part of the much larger Fortnite update out now, and here are the details about it.
Leaderboards
The patch implements different types of rankings to help you see how you stack up to the competition in these categories:
Total wins
Solo
Dual
Squad
There are two types of leaderboards too, and they all automatically reset on Wednesday of each week.
Division Leaderboard
These are based on different groups, or divisions, of players.
Each division is made up of 50 players competing against each other.
Players are automatically assigned to new divisions each week.
Each match type gets its own division.
Friend Leaderboard
Compare and compete with your friends by turning on "friends only" on the board settings.
Team Chat
PlayStation 4 and Xbox One players who own a microphone now have the option for team chat in their games, and it's a default setting. PC players have voice options too--added in the last update--but they need to push talk to activate it, and it's bound to the Y key. Chat isn't mandatory, though, and can be deactivated in the Audio Options menu.
Slurp Juice
This consumable item is a major new piece added in the update. It grants the user one health and one shield per 25 seconds and can restore your health all the way up to 100. You'll find them in the same areas where you find other consumables, and you can also stack up to 2 of them.
Season Levels
These seasonal perks are a way to help level up your character and get exclusive items into the bargain. The first level gives you the ability to raise your character to 100 and displays your level in your banner. It also adds banner flair from levels 2-49 so you can display your prowess for all to see.
There are two seasonal awards for progressing through the first season as well.
Level 10: Unique seasonal banner
Level 25: Unique seasonal glider
Daily challenges are the way you raise your seasonal experience points, with a new one provided every day and the ability to have up to 3 active at one time.
---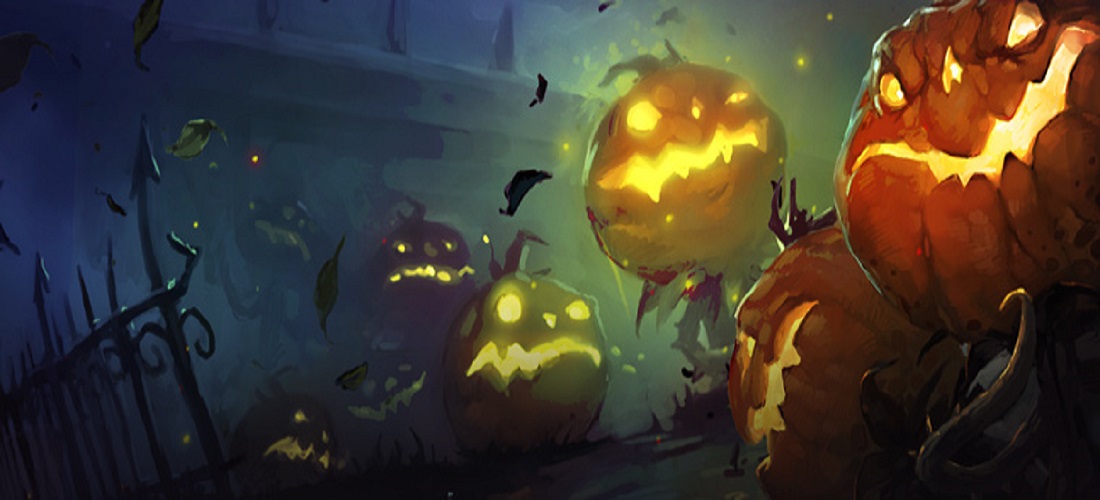 Hearthstone: Hallow's End
It wouldn't be Halloween without Hearthstone! The Hallow's End event is back, and the Headless Horseman is your master of ceremonies. He's taken control of the tavern, which you'll find has been remade to match the seasonal mood, but there's more to the event than just that. Once each week during the Halloween spectacular, the Headlass Horseman will be handing out card packs and an Arena ticket.
Log in before October 30 at 10:00 pm PDT to receive two Whispers of the Gods packs and an Arena ticket.
Log in between October 31 at 12:01 am PDT and November 5 at 10:00pm PDT to recieve two Knights of the Frozen Throne packs and an arena ticket.
Arena Matches
There's a brand new dual-class Arena match for the duration of Hallow's End too. Each Hero is wearing a special Halloween costume; you'll choose both a Hero and a Hero Power and then receive cards from both classes, alongside your neutral cards.
Tricky Tavern Brawl--Now Through Oct. 28
Don a costume and travel throughout the countryside to find the Headless Horseman and put an end to his tricksy deeds. What costume you'll wear is Discovered once the Brawl begins, and each costume has its own deck featuring cards from across the classes, plus a passive Hero Power.
---
Absolver: Halloween 1.08 Update
Sloclap and Devolver Digital released Absolver's latest update recently, which includes new seasonal gear, among other updates and accessories.
Your 1v1 Combat Trials matches can now take place at night, but more importantly for some players is the fact that all 6 Marked Ones are sporting Halloween masks--Halloween masks that can be dropped upon your victory. You can check them out in the trailer above.
There are a couple of other important inclusions in the update. One of them is the Prestige system, which lets you advance your Absolver beyond level 60 and provides additional subsystems to help you grow them even further. Each level gained nets you a Crystal, which you can use to reset attribute points.
The random loot drops from Combat Trials have been replaced with Rift Disks and Rift Coins, items that can be traded for rare gear. You also can acquire Rift Disks by trading in Crystals.
There's a new, more intuitive inventory management system included in the update too. And the other major addition? You can now be bald.