The holidays are drawing near. This special time of the year brings the joy of spending some time with our beloved ones, but it is also an opportunity to display your gamer pride to your family.
There are many ways to do that, but in order to accomplish this (whilst maintaining the Christmas mood), a video game sweater is the best way to do the trick.
Whether you are looking to buy one for yourself or wanting to gift a fellow gamer in your life, we have picked some of the most notorious gaming sweaters for you to spread the joy of gaming during holidays.
---
Retro Zelda Holiday Sweater
Price: $38.95
Buy it on: Amazon
Celebrate one of the most cherished sagas of the video game industry during holidays with this sweater that combines visual elements from the Legend of Zelda franchise with the spirt of Christmas.
This unisex sweater is the perfect gift for the gamer guy or the gaming girl in your life.
---
Assassin's Creed Holiday Sweater
Price: $16.21
Buy it on: Yellow Bulldog
After dinner on Christmas Eve, our stomachs will be full of the marvels we have eaten. If you have a friend who is an Assassin's Creed aficionado, he probably will not be able to perform the stunts featured in the franchise after ingesting so much food.
But he can sure look the part!
Buy him this sweater, so he may have another way to show his support to his favorite series during holidays.
---
Halo: "Wake Me When You Need Presents" Knitted Christmas Sweater
Price: $49.99
Buy it on: Merchoid
Halo's Master Chief may have Power Assault Armor to protect him from the hazards of the battlefield, but you may present a friend with a sweater to protect him from the cold weather of winter.
Unfortunately, the sweater does not include a Cortana. Perhaps next year.
---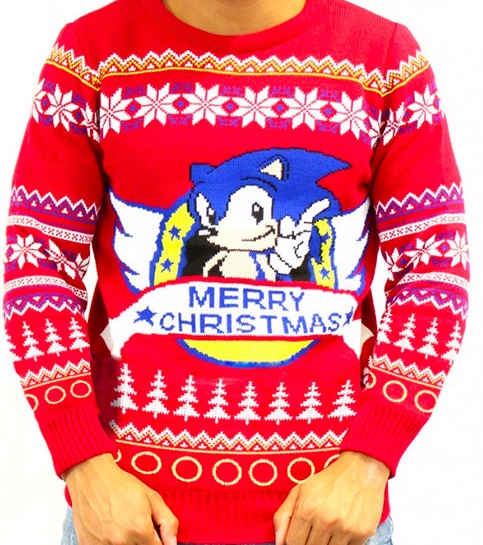 Classic Sonic Official Christmas Sweater
Price: $28.69
Buy it on: Yellow Bulldog
Gotta go fast? Not this time. Your friends certainly want to enjoy this special moment of the year and this sweater is ideal for the Sonic fan in your life.
We from Game Skinny are very positive that even Sonic would like to see Christmas going by as slowly as possible this year. Why not? It's arguably the best time of year ... even for hedgehogs.
---
Playstation: Blue Knitted Christmas Sweater
Price: $39.99
Buy it on: Merchoid
Do you have a PlayStation fan in your life? If you do, he certainly remembers the surge of feelings he had once he unwrapped a PlayStation console under the Christmas tree for the first time.
Bring back those fond memories from his best holiday and gift him with tPlayStation-themedemed sweater.
---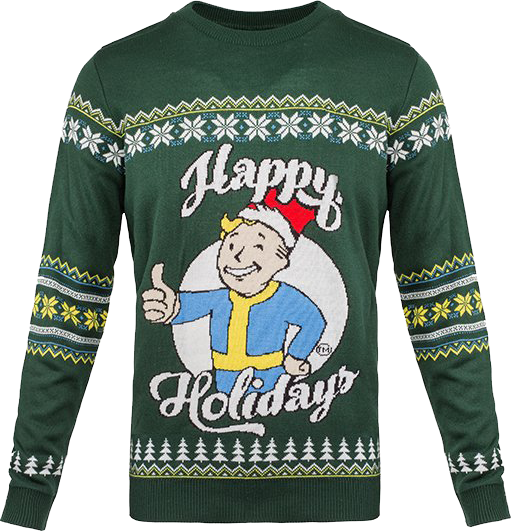 Fallout: Happy Holidays Knitted Christmas Sweater
Price: $49.00
Buy it on: Merchoid
In 2016, Fallout fans received the sequel they have been waiting for and this sweater is perfect to gift a fan of the series, especially after the year in which he got his hands on the latest entry of the franchise.
This winter is not nuclear, but this sweater will certainly help to keep things warm.
---
Super Mario Bros Blue Christmas Sweater
Price: $42.99
Buy it on: Merchoid
Do you want to make a gamer friend feel nostalgic this winter? This Mario sweater is a gift that will send your friend back to memories of the game that turned an entire generation into gamers.
Send you friend back to his earliest gaming moments, through the nostalgia this sweater represents.
Conclusion:
As holidays get near, you will need to push video games aside, in order to spend some well-earned rest with your family, after an entire year saving the world in virtual universes.
That does not mean; however, that you need to completely abandon your favorite hobby.
Take your gamer pride wherever you go, with these sweaters, that will keep you warm, whilst sending a message to your friends and family about what you will be doing throughout 2017.