After a memorable run that started back in 1989, Mad Catz filed for bankruptcy at the end of March 2017. Although we won't be seeing any more of their wild innovations, the peripheral maker certainly left a lasting legacy. Whether you remember them for their colorful FightSticks and FightPads or the weird GameBoy accessories you didn't even realize you needed, it's no doubt that Mad Catz has left a lasting impression in the gaming world.
As the Mad Catz era of gaming comes to a close, let's reflect back on some of the craziest peripherals that the company produced over the years.
---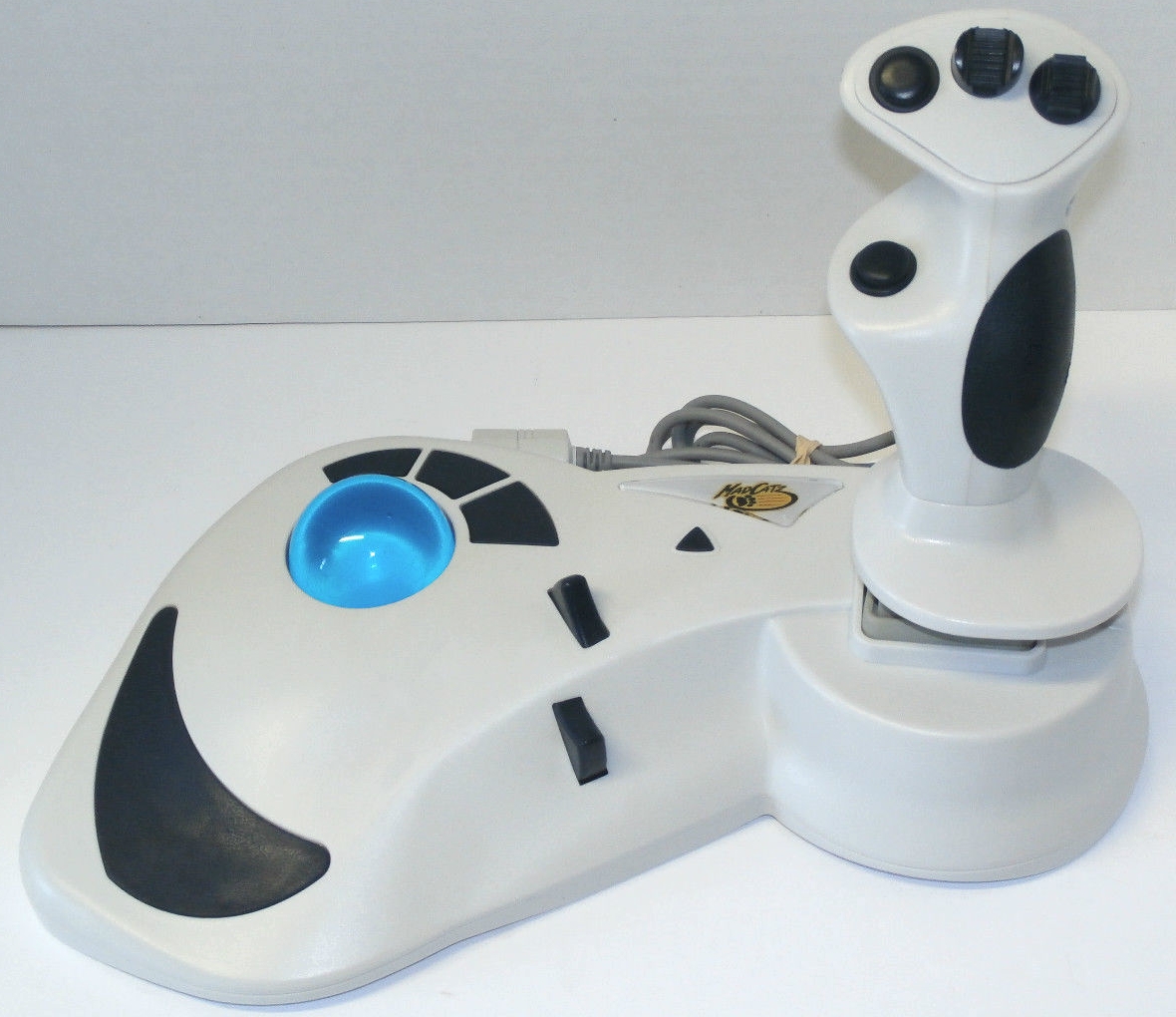 Panther DC Flight Stick
This Flight Stick for the Sega Dreamcast was a one-of-a-kind item made to improve the user's gaming experience during flight simulators and first person shooters. The Panther Flight Stick boasts 16 action buttons, a joystick, and a trackball. Since the Dreamcast only had one analogue stick, the Flight Stick was meant to allow the user to control both the camera and the player simultaneously.
---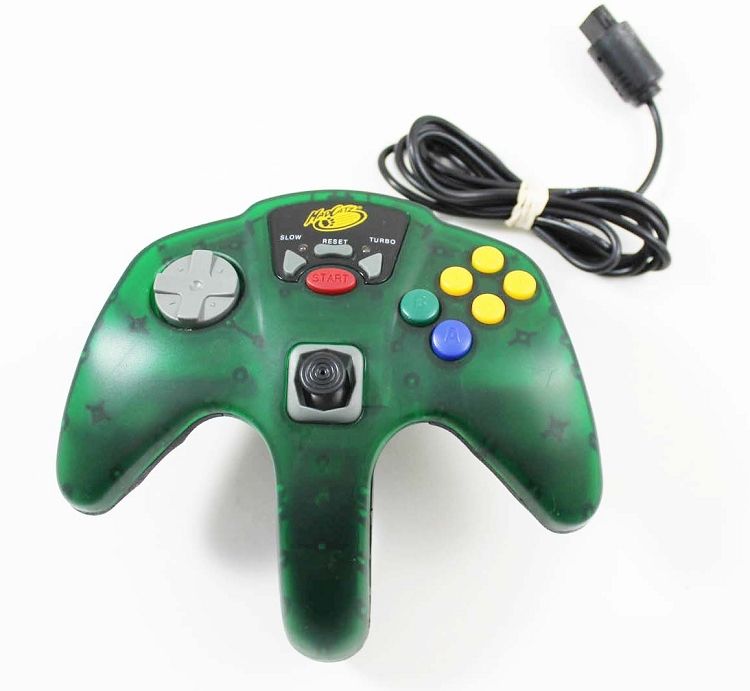 Nintendo 64 Controller
Some of us may remember Mad Catz for making the off-brand "little brother" controllers (A.K.A. the back-up controller that no one wanted). While items like this Jungle Green N64 controller may not have been as ergonomic as they seemed, they did look kind of cool.
---
Play Station Wrist Rumbler
While the N64 Force Pak from Mad Catz plugged into the controller to make it rumble, this Wrist Rumbler actually wraps around your wrist. It looks like this product only actually came with one Rumbler, so you'd have to buy two if you wanted that authentic rumbling experience. Still, it was a good idea.
---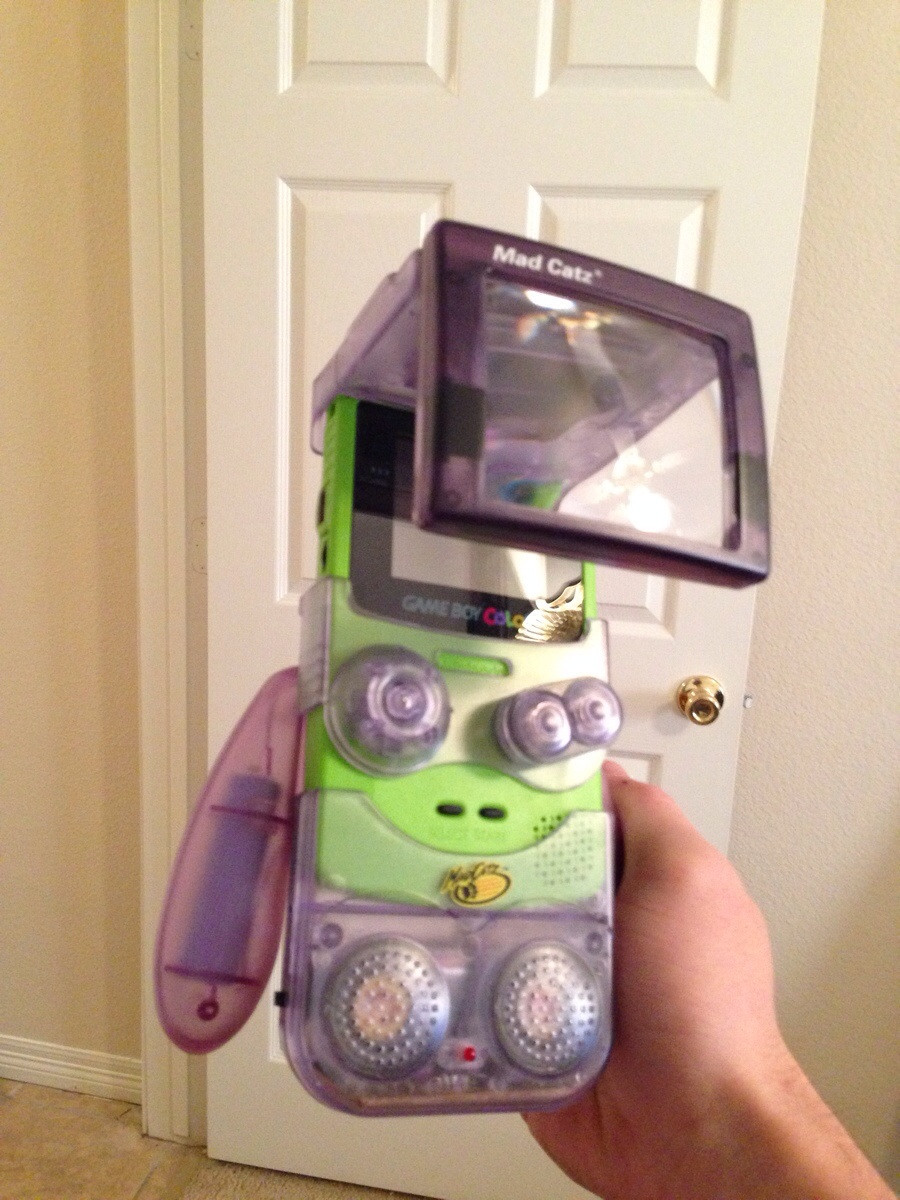 Game Boy Color Grip & Stick Pak/Light & Magnifier
Kids today don't know the struggle of having devices without a backlight. Those of us who grew up without the luxury of backlit devices had to beg their parents to buy them one of these light and screen magnifier combos so that we could keep gaming past bed time. The interesting thing here is the wild Grip and Stick Pak that essentially turned your Game Boy into a N64 controller, so as to improve your comfort during your intense Game Boy Color sessions.
---
GameCube Gamepad
Another weird-looking controller from Mad Catz, this GameCube gamepad is reminiscent of an era when everyone wanted technology covered in clear plastic so you could see what was inside. The rubber grips would come in handy if you were the type to get sweaty palms when you game. I could have used this when I was playing Resident Evil Zero for GameCube.
---
KATANA HD 7
As we move to the more contemporary era of Mad Catz, let us remember this Katana HD headset -- which was supposed to be a very good headset. Regardless of its performance and functionality, I think the best part about it is the fact that it looks like something you might see in Dragon Ball Z.
---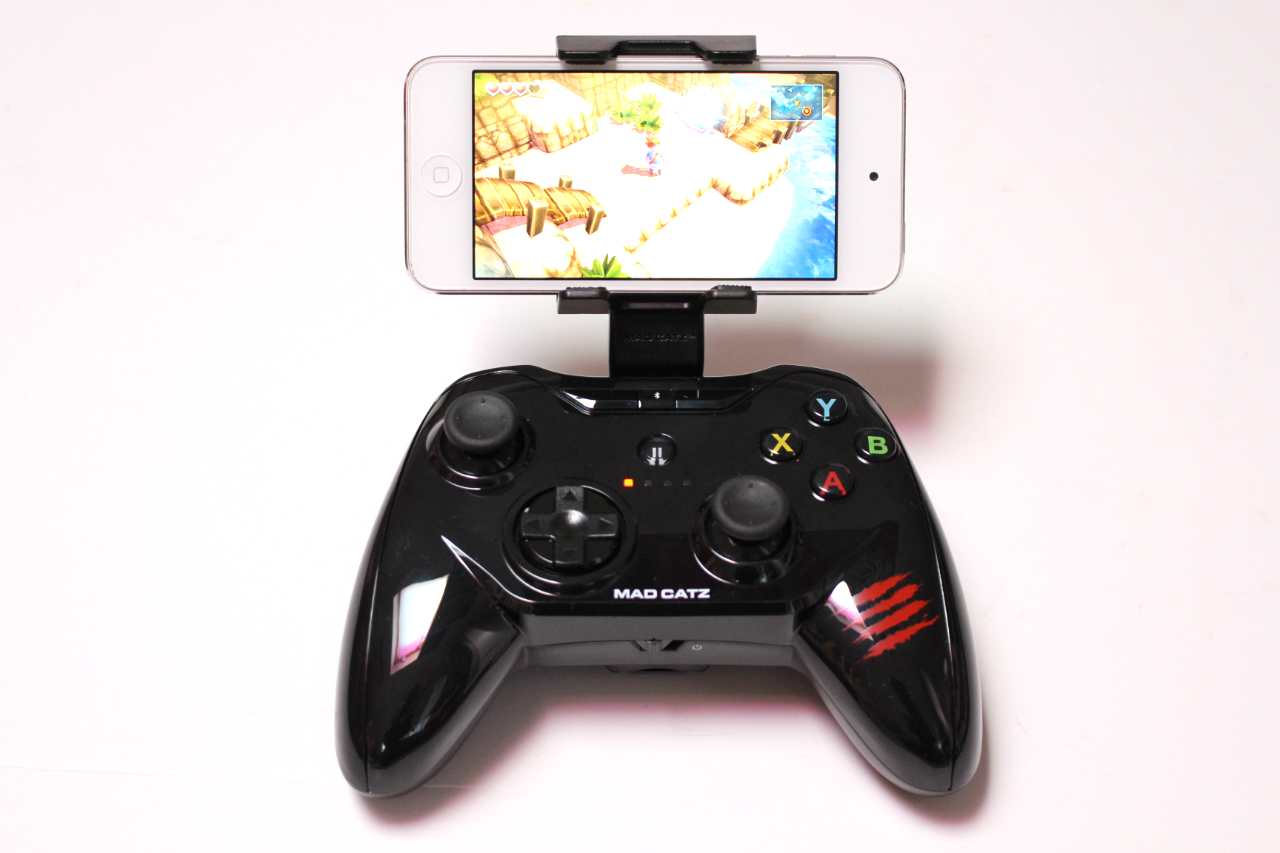 CTRL i Micro
The CTRL i allows Apple users to connect this tiny controller to their iPhone using Bluetooth. The phone clips into the top to allow users an authentic console experience without the actual console. The CTRL i Micro is even smaller than the original version of the device, which allows the user to take it anywhere.
---
RAT Pro X
The RAT series of gaming mice will probably be the thing that today's gamers will remember most about Mad Catz. One cool thing about this mouse is that you can adjust it to your preferred hand size or grip. However, the best part about it is that it looks like a futuristic sports car. Aesthetically speaking, this mouse puts all other gaming mice to shame.
---
MOJO Micro Console
The MOJO Micro Console was made for anyone who ever wanted to play Android games from Google Play on their television. This powerful little microconsole eventually got an update from Mad Catz to give it 4K UHD output capabilities for games and video.
---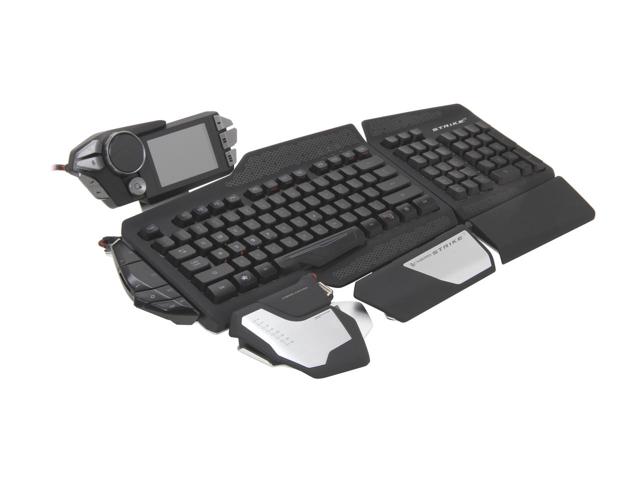 STRIKE 7 Keyboard
It's not often that a keyboard can possess the ability to surprise anyone, but if anyone could have done it, it would have been Mad Catz. The first notable quality of this keyboard is the unique shape that, which could be adjusted to fit the user's preferences. It also had a TFT-LCD screen that had pre-loaded apps to allow maximum customization for hardcore gamers.
---

LYNX 9
This mobile hybrid device improved on the previous CTRL i by adding a built-in microphone and pairing with not only iPhones, but also with tablets, PCs, and smart TVs. It also came with a QWERTY keyboard and folded up into a tiny package for easy transport. While many consumers balked at the $250 price tag, it was definitely an item that got people talking.
Still, no one can say that Mad Catz never made a controller that didn't do it all.
Whether or not you were a fan of Mad Catz's products, no one can say that they never took risks and made shocking products that broke the mold for gaming peripherals. As we look back their legacy in the gaming peripherals industry, we can definitely say that we will remember all their wacky accessories for years to come.