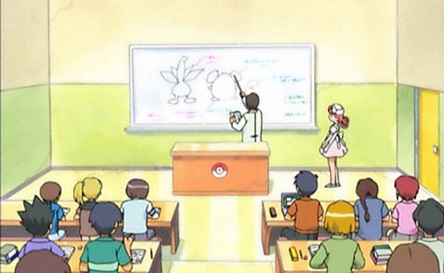 It's almost back to school season!
And you know what that means, Pokemon Trainers. Soon enough Pokemon GO players from around the world are going to need to put down the smartphones, pack up their backpacks, and get ready for a whole new year of classes. But that doesn't mean the Pokemon GO fun has to end just yet. After all, the best part of going back to classes is picking out your apparel for the next school year!
Here at GameSkinny we've compiled a list of great items from around the internet that will show off your PokePride. So get ready as we take a look at these 10 items that are bound to show off your Pokemon GO team pride, as well as some other great Pokemon GO themed gear!
---
Pokemon GO Plus
Pokemon GO may be one of the most popular mobile titles out there right now, but studying and hard work will always separate the Youngster Joeys from the Pokemon Champion Reds. Nevertheless, there's bound to be a few of us in class that can't resist that urge to catch our 9000th Pidgey.
That's where Pokemon GO Plus comes in.
The first item on this list acts as a favor for parents and teachers alike, as well as the university and college students looking to catch 'em all while in class. The Pokemon GO Plus clip/bracelet is the go-to accessory for anyone looking to play Pokemon GO while they are busy studying. Remember, classes come before classiness, so be sure to pick one of these up if you're having a hard time staying away from the app during lectures.
For those who don't know, the Pokemon GO Plus works as a bluetooth attachment for your phone. Whenever a Pokemon appears in the area, the device will vibrate and flash. By pressing the button, players will throw a Pokeball at the Pokemon (provided that they have caught the Pokemon before). If the Pokemon is caught the device will flash and vibrate once more. Pokemon GO Plus also works similarly for PokeStops, but will glow a different color instead.
For more information on the Pokemon GO Plus you can check out the official site. The Pokemon GO Plus device costs $35.99 USD, but it's well worth it if you want to catch Pokemon without pulling out your phone all the time, and can be found at larger video game retailers or on Amazon in September.
---
Pokemon GO Team Slogan Tops
There's no shortage of shirt designers looking to cash in on the Pokemon GO craze, but these designs by justdragonball that are available on RedBubble are the best out there. Above is the design for Team Valor, but there are also designs for Team Mystic and Team Instinct as well. Not that you'd need to know that though. We all know Team Valor is best!
Each t-shirt goes for $24.60 USD, and you can choose what color you want, as well as if you want the logo to be on the front or the back. There are even 20 options to choose what you want it printed on, whether it be an awesome tank top for hitting the real world gyms, or a hoodie for autumn Pokemon hunting. They also come in all sizes ranging from small to 3XL.
---
Pokemon GO Embroidered Team Hats
Shout out your team pride with these Pokemon GO team hats by CCC. Each of these team baseball hats are embroidered with each team logo, and they currently sell for $14.99 USD each. You can also get them customized with a name embroidered into the back of the cap, but that will cost you an extra $10.
The price isn't bad at all for Pokemon themed hats as the official Pokemon Center caps cost about $24.95 each, and even then they're not exactly practical.
---
Pokemon GO Team-Themed Phone Cases
Also from RedBubble comes these three Pokedex inspired phone cases, each sporting one of three team logos. These cases by I23theone23I are sure to show off your team spirit as you walk down the corridors of your school. Sadly, these cases are only sold for iPhone users, so those of us catching 'em all on Android will have to find a way to show our team pride elsewhere.
The cases sell for $21.87 USD each, and come in snap case, tough case, or wallet case formats. You can find them by following the links below:
---
Pokemon GO Keychains
Want something a little more subtle? Look no further than these Pokemon GO themed keychains by SewEnchantingStudio! Each keychain comes in two different colors: team color on black or black on team color.
Each keychain is embroidered on a vinyl cutout, and their compact size is ideal for anyone looking to stay under the radar while hitting enemy gyms around campus or at school while still showing off their favorite Pokemon GO team. For those looking to keep the peace between teams, there's also an option for a keychain based on the Pokemon GO logo.
The keychains sell for $6.00 USD each.
---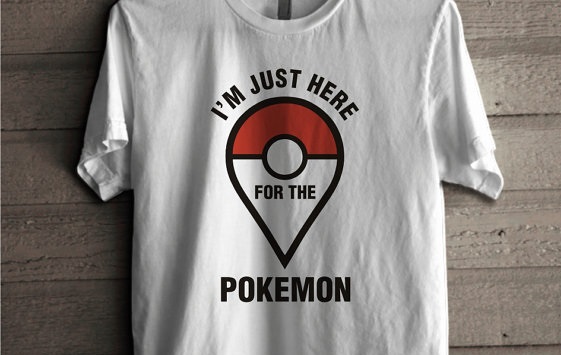 "I'm just here for the Pokemon" T-Shirt
Kids are still into irony these days, right? Even if you're a college student, chances are you'll appreciate this tee from EmaxTees. Whether you're in class or on the go, this t-shirt will make it loud and clear that you're just here to catch Pokemon and feed PokeCandies.
WARNING: Product is unlikely to prevent people from trying to start a conversation with you. That would take the miracle of divine intervention.
The shirts go for around $17 USD each, and come in either white or black.
---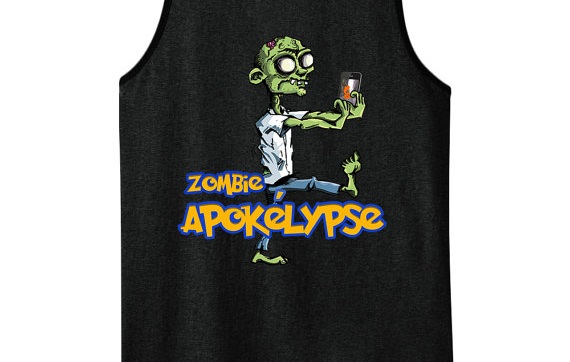 "Zombie Apokelypse" Tank Top
There's no denying that Pokemon GO has led to an almost zombie-like condition in some players. That said, there's no reason Pokemon GO players can't poke a bit of fun at themselves with this "Zombie Apokelypse" tank top from FreshLemonadeTees.
The tank tops sell for $23 USD each, and come in five different colors, as well as a number of different sizes ranging from small to 4XL.
---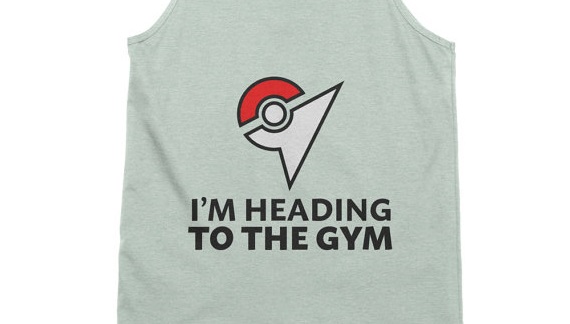 "I'm Heading to the Gym" Tank Top
On the topic of tank tops, this one by Shirtsky is perfect for the more athletic trainers among us. At $26.80 USD a piece, this tank top will scream out your inner jogger like nothing else! Or you could always just wear it while heading to the nearest Gym on campus...
You can find this tank top for sale on Etsy here, and they range from XS to XL.
---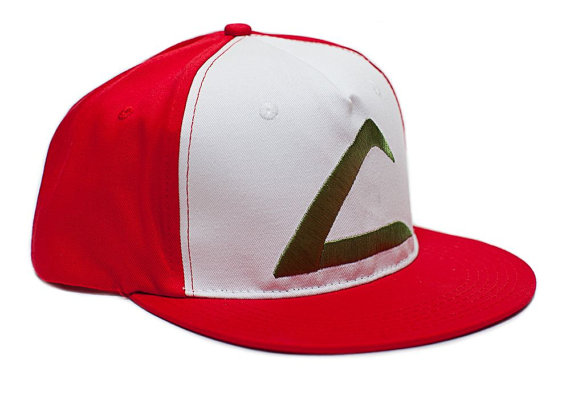 Ash Ketchum's Hat
Do you want to relive your childhood dream? Do you have dreams of reaching the Indigo Plateau's Elite Four? Are you just a fan of caps? Well now you can make them all a reality with this replica of Ash Ketchum's hat from the first season of the Pokemon anime!
Unlike many of the other replicas out there, namethatbrand's Ash Ketchum hat is one of the few that doesn't use a plastic net/mesh on the back of the hat. Instead, the entire cap is made of cloth, ensuring an authentic cosplay-ready look.
This item is one of the higher priced ones on this list, standing at about $33 USD. However, if you really want to scream Pokemon fan in class then this is not a piece you want to miss out on.
---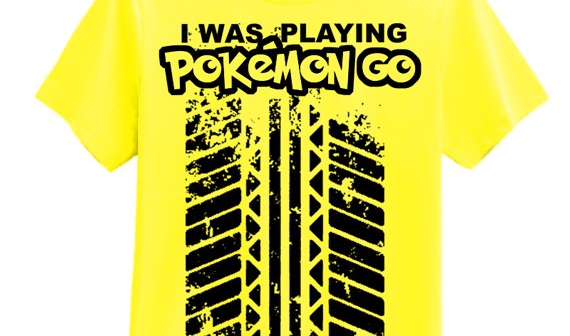 "I Was Playing Pokemon Go" Graphic Tee
Last - but not least - we have this graphic tee designed by KnockOutInk. This t-shirt is the perfect piece for the dark humor loving Pokemon GO fan as they're sure to understand just how long players are staring at their phones while walking. The shirt goes for just over $12 USD on Etsy, so if this design is up your alley then be sure to snag one while they're still available.
The shirts are unisex and are available from small to 5XL.
---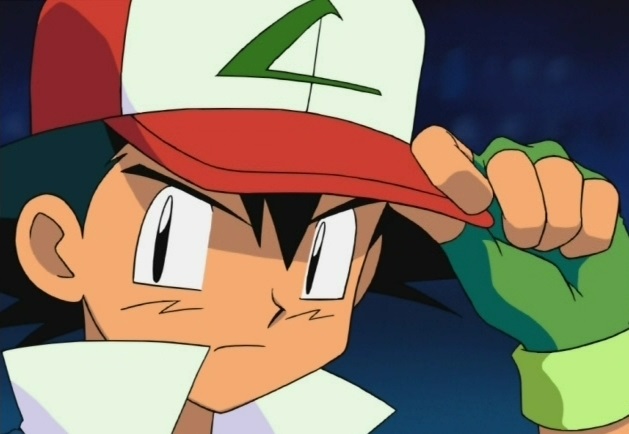 That's all for now!
Remember fellow Pokemon Trainers, while it's always fun to dress up in Pokemon gear to show off our desire to become Pokemon Masters, studying always comes first! Hopefully all of this Pokemon GO themed merchandise can at least put a 6 hour damper on your desires to throw a Pokeball at your teacher or professor.