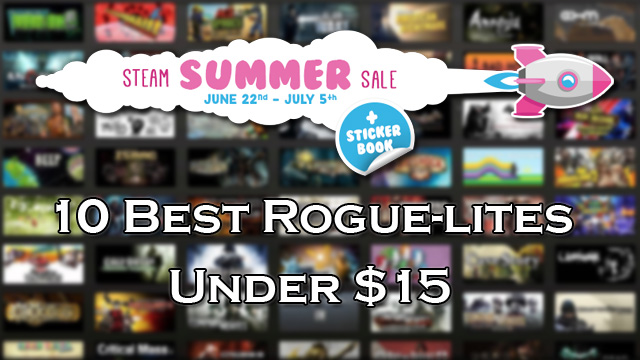 It's that glorious time again -- the Steam Summer Sale, where your pockets become suspiciously lighter and your Steam Library expands. There are numerous deals to be had, including many under $15! With all those various titles dangling in front of you, what should you buy?
If you're looking for of fun challenge, might I suggest a roguelite game? With some challenging features like permadeath, these are great if you really want to git gud and test your skills as a gamer. And until the Steam Sale ends on July 5, these 10 roguelites are currently at a discounted price, and they're definitely worth picking up.
---
20XX
Standard Price:$14.99
Sale Price: $11.99
Rating: Overwhelmingly Positive
Looking for a roguelike action platformer? Well, look no further than 20XX! In this Early Access game, you'll jump and shoot your way through levels that are constantly changing, upgrade your hero, and battle epic bosses to save humanity...maybe.
This game also supports co-op, so you can play with a friend!
---
Crypt of the NecroDancer: AMPLIFIED PACK
Standard Price: $21.98
Sale Price: $8.15
Rating: Overwhelmingly Positive
Have you ever wanted to dance your way through a crypt full of grooving undead? Yes? Well, check out this rhythm dungeon crawler! Deliver a beatdown to zombies (and more) to the rhythm of a seriously epic soundtrack. And if you're not impressed with the tunes in Crypt of the NecroDancer, play the game with your own library of music instead.
This pack includes the Amplified DLC.
---
Dead Cells
Standard Price: $16.99
Sale Price: $14.44
Reviews: Overwhelmingly Positive
Kill. Die. Learn. Repeat. Dead Cells is a roguelite, Metroidvania action-platformer (try saying that 5 times fast) -- also called a RogueVania for short.
This Early Access title boasts progressive exploration of an interconnected world, along with the replayability of a roguelite and the adrenaline pumping threat of permadeath. However, with each death, you unlock a new area and you get to keep the abilities you've already gained, allowing you to get to different areas you couldn't get to before.
---
Downwell
Standard Price:

$

2.99
Sale Price:

$

1.49
Rating: Overwhelmingly Positive
As the name implies, Downwell is a game where you jump down a well and continue to fall, and fall, and fall trying to get to the treasure at the bottom -- oh, and watch out for all the things trying to kill you on the way down. Thankfully, you have your fashionable and lethal Gunboots to help destroy all the nasty creatures and debris in your way.
---
Dungeons of Dredmor
Standard Price:$4.99
Sale Price: $2.49
Rating: Overwhelmingly Positive
Are you ready to test your luck in Lord Dredmor's Dungeons, where you have to craft, cast, and pillage your way through them? You are? Lovely! This roguelite RPG game has classic roguelike gameplay with point-and-click interfaces, randomly generated dungeons, old-school pixels, and...some lutefisk?
---
FTL: Faster Than Light
Standard Price: $9.99
Sale Price: $2.49
Rating: Overwhelmingly Positive
Ready to take command of your own starship? FTL is a roguelite spaceship simulation that allows you to become the captain of a starship crew and vessel. The galaxy you explore is randomly generated -- full of glory and defeat. Be careful as you take on enemy ships, though. Because once you're dead, there's no coming back.
---
One Way Heroics + Plus Edition
Standard Price: $9.98
Sale Price: $4.53
Rating: Very Positive
Travel the multiverse to face the Demon Lord, but keep moving because with each action you take the Darkness will creep ever closer until it engulfs everything. One Way Heroics is almost constantly scrolling in one direction. It features procedurally generated worlds, multiple classes that have their own skills and advantages to unlock, and a dimensional vault where you can store items in case of death. The + Plus Edition includes the DLC One Way Heroics Plus, which includes new classes, new skills, and new NPCs.
---
Starward Rogue
Standard Price: $11.99
Sale Price: $2.39
Rating: Very Positive
Traverse through the Megalith -- a roguelite labyrinth that's lodged into the side of a star -- while dodging wave after wave of bullets and claiming both weapons and upgrades. In Starward Rogue, you must uncover the secrets of a massive structure while losing your head (don't worry, it grows back). Defeat the Warden and rescue Rodney, a mysterious AI with uncertain motives.
---
Streets of Rogue Collector's Edition
Standard Price: $19.98
Sale Price: $8.98
Rating: Very Positive
Streets of Rogue is a roguelite Early Access game that revolves around the player's choice, freedom, and anarchic fun. Instead of a dungeon, the game takes place in a functioning, procedurally generated city full of citizens trying to go about their daily lives. There is no set way to play the game, so you can complete the missions how you see fit. You can avoid combat altogether, or bring the pain to those who get in your way.
---
Unexplored
Standard Price: $9.99
Sale Price: $7.99
Rating:
Very Positive
Unexplored it is easy to play, but it's also easy to die. This is a real-time, roguelite dungeon crawler that has you solving puzzles and engaging foes both big and small in melee combat in order to reach the dragon in the dungeon's depths. Both the dungeons and puzzles are procedurally generated, fruther adding to the variety and replayability of the game.
---
That wraps up our list of the best roguelite games currently available at a discount through the Steam Summer Sale! Do you plan on picking any of these up? What other roguelites are you wishing you'd see on sale? Let us know in the comments!