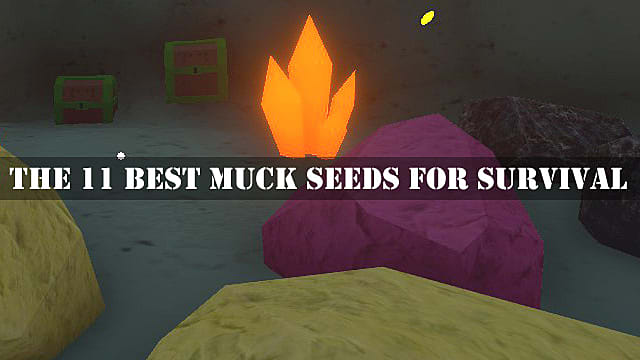 Whether you're playing Muck for its story or because of its survival aspects, there are specific seeds that can give you a leg up when starting out, many of them filled with top-tier loot at the very beginning.
In this list, we've collected 11 of the very best Muck seeds. They'll give you quick and easy access to some of the best resources and loot in the game, including gear and weapons. All of them have crafting tables as well, so you'll always be able to craft at a moment's notice.
To access these seeds, just load the seed numbers in your Muck client. If you're looking for the best multiplayer Muck seeds, we've got a list of 11 right here.
---
Seed: 896066
This seed spawns you right in front of a cave with rubies, adamantite, gold, obamium, and mithril. There is also a hut with a complete furnace and a green chest with a boat map.
To the right of spawn, you will also find Gronk's Statue, which can be challenged for his amazing sword.
---
Seed: 7155564
Looking for a good headstart? This seed has a hut with an anvil right at spawn, and two green chests that contain the following items:
1x Mithril Sword
1x Steel Helmet (+4 Armor)
1x Steel Boots (+3 Armor)
1x Steel Pickaxe
78x Coin
19x Wood
29x Coal
2x Map
---
Seed: 6705893
This seed is perfect for speedrunning Muck's optional storyline. There is a boat right at spawn and a Guardian with a green gem.
There is also plenty of obamium, which is required for repairing the ship's engine, all around the spawn.
The rest of the area is filled with chests of different rarities, full of plenty of loot.
---
Seed: 621397
In this Muck seed, you'll spawn in a lush valley full of obamium, gold, adamantite, and iron.
There are also plenty of blue, black, and orange chests, as well as many types of wood.
The are also two carts with six green chests that contain three maps, +2 armor gold boots, and a gold axe.
---
Seed: 589805
This is another remarkable Muck seed that will take you to a plain full of chests and resources. The spawn area mostly has iron and adamantine available, as well as various types of wood.
The visible area around spawn has at least 50 chests, a hut with a workbench, and two green chests that contain a wood axe and a boat map.
---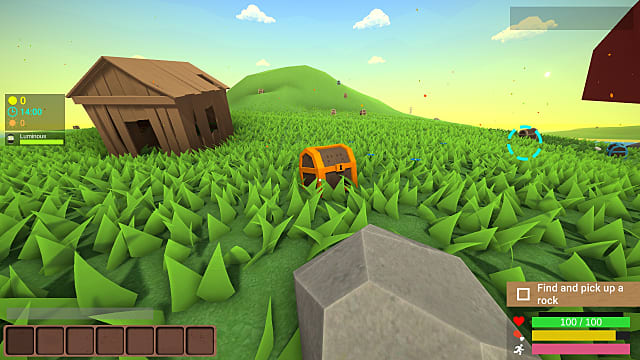 Seed: 570259
In this seed, you'll start on a hill with plenty of chests and a hut with a furnace. There are two green chests inside the hut that contain:
13x Mithril Ore
22x Rock
21x Coal
1x Steel Boots (+3 armor)
2x Map
The area further to the south has all the main ores and types of wood you'll need.
---
Seed: 7326963
Here, you'll spawn in a lush area with mithril, adamantite, and obamium ores. To your left, you can find a Big Chunk Statue and a Guardian with a yellow gem.
This would be a great seed to start with if you want to complete the optional storyline really quickly.
---
Seed: 7933219
Here is another great seed for speedrunning the optional storyline with Bob the Dragon. You'll spawn right next to a Guardian statue with a green gem. There is also adamantite ore all around, so you can quickly craft great armor and weapons.
The rest of the area has a decent number of chests and other types of basic ores.
---
Seed: 3284124
This is probably the most hardcore seed you'll find in Muck, but it may find its fans. You'll spawn right next to a cave full of rubies and gold ore. But there is a catch: the cave is protected by two Stone Golems.
This is definitely a challenging seed, but if you would like to spice things up, then it's worth a try for all those shiny rubies.
---
Seed: 1351518951
Usually, players can only ores that need to be mined and stacked for further development into bars. But this seed gives you a hut near spawn that has a chest with two types of bars:
9x Mithril Bar
5x Adamantite Bar
There is also Mithril Axe and a boat map in the green chest. You can use both types of bars and craft top-tier gear right away.
---
Seed: 402526048
Here's a seed that will give you chuckle.
Muck is not a perfect game and has glitches of its own. Some are just too funny to ignore, like this one that spawns you at a location with a revive statue with a lump of coal for a head.
Loot-wise, the seed is pretty good too, so don't skip on it.
Those are the best Muck seeds for survival and beating the story quickly. If you want to find more about this survival game, then take a look at our dedicated Muck guides page.